First impressions of the Micromax Canvas Laptab, the new Windows 2-in-1 device launched in India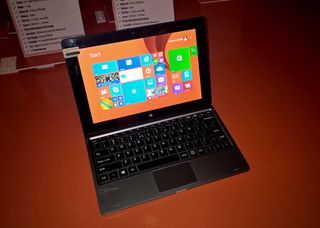 India's leading handset maker, Micromax, today announced its maiden foray into the laptop category by launching the new Canvas Laptab, a 2-in-1 Windows convertible device that has a detachable keyboard, allowing it to be used as a standalone tablet.
The Laptab has been designed as a unique offering of decent specifications at an affordable price to accelerate PC adoption by first-time users, while also addressing the needs of more experienced people looking for a compact and portable device.
The Canvas Laptab runs on Windows 8.1 and bundles Office 365 as well. Powered by the Intel Atom Processor Z3735F with speed up to 1.83GHz and 2GB RAM, the device features a 10.1-inch touch-enabled WXGA IPS display. There's a 2MP camera at the front, as well as at the back. The Laptab packs in a 7,700 mAh battery that gives more than 10 hours of battery life according to Micromax's claims. The device packs in pretty good specifications, and looks promising. Of course, we'll have to test it out some more in real-world usage to give a judgement on the performance.
The Laptab drives home the portability message not just in its compact size but also in terms of connectivity with a 3G SIM card slot. While it's a norm for most tablets in India, it's a welcome addition on a convertible device that can be used for working on the move.
The build quality is pretty good and has a metallic feel to it, but is a little heavy. I'm a Surface user, and the difference is quite noticeable. Of course, the latter is not available in India and is a much more expensive device. The keyboard connects to the tablet using a proprietary connector, but the connection could definitely be better. It doesn't detach by itself, but a small nudge can dismantle the two. The Laptab doesn't fold like a laptop, and essentially requires placing the tablet over the keyboard. That connection and detaching mechanism is the only oddity with the design in an otherwise nicely built device.
Commenting on the launch, Vineet Taneja, CEO, Micromax Informatics Limited, said,
The Laptab will be initially available exclusively on Amazon.in at a ₹14,999 starting from May 6, 2015. This compact 2-in-1 device looks pretty good on paper, and at this price, should offer the perfect blend of mobility and productivity to the consumers.
Ahhh I see what you did there

Yes, it will come to US but different brand name maybe.

Offcorsre it is, it runs on 8.1 upgrade for free to 10

Abhishek which Surface do u use?

Surface RT. Will buy a new one now.

Abhishek, the next time when you get to meet any Microsoft executive in any press conference, please let them know there is a genuine interest for the Surface family of products in India.

yup... v need it here too :'(

Every PC is essentially Windows 10 ready.

Yes, but is Windows 10 ready?

I know this question may offend someone but will this LapTab will be getting Windows 10? Interested in buying this LapTab..

Are you sure? Its not a MS product..

Neither is my Dell XPS 13. But I'm still gonna get Windows 10 on it :)

Yep, It will be. All devices running 8.1 and 7 will get the update free for one year.

Okay thank you mate.. (y)

Not for. If they upgrade within a year. For makes it sound more like after a year, you have to pay and we all know, that not the case. :)

It runs on 8.1 so will run @ 10

Hopefully their picture and hardware quality is improved!

I'm sure in a country with a per capita income of $1,500, this will be an instant hit. That's about a monthly paycheck of about $125. This device costs about $315. O.o

So about two months worth, or 1/6th of yearly income.

I knew it was a laptop/tablet

Sooo... It's a ripoff of the Miix 2 10?

Copy the iPad bezel.
Nice product but bezel, I don't like Onda but you guys leave me with no choice.

What's the screen resolution and size

That bezel could support India's agriculture.

Made in India or China again?... Anyway -Tempting price,specs..

It is rebadged Linx10 / Cube iWork 10 (U100GT). The screen res is 1280x800. Edit: Looking again at the pics again I am not so sure now, the screen looks different and the speaker/headphone jack etc placement is different.

I'm in the United States, but I am very happy to see new products like this appear and be affordable in India. The enthusiasm India shows for Windows devices is critical to the growth of the platform. There needs to be more releases of products like this in India. Hope this is a good deal for you all!

It definitely is a great deal. For this price, its a great bargain one can find here. But I wont be taking it as I am enjoying the amazing Vaio 11, Acer Aspire Switch 10, Old veteran HP machine running build 10074 preview and a powerful desktop

MS should bring updates for surface RT and surface 2 too...
Windows Central Newsletter
Thank you for signing up to Windows Central. You will receive a verification email shortly.
There was a problem. Please refresh the page and try again.