Micromax Canvas Win W121 now available on Flipkart for Rs. 9,494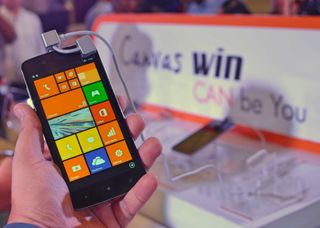 Remember the Windows Phone handsets Micromax launched over two months ago? The first of the two devices, the Canvas Win W121, is now available on Flipkart (opens in new tab) for Rs. 9,494 (around $157). Looks like Micromax has not entered into any exclusive deals with the store, as the mobile is also available on Snapdeal (opens in new tab) for Rs. 9499, and on Amazon India (opens in new tab) for Rs. 9,999 ($165).
The dual-SIM handset comes with a 5-inch 720p screen, 1.2 GHz quad-core Snapdragon 200 CPU, 1 GB RAM, 8 GB internal storage, microSD card slot up to 32 GB, 8 MP camera at the back, 2 MP front shooter, Wi-Fi 802.11 b/g/n and HSDPA connectivity, Bluetooth 4.0, microUSB 2.0 and a 2000 mAh battery. The Canvas Win W121 runs Windows Phone 8.1 out of the box.
Anyone interested in the Canvas Win W121? How do you guys think the manufacturer will fare in the Windows Phone segment?
Source: Flipkart (opens in new tab)
Thanks Mohammed for the tip
Windows Central Newsletter
Get the best of Windows Central in in your inbox, every day!
Harish Jonnalagadda is a Senior Editor overseeing Asia for Android Central, Windows Central's sister site. When not reviewing phones, he's testing PC hardware, including video cards, motherboards, gaming accessories, and keyboards.
Could you please do a video of hands-on performance and quality? I'm thinking of gifting it to my dad if it turns out to be good.....

See the link at the end of the article.

This Xolo looks nicer to me.
http://www.wpxbox.com/xolo-win-q900s-unboxing/

Yeah that Xolo looks good!

The pricing is all wrong for indian consumers....:/ !!

How is it wrong? 5incher 720p, 1gig ram, sd card support... And most importantly, a front cam.... No other wp has this in sub-10k range I believe....

Yeah its a great buy at that price

Dude... £95 how is that expensive?????

You mean the pricing is wrong for you and not all Indian customers. It is one of the better spec'd sub 10k Windows Phone out there. I don't see that being unreasonably priced.

dude, can you start writing the price in dollars in your articles? you're the only one of the WPC team who doesn't do it and it's bloody annoying for people who don't know the current exchange rates by heart. THANKS!

Why? This phone is in India.
Use a money converter.

Why? This phone is in India.
Use a money converter.

Right on target. We have to do this constantly because even products available in India rarely have their prices mentioned in local currency on most review and news sites, so why are you (gizzzmo) being so lazy?

Exactly. Everytime I have to convert that.

It's about £95. Does that help?

Don't be a dick. This isn't supposed to launch outside India and hence dollar values haven't been posted. That would be like asking for rupee values for a Lumia icon or something restricted to another country.

Flipkart offers only in India, so why should it be written in $. Moreover Micromax too is available only in India, I guess.

And in Russia,but only Android phones. Now they r waiting for windows phones

Micromax phones are available in India, Sri Lanka, Nepal, Bhutan, Maldives, Russia and UAE.

They're available in Pakistan under the name q mobile

Dual currency would be good though. Rs for local reader (since they are the only target of the device itself) and USD for international reader to compare between devices.

Yes, because the rest of the world uses USD....

Not necessarily that way (although world wide eCommerce sites usually use USD like dx.com). It just that USD is the common currencies around the globe. People usually only remember the exchange rate between their own currency and USD. I for one, all transaction in my country use IDR. But when I read USD 150 for example, I can automatically convert it to between IDR 1,650,000 to 1,700,000 just inside my head (without any coverter tools).

USD is not 'common curreny'. That's a misconception. I work between Pound and Euro. USD means nothing to me. It might as well be IDR as it means as much.

LOLs, the world is much bigger than you think. I think you need to go out of EU sometimes.

It's not "common currency" for most of the world, and not everyone has daily fluctuating and fractional conversion rates memorised for mental conversion.

True, but the EU has a larger population than the US. So does India on its own. The point stands, the article did not need to put US dollars in it. Its for Indian consumers. The world does not revolve around the US, its got an axis all of its own amd revolves around the sun.

not really its USD not world dollar or something,only travellers use it commonly in non-us countries

America... Centre of the world -_-

Sadly, that is the case for now. At least in currency terms.

Only to some people. I never have anything to do with it. So I don't get this 'common currency' nonsense.

this phone was made for india by indians for indians ofcourse the price will be in rupees not dollars next non-us users should demand verizon exclusive phone prices in any other currency except dollars

I demand to know the price of all US carrier exclusives in ₹

Added dollar figures.

Not really required in this case but perhaps as an added convenience for the lazy readers. Maybe we should start asking for ₹ figures in every article too, and so on for all the currencies of the world? Sheesh. BTW Harish, why don't you use the ₹ symbol instead of Rs.?

As the phone will only be sold in india, so taking care of indians who dont know the current exchange rates makes more sense.

Use Bing to convert. It's very reliable

He wasn't being rude.He just asked it for comparison.The author should have mentioned the price in dollars as well for comparison.Btw,I hope this puts windows phone in the hands of more indians and removes the prejudice that they have about it.

I would any day buy the Xolo wp over this.

Just cant relate to micromax as a brand...

just stick to lumias(mid range and high end) :P wayy better service and brand,for budget stick to pretty much any brand

U r right dude.xolo has better hardware n built as compared to micromax.

Hardware is the same mate. Build quality could be said to be better on the xolo, but micromax has pretty decent phones too. I have a friend who has been using the canvas 2 for quite some time and it hasn't given any problems. My Lumia 920 though had to be replaced. So...

Come on OEMs and Microsoft we need ads on television. Show your fucking ads. Xolo windows phone released still no ads dome by them, Lumia 530 released no ads, now,micromax starts selling windows phone and no ads. Then surely the product gonna be a waste in the market. Nokia 520,525,625,720 sold well here in India the reasons were
1)Nokia first of all as a reputed brand
2) they choose great ambassadors and showed the features of the windows phone. If Nokia was alone then they would have started marketing it and sell 530,630 as hot cakes here.

I have seen the XOLO WP add atleast 25 times on the television.

Where an which channel u have seen? The popular ones here like colors, sab tv,Sony, star plus?????

During football matches and on movie channels...they have an add which mentions it as the lightest phone

Star Sports. Xolo is a sponsor for the Barclays Premier League. The ad is shown about 30-40 times in a span of 4 hours.

Yeah I got tired of watching those ads.

I watched it during World cup finals. Sadly there has been too much delay and not to mention, the android goof-up

Exactly, how can you not have seen the Xolo ad? "The lightest, freshest Windows Phone."

Yup. Xolo ad is the only one that is shown during the football and pro kabaddi on Star sports HD. Pleasantly surprised!

Xolo gave ads in newspapers also..Remember seeing them twice or thrice!!

Yeah...i remember a full front page ad on the release day!

I also seen the xolo ads. But dumb Nokia doesn't care about it. C'mon Nokia show your phones ad. A better ad though not like 630

Yeah really 630 ads looked like it was focused as a business phone. We need creativity. Even that Microsoft ad from old Nokia to new Nokia

Nokia needs to see the ad for the Moto E. It's beautiful. Posted via Windows Phone Central App

Do a hands-on video please! WpC team!

See the bottom of the article!

Great... But cost is high as compared to snapdragon 200
So still there is no even compass app and some chipset supported apps. Look out at Nokia they sell's quality not a quantity......

1 GB ram..Flash+secondary camera..8 GB internal..5" screen..8 MP primary camera....Additions to NL 530(along with price) dumb people!!

Ghanta quality! Look around you'll find more broken lumias than anything else. Only their cameras are better everything else is just as same, as there are no cheap mediatek processors on wp side.

I would prefer polycarbonate and rubber Lumias over the high selling plastics!!

Polycarbonates are plastics too.

Quality difference is high between them even though!!

Is this phone can get the next wp update?

Of Course, MS 18 month update policy

Please make a hands-on review of Xolo Win Q900s. That handset is being heavily promoted in India and I can see it's ads everywhere including on this site. It is available at similar price.

Check this out : https://www.youtube.com/watch?v=H4HBtM99xf8

I checked that and its great. I need one from WPCentral.

Most serious news outlets will use the local currency with either euros or dollars equivalent in parentheses. It's just good etiquette, especially on global sites such as this. BBC does this in their news section and it really helps connect the audience to the subject.

Aniruddh, advtg can't be restricted to particular channel, if want to sell in open market they have to open to all channel. How many people watch sports or movie channel. People are more interested in daily soaps in entertainment channels and news channels along with movie channel. But as far as sports channel is concern, viewers are less.

Yeah right. Ppl do watch channel. But channels that have daily soaps ads should be more there.

I'd like to see how its camera performs with proshot.

I want it but for exchange for my Lumia 620 , because it ll get multi tasking window on Jan by WP 9 as stern is bigger than 4.7

Hope windows phone 8.1 supports otg ...

I started believing that we are not going to see this device being sold in market but this came as a surprise when I gave up the hope of this phone. I wanna try this out.

I think a person should never a buy a windows phone other than Nokia....bcoz Nokia offers the best windows experience one can ever have on a WP.

I wonder how the Snapdragon 200 drags the HD display. It seems Nokia 730 has the same specs. Posted via the Windows Phone Central App for Android

Yeah, the Nokia 730 would definitely cost more than 15K in India. Posted via Windows Phone Central App

Its still worth it... Posted via the Windows Phone Central App for Android

Xolo win q900s unboxing video.
http://www.wpxbox.com/xolo-win-q900s-unboxing/

It's a awesome phone bit lacking Nokia apps. That's the only backup of this great phone

Battery is seriously weak when u consider a hd display of 1gb... atleast 2400mah could have been better Posted via the Windows Phone Central App for Android

Hi All, Bought this phone during diwali offer from flipkart for 7.5K (on SBI credit card) and am loving it. Good performance, there is no lag while opening apps and action center is also good. This is my first smart phone (yes, thats right). Before this, I was using a Nokia 5320 express music for 6 years and absolutely no problems, not a single visit to service center. It had whatsapp also, so I found no use for a smart phone. But then, I decided to give in to friends' requests and occasional teases and decided it will be Windows phone for its innovative features and fresh design. I am a fan of Nokia phones but at this price level, Micromax turns out to be a better option and I have installed Here apps as well. Am not a heavy user, I use Whatsapp but not games and around 15 to 30 minutes of calls a day. So the 2000mAh battery lasts 2 days and still has 20% charge left in it. I was aware that it does not have Gorilla glass and compass, so no complaints. The phone heats up quickly though, on moderate usage.
Windows Central Newsletter
Thank you for signing up to Windows Central. You will receive a verification email shortly.
There was a problem. Please refresh the page and try again.