Microsoft kicks off its Christmas 12 Days of Deals; upcoming daily promotions leaked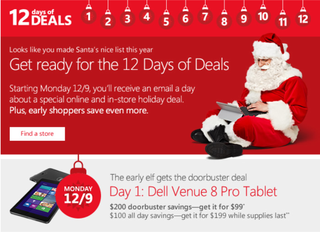 Microsoft has today kicked off its 12 Days of Deals for the month of December in the US. With Christmas just around the corner, it only makes sense for there to be some incredible offers on the hottest tech around. Today we've seen the Dell Venue 8 Pro have its price slashed at Microsoft Stores (and online), but there are many more offers on the way.
We were refreshing the website to try and snatch the 8-inch Windows tablet, but unfortunately the Microsoft online store experienced issues. If you encountered the same problem, or simply couldn't make it to the local Microsoft Store and believe you've just missed out, fear not as there are plenty more products to go on sale.
A full list of deals has been published over on Slick Deals. Here's the full list with respective dates and prices (prices for first 20 customers shown in brackets):
Dec 09 - Dell Tablet $199 ($99)
Dec 10 - Garmin Fitness Watch +$25 gift card for $129.99 (+$25 Gift card for $99.99)
Dec 11 - AT&T Nokia 1020 for $99 (Free)
Dec 12 - Fitbit Flex and Yurbuds Fitness Earbuds for $99.99 (same price but with $25 gift card)
Dec 13 - Grand Theft Auto 5 $39.99 ($19.99)
Dec 14 - Surface 2 and Surface Pro 2 Complete Bundles; $50 off ($100 off)
Dec 15 - Xbox Music pass 1 year for $69.99 ($29.99)
Dec 16 - HP Pavilion X2 13 $699 ($599)
Dec 17 - Save $30 on SOL Republic Headphones (60% off SOL Republic Headphones - $39.99)
Dec 18 - AT&T Lumia 1520 for $99 with $50 app gift card (free with $50 app gift card)
Dec 19 - Save $30 on JBL Bluetooth Speaker (60% off JBL Flip Bluetooth Speaker - $40)
Dec 20 - HP Envy 15 for $699 ($499)
It's worth noting that the above should be used as a guide - we've not been able to confirm its accuracy. We've also received some shots of queues at Microsoft Stores for these deals, so if you are thinking of heading down in the morning, be sure to speed your way to the front of the store.
Head on over to the Microsoft Online Store (opens in new tab) (or pop along to your local on the day) to take advantage of these sweet deals. Which products will you be looking forward to snatching up? Let us know how you go.
Source: Microsoft, SlickDeals; thanks, Dorkfish92, for the tip!
Windows Central Newsletter
Get the best of Windows Central in in your inbox, every day!
Rich Edmonds was formerly a Senior Editor of PC hardware at Windows Central, covering everything related to PC components and NAS. He's been involved in technology for more than a decade and knows a thing or two about the magic inside a PC chassis. You can follow him on Twitter at @RichEdmonds.
First 20 customers in store, online, or both?

In store. Websites don't have doors ;)

They do have backdoors...

So do very frisky ladies :)

Sounds like you're talking about something nsfw

You missed it anyway. 20 in store and supposedly 100 online. The website was hosed. $199 is gone too now.

The site was also broken due to high traffic

$99 was NEVER an online deal. Everybody knew that in advance.

Yep, everyone knew that, including I Unquello, who had had one for $99 in his online shopping cart. http://www.wpcentral.com/comment/655405#comment-655405

Nobody ever bought it at $99 and just because somebody says they had it in cart doesn't make it true. Even Microsoft reps said the $99 deal was for stores only.

No, they said there would be 100 available online. That was OFFICIAL.

Ya I read the same thing too on their announcement email. But that list looks viable as this is the typical format the stores use for internal communications. On top of that the person who leaked this better hope there's no identifying marks on the page because it breaks their NDA. Others have been fired from stores for this kind of stuff.

I went to process the order 4 SEPARATE times on 2 different devices at $99 only to have the site crash. I live chatted with a rep over the weekend and they confirmed that this not only was this deal real, but it would be almost impossible to get. They were very correct. Under a minute after I tried to process the $99 deal, I was able to order 2 @ $199 on 2 different devices. I only wanted 1 at that price, but I was hoping MS would honor the $99 dollars as it wasn't my fault their site crashed when I tried several times to buy at $99. No luck. They wouldn't budge, which is fine. I cancelled one of my orders, so there may be another one available at $199 soon. Keep your eyes open. I'm disappointed I wasn't able to snag any at $99 (especially after getting so close), but one at $199 is a solid deal. I can't wait for it to get here! (So no, I didn't BUY any at $99, but I got close several times.)

first 100 online was 99. microsoftstore on facebook verified it.

So did the rep I chatted with over the weekend.

The deal is back on the website... I ordered mine at 11:40amET for $199. Check the website if anyone is still interested in the Dell Venue Pro 8.

We could only see the full day pricing on the online store and not the super-duper price. That said, it could be worth checking on the site each morning if you're unable to head to your local. But then again with the sheer volume of traffic we witnessed attempt to snatch the deal today, I would recommend your retail store over the online counterpart.

Yeah, Website was totally not up for the demand. I would have done the local stopre run, but icy roads meant the freeways were horribly snarled up today. and a 20 min drive each way would likely be 45-1 hour and i just can't nip out from work for that long.

I did see the $99 offer a few times during my "refresh" times. I ended up with a $199 one though.

I had one in cart but the site died when checking out and I had no opportunity to complete the order.

The sale is/was actually for both brick and mortar stores and the online store per the Verge:
http://www.theverge.com/2013/12/5/5179738/good-deal-dell-venue-8-pro-for...

The 18th's deal will be different in Canada, since we don't have L1520

Yea I'm wondering what that's going to be

They also have ot change Day 3, as both Rogers and Telus sell the 1020 on contract for $99 already (MS shop at oakridge has them at this price to). They also give you the power grip if you buy a 1020 at the MS location, so i dont know what they are going to offer. Maybe re-run the $199 Surface rt promo again?

Damn if i would have waited a few weeks I could have maybe gotten my1520 for free haha

I was wondering about that as well. Can't wait until they bring that beast here.

I assume that the 1520 & 1020s wouldn't have any off-contract discount those days... Btw, the SlickDeals link doesn't work.

The $99 Venue 8 Pro allotment was gone before the top of the hour. I hate when companies do that, but that is why I tell people to start hitting sites at least 5 minutes before something is to go live. Looks like some other very sweet deals coming up though if that list is anywhere near accurate.

Don't feel so bad. Turn out that the Tyson's Corners VA store was running on a Holiday schedule. Of course no one had a chance to grab one except Mall employees. Cause based on the store website and their phones systems the store would not open until 10:00, but somehow they managed to be sold out by 08:55. Ain't that some BS,......

Same here I was told 10am by Microsoft would be the opening of the stores but some how the Microsoft store had customer's leaving it at 9am with bags?? seriously gives me a sour taste in Microsoft it's one thing to advertise a sale but play by what you tell others.. if it's 10am then it's 10 am not matter big the line is.

Yeah, I got to the Roosevelt Mall LI at 7:15am and it was opened....went to MS Store and I was 6th and my wife was 7th.
They started to sell at 8am.
Total in line were 16 people and no more showed up.....so my wife and I took second turn and got another set of 2 Dell Venue 8 Pro and 2 more $25 cards.
It was an Awesome morning.

Kevin, was that at the Galleria or online? Anyone have any idea if the $99 (Free) Lumias are on- or off-contract? If off-contract, I'll try to pick up both a 1020 and a 1520. Missed out on the $99 DVP8 when the website timed out, got $199 price at 9:01AM (a minute after the website went live).

That was online. My coworker was trying to snag one. I just got a Surface RT so I was not really in the market for a new tablet, though it would have been a likely upgrade.

Its on contract, not off contract

To me it loks lie todays deal was the pick of them, though i quite like the year long music poass subscription too.

I see the UK\EU is still subsidising the US typical, wonder when the rip off will stop and prices come in line

We own you. Do our bidding :)

Please tell me why the US and other countries have to "subsidize" Europe on BMWs, Audi, etc. Of course prices will always be better in the home country/continent of the company. Quit complaining and enjoy the better pricing you get on the products you don't have to import.

I don't really see ms as a fully us company these days, also none of that stuff is made in us or eu anyway. Are you sure euro cars are cheaper here? But yes once again, ms ignoring europe

The US does not subsidize Europe on BMW, Audi, MB... Those cars are actually cheaper in the US.

Hello from the UK Microsoft. Remember us?

You're the tea guys, right?

more like the boddington guys

So are the 1020/1520 prices with a new 2 year contract/renewal? I'm assuming it is a yes.

Definitely with contract.

Well I would normally agree, but look: Get a Nokia Lumia 1020 for Free/$99 Get a Nokia Lumia 1520 for Free*/$99* There's an asterisk there for a reason, but I can't possibly imagine they're actually giving away 20 1020's. But why an asterisk on the 1520 but not the 1020?

because the 1520 is "free" after the $50 card. I.e. you still pay $50 and get that back in the form of the card.

I assume those phone prices are for new or renewing contracts. Please confirm.

See my above comment, but the 1520 is Free* while the 1020 is just Free! No idea why but it's possible there's a difference between them.

GTA 5 calling my name, hopefully Xbox one

I think I'm gonna return my Xbox one, actually. Most of what it does, it doesn't even do as well as 360 does, especially the Bing voice search and the awful, awful Hulu app.

It's not even as good as the Hulu on Xbox 360, lol. Voice navigation in the Hulu app is utterly broken :)

I've had no problems thus far, then again I didn't own a 360

360's apps are FAR more polished, and the Bing search works better with voice on 360 than Xbox one. Everything about the Xbox one's software is half-assed compared to its predecessor. I'm extremely disappointed. Microsoft completely dropped the ball with Xbox one.

I will feed your idiot troll mouth... "Half-assed", "Completely dropped the ball..." "360 apps are FAR more polished" My guess is that you haven't owned a console within it's first month of launch. The 360 at launch is a fraction of what the 360 is now. Software gets updated, processes get streamlined, and the OS and apps are constantly updated to run better. If you have no patience for that, then return it and stop posting. Of course the 360 is a little more polished than the One... IT'S BEEN ON THE MARKET FOR OVER 8 YEARS VS. 17 DAYS FOR THE XBOX ONE.

The apps are well done on the 360, this consoles predecessor. They've spent years developing this console. It's reasonable to expect that the apps on this one would *at least* be as good as they are on 360. Or very close to it. And they just aren't.

Return it and build an htpc, #pcmasterrace

Where did you buy it that will take a return opened?

Introducing windows 8.1 this Christmas sorry folks it was just a dream:'(

Sign me up for the $30 xBox music pass!

Definitely going for that one too.

STL store was out if stick before even officially opened at 10. They took names and said they'd call, and we could come pick it up before 8 tonight...

doorbuster for hp envy 15 is $499 in photo but you've written $599

I got to the Arlington, VA store at 6:45 and was #18 in line (whew!)...you have to get there very early. Though, I don't think any others on that list will be as popular as today's.

I didn't make the cut and grabbed it for $199. With two MS stores within a 4 block radius of my house I thought I had a better chance. The Apple store was empty at Millenia,lol.

Apple store was empty because they didn't have this deal. If Apple were to sell an iPad mini for $99, it wouldn't be so empty.

But the only thing better about the mini is the screen and the app selection. The venue pro beats it on every other front :)

Why the app selection? The dell is full blown windows 8.1 not RT.

When it comes to the app store, Windows RT and 8 aare 95% the same. Agreed Windows 8 full has more desktop apps, I only mean in terms of store apps. :)

Blah, I got a surface on black Friday at $199. There wasn't a run on that deal. I don't think it ever sold-out.

1. They also had refurbs for $169 or $179, I forget which.

Will they be doing the 12 days of deals on Xbox live this year?

This is off topic, but I'm hoping Daniel could give me a little incite... Any word on a 1520-like phone for T-mobile? I might consider trading my 925 in for one (with the 6 month upgrade thing they got going).

I doubt it. I think TMo will get a 5-inch device. Be patient though, the next batch of Lumia's will have gesture controls.

Source? Mobile Kinect? Why? :). More interested in Cortana than gestures though. Current Lumias do limited gesture stuff (glance screen responds just by waving your hand over the screen)

Hmmm, Garmin in the list? Can someone enlighten me with their connection with MSFT? Or is there some future tech collaboration or even a takeover talk going on? (Garmin forerunner user here and would love that idea)

I don't know what the relationship is, but there has been one for a while. Back in probably '06 or '07, I bought a Garmin dashboard GPS, and bought a lifetime subscription to the MSN service (don't remember the exact name) that provided traffic and more. Lifetime didn't last long - I think it was 2010 or 2011 when they shut down the service. It was broadcast via FM radio signal.

Oh my damn. I want that Music Pass. When I arrived this morning two hours before the store opened (mine's in a mall) I was saddened to find I was the 35th person to get in line. A woman had brought her two year old at one a.m. in order to get her Dell Venue Pro. Good grief.

Went to Glendale kiosk @ 8am, 2 hours before open. Big ass line of people and completely sold out. They said from me till the end of the line (few got in line after me) was outta luck. They'll have more in stock later in the day. Might have been able to plead case (since 2 guys in front of me were allowed), but I figured it wasn't worth waiting 2 hours. And the poster from the other thread called it... I saw the kid, mom, and grandma. Heck, one might have even been great grandma.... Most people in line were there with at least 1 other, sometimes group of 4-6.

$30 Xbox music pass deal is sweet

My mom got in line here in Indy but was too late for the $99 deal. She went ahead and got it for the $199. I set it up for her and she is liking the free card games from Microsoft studios, which should keep her busy until I can set it up even further. I want one. Btw ... The store opened @9:00 not 10:00 like their store Info says. Bastaaaages.. :)

Same as my mom in Toronto. She was #24.

Does Microsoft expect people to just show up everyday for a blind doorbuster sell?

Is the Xbox music offer only for new customers? What if I want to renew a subscription but it isn't expiring yet?

You can renew it using this option. It's similar to the Xbox Gold subscription cards. :)

At 10am EST I was trying to get it but a Microsoft Store server i've been connected to went down - and even representative admited it, that some of the MS Store servers went down giving "Placeholder Error File" message. Some people reported that they managed to get $99 price match in they local Staples and OfficeDepot but I went to Staples and they said that they can't match daily deals prices. At 12 noon EST I've placed an order for $199 with no problems. +25$ Gift card from MS Store, Plus 5% Discover Card cashback, plus 4% cashback from FatWallet.

I didn't get $25 gift card. Which store you went to?

I got it online. Not actual store.

For the surface 2 what do you have to buy to make it a "bundle"?

Xbox Music for $29.99 for a full year!! That's the one I'm focusing on ;)

If that Xbox Music is for real, I'll be standing in line. $2.50 a month for an amazing service...no brainer.

Already have an htpc. I'll just set the money aside and buy one in a couple of years when they work the bugs out. It's clear by now that Xbox one was not ready to be shipped.

I Love it, then again I use it mainly for games, never used that Hulu thing. And One's Kinect is so much better than 360's. It's a classy machine, and it will improve, I remember 360 first years.

I agree the one's camera is far, FAR better than 360's, but the voice recognition isn't.

Wish there's the same deals at MS store Canada...

Xbox music for $30? I'm down.

I'll be picking up that Xbox Music dealie.

I had to drop my kid off at school, so I didn't get to my store till just after 8am. Up here in Portland, OR it was a cool 19 degrees out - very low for our typical weather. But it didn't stop the masses. I counted at least 20 people waiting and didn't even bother to park. I don't think I'd buy the Dell 8in at $200, even if it is a nice discount. At $100 it would be worth it for sure. I got the RT on that $200 close-out price and I've been really happy with it. It is now the tablet that I prefer over my iPads and Android devices. I'm guessing the people who got in on that $99 deal are going to be pretty happy with that purchase.

What did spent on the dell promotion $400,000 20 per store about 100 stores....at $199.00....this shouldn't even be news...for Microsoft that's lunch money or a coffee at starbucks

That Xbox Music deal looks good. I'm interested to see what the asterisk/no asterisk difference is on the Lumias. I'm 99% sure that I can't upgrade on AT&T since I got my 920 in March or April, but if the 1020 is $99 without upgrade, it'd be nice. EDIT: and regarding the MS Store server crash: try the mobile version. I can't guarantee it'll work better, but during the black friday sale on games it worked better than the desktop version. http://(m.microsoftstore.com I believe)

What time were the stores supposed to open? cause the one store I visited there were people walking out of the store with microsoft bags at around 9am when Microsoft said the store wasn't to open till 10am according to live customer service when I called the store to ask when they were opening today. Was it possible they were selling the tablet before 9am? I didn't jump in line cause I knew I wasn't getting the $99 deal no matter what so I could be flawd but it seems iffy.

In Arlington, VA, the website said the store opens at 10, but the website for the mall itself says 9 (because of the holidays). I'm assuming the Microsoft Store website doesn't reflect seasonal opening changes. In any event, they let the first 20 people only in at about 7:30. So, if you saw people walking out with bags at 9, you were already too late anway.

I was there, sold put by the time I got in the store. :(

There's no trolling, don't be a jackass. I've owned many consoles at launch, and the Xbox one is, by FAR, the least polished I've ever owned. Yes, 360 at launch was nowhere near what it is now, but that's irrelevant. Xbox one isn't compared to Xbox 360 of 8 years ago, it's compared to Xbox 360 of RIGHT NOW. And the truth of the matter is this: right now, today, Xbox 360 is the better system--even ignoring games libraries, where it's fair to cut Xbox one a break because it's new, the One's system software is simply an unpolished, poorly performing mess. It's plenty fast, sure, but it lacks countless features 360 has had for years, and the apps for third party services range from pretty good (Netflix) to downright awful (Hulu plus). Right now, in short, Xbox one is a waste of money, which is why I'll be returning mine for a full refund.

Except for the first day it looks like a big yawn. Especially considering you can get a 1020 at ATT right now for $74.99. It is refurbished but it works just as well as a new one.

Are these Surface bundles the ones you wrote about in your other article?

I sincerely doubt it and I know that there is no way to verify it until the deals go live but I wonder if the prices for the 1020 and the 1520 are on contract or off. If they're off contract prices, I might try to get one of each.

what are the surface and surface 2 complete bundle and what does they cost

It still sucks that this sort of thing ony happens in the USA. Us poor Aussies that have to pay extra anyway (The Australia Tax) don't get specials like this from Microsoft at any time
Windows Central Newsletter
Thank you for signing up to Windows Central. You will receive a verification email shortly.
There was a problem. Please refresh the page and try again.