Microsoft offers Surface 2 and Pro 2 bundles with big discounts in deceptive new ad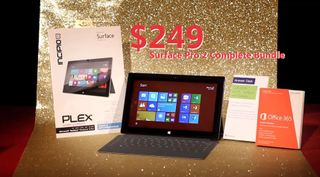 As you may know, Microsoft is throwing a 12 Days of Deals sale at their physical Stores, starting this Monday. That first deal is for the Dell Venue 8 Pro, which gets a massive discount to just $199 (or $99 if you're on of the first 20 customers).
Well, Microsoft has just posted a new ad to their Microsoft Store YouTube page, and it's causing quite a stir tonight. However, we're treading cautiously here, and we'll explain the nuances of the deal and why it's not what you think it is...
The ad boasts about Day 6 of the special offer, which puts it at next Saturday, December 14. The commercial tells us about the following offers for that single day, only available at their brick and mortar locations:
Surface 2 complete bundle for $149 ($99 for the first 20 customers)
Surface Pro 2 complete bundle for $249 ($199 for the first 20 customers)
Now, the big question is what is a "complete bundle"? From the ad, the Surface 2 bundle shows the device with an Incipio case, Type Cover 2 and a $25 gift card to the Windows Store. The Surface Pro 2 portion has the Incipio screen protector, Office 365, Surface Pro 2 and Type Cover.
Could Microsoft really be offering all of that for those prices? We think it's a bit deceptive, and the answer is 'no'. It appears that complete bundles are just a discounted accessories packages:
Surface 2 Complete Bundle ($149, regular $253.98): Type Cover 2 ($129), Incipio Case ($34.99), $25 Gift Card. 2-year warranty
Surface Pro 2 Complete Bundle ($249, regular $348.97): Touch Cover 2 ($119), Office 365 subscription ($99), Incipio Screen protector ($19.99), Premium Software support ($99), 2 year warranty
In other words, the idea that Microsoft on top of all of that will also throw in a Surface 2 or Surface Pro 2 is a little crazy, even for them. So while many of you have interpreted this as being everything in that image, we're not so confident.
Granted, since Microsoft does not define what the bundle is either (though see 'Surface Pro Accessories Value Bundle (opens in new tab)' for $169) it's easy to run away with the idea, especially after the Dell Venue 8 Pro deal, but alas…it's too good to be true.
Finally, with the title of the video being "Day 6 SurfaceBundles final 2", we're betting this was posted early and by mistake. [Update: Ass suspected, the video is now 'Private' meaning this was posted early and in error]
Still, if you need a discounted accessories bundle for your Surface 2 or Surface Pro 2, next Saturday is your day.
Source: YouTube; Thanks, ddavi021 and Kingsly E., for the tip and Ryan for the math fix
Windows Central Newsletter
Get the best of Windows Central in your inbox, every day!
Daniel Rubino is the Editor-in-chief of Windows Central, head reviewer, podcast co-host, and analyst. He has been covering Microsoft since 2007 when this site was called WMExperts (and later Windows Phone Central). His interests include Windows, laptops, next-gen computing, and for some reason, watches. Before all this tech stuff, he worked on a Ph.D. in linguistics, watched people sleep (for medical purposes!), and ran the projectors at movie theaters because it was fun.
That's a great deal but you'd have tent out to get one for that price buying 4 surface 2's at tax time.

I already knew this was not true. There was no way in hell they were offering a Pro 2 for that cheap. I knew something was up lol

Dan it does say complete bundle. We will have to wait and see.

Let's place bets... You don't really think they would sell a $899 Surface Pro 2 tablet plus $350 of accessories for just $249, do you? They're just going to lose $1000 per customer?

Daniel, you are so wrong. Microsoft would obviously do that. /s

Former Microsoft Store employee here. The Complete bundles offered by stores are typically coverage for 2 years (warranty and damage), case, screen protector, and maybe office which is described here. No, it will not have the device included in that price, but at $99 that is a sweet deal. But the coverage option may not be iron clad because not everyone buys Surfaces from the MS Stores. With a Type Cover included I'd still suggest it though for anyone that doesn't have these accessories already.

I don't really think they will but that's a hell of a way to get people in line. That's

Yes... and lose ~$400 on every device sold.

Hence why the device isn't included in the bundle, only the accessories. But since the ad is a bit misleading, people will be lined up around the block desperate for the deal.

The ad is misleading, its like used car lot....they shouldn't jump into this tricky marketing.....they should advertise real deals on all those surface to people get a lot of users...it will help windows phone and windows 8.1

I hope your right Dan, I bought a SP2 128GB and type cover 2 earlier for £910 and would not be happy if they had some crazy deal like this right after i bought mine lol.

They knocked £100 or so off of the price a few weeks after I bought my first generation Surface. Then did it again right before I was going to try to sell it. Recently got the Surface 2 - if they do this again, I'll never buy Microsoft again.

Yeah, how dare they lower prices after people buy them. The nerve.

As one who bought the Complete Bundle with my gen 1 Surface Pro, Complete Bundle means extended warranty, Office 365 subscription, cover, screen protector, case, and gift card. The reason for the two prices is that the cost and coverage of the extended warranty depends on the cost of the equipment covered. I expect Microsoft will be cleaning up the ad.

They may get in trouble for this...

In theory yes, but seeing as they've posted Day 6 without Day 2-5 yet and this ad has a 'final2' name, my guess is this was posted early and by mistake.

No need to call it deceptive when it seems like somebody probably made a mistake and we still have a few more days to go like you said.

Am I the only one that can't view this, or has the video been since made private?

But ....... I want to believe ...

If they decided to do this it wouldn't be a question at all for thousands of people willing to purchase and resell a surface pro. So yeah, TGTBT.
I hope they fix the image and do business honestly when day 6 finally arrives. Their image depends upon it.
I personally understand the misunderstanding, but Googlers and iPeople will be very unforgiving.

But, who cares about Googlers and iPeople ?

WPCentral..you guys are the best. You should seriously consider renaming yourself to WindowsCentral because you do so much more than just WP. And it will get so many more people to this wonderful community

Thanks, we try to be diligent where we can ;)

Best windows rt coverage out there

Dan's milkshake brings all the boys to the yard.

Not going to happen. I just wish the web designer(s) would organize the news into sections related to various Microsoft news like windows, WP, etc so that we could follow and look up articles pertaining to a section of Microsoft news more easily.

They also cover Xbox and such... So, MicrosoftCentral?

Because of things like these, in Europe ads must be explicit about what they're advertising. Though anyone with a brain would understand that the tablet itself wasn't included, many would still be mislead.

My bet is this will be pulled soon because it was posted unfinished/too early...

Yeah, it does look kind of unfinished.

The video has been made private. Can you update the article?

I thought those prices included the Surface and I went ballistic :/

Very easy to do on first blush...even I was thinking that until I took a moment ;)

This would cause more harm than good. Everyone who purchased the Surface at $199 would have insta-regret and pissed off feelings immediately.

Complete is the name of their warranty. This does NOT include the tablets.

Dam it why cant Dallas ,Arlington,or Fort Worth have a Microsoft store

There are 2 MS stores in DFW. One in Arlington and one in Frisco.

Google is your friend!!! Arlington Location | Get directions 3811 South Cooper Street Suite 5557
Arlington, TX 76015
Phone: (855) 270-6581 Frisco Location | Get directions 2601 Preston Road
Frisco, TX 75034
Phone: (855) 270-6581

Bing is too, got the dame info using it.

No, they are not! I'm referring to Scroogle.

As many have said, this does NOT include the Surface itself, nobody would be that stupid to offer something like that. And promo is not official until it's official. They would be losing millions on an offer with a Surface at that price. It's not a fire sale season yet.

Too good to be true. Surface pro 2 cost $899. Wtf, is microsoft trolling us?

But with only 20 per store going at these prices, could MS be just sacrificing short term profit for a small amount of time to gain momentum for the long term???
The outrageousness of it would create quite a bit of attention.

why just in states why not in this small poor country of aotearoa(nz) we have soooooo many poor people here like myself :(, we can use a deal or two on surface or lumia series in general

Just by watching that add I would fully expect to get the Surface in that bundle as well. If not, then its probably the most deceptive ad I have ever seen.

If it was true deal, people probably would start to line up by now :) ....

Yeah when I saw that and tipped I was thinking no way in hell. And if it was I wouldn't even bother trying. In another note, the Surface 2 32/64GBs were sold out at the Austin MS store. I wanted to buy the 64GB to compare with my 2520 to see which I would like most. So I'm on a call list when they come in. Then called Best Buy, all sold out and Fry's only had a small amount of 32GB. These things are selling quite good considering.

Or they have really low stock, since they don't want another $900 million write-off.

The insurance that Microsoft calls for their devices is called "Complete". This ad is very misleading. Although, to be fair, the ad does not have any small print saying "Surface 2 and Surface Pro 2 not included in bundle". So this is very interesting indeed. Microsoft can afford to give away what ever is currently in stock at that price for just a day. Just my thought on the whole thing! Oh and one more thing to consider. If this is true, they would specifiy which models were included in the bundle. Like the 32gb or 64gb Surface 2. Same goes for the Surface Pro 2.

I believe they took down the video... The one linked here doesn't work.

Microsoft would be suicidal to offer these at such ridiculous bargain-bin pricing. I thought Surface was supposed to signify "premium". I guess not.

Surface 2 32GB-64GB sold out everywhere!

I sure hope more become available in time for the holidays, I needs to get me some Surface!!!

Wow, flying to us today.
Would be epic if true, I was rethink in leaving my surface at home and buying a pro again LOL. I will try for sure a trip to a nearby Microsoft store. ( my wife will kill me LOL )

Last day is gonna be Xbox one for 199. Lol.

Kinect is the best part. Say "Xbox mute" when the phone rings. Love this!!!!

I think that depends entirely on your sound setup, since I only have the tv speakers the foreground sounds of my phone actually interfere with the voice commands. I need surround sound lol =P #calibration

It's too bad you don't know any better, it really is incomplete without it... =/

Anyone else finding that the WPCentral WP8 app has had broken YouTube links for the past few days?

Since when does Incipio make a case for the Surface 2?

Not sure why people think this ad is misleading when no one considered it misleading for Gen 1 Surface RT and surface Pro. They had the same bundles then.

I bought a Surface and Surface Pro at TechEd for $99 and $499 (respectively) earlier this year. At the time MS offered their "Complete Bundles" at the same prices mentioned here but the bundles are accessories only. The interesting part is they offered the "Complete Bundles" to all 10k attendees at that price, not just the first 20. I'm sure they're still making a profit on the accs at that price though ...

When they say Complete, its the name of the warranty service and accessories for the devices, I've seen the labeling being referred to as such all over the Microsoft store in the past...since there's a precedent, I am not confused. =[

Daniel is reinstating the fact that the price cuts are on the bundle accessories only. The tablets are not included in the price, obviously.

Yeah, the accessories bundle explanation makes sense. I wouldn't believe MS would offer that deep of a discount on their new Surface products.

They can't keep these in stock selling them at full price There has been none available since before Thanksgiving, not just at MS Store but everywhere. No chance that includes a S2/SP2.

Is cheaper than a iPhone 5S? Not legit at all. Imma get this one if it really cost 249

everyone would go buy one at that price.

its the same price as the accessories value bundle... except the type 2 covers have been sold out for the last week... they may be holding back stock just for that day...

I was looking for that comment...

Really people, companies do this all the time. Showing the picture of the device in an ad. The only thing missing is the "device not included" line. Do you think you're getting an iPhone 5S with the $25 case you're buying because there's a picture of an iPhone 5S in the ad or on the damn box?!?!?

Sydney Australia needs a Microsoft store.

"[Update: Ass suspected, the video is now 'Private' meaning this was posted early and in error]" Typos Dan.

*Ass expected. Nothing to see here guys.

lol, Maybe his autocorrect just knows him that well.

Well hopefully people have better luck... The dell venue pro sold out of the 98 and 199 deals in 3 minutes I think I couldn't get on the site at all ... Finally went in 3 mins after the one and gone!

Man this is bull. I waited in line and it's only the bundle not the device.. however... Strange...called the answering service and they said it does include the tablet... Wtf