Microsoft: 300 million active devices are now running Windows 10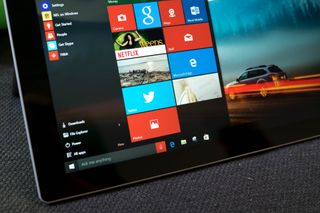 Microsoft offered a new update on Windows 10, stating that over 300 million active devices are now running some version of the OS.
The new numbers come just over a month after Microsoft announced that 270 million devices were running Windows 10. Microsoft added some more stats:
Over 63 billion minutes were spent on Microsoft Edge in March alone, with 50% growth in minutes since the last quarter. Exclusively available on Windows 10, Microsoft Edge is our modern browser for helping you get things done.
Cortana, the personal digital assistant in Windows 10, has helped answer over 6 billion questions since launch.
People are playing games on Windows 10 more than ever before, with over 9 billion hours of gameplay on Windows 10 since launch.
Apps that come with Windows 10, including Photos, Groove Music, and Movies & TV are seeing millions of active users each month, including more than 144 million people using Photos. ( And, the Windows Store continues to grow daily with new Universal Windows Platform apps like Facebook, Instagram, and Facebook Messenger; updated UWP apps from Vine, Hulu, Netflix and Twitter; and popular PC games including Rise of the Tomb Raider and Quantum Break.
Microsoft will release the Windows 10 Anniversary Update as a free download for current Windows 10 users later this summer with many new features and improvements. Meanwhile the free upgrade offer for consumers running PCs on Windows 7 and Windows 8.1 is still scheduled to end on July 29. After that, people can buy an update to Windows 10 Home for $119.
Windows Central Newsletter
Get the best of Windows Central in in your inbox, every day!
Think I helped that number today, just purchased a SP4!

Congrats on now owning a worthy device. If it wasn't for your purchase this morning Microsoft would've only been able to say they have 299,999,999 active devices running Win 10 so thanks for giving us a good round number to read about.

I think I got three Windows 10 devices personally. I had four, but I gifted my phone to someone else. Does Windows 10 mobile and Xbox count? I approve this message.

Yes..I have 5 Windows 10 devices. three Lumia, one laptop and one PC

I should have gotten the surface 3. That way I would have 5 devices

I have Windows 10 on my home file/media server and we have a Surface Pro 3, Pro 4 and Surface Book in the family. We have gone Android on Phones and have a single Android tablet and a Kindle Fire. I used to have a Dell Venue 8 Pro but after the third repart abd subsequent failure and the fact there just aren't enough good "tablet apps" for the Venue 8 pro, I just have Windows 10 on "PC's"... :)

Hey! Even I installed it today in my PC.

It's raining Windows 10!!

300M? Uness there is a huge spike towards the end of the free upgrade period, it looks like they'll fall short of that 1B install goal. Especially once they start charging. Cop E Ryte........ Cause everything I do is official!

Most of the Windows licences sold embedded in computers. Not seperatelly. But yes we will probably see a short of spike towards the deadline of the free upgrade

Agreed but remember that they're including WP and XB1 in those numbers too. Much smaller markets but still counted. I hope they reach their goal. Cop E Ryte........ Cause everything I do is official!

To be fair, most enterprise customers haven't upgraded yet. With the DoD mandating W10 use and the Anniversary Update adding new enterprise features/tools it may just give Enterprises the push...

300M so far + 150M remainder 2016 sales + 250-260M 2017 sales = 700-710M without spike..... Enterprise volume license upgrades will also start to uptick over the next 2 years.

U can't use all of 2017. The goal was 2 years from launch which was July 29th 2015. Cop E Ryte........ Cause everything I do is official!

actually they said 3 years , I think

Yeah I'm pretty sure they said July 2018 but I could be wrong. Windows Central for Windows 10-Microsoft Lumia 640

Yes, it was indeed 3 years into 2018. I had my coffee that day. I can remember it. I just can't remember anything from this morning, as I had no coffee today. Wait... what was I saying? Oh, yeah, I need coffee.

I guess it wouldn't really matter if it's 0.7B or 1B, right? I mean, that's a lot of users and that's all that matters!

While it may not matter to me or u directly, it matters to investors which makes it matter to us indirectly. Missing the goal by 300M is significant to them which affects MS's direction. Cop E Ryte........ Cause everything I do is official!

Would an investor really think 0.7 isn't enough and walk away? it would be 1.0 in a year or so, so...

I never said anything about walking away. That would be a kinda premature or even dumb. But it can cause them to put pressure on and alter decisions. It's 2/3 of their goal. Publicly traded companies get hit hard when they miss targets sometimes. It happens to them all. Look what happened with MS, Google and Apple after their latest earnings call.

Didn't they adjust that goal to a billion users within 2-3 years?

As far as I know, the goal was 2 years. Never heard of an adjustment. Cop E Ryte........ Cause everything I do is official!

Hmmmm. So they changed it to 2.5 years? Okay, then they may have a shot.

http://youtu.be/0-0QPN59gMY

They said 1 billion in three years not in the free upgrade period.

So not in the free upgrade period which would make it 2019? So many different answers, it's confusing. Doesn't matter as long as they hit whatever they said their goal was. Cop E Ryte........ Cause everything I do is official!

You are confused about the answers :D

Yeah, the responses from people were varied. Confusing.

Actually, Terry Myerson stated that the goal was to see Windows 10 on 1 billion devices within two to three years. Don't forget, this isn't just upgrades on existing PCs, it's also new purchases on devices like PC, tablet, phone, Xbox, Hololens, IoT etc.

Yeah, I know. Just thought they said 2 years. Maybe I misremembered the goal date. Cop E Ryte........ Cause everything I do is official!

In two years time at least 300m will be added, so they should hit their target in another 4 years conservatively.

Nadella had said last year they were planning for 1 billion Win 10 devices in 3 years. So there is still a couple years to go. The count also includes Win 10, Win 10 Mobile, IoT, Hollolens, Xbox, etc (All Win 10 OSs). If they get a spike at the end of the free upgrade I could see 400 million or more by then. And as someone else said corporate is just beginning their upgrade cycle. They have a shot at making the 1 billion.

The 1 billion install goal is for 2018.

Okay, so I was wrong and they'll most likely surpass the goal.

The world of windows is commming Posted from the best Lumia 640 running build 14328

I bet only 1 million of those people own phones lol

Another one making a fool of himself lol
Tip: don't bet for money

While he has exaggerated a little his point is that Windows mobile has a very low market share, and to be fair he isn't wrong that WM has a very low market share. Shame really, here's hoping Continuum makes a good use case to propel the market share. I still believe the OS has potential if they can make it more stable.

Read what he wrote VERY carefully. You inferred all kinds of details and points where none existed. I would have gladly taken the bet!

I bet they all own phones. 99+% of which are running iOS or Android.

Yeah, my grandpa's grandma is on the .1%

Im still running W8.1, NVIDIA has yet to update the drivers on my HP slim pc

Upgraded quickly By your mom

That's the huge number to encourage the developers to create the apps and if it's universal then it will help windows phones too!

Except developers will just target x86, or they'll target PC and Xbox One, and make it unavailable on phones. That option to deny the app to run on phones is available even on UWP

Unless they get equivalent apis on WM .. This indeed would be seen..
Posted via Windows Central App for Windows 10/Android

Which is so mean... I approve this message.

How would they know all of this, is Windows 10 spying on us..

They can see how many connect to their services. Posted from Windows Central for XL

If you connect to Netflix, the servers know you are online and know when you logout = Hours watched. Same for all services from all companies. Have you not ever seen companies talking about active users or connected users before?

And you open local photo, MS is peeping? You use Edge, MS is peeping?

Most people connect to onedrive, some people send usage data...

Im pretty sure he's being intentionally daft

Check your firewall settings vhyr, we can ALL see what you're doing...

You agreed to allowing usage data "to help them" I approve this message.

Yeah. It helps with coming updates... It's not like we're giving the info to Google :D

It's called anonymised telemetry, when you open an app a counter starts and it's uploaded daily. Similar behaviour on Android & iOS.
Sadly too many tin-hat's jump all over it thinking MSFT are uploading everything to NSA/GCHQ!

You realize you have to actually "call out" to microsoft to activate Windows right? People are so paranoid, it's getting sad.

I just wish they would focus their energy appropriately and be more paranoid about Google.

Or just stop being too paranoid about things, especially these days where devices are connected to the internet. If we people are so concerned about spying, disconnect from the grid and move up deep in the mountains, under the cave. Telemetry is been there since Windows able to connect to the network, this is why they have anonymous data where they can use that data for finding issues, and evaluating features.

And what percentage of that is Windows 10 mobile? That info would be useful

Would be good if you can backup that 600,000 claim with a link

Honestly? It is not that great. 300 mil makes about 15 % share. There will be spike before the end of promotion, but then it will crawl very slowly to get to Windows 7 numbers.

Wish I had a business that could add 30,000,000 users in 3 months.

Woah! Lot of negative comments on w10m over here...

Kind of fair though, wouldn't you say? What does it stand for these days. Where's the USP?!

its a very good number still its not so promising as in those numbers include xbox, phone, pre-installed windows 10. so upgrade number is low. though its completely free

its a very good number still its not so promising as in those numbers include xbox, phone, pre-installed windows 10. so upgrade number is low. though its completely free

It's a lot of old people who have been holding off. I know

I think they are going to extend it or keep it free

Only if I could upgrade my Lumia 520....

July 2017: Windows 10 device=700 million
August 2017: hololens consumer edition launched.
Sales shoots high upto 200 millions.
Jan 2018: Windows 10 devices= 1 billion. Hurray!

Is it a good thing that in march alone ppl have collectively spent 119870 years worth of time using the Edge browser, is it slower than they claim? Lol =P Posted from Windows Central for Windows 10 on my Lumia 950! Step off, haters! U-U

They always said 1 billion within 2-3 years. This is the only truth. Period.
Not a year has gone by so they are on track. Sent from an alien space ship with a Lumia 950

There are 5 Lumias and 3 Symbian Belles in our family of six.... Currently my 1520 and bro's 925 are on windows10mobile... I didn't want to upgrade all as the likes of my mum could not put up with windows10 bugs considering the other phones are less powerful. Now I think it's time to upgrade them to w10m

None of this count is relevant unless Microsoft finds a way to effectively monetize their Store, which can happen only if they sell enough Mobiles or Tablets (not convertibles). The PC/Convertible audience rarely uses the store and live their life on x86 apps. Proof? Out of 300 million users, only a 144 million active users for the Photos app, which infact ships out of the box. If MSFT wants to come out of their alternate reality, they have to look at usage statistics from a PC for % of users using the store, % of users who downloaded > 20 apps, and % increase in app download numbers, impressions and monetizations. That's when developers can take UWP platform seriosuly.

Well that's pretty hard now as Intel canceled its mobile chips and W10M ARM is not tablet OS. Nadella has royally ****** Windows. Getting less relevant day after day.

MS will extend the upgrade date, they have to. No way they want to, or can afford to slow down W10 adoption.
Their future existence depends on a hugely successful W10 adoption.

Not a huge surprise, those pesky GWX windows are getting sneakier and sneakier. Just the other day, I had a client call me to ask if I had intentionally started the Windows 10 upgrade on his PC. To my extreme shock, I could only guess that my restart had somehow initiated the upgrade, but I never had given explicit permission nor seen any sort of GWX prompt that warned of an upgrade wating for a restart. Luckily, declining the ToS upon Win10 install gets you back to your previous version. Phew.

I helped this number too. I had a 6 year old laptop which I decided to give to my girlfriend. I made sure it was running Windows 10.
Windows Central Newsletter
Thank you for signing up to Windows Central. You will receive a verification email shortly.
There was a problem. Please refresh the page and try again.