Microsoft accidently pushes 9932 build for Windows 10 Preview but fails to install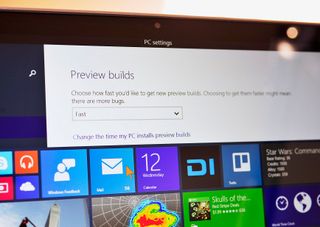 If you are using the Windows 10 Technical Preview, you may have had a few updates tonight. One of them is a Flash security fix to build 9926 (opens in new tab), and another is for the Windows 10 Technical Preview (KB3035129).
Interestingly, some users are also getting notifications for a 9931 and 9932 OS update. While at first this seems like good news as it implies new features and fixes, truth be told the update is meant for internal Microsoft testing only but it had been accidentally exposed. As a result, those attempting to install the update are met with a failure to install due to not having the proper credentials.
Microsoft's Gabriel Aul took to Twitter to explain the issue to users experiencing the installation failure:
As of 11 pm ET, it appears that Microsoft has plugged the hole as our machine is not experiencing any problems.
For those curious, Update for Technical Preview KB3035129 reportedly patches "some key things - like Xbox Live games sign in", so make sure you do install that one. Here is the full changelog for that update:
KB3035129
Reliability improvements for virtual machine live migrations
Reliability improvements to prevent some system crashes in SettingsSyncHost.exe
Reliability improvements to prevent possible data corruption
Increased power efficiency to extend battery life
A fix for an issue that prevents the new Store (Beta) from appearing on the taskbar
A fix for an issue that could cause users to remain at the "Please Wait" screen when attempting to sign in with a Smart Card connected
A fix for an issue that could cause virtual machines (VMs) to lose connectivity to virtual hard drives (VHDs)
A fix for an issue that could cause error 0x8E5E05E2 when installing apps
A fix for an issue that could cause a delay when opening a new tab in Internet Explorer
A fix for an issue that could cause the system to fail to resume from sleep when connected to multiple monitors with some graphics drivers
A fix for an issue that could cause the Start Menu to be improperly registered and fail to launch
A fix for an issue that prevents launching XBOX Live enabled games that require sign-in, and would incorrectly result in the message, "To use this app, you need to sign in with the Microsoft account that was used to download it."
A fix for an issue that could present the user with the incorrect End-User License Agreement (EULA) during upgrade
For now, users should remain on build 9926. The good news is further updates, including bringing back Start menu resizing, should be on the horizon soon.
Thanks, everyone, for the tips
Windows Central Newsletter
Get the best of Windows Central in in your inbox, every day!
Daniel Rubino is the Editor-in-chief of Windows Central, head reviewer, podcast co-host, and analyst. He has been covering Microsoft since 2007 when this site was called WMExperts (and later Windows Phone Central). His interests include Windows, laptops, next-gen computing, and for some reason, watches. Before all this tech stuff, he worked on a Ph.D. in linguistics, watched people sleep (for medical purposes!), and ran the projectors at movie theaters because it was fun.
Yeh, noticed it on Twitter. Gabe said there was a way to get it via registry hack though. #Whoa just exposed a technique xD

Could have been win 10 phone

Unrelated, but I am unable to use the PIN to sign in. It asks for password only while signing in to my account.

Switch back to the standard LoginUI. c: (or check your PIN settings)

The current build doesn't let you set a PIN if you don't already have one (bug).

You can set a PIN to login, then it takes some time before it activates in the settings page. But even though the settings show PIN is activated, you can only login using the password. I wonder if a picture password works or not. I haven't tried it.

Interesting -- I never noticed it show up as accepted. Though a PIN from Windows 8 still works.

If you wait long enough in the settings page, it eventually shows that you have setup a PIN for login, but still you won't be able to login using PIN. I reported this issue in the feedback and quite a few people had the same issue.

I just tried with today's build and it worked! There's still a confusing delay, but it set and then I was able to use it for sign in. Edit: Correction, I was a bit eager in posting that. No such luck with the actual login, though it does show up in the options.

That's why I was confused. I had my old Win8.1 PIN

Been using picture password on my tablet and it has been working as smooth as it did on Win8.1

Same here... Microsoft is aware. :)

Yeh, happened to me too. Except now I have a bigger problem to worry about: Every time on startup I get a frown face and an error message on my tablet... Dang it. I know its unfinished software, just ticks me off

Got that on my SP3 the other day, was really worried it was bricked or I'd have to reinstall. Turning it off for a few minutes fixed it (by holding the power button for 10 second to force it completely off). Quite possibly not the same issue as you, but yeah.

Its been off all night so ill see what happens. I looked up the code and it said to go into safe mode but im not sure how to do that on a tablet. I've been to boot options and diagnostics but can't find a boot in safe mode option.

From memory it's something like: In the Diagnostics menu go to Troubleshooting, then Advanced Options, then Startup Options, then Safe Mode is three of the options given. I probably have the names wrong but its in there, I used it quite a few times the other day.

Alright ill try that! Thanks man

I can confirm this. I can set the PIN number but it's never given as an option to sign in.

I can get it showing as an option to sign in now, but I get the error message 'object missing' when I try to use it.

Ha, Good thing I checked here before checking for new builds tonight. Guess the "FAST" part is getting ahead of them...

Haha .. Yeah .. They are just dishing out updates

It fixed the sign-in problem for xbox games, but now I get another error: the app is out of date, and when I go to the store there is no update!

Same here when trying to play AoE: Castle Siege :/

Uninstall and install again, fixed my problem.

Looking forward to a fix for HW-accelerated video crashing on SP3 ...

Apparently to do with the graphics chip. I was told that Intel's latest drivers work, but they're older than the ones from Windows Update (unless I'm missing some kind of Beta area in Intel's website).

I thought it was just me Posted via the Windows Phone Central App for Android

Good news everyone! There was an update released today for Intel HD Graphics 5000 that fixes this issue. You can get it from Windows Update.

Windows 10 preview is unusable for me. I reverted back my Surface Pro 2 to Win8.1 because it's just not there yet. Well, I've done my share and provided feedback and I hope that the beta build will be better.

Anybody know a work around for installing 10 when it fails because device is using compressed os?

On my tablet all that comes up is the dang frown fave and error message. I have to factory restore too...

Install it on a clean machine.

Wish there was a accidentally released update for WP 10..ha ha just kidding

Haha that would be awesome

I have a Dell XPS 15 and when I install the Windows 10 preview, my fan runs very fast at the time of shut down. As soon as I press the shutdown button in start menu, the display shut off first and for the last 3 secs, the fan run very fast and then it shuts down.
Also I have a shortcut button on my laptop, which doesn't open that Mobility Centre if I have W10. Instead it opens a menu and then I have to select mobility centre. It is only opened in the original Windows(7) I have. If I upgrade to Windows 10, will dell provide me that "optimised for my laptop" Windows or I have to download it from MS which is "not optimised" for my laptop's shortcut keys.

What do you expect? A 100% running beta?!

No! You didn't understand my question. I have installed W8.1 previously that was never in beta. But the same things happened.

The really fast fan is a feature ;) the shortcut may not work, maybe they need a Dell program working in background

those are called OEM tweaks, and you can only get them with your original installation disk, or if your lucky, you might be able to find an isntaller for them from your oem's website.

Okay! Thanks. And what about the fan running fast at the last moment when its shutting down.

My Surface Pro 3 has been doing this since the first preview

MS are definitely on the right track and it's REALLY nice to feel like the feedback from everyday lunkhead users like me is being taken seriously by them.

How MS are their in this world mate?

Waiting for windows 10 for mobile phone

It'll be available in February. :)

They could have accidentally pushed it

I won't call 911 if they commit an accident

I still have bugs on Windows phone 8.1 with the main build haha I imagine what infernal thing may be a Windows 10 for phone technical preview... I think I will wait someone to try before joining also with a phone

You have one. I have many.

Yeah me too, I've fixed the comment :D

Mine not bad, 8.1 for me works pretty well, I'm using pfd L720, I'm hoping 10 will be awesome as said

I can't even install Windows 10 preview on my pc. I tried the update method and the download was successful. After close to an hour of installation process, a pop-up message says installation failed. Another 30 minutes of rolling back to 8.1. I really wish to try out this thing but I don't know what to do

Download the ISO file to burn a DVD. Then do a fresh install.

They should accidentally push denim for the 1520

Or Icon... That'd be nice...

I think MS should just push all the firmware the same as they do the OS, carriers dictating what is released when and with their bloat needs to end.

If it was that simple, more than just woke would be doing it, Apple has a unique contract that lets them do that, carriers regret doing that and probably won't do it again

Still not opening the newer Maps app.

All good. Fixes are important. I am not really anxious for resizing of the start menu, but if selectable, I should be ok. Loving what is there so far, and hoping for more goodies soon.

I think we will se a new Build once Windows 10 for Phones came out. 'Cause for know, Windows 10 doesn't have Quick Actions or Quick Reply (Reply on a Notification and Action Center). And there's no API for it on the current build.

KB3035129 actually seems faster.

Any idea what "KB" stands for?

Which refers to the article in their Knowledge Base describing what's in that particular update.

Kewl Beans! /s Waeras has it right. Knowledge Base.

All right Dan. Give us the scoop on 9931 only available to you "internal" types. :)

Yeah for Start Menu resizing!

Today only Installed the 9926 !!!!

The phone build of Windows 10 will be coming out "sometime after the Superbowl"

May be after a week ... next week is super bowl isn't it ???

They said February, so might be the first week of February. That's my guess.

Superbowl is this sunday mate! Wooohooo hoping for a February 2-6 release!

The issue I had with win10 was that I lost dual monitor ability and no sound. Besides that I loved 10 but I had to roll back until that is taken care of. I hope ASUS help with those drivers. I need sound and I need my dual monitor ability. Keep up the great work Microsoft... And Cortana on the desktop... Was a lot of fun though I had to type it all... Hehehe...

Bummer. My Asus is running fine with windows 10 including sound. I have a single monitor hooked up to my laptop and it shows dual monitor between the laptop screen and external, no problem.

How about an update to fix video playing issues and to allow me to open up Internet Explorer from the Start Menu or Cortana, and not just the taskbar?

This is unrelated but How can I get transparent UI in Windows 10?

not now, just wait for future builds

Yeah we need transparent menus

I hope dey had accidently pushd windows 10 preview for phones ;)

Feeling bad for all but the change log is pretty long! :P

on IE11, Bing page and youtube videos or any video crashes the page. some apps still give same error. mail app

Just did that but same issue. IE stops working and attempts to find solution but to no avail.

Surface Pro? There is an issue playing hardware accelerated video at the moment. Also affects store apps. You can work around it in IE by enabling Software Rendering (top of the Advanced tab in IE options). It will am costume a bit more battery and with HD video you may hear the fan start up, but at least it works and didn't crash whenever a site starts video without asking you first.

res://ieframe.dll/acr_error.htm#bing.com,http://www.bing.com/ that's the error message i get.

Yep, that's after it crashes two times after trying to play video. Enable the software rendering and then restart IE and it fixes it for now. Be sure to test hardware rendering after every new build/hardware update though in case they've fixed it, because software rendering is not that efficient on the battery.

Good news everyone! There was an update released today for Intel HD Graphics 5000 that fixes this issue. You can get it from Windows Update.

When will Verizon be getting cyan and when will the Philippines get Cortana plz?

I've got Cortana, like 5mos ago, I'm from the Philippines.

Yeh, noticed it on Twitter. Gave mentioned people can hack the build via the registry lol. #UhOh accidently exposing a technique xD.

Come on Man edit that comment and hide that damn Technique :P xD

But... But... But! Maybe... Just maybe someone can get it and show us how and you and I could be the only ones to see this build that no one has ever seen in the history of Windows and never will :O ;) ;)

lol .. So you exposed for a reason !!! :P

Hmmm.. I dunno ehhemm (clears throat) https://mobile.twitter.com/GabeAul/status/560264970160451585

I accidently installed Windows 10 x64 on my Lumia Icon and Denim appeared...then Verizon wallpaper read....hahahaha just kidding....

Not interested till lands on phones ..

I can't playing Age of Empires:Castle Siege after use 9926... So I uninstalled that game...
:'(

Fix has been made. Your progress has been saved

Is there gonna be a windows 10 Lumia on February I heard it from the news

May be a Low end 435 and 532 with windows 10

The OS will be coming to all Windows Phone 8/8.1 devices. If you were referring to a new flagship phone that will be after the OS has been released for consumers

They have actually gone back on that statement since initially saying ALL devices hadn't they? Know it's most "Modern" Windows Phones will get it I think?

Hi, I was able to install this build. I'm only a regular insider. I'm thinking of going back to Windows 8.1 pro though. Windows 10 at this stage is very unreliable. Music playback causes issue with sound device, switchable graphics are impossible, PIN code login is impossible, and explorer crashes are too frequent.

Enjoy Windows 8.1 then :) It is a good OS. Nobody is stopping you!

Please remove region requirement for one to use cortana, let everyone enjoy her as long as one uses the right language.

This concerns windows 10, however you can do that on lumia Phone too.

Off the record, could someone help me get windows 8.1 pro 64bit EN-uk, with up to date ISO, I have purchased windows online so don't have download with me.

Download it from Microsoft?

Yeah all the ISOs are available on their website. You don't have to pay to download, only to activate (unless you already have a licence).

I still don't have the modern side of the OS. That's the update I need now. Lol

are you able to access the action centre or open any modern app?..i cant..start menu wont work either...i have no way to install the update..unless there is

Nop, nothing works. Although you can access updates if you search for windows update in the search bar.

Can't even burn the iso image. Third iso build 9926! Roxio fail, windows disc image burner fail, brasero failed; not looking good for me. Errorcode 0x80004005.

pen drive it's so much better and faster.

Yeah you don't even need a USB boot tool for Windows any more. Just extract the files onto a blank USB and it will work.

Didn't know that. Always used Win7 USB Tools

In other news, Microsoft accidentally pushes Windows 10 to Windows Phone.

I don't own Windows 10...

Unless software is open sourced, you never really own it, anyway.

I left a few updates downloading Last night and went to sleep and update (kB3035129) installed successfully.

Meanwhile, I've done in-place installs twice already :/

Link please. My pc is offline

I used the Windows 10 TP as my opportunity to try Hyper-V in Windows 8.1 on my Thinkpad Yoga. In the past, I used VirtualBox to try new OS builds. Audio was a little more challenging in Hyper-V but Build 9926 works well. Cortana was silent until I ran Windows Update. The Task View and apps not running full screen are my favorite features so far.

A fix for an issue that could cause the system to fail to resume from sleep when connected to multiple monitors with some graphics drivers I hope this fix works. It's been driving me nuts

I keep gettting error code 0x8024a10c

Start menu resizing is a good option. Why do I need scroll if there is a lot unused empty space on the screen :-)

Why can't I still use charms and have the option of the start screen? Posted via Windows Phone Central App

Go KB3035129 to install by removing Office 2007(the update for it was giving the code). Will be back later to see if the sleep mode on duals is still messed up

I installed preview on my main work laptop, works like a charm

I dont find any option to download preview builds on 9926...

I got it and it installed fine, its really nice Cortana works great

Jelly of you peeps that have time to play with this OS.

How to install build updates?? Plz help i didnt find an option in new 9926 settings...

I couldn't find a KB article after searching online for it yesterday so I just let it install. Don't think it actually updated though. Here I thought it was just a minor update of sorts. Lol.

it took forever to download and install Build 9926 but I'm liking where the future builds are heading to

In the list of updates on my machinewith Build 9926 it says that KB3035129 is inta lled sucessfully, Go figure?

Anyone know how to remove FBL_Awesome from there update lists? since it won't install it's not necessary.

Well the latest one isn't better, tried to DL it. 0nly to have stop during installation and now my IE 11 quit working and reinstall for it won't work.
Windows Central Newsletter
Thank you for signing up to Windows Central. You will receive a verification email shortly.
There was a problem. Please refresh the page and try again.