Microsoft adds best-selling books carousel to Bing's search engine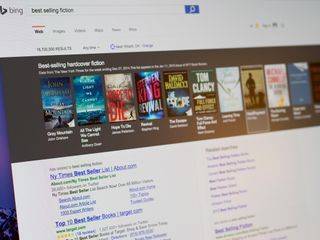 Microsoft continues to add new features to its Bing search engine and today they took the covers off a new way to find a good book to buy and read via a best-selling book carousel that can be accessed on the Bing.com page.
Microsoft stated:
What current best-selling book or books are you planning to read in the near future?
Source: Bing blog
Windows Central Newsletter
Get the best of Windows Central in in your inbox, every day!
Just tried it and it looks like it is another US only feature as I just keep getting a list of results and no carousel, however time will tell if that is true or not...

Yes, it's currently limited to the US only, it takes time for these new features to roll-out to different countires.It doesn't work in Canada yet either.

It takes forever for these new features to roll-out to different countries.

Great! Oh, wait... US only... Oh God... :(

John=Beast Mode On. Thanks for the info. Bing is getting better and better...

Seems US only. The carousel of US only stuff is only getting longer.

I wish they had something like the Apple Newstand. I loved using that for magazines and books. Really wish Microsoft would do that.

If you live in a country where all these features are present, Bing is just an amazing search engine. Highly underrated and just simply superior to that other one. Great work. Beautiful too.

Well considering it is based on the New York Times best seller information... duh its going to be US only for the moment. As Microsoft roles this out to other contries I imagine the data set would need to be localized, especially if the language is not English.

Well at least roll it out to all English speaking countries and give users to enable it if they wish via settings...

Of course, US only feature.

Does MS have a way to buy these books? Maybe digitally?

iirc MS is building a ereader app (MS Digital Reader?) that will use the Barnes and Noble/Nook library for purchasing. Haven't heard a peep about it since beginning of last year. I hope it's still in the works. I love my Nook, but without a new Nook e-ink ereader in the pipeline it seems, and me having no desire to support amazon (kindle or otherwise), I'm hoping somehow MS picks up the e-ink ereader torch. ... I can hope, right?

That deal has terminated - http://www.zdnet.com/article/microsoft-and-barnes-noble-terminate-their-nook-media-deal/

Every team in Microsoft seems to be working really super hard. So many improvements. Great job guys! :D

Sadly US only again! Here in UK still waiting for result Date filter :-(

This is why everyone use Google.. There is no US only.. One more bs service from MS :)

I need some audiobook recommendations. I like sci-fi but am game for anything that rocks.

Nice one. Microsoft just keeps getting better and better.

Why doesn't Microsoft have its own book service like apple and google

great features! Thank you Microsoft...

Revival is at the top of my digital stack. The King is still the king.

Funny thing is just like every other microsoft services if you change your region to US from bing setting it works from any end of the world. F**k you Microsoft for being a moron. You're deliberately depriving your precious customers.
Windows Central Newsletter
Thank you for signing up to Windows Central. You will receive a verification email shortly.
There was a problem. Please refresh the page and try again.