Microsoft adds gift cards as method of payment to Wallet for Windows Phone 8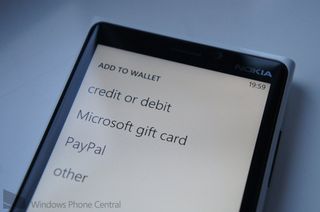 Microsoft will be adding the option for consumers to utilise gift cards on the Windows Store and Xbox Live, but the company has already enabled the payment gateway on the Windows Phone Store. Adding a gift card to the Wallet, a feature in Windows Phone 8, smartphone owners can use the cards to charge app, music and media purchases.
It's similar to the current Microsoft Account system, where people can redeem codes to add to their balance e.g. Bing Rewards in the US or the $25 Store credit for the Verizon Lumia 928. This new option though is specially handy for those who would like to purchase a physical prepaid gift card for someone who owns a Windows Phone (much like Apple App Store cards).
A few weeks ago, the Verge detailed the upcoming Gift Card system, which is replacing the current usage of Xbox and Microsoft Points (see above image).
Remember to keep your Wallet safe, even on a Windows Phone. Be sure to check out our quick guide to securing your payment gateways. We'll keep an eye out for when the option for gift cards is available on Windows Store and Xbox Live.
via: Plaffo
Rich Edmonds is Senior Editor of PC hardware at Windows Central, covering everything related to PC components and NAS. He's been involved in technology for more than a decade and knows a thing or two about the magic inside a PC chassis. You can follow him over on Twitter at @RichEdmonds.
Ah the feature has been there for a long time

There aren't actual Gift Cards, AFAIK. It's something that's coming due to the advent of physical Microsoft Stores. (See this Verge article on the topic--this is all new, not old). Are you confusing it with the Microsoft Account balance--see 2nd paragraph? Because that's completely different.

NP, I made it more clear in the article.

That's what I was thinking. I've used Visa gift cards for a while.

And remember kids, use Bing Rewards often and keep getting those $5 Gift Codes for free! Just for using Bing over Google. I hardly have to worry about paying for any app because of this. :)

Dude are bing rewards us only cuz i cant pay for apps :'(

Yeah, but it's us only... Would love to see that in Finland :( But, well my credit card works well :)

Yup, I love Bing rewards, I can't remember the last time I paid cash for an app.

Any ETA on this? Maybe E3 where they ditch the MS Points for $?

Not E3, but I imagine it'll all come together for the famous "holiday season" here in the States. More Microsoft Stores, ditching of MS Points, new Xbox One and physical MS gift cards to tie it all together.

Damn it, I need it sooner! =P I've got the weirdest setup for buying apps right now because I don't have a CC and don't live in the US =(

Can't you use Paypal? That's what I use and it's an easy way to pay for apps.

Not if your outside the US :/ I use my paypal account to buy everything from the web, except windows apps...

I'm outside the US, in the UK actually, and I can use Paypal for app purchases. I just installed the Paypal app and WP8 added the payment information into the wallet automatically.

all and all... good stuff!

I've been adding microsoft gift cards for a while O_O well i used the code from bing rewards and selected that option to enter it.

No, you haven't. You've added redemption codes to your Microsoft Account. See the 2nd paragraph where we talk about that. This is the same principal but this much larger as it's for physical MS gift cards and is part of the initiative to replace MS Points.

Daniel is bing rewards us only,please reply soon i cant pay for shite :'( ive got no options :/

Yes. We even specify that in the 2nd paragraph.

Wow is there any payment option like bing rewards please reply soon bud :/ i really want apps :'(

You're out of luck bro... I've tried everything under the sun, and if you don't have a credit card it's pretty impossible to buy from outside the US. Not even if you have paypal!

Carrier Billing is another option, but your carrier/provider has to support it. My daughter uses carrier billing through Vodafone. T-Mobile supports carrier billing too.(The Netherlands)

Entropay is the solution. Just add 20 dollars to virtual credit card and use it in the store. I can confirm that it works in Turkey.

Will look into it, thanks for the heads up! :)

Wow, the ammount of questions that would be answered if people actually read these articles...

Barely related, when are NFC payments coming for use in stores?

That's a carrier thing, so you'd need to ask AT&T. My bet? When the iPhone gets it.

Yeah good point. I know the security is tied to the carrier, but do any carriers in the world implement this yet on windows phone?

It's not a carrier thing. Windows Phone 8 does not support it. I live in Austin, and AT&T provides secure NFC cards to anyone who has a phone that supports ISIS.

Actually all that's needed for NFC is a AIM with a secure element and a supported app, no ISIS support needed at least outside the US.

I would call it very related, as it's a wallet thing. Everywhere around me accepts mobile payments. T-Mobile uses NFC payments on android. I just want to join in on the fun. An ISIS app would be really awesome!

Lol these things wont probably reach my country Microsoft should really expand

Where can you buy those gift cards?

What about poor guys like me that still have WP7?

Since Wallet is an OS-level feature, I'd say there will probably be a method to add it your account, just not via the phone.

I think the way it could be done is if they added gift card codes or the likes to the web Store. However I somehow don't see them doing that. :/
Let's wait and see.

We're screwed until we buy new phones. <evillaugh/>

THIS is the feature I'm most jealous of WP8 for. Still a few months of WP7 for me.

The wallet? =P Believe me I've NEVER used it since I bought my 920. And you'll be able to add cards from your windows 8 device or from the web.

So you never purchased any apps on the Store, that uses the wallet to store payment methods.

I used my Bing points to buy the gift cards all the time which I then use on those pricy Xbox games. Its been there since launch.

The post: read it more closely. Come back, edit yours ;)

Im aware that these are physical cards Daniel. But they work in the same way no? Scratch. redeem code. The only difference is the actual cards are sold in stores.

You've basically just summarized our second paragraph, correct.

When is Bing rewards coming to the built it search button on windows phone? I would love to rack up points this way and turn around and buy $5 cards to purchase apps. Any idea RUBINO???

How about the wallet gets NFC payments. I care much more about that. Google wallet was great on the s3. But even then it had to be side loaded because Verizon would rather put its proprietary garbage on there that isn't even really out yet

Same here, but VISA don't have an app that supports NFC payments in the UK.

I want Payment from the Sim Balance.

I just want carrier billing on Verizon and use MS Points on Windows apps.

I hope they eventually allow you to add the codes via NFC. Massive annoyance having to enter in codes for things like this.

How about supporting ISIS instead of spending time on this.

Microsoft. When are you going to add debit card as an optional payment facility?

Already in there, I pay for apps using my debit card.

Are you from India? If so,how come? I also filled in the details of my debit card but that did not work out .

Good, but we also need to be able to gift apps from phone to phone.

Ah I was under the impression MS gift cards already existed and just sold at MS stores. I haven't used my Bing rewards for that, now I know I can use that option in wallet for something.

Hopefully well be able to use this to pay for xbox music pass & available in Canada(unlike the xbox music pass cards sold in US)

http://www.microsoft.com/india/appoffer1020/ Check the link,I am from India ,how to get store gift catd via messaging my imei no...it says message cannot be sent..? I bought a 1020 from official dealer on oct 11th
Windows Central Newsletter
Get the best of Windows Central in in your inbox, every day!
Thank you for signing up to Windows Central. You will receive a verification email shortly.
There was a problem. Please refresh the page and try again.