Microsoft adds interactive charts and more to Sway presentation tools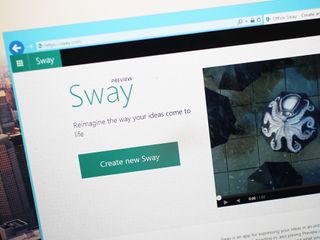 It's only been a few weeks since Microsoft last updated its Sway online presentation tools but today the company announced that it has added even more features to Sway. Among them is the ability to put in interactive charts and graphs.
The interactive charts features is still labeled as a "preview" but Microsoft said it wanted to get it out so it could receive feedback from users. It said:
For photos in Sway, Microsoft is adding in what it calls Focus Points, which will allow presentation creators to tell Sway what to focus on when the tools do their automatic cropping. Microsoft says:
Microsoft has also made it easier to embed Word, PowerPoint, Excel and PDF files in Sway presentations and added a new text highlighting tool called Accent. You can learn more about these new features at Microsoft's Office blog.
Source: Sway (opens in new tab)
After SWAY, I said goodbye to Prezi...

a noob question from someone who never used Sway: why they keep both sway and powerpoint? why couldn't they simply merge these 2 apps give that both are for presentations? ok, from what i see sway is online. but ms already has a trimmed down version of office online so......

Its also got an ios app, in case you were thinking its online only.

Powerpoint create slides... sway create sites that looks more interactive books... I believe they didn't just upgraded powerpoint to not break what is already working..

I guess at the end, probably MSFT will take some features to PowerPoint.

If I want to talk and present to a live audience in person, I'll use PowerPoint. If I want to present asynchronously to a group of people using the internet, then I'll use Sway :-)

Actually I think PowerPoint and sway are very different purposes. For your example above I'd say PowerPoint for live presentation and use mix in PowerPoint to present to a group of people via the internet. I find sway to be more for quick, easy presentational purposes where it doesn't matter if you have total control over design just that it looks good.

Sway is great for inspiration or presentations that need to look good in a short amount of time. PowerPoint looks more official, but can take more time, and seems more ridged.

Use sway and you will answer your own question...

It would be even better if Microsoft made a mobile app for...you know...their own mobile OS.

Yes. I use Windows Phone and Microsoft Sway ignores us just like the arrogant snapchap. Maybe we long time Microsoft supporters need to reassess our needs and allegiances?
Just thinking out loud.
Best Wishes.

I hear you. It really feels like they are throwing in the towel, sometimes.

Re: Dalydose,
Thank you, for listening.

I still stick to PowerPoint and prezi

Where is the windows phone app in the store??????????????????

This is the new Microsoft....they don't support their own OS. It's iOS only.

This is the new Microsoft...iOS only.

According to a post on the Sway Twitter feed in regards to that very question, an app is in the works for Windows Phone as well as eventual inclusion into Office 365. Remember Sway is really still in development/beta stage as evidenced by the web version being named Sway Preview.
Windows Central Newsletter
Thank you for signing up to Windows Central. You will receive a verification email shortly.
There was a problem. Please refresh the page and try again.