Microsoft again offers 4 free months of Groove Music Pass for new subscribers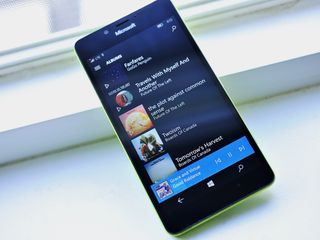 If you're looking to see what Groove Music is all about, Microsoft is again offering an extended 4-month trial for new subscribers (opens in new tab). With this subscription deal, you can freely access millions of songs, playlists, radio and more without paying for 4 months.
This isn't the first time Microsoft has offered this deal, and it's been extended a fair few times by now. All you have to do to take advantage of the offer is sign up for the initial 30-day free Groove Music Pass trial. Once the first 30 days are up, Microsoft will email you a promo code to add an additional 3 months subscription for free. While you do have to hand over your credit card details at sign-up, you can cancel before the 4 months is over to avoid being charged.
Again, this offer is only available for new subscribers. If you've previously subscribed to Zune, Xbox Music, or Groove Music, then you won't be able to take advantage of this deal. New subscribers can grab the offer through July 1, though it wouldn't be surprising if it's extended again in the future.
Get the Windows Central Newsletter
All the latest news, reviews, and guides for Windows and Xbox diehards.
Dan Thorp-Lancaster is the former Editor-in-Chief of Windows Central. He began working with Windows Central, Android Central, and iMore as a news writer in 2014 and is obsessed with tech of all sorts. You can follow Dan on Twitter @DthorpL and Instagram @heyitsdtl.
You can also make a new account or sign someone else up, wait about 4 days for the promo code and apply it to your account if u are already a subscriber...i just did this last week

It works i did it last Thursday got my code Monday and applied it to the account i pay for now every month

Still haven't gotten my code will probably cancel this in a couple of days. As one said I need a family option and for price this is ok.

Odd took me roughly 4 days

Whoa thanks that's quite the come up

They are fraud... They didn't gimme any promo code after 30 days free trial. Shyte

Better than just calling them fraud... Talk with them and explain, and if you did things like the promo said, they'll give you those months... You might have made a mistake in one of those steps, or your country was not included in the promo.

Me neither, I was waiting for my promo code and it never was received. I talked with costumer service and this guy told me that the promo applies after the first $9.99 payment once my trial ended and then I should receive my code...WTF!?

Not true i just made another email signed up for the free trial, removed the card info the same day, and 4-5 days after i signed up i got a email with my 3 month promo code

I had the same experience. No promo code and they billed me after the thirty days. It wasn't worth the hassle so I ended up just cancelling it.

...and a Microsoft rep told me they're working on launching Groove Music Pass for families sometime this year (RS3?). I wonder if they will offer 4-month free family passes....

Remember Dan mentioning this in one of the podcast. Would be great to share a subscription with the family, hopefully nit too much more then an individual pass

Wouldn't surprise me if the family music pass arrives at the same time as all the other family login stuff for AiOs, Cortana speakers etc. It'll be a beautiful world.

A family pass is the feature we've been waiting for before signing up.

I hope so, otherwise we may go to Apple music since we wont be using Windows Phones anymore and its a much better deal for multiple users.

Well certainly not in Hungary.

Nor in Poland. I think we have most major streaming services available... EXCEPT Groove Music.

Same in Czechia. How hard can it be if everybody else can do it?

It's really annoying that MS treats C&E Europe as Wild East. Every other streaming provider (Spotify, Deezer, Netflix, Google, Apple) can make money here but not MS. Plus we get subpar experience with all the other MS services. This makes me really want to move to Google - although I hate them. Well done, MS, well done.

I don't need this. If I want some music I will buy it. But for others ....give it a try.

I'm probably weird, but I've actually used Groove and similar services to find music I like that I also buy. I dont know that I will always pay for streaming, so I like to own my favorite albums.

These bastards should give me Groove music for free for all the pain and suffering they've put me through in the Preview program.

Nobody put you in the preview program. You put yourself there. And Microsoft says when you're signing up that if you're not willing to deal with the bugs not to sign up for it. Stop being a crybaby.

Hey take that big stick out of your butt. Obviously it was a joke, but Microsoft should still give some perks to those that test their software.

The perk is to try software and features before the general public. But hey, keep making not so obvious (terrible) jokes.

Thank you. Wanted to write the same response.

To keep costs down, rewards for beta testing software or games is seeing features long before the general public and to give IT staff and developers time to prepare.
Microsoft has on occasion given out schwag for those participating testing and also at the Ignite Conferences. When Microsoft finished the MSN Live Messenger beta way back when, they gave out really nice MSN Live Messenger laptop bags.

I assume the preview program was voluntary?

Looks like Groove Music service isn't too good to compete with Spotify and Google Play music. That's why they are always giving such offers. Just like Lumia 950 free with XL one in some places.

Yup, that's why I let my subscription lapse. I moved from Windows Phone to iPhone a couple of months ago, primarily for CarPlay. Was hugely disappointed to see no CarPlay support in Groove, so I switched to Amazon Prime. Unfortunately Microsoft has never understood the needs of people who drive cars.

Or the needs of people in general as of late

I tried it last time with a new account and never got the promo.

i tried last time and I never received the promo code... shame

I just signed up. When will i get the promo code for 3 more months? Right now its free dor 30 days

I used a new email acct I made and signed up got my code 4-5 days after

gimme those christmas $27 yearly pass deals!

Pretty good offer. I was just wondering if this platform is successful for them, actually. Seems there are a lot of similar, bigger alternatives, so I wonder where this stands at MS. Personally, I still prefer CDs. More cost-effective long-term, no worry of a shutdown in service, no data consumption considerations, and higher audio quality. Still, it would be a decent way to supplement a.music collection, if you have broad interests in mainstream music.

Yes, bring the family pass competitive with Spotify, Apple and Google services. But, give an additional discount if you are using multiple MS services. Office + Groove + Xbox Gold should be a bundle that works for the entire family.

Don't give them crazy ideas! They will announce it at BUILD and never introduce in real life!

I tried this last time, never got the promo code and ended up accidentally paying for a month while waiting on that code. I'll pass this time.

Same happened to me. I like Groove, but I don't love it. Since I never got the code, I let me subscription end. I now have a family Spotify account. So, I pay for 6 people to have seperate accounts (in one family plan) for $15/month. Can't beat that.

Nope. That trail does not work. Throws me to actually buy a pass. C'mon MS my last trail was back when you still called this service XBox Music on WP 8.x, and it was utter crap. Ridiculous that I can't get a new trail to test Groove. Anyway, even of I try buying a pass it throws me a error that the purchase could not be completed. *narf*

If I could only find a way to subscribe in unsupported countries. But there's no way unfortunately :(

I wonder how many People have a music pass. I've tried others but for me groove has always had me going back to it others dont seem to match it in terms of what i want from it.

Can we please get a family pass?

Is this US only? I did this last time but didn't get a code

Has anyone tried songify?It's a good app to download music

I'm near the end of my second month.. I had one month free and I never got a code so they charged me. I contacted them to get a refund which they did and they said my code would arrive the time my next month finishes... I did ask about my code today and they said from 20th April I should get the code..

I got mine. I won't have to pay until august 😁

Hey guys, can one apply for this without giving payment details?

Microsoft again offers 4 free months of Groove Music Pass for new subscribers: The music pass Microsoft have trouble even giving away.

Groove Music is not available in South Korea. Each country has legal, regulatory, and licensing issues, but Google and Apple have music services around the world. Spotify is also available in many countries. Microsoft needs to expand its service to Groove Music around the world, including South Korea. I can not understand that only Japan serves in Asia.