Microsoft is all aboard the dark mode hype train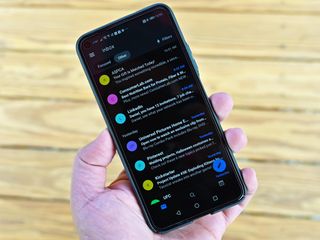 (Image credit: Windows Central)
Microsoft has announced that it is finally bringing a dark mode to its popular Outlook and Office apps to Android and iOS, a feature that users have been longing for since dark mode became a popular trend among the tech industry. These new dark modes are noteworthy, as they are launching alongside iOS 13 and Android 10, both of which finally introduces native system-wide dark modes, something that Windows 10 has had for years. Microsoft is all aboard the dark mode hype train, as it has been for a while.
Microsoft's obsession with dark mode doesn't start here; it spans back as far as Windows Phone 7, Windows Vista, and probably even earlier! Over time, its obsession with dark mode has slowly found its way into other software including Windows 10, and the many apps that run there. Windows has had a dark mode for a long time, so it's great to finally see Microsoft introduce dark mode in more of its apps on non-Windows platforms.
Dark mode for Outlook on mobile was announced at Ignite 2018, which was almost a year ago. That's a long time just to introduce a dark mode, but now it's clear why. Microsoft has been working on dark mode for the entirety of Office on mobile, not just the Outlook apps. Word, Excel, PowerPoint, OneNote, OneDrive, and To-Do are all set to get dark mode on iOS with iOS 13.
Curiously, Microsoft makes no mention of dark mode coming to Office for Android outside of Outlook. We hope it will, but it appears Office for iOS will be getting that first.
Dark mode is best mode
This push for dark mode is one I am personally very excited about. Outlook and the rest of Office join Microsoft's other mobile apps that already support dark mode, including Edge, Skype, and the Microsoft Launcher itself. There's also already a huge list of third-party apps across Windows, Android, and iOS that support dark mode, including Reddit, YouTube, Twitter, and more.
It's fair to say that the entire industry is obsessed with dark mode, and it's finally getting the treatment it deserves. There have been some studies that suggest dark mode is bad for your eyes, but there are also studies which indicate the exact opposite of that. It comes down to personal preference in the end, do you prefer dark mode or light mode? It's up to you.
If you're a user who likes to keep things consistent across devices, and you already use dark mode on your PC, the introduction of dark mode in Microsoft apps on mobile is a huge deal. You'll now be able to use dark mode in Outlook, Word, and other Microsoft apps across your PC, phone, and the web.
We hope to see Microsoft continue this focus on design, as design across Windows has not been Microsoft's strong suit. We're hoping to see this improve with future versions of Windows, but in the meantime, are you excited about Microsoft's dark mode efforts on iOS and Android? Let us know in the comments.
Get the Windows Central Newsletter
All the latest news, reviews, and guides for Windows and Xbox diehards.