Microsoft and AMD reportedly partner up to create powerful Arm laptop chip
The next generation of Windows on ARM laptops could be much more powerful thanks to AMD and Microsoft working together.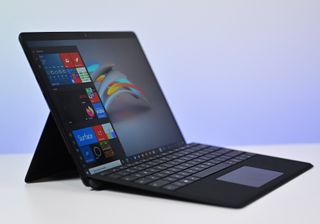 (Image credit: Daniel Rubino/Windows Central)
What you need to know
Microsoft and AMD are reportedly working together to make an Arm processor for laptops.
The resulting laptops would be much more powerful than previous Windows on ARM devices.
The rumored chip would not be exclusive to Microsoft hardware and could appear in laptops from other companies.
Microsoft and AMD are working together to create an Arm processor for laptops, according to recent leaks and reports. Established leaker FrontTron shared information about the rumored chip based on a report from Clien. The reported partnership between AMD and Microsoft could pave the way for more powerful laptops running Windows on ARM.
The resulting laptops from this partnership will be much more powerful than other Windows on ARM laptops like the Surface Pro X and Samsung Galaxy Book Go. FrontTron states that performance of laptops with the new chipset will be lower than laptops with the GTX 1050 but "much better" than Qualcomm chips made on older architecture. The targetted performance mentioned by FrontTron is for GPUs.
The exact configuration of the rumored chipset isn't known at this time, but it's said to use the Cortex-X1 core. The SoC will reportedly use an mRDNA 2 GPU similar to that on the Exynos 2200, and 8 compute units. The chip will also support 5G connectivity thanks to an Exynos modem.
AMD is collaborating with Microsoft to equip powerful ARM laptop processor in Surface.
Target perf: lower than GTX1050 class but much better than Qualcomm chip that uses the old arch. and in the overall lightweight ARM laptops.
GPU: 4WGP, 8CU
(1/2)

Sourcehttps://t.co/ktt0SfgWjV https://t.co/vqkzQEwEjxAMD is collaborating with Microsoft to equip powerful ARM laptop processor in Surface.
Target perf: lower than GTX1050 class but much better than Qualcomm chip that uses the old arch. and in the overall lightweight ARM laptops.
GPU: 4WGP, 8CU
(1/2)

Sourcehttps://t.co/ktt0SfgWjV https://t.co/vqkzQEwEjx— Tron ❂ (@FrontTron) October 1, 2021October 1, 2021
NotebookCheck speculates that Samsung could be involved in the partnership as well. If that is the case, Samsung will likely be involved in designing the chip, which will reportedly be built on TSMC's 5nm node. FrontTron states that the processor was recently switched from Samsung's tech to the TSMC 5nm node due to low yields.
FrontTron's tweet was in response to a piece from our executive editor Daniel Rubino about why we haven't seen a 'Surface Go X' yet. In that piece, Rubino discusses the future of the Windows on ARM platform, including rumors that Samsung may make Exynos chips for laptops.
The rumored processor that comes from the partnership of AMD and Microsoft won't be exclusive to Surface hardware, according to FrontTron. That means that other manufacturers like Samsung could use the chip to create more powerful Windows on ARM laptops.
Windows Central Newsletter
Get the best of Windows Central in in your inbox, every day!
News Writer and apps editor
Sean Endicott brings nearly a decade of experience covering Microsoft and Windows news to Windows Central. He joined our team in 2017 as an app reviewer and now heads up our day-to-day news coverage. If you have a news tip or an app to review, hit him up at sean.endicott@futurenet.com (opens in new tab).
Would be a long-awaited fruit of their efforts.

This is good news... Hopefully something to rival the M1 chip...

"performance will be lower than laptops with the GTX 1050" What's the point to compare CPU with GPU?..

Yea I too was wondering about that comparison. Perhaps it was referring to what that CPUs integrated graphics would be similar too? I'm just guessing of course. I know several of my Apple Fan friends are disappointed in the M1s graphic results (lack of multiple displays they say) but I don't know much about that... I'm a Windows fan

Because, the Apple M1 chip that runs its iGPU at 7W has the same performance as heavier Windows Laptops using the 35W GTX 1650 Max-Q, that's why. The fact that a 1.3 kg device with only integrated graphics can maintain sustained GPU performance at 1/10th the power of a Full desktop GTX 1050 card on battery power is an impressive feat. By mentioning the GTX 1050, the original commenter is speculating that this ARM chip will be nowhere near the CPU and GPU performance of the upcoming M1X that some people were probably hoping for on the non-Apple side.

The M1 is nowhere near 1050, much less a 1650 max q, hell it's not as good as the old 750ti on desktop. Where are you getting your information?

Yes it is. https://www.anandtech.com/show/16252/mac-mini-apple-m1-tested/3
https://pocketnow.com/apples-m1-chip-is-better-than-the-geforce-gtx-1050...

Yeah it doesn't make any sense to me. Maybe they're referring to the CPUs commonly paired with that GPU. So I'm guessing 10th Gen Intel 15W? <shrugs>

I phrased that poorly. It's since been updated.

This is great news but hardly a surprise. It would have been disappointing to learn this stuff wasn't happening!

More vapourware... Where is the Surface Neo?

Any qualified guesses as to when we'll see this in new devices?

Assuming the timing of a new Surface Pro X a year from now, the Cortex-X1 will be quite dated at that time. Hopefully this will actually be using the Cortex-X2 when a product launches end of next year. It would be nice to see the Surface product line stop using last generation chips in general.

IMO microsoft-amd chip can't be much different than what Qualcomm has done so far for windows on arm. Amd can design capable GPU but for CPU they have to rely on existing ARM core combinations like cortex x1 or cortex a78c & cortex A 55 etc. Which are slower than apple's cores. So Unless ARM cores itself catches up Apple cores in performance it's difficult for any chip maker to rival Apple m1. So for now don't hold your hopes high that it will match apple m1. Surface pro x's gpu is good & according to benchmarks it's just 30% slower than Apple m1 so Microsoft-AMD chip gpu May turn out equal or better than apple m1/m2 considering Amd's expertise in GPUs. But Qualcomm's future chips under Nuvia is still best bet for performance pov because they will have powerful custom core designs & seriously give competition to ARM itself in future laptop & smartphone soc segment.
But competition is good for windows on arm growth . always wondered why mediatek, Samsung exinos etc not supported by windows on arm platform.

"Unless ARM cores itself catches up Apple cores in performance ..." But M1 cores ARE Arm cores (customized by Apple). This is what's so promising. Qualcomm, Samsung and others are following Apple and turning their Arm-based processing systems into powerhouses for laptops, with all the power consumption and LTE benefits.

Apples cores are custom, they are not using ARM core designs in their processors.

Underlying technology is based on ARM, but they are fully customized Apple Cores very different from Cortex. Apple is one of two companies who bought the license years ago to be able to do this.

Could we imagine hybrid x86 / arm chips ?

The future of computer is arm, it will be a new era.
Windows Central Newsletter
Thank you for signing up to Windows Central. You will receive a verification email shortly.
There was a problem. Please refresh the page and try again.