Get ready to take off with Microsoft and British Airway's new digital bag tag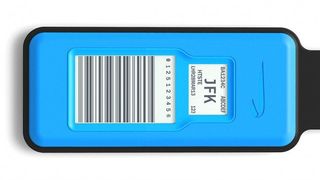 What is the worst part of departing on your overseas flight? Bag drop-off, of course. Dropping your bags off in one country and hoping they will be with you when you arrive elsewhere can be a real nightmare. Luckily, British Airways and Microsoft have partnered up to create a new Digital Bag Technology.
You can even see it in action in the creepy demo video below.
The new bag technology replaces the old standard of waiting in line for a sticker print out and allows travelers to simply drop their luggage off at a designated location. The bag tags themselves are NFC compliant and store personalized messages about travelers including all of the customer's flight details.
British Airway's head of service transformation released a statement regarding the company's latest innovation:
Microsoft is happy to be working with British Airways and say they are proud to "help shape the future of one of [British Airway's] key customer experiences". The international transportation company is set to invest another 5 Billion Euros in an effort to make travelers "happier and more satisfied".
While many consumers may view Microsoft as a simple company that puts out Windows, Xbox Consoles, and Surface Tablets, the boys in Redmond are doing much more to advance our future. This partnership is just one more way that Microsoft is trying to make our everyday lives better.
So, if you are planning to go on an international trip now, what better way than to do so while checking out new tech? The digital bag tags are now available and ready to come aboard your next flight. Make sure to visit our writer, Rich Edmonds, in the UK.
Source: Aviation.ca; via WinBeta
Cool! I hope more will make use of this.

More of this please, Microsoft.

They could have at least used a windows phone instead of a dumb iphone for the demonstration.

Seriously, and yes, that video was pretty creepy.

If it wasn't a picture of an iPhone then iPhone users would not understand it would work with their phone.

It still wont; iPhone doesn't have NFC. Edit: Unless there's a camera scanner too?

Agreed, because iPhones users are dumb, but they don't even have NFC.

They dont even know what NFC is!

I was hoping they wouldn't do that. I guess I'm wrong. :'(

Me too, but I thank Microsoft for these hints at the future ;)

Yes but AT&T will be desiging the features of all future phones and they will cripple the Nokia's and remove NFC just like wireless charging via Qi. They can't have Nokia show up their other premiere partners like Apple and Samsung. Also this won't become magical until Apple releases a propritary verision for the iPhone.

They won't remove NFC because NFC is the only standard. Wireless charging is different.

WTF? Whats with the iPhone. They don't even have NFC!

"The boys in Redmond". What about the women, Michael? Do they get a separate mention or is coding/technology just a boys club.....

Qantas have had an NFC systm in place for quite some time already. Good to see someone else doing somethign similar!

When is the black update coming out for Lumia 822????

Neat, but I can see some a-hole hacking these kinds of devices and shipping my luggage to Nigeria.
Windows Central Newsletter
Thank you for signing up to Windows Central. You will receive a verification email shortly.
There was a problem. Please refresh the page and try again.