Microsoft announces new updates for Windows 10 Mail and Calendar apps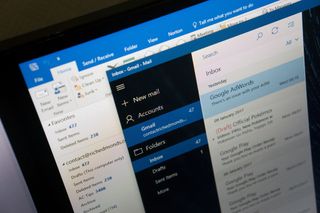 The Windows 10 Mail and Calendar apps have come a long way since they were first introduced back in 2015, with new features and enhancements being added every few months. Today, Microsoft has detailed its next wave of updates for the Mail and Calendar apps, with these new features rolling out over the next few weeks.
A lot of the features being "announced" by Microsoft today have actually been in A/B testing with Insiders for a few weeks. Features like Focused Inbox and Package Deliveries likely won't sound like new things to Insiders, but these features have only recently been rolling out and will be hitting the public very soon. So here's what Microsoft has been working on over the last release cycle:
Focused Inbox
Focused Inbox is a feature that first made its way to the iOS and Android versions of Outlook, and now it's making its way to Windows 10 too. The Mail app now separates your inbox into two tabs – Focused and Other. Emails that you likely want to act on appear under the Focused tab, while the rest remain easily accessible—but out of the way.
What lands in your Focused tab is determined by an understanding of the people you interact with often, and the content of the email itself (e.g. newsletters, machine generated email, etc.).
Mentions
Mentions are similar to how you'd mention someone on Twitter, simply @ their name and it should tag them into the email. Once you pick the person you want to address their name is highlighted in the message in blue, helping them know they are being asked to take an action in your message.
If the person isn't part of the email conversation already, they will be automatically added to the To: line so they receive a copy of your email.
Colored Categories
This is a new feature for the Calendar app that allows you to categorize calendar events into a number of different colors. This will make it much easier to quickly scan and pinpoint specific events without having to hunt through days and weeks to find it.
Interesting Calendars
Another new feature for the Calendar app is "interesting calendars" which allow you to easily import calendars powered by Bing to keep up with your favorite TV shows, sports teams and more. . For example – it's basketball season right now, so add the game schedule for any team you support or a rival team you want to keep track of. Over time we will add interesting schedules from various regions to this feature.
Travel Reservations and Package Deliveries
The Calendar app will now intelligently display your travel reservations and package delivery details straight from the overview area. Microsoft is adding simplified summary cards in your inbox and calendar enabling you to quickly get to travel reservations and package delivery details, check in for flights or change hotels and rental car reservations or track the latest packages delivery status at the touch of a button, and stay on top of these events with reliable reminders. It's on by default, and you can configure this feature from 'events in email' settings in your account on the web.
Calendar Invites
In addition to the above key features, Microsoft has also been at work on small improvements that can be a delight. Now you'll see location suggestions from Bing so you can add popular addresses quicker, an option to add Skype for online meetings, a scheduling assistant for Office 365 accounts, a fun emoji picker, and a people picker to help you quickly browse and select contacts, when you create a calendar appointment
So there you have it, that's everything new with the Mail and Calendar apps in Windows 10! These features will be rolling out to everyone soon, if you don't already have the features early that is.
Zac Bowden is a Senior Editor at Windows Central. Bringing you exclusive coverage into the world of Windows 10 on PCs, tablets, phones, and more. Also an avid collector of rare Microsoft prototype devices! Keep in touch on Twitter: @zacbowden.
But Madrid is losing today!

We still have the second half!!
Don't forget +90 😛

I wish you have a good day after the match, regardless of the result! :D

Hopefully Focused Inbox can be disabled. I want my entire inbox visible at the same time with only a scrollbar on the side to hide emails.

Yes it can, just go under reading in the settings tab and disable it. Simple as that.

Yeah it can. It's the first thing I turn off on Outlook mail on any platform. Swiftly followed by Conversation View

Conversation View is awesome for me.

Agreed. Nice that it is optional, for both sides of this.

I've had these on my Insider PC for a few weeks now and love it. I'm just hoping I'll see this on my phone (insider build too) and Laptop on production build soon. Really enjoying the enhancments they are making with Mail and Calandar as these are the two most apps I use.

I can't seem to find the "Interesting Calendars" section in the mobile app. Is this only for desktop?

I have a few interesting calendars I'd like, namely, my COWORKER CALENDARS! Come on, Microsoft, what about productivity? O365 business account and can't see shared calendars without using the browser!!!

Andygoes, i agree with you. i don't understand why this feature isn't baked in.

You'll find that in Outlook. Windows 10 Mail is aimed at consumers. Not necessary sit at home and stalk your colleagues.

Yea, that's not really a good argument when I can view shared calendars on my personal Outlook.com account in W10 Mail/Calendar. Work calendars are for work things, not to stalk colleagues. However, Microsoft doesn't support shared calendars for O365 accounts, just Microsoft accounts in the only Mail and Calendar application they produce for W10M.

I've got the calendar for Manchester United games and the Rugby Six nations England games (PC running Release preview ring). Very useful feature

Hi Brian, is this in the UK? Am wondering whether these calendars are being rolled out worldwide

@b4rtw, yes its available in the UK(and possibly more major nations) as this information is pulled from Bing. The only annoyance i have is that i have to have a calendar per competition rather than 1 for the team.

Also available in Belgium as I added the schedule for the San Jose Sharks (NHL) to my calendar.

Mind mentioning where I get 'interesting calendars' from? Can't find them anywhere in the app.

You have to use Outlook.com to add the calenders to your account. Once done they will sync to your device.

Ah, I see. No idea why this wouldn't be part of the app, but whatever. Thanks for the help.

Hey, me too (MUFC calendars). I'm in India, and i did this about 2 weeks ago... It just came one day. I think MS is doing some heavy A/B testing nowadays.

Still no way of managing what displays on the Calendar Live Tile like show me appointments x days in the future. It's what a flip tile should do isn't it?

I also would like the live tile to be more helpful. Only two days ahead for appointment and only the next one, it'd be nice if it flipped or scrolled to show more for a longer period. I don't have a lot of appointments so I want to see that my dentist appointment is in two weeks or something... Already sent that feedback to them a long time ago.

Will second that. There should at least be more options of you use a wide or large tile, so it isn't just taking up space.

Leaving room for the 3rd party guys maybe :)

The phone updated the outlook app last night and that screwed the whole app(outlook). It is useless now, mail and calendar. Anyone else is having the same issue. The version is 17.7920.42008.0, phone: ICON.

Agree, totally useless right now!!!!Same on my Lumia 830 with latest insider. :-(

US only for calendar and package/flight tracking? No mention in the blog post

Not sure about flights but my calendar now shows my Amazon and Ebay delivery dates based on the info in my mail app.

Calendar could already do that via Cortana.

Have not updated to this build yet, but can anyone chime in and address if the sync issue is resolved? (New mail not showing up AND If I delete a message, I have to manually re-sync mail for it to properly update)

These may sound unrelated but I promise you they're not: What is the name of your Outlook account in the account list of the People app's settings? Has it changed to something like Outlook (Mail and Calendar)? If you open the account settings for your Outlook account, is the Outlook icon blue or black/white (depending on your theme)? Has a new account called "Microsoft Account" appeared on the list of calendars on the left pane of the calendar app?

I've got a desktop and Surface Pro 4 and only the SP4 seems to like accepting calendar invites still whilst my desktop stopped working about a week or so ago after something like the last but one update. I'm seriously thinking about just giving up and getting Office or using a third party solution as the built in Mail and Calendar apps are just too unreliable to be of any use, especially since I need to rely on the calendar appointments for work. It's a joke how MS have screwed up what should be a fundamental part of Windows 10. Seriously, it's not as if email and calendars are a new thing, is it? Anyway, enough with the moaning. I've checked the settings as you've suggested and they differ slightly and I was wondering what the differences might mean after reading what you've written. 1. Desktop shows as "Outlook (Mail and Calendar)" and SP4 just shows as "Outlook"
2. Desktop has no icon next to it, SP4 has the Outlook icon next to it
3. Desktop has "Microsoft Account" showing in left pane of calendar, SP4 doesn't

The settings that I described and you noticed on your desktop are symptoms of what up until a few days ago I thought was a bug but have come to the conclusion is actually intended behaviour. It did not work correctly the first time it happened a few months ago but it doesn't cause any problems now (except for two things in the calendar fly-out but syncing works). It's related to the new Outlook.com somehow but how exactly I don't know. Somehow the account gets converted locally and becomes able to handle e.g. focused inbox, colored categories for calendar events and probably more, which it isn't able to do without this conversion. It's just that the first time it happened on my PC sync stopped working correctly so I assumed it was a bug but it's probably just that a switch was flipped server-side before the mail and calendar app was able to handle it correctly.

Thanks for your reply. It certainly makes some sort of twisted sense :) My SP4 doesn't seem to have the focused inbox (yet?) for some reason even though both machines are running the exact same version of Mail and Calendar. The desktop PC which has had the account conversion refuses to store location information for my calendar appointments - which is slightly unhelpful since I need to know where I'm supposed to be going! I had to re-enter the information for an appointment after it got wiped from most of my recent calendar entries and watched as it just disappeared again about 10 seconds after I'd saved it. After a bit of experimentation (and some choice words!) I ended up entering it on my SP4 as it seemed to stay saved. I can only assume that my SP4 will shortly become assimilated like my desktop PC has been, at which point I will probably ditch the built-in app as I'm not sure I can wait much longer for MS to just get it working as it should. Anyway, sorry for the rant, not had the best of days and losing a load of information that I thought was saved hasn't helped much.

I hate Focused tab. Always sends random crap into it.

It says 'This setting can't be applied to any of your accounts' for Focused Inbox. WTH?

In settings --> "reading", I see the same thing. I have two email accounts: Gmail and Yahoo. I have an Office 365 personal subscription, but not a Microsoft-supplied email account. Maybe this feature only works with Microsoft-supplied email accounts. Then again I am an Office 365 subscriber, and I thought I read that this feature should work for people with Office 365 accounts. Can anyone help me?
In addition, @mentions works, to the extent that typing "@" (without the quotation marks) in the body of an email brings up a drop-down menu. To test this new feature, I typed "@" and then selected my own email address. The @mention clearly showed up in the email. I sent the email to myself, and after a moment, it arrived in my email inbox. Its listing in the message list does NOT have an @ symbol to draw my attention to it, though the body of the message contains the @mention. Can someone please explain why the message's listing in the message list does not contain the @ symbol?

The @ mention is just a shortcut for adding people to the "To"/"CC" field. No magic there.

I got the same thing also. Any solution?

Hope they finally add the possibility to move a created event to different calendar user has. Outlook.com desktop has this, mobile app & mobile web does not.. WHY?

Package tracking will work for everyone or US Only as with Cortana? Just sayin'

I've used it with UAE tracking numbers in Dubai

Nice features though i wish they'd add a 'back to top' button to the mail app....it gets very annoying having to scroll all the way to the top

Hope they finally sync the way Categories work in Outlook 2016 and the Mail and Calendar apps and Win Mobile their web versions...too separate right now.

outlook calendar items (at leas on the small windows mobile screen) still have a bug where it shows an attachment to the calendar item in the location field. it is really annoying and i've been reporting it for weeks.

Seems like they're bringing over features from Outlook.com to work in these apps, which is nice. I use the apps on my PC at home and the web mail & calendar at work, and the rather large amount of feature and visual differences between the two has always bothered me. They need to work further on visual changes though. My calendar colors should sync between the apps and web, and the charms should be the same and look the same as well.

And calendar is still fuqin useless for business. All I want is to snooze a calendar event 30 fuqin minutes and set a calendar event with a fuqin 2 or 3 hour reminder. I don't need bells and whistles all I need is the most basic functionality. This app blows.

How about the ability to define group contacts, like one could do two decades ago in other mail apps (then called "programs")

Can you search in the calendar yet?

Unfortunately the Mail app screws up every cpl of months, and i have to hard reset. Really dependable...joke

And yet I still have to have these ridiculous colored images next to my emails. Please give us the option to remove them.

? Settings>Personalization>Background Off/Pick the single background color?

Omg finally the ability to create skype meetings finally!!!!!

On a random note. I can't find any information on whether the creators release will bring SMS sync between android phone and windows 10. There seems to be some support for windows 10 mobile now though.

Wasn't focussed inbox a feature of Acompli originally? A client side feature originally?

Which is why this feature was available on iOS and Android first.

They were just being used as beta testers..😉

Is it just me or Outlook on Android can't do inline images?


Nice to see these apps getting some love.

Im so happy for these new features. I'll never have to use outlook for my work email again! Im also looking forward to bing calendars. But sadly many of my friends still go to web to check their email.

Guys, off topic- is there any way i can upgrade my Windows 7 professional to windiws 10 #now? (Or just as an insider?)

You can buy a copy. It was free for over a year.

I use this app a lot, and have been waiting for these features for months. Received an update today, but still haven't gotten anything new. -_- Plus, no mention of contact pictures alongside emails?

I cot the update too @mentions work

The day multiple signatures functionality like Outlook 2016 arrives is the day I switch.

I just hope for a Search function inside the calendar...

I got the update, but focused inbox isn't available for my account. The settings are there in the mail app. But it says that it can't be applied to my account. I only have a microsoft account. What can I do to make it work?

same thing here don't understand why it's not working

Focused Inbox is there but says not compatible, I'm guessing because both my accounts (hotmail and Gmail) are linked?

Some countries do not have their holidays updated/shown on this calendar,

I have interesting calendar on my pc non insider. Noticed itva week back. Didnt know how but its fun. Using it to keep track of current india vs australia cricket match.integrates neatly into my calendar showing date and venue and team on my glance screen lumia 550. Tried searching for Dragon ball super. Does any one know what channel it comes on in usa? It airs every sunday that i know. I Watch it on my pc and 550 using app Anime Kiss TV.

I would normally find it strange that Microsoft create product that work better on Android and Apple, than on their own system. But I guess when you own or lease most of the patents used by Google and Apple you have to support the patents or lose revenue while their own product line suffers as it get ignored, or maybe it's the Micro-Morons way of driving customers to Android, and even Apple, Microsoft is really a piece of trash these days.

This is because they acquired Accompli and rebranded it to "Outlook" for iOS and Android, so in essence Accompli had created a better product on Android and Apple...

And still not upgraded on outlook.com, thus making shared calendars useless.

I always flag my important emails. But my flags doesn't sync between devices. This is a losing point I think

I wish they would introduce tasks to the Calendar. On Windows Mobile, I can't find anything which can do this reliably. There was an app but it has stopped syncing for me. Anyone got any ideas?

HMPH! All this stuff and yet they still cannot sync it to a contact list so you can send an email to multiple contacts without typing in each seperate name!!! Even Windows 8 mail had that. Come on Microsoft, really? I just don't get it. And I could care less about a 'focused' inbox. Why can't we just right click an email and block the senders we don't want to see? What use is the stupid spam folder? It does nothing except hold unwanted stuff just like trash. These are the important issues for your basic Windows users. Save the glamour for the the 'pro' and business users! Why keep making email features more complicated but leave out all the important simple stuff? Ugh.

I must agree with some of the previous comments. This is SOOOO typical of MS apps these days.... lots of tweaking ad unnccessary/unwanted bells and whistles to soak up even more resourceres, but nothinng USEFUL, like being able to block specific senders the way the old Live allowed you to. It really makes you wonder what planet they're on if they think anyoine want's this fluff. Just give us good reliable USEFUL functionality please! oh yes... and how about an app that actually syncs your email in less than half an hour, rather than having to launch a different client when I'm expecting something urgent?

The programmers are too young to know what is useful function and what it fluff.

I want html support to signatures, still no support for company's logo or different font style...
Windows Central Newsletter
Get the best of Windows Central in in your inbox, every day!
Thank you for signing up to Windows Central. You will receive a verification email shortly.
There was a problem. Please refresh the page and try again.