Microsoft announces new updates for Windows 10 Mail and Calendar apps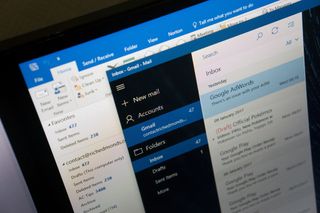 The Windows 10 Mail and Calendar apps have come a long way since they were first introduced back in 2015, with new features and enhancements being added every few months. Today, Microsoft has detailed its next wave of updates for the Mail and Calendar apps, with these new features rolling out over the next few weeks.
A lot of the features being "announced" by Microsoft today have actually been in A/B testing with Insiders for a few weeks. Features like Focused Inbox and Package Deliveries likely won't sound like new things to Insiders, but these features have only recently been rolling out and will be hitting the public very soon. So here's what Microsoft has been working on over the last release cycle:
Focused Inbox
Focused Inbox is a feature that first made its way to the iOS and Android versions of Outlook, and now it's making its way to Windows 10 too. The Mail app now separates your inbox into two tabs – Focused and Other. Emails that you likely want to act on appear under the Focused tab, while the rest remain easily accessible—but out of the way.
What lands in your Focused tab is determined by an understanding of the people you interact with often, and the content of the email itself (e.g. newsletters, machine generated email, etc.).
Mentions
Mentions are similar to how you'd mention someone on Twitter, simply @ their name and it should tag them into the email. Once you pick the person you want to address their name is highlighted in the message in blue, helping them know they are being asked to take an action in your message.
If the person isn't part of the email conversation already, they will be automatically added to the To: line so they receive a copy of your email.
Colored Categories
This is a new feature for the Calendar app that allows you to categorize calendar events into a number of different colors. This will make it much easier to quickly scan and pinpoint specific events without having to hunt through days and weeks to find it.
Interesting Calendars
Another new feature for the Calendar app is "interesting calendars" which allow you to easily import calendars powered by Bing to keep up with your favorite TV shows, sports teams and more. . For example – it's basketball season right now, so add the game schedule for any team you support or a rival team you want to keep track of. Over time we will add interesting schedules from various regions to this feature.
Travel Reservations and Package Deliveries
The Calendar app will now intelligently display your travel reservations and package delivery details straight from the overview area. Microsoft is adding simplified summary cards in your inbox and calendar enabling you to quickly get to travel reservations and package delivery details, check in for flights or change hotels and rental car reservations or track the latest packages delivery status at the touch of a button, and stay on top of these events with reliable reminders. It's on by default, and you can configure this feature from 'events in email' settings in your account on the web.
Calendar Invites
In addition to the above key features, Microsoft has also been at work on small improvements that can be a delight. Now you'll see location suggestions from Bing so you can add popular addresses quicker, an option to add Skype for online meetings, a scheduling assistant for Office 365 accounts, a fun emoji picker, and a people picker to help you quickly browse and select contacts, when you create a calendar appointment
So there you have it, that's everything new with the Mail and Calendar apps in Windows 10! These features will be rolling out to everyone soon, if you don't already have the features early that is.
Get the Windows Central Newsletter
All the latest news, reviews, and guides for Windows and Xbox diehards.