Microsoft announces Surface Headphones with Cortana integration for $350
By Zac Bowden last updated
The latest Surface accessory isn't a pen or a keyboard, it's a pair of headphones with Cortana integration.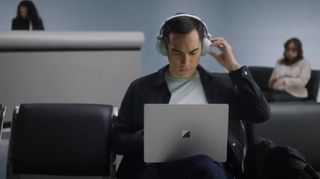 In one of the more weirder announcements today, Microsoft has unveiled a new pair of headphones called "Surface Headphones" that feature Cortana integration, noise cancellation, and 4-beam forming mics. While no release date has been confirmed, Microsoft does say these headphones will be coming soon.
The headphones are Bluetooth, and can hook up to any Windows 10 PC, iOS, or Android phone. Microsoft is asking for $349.99 up front for these headphones too, which isn't cheap. Keep it locked to Windows Central for more news regarding the Surface Headphones!
Everything Microsoft announced at its October 2 Surface event
Zac Bowden is a Senior Editor at Windows Central. Bringing you exclusive coverage into the world of Windows 10 on PCs, tablets, phones, and more. Also an avid collector of rare Microsoft prototype devices! Keep in touch on Twitter: @zacbowden.
$350 and powered by Cortana, 🤣🤣🤣 Who talks about Cortana in the days of Google Assistant and Alexa? Ooh poor Microsoft, always falling behind.

You can integrate Alexa with Cortana. In other words, change the voice of Alexa, and augment with Cortana. :) As long as they sound like 300-350$ headphones, and is comfortable, then I think they are interesting choice. Although, having a Microsoft, can be an interesting office, quality, headset. We will wait for reviews and see.

You can basically get 3 Pixel buds which are intelligent and productive with that money.. which will be wise imo. Won't take those headphones even if they were offered to me freely.

Buds are also crazy uncomfortable for long periods of time. These are the same Price as the Bose and Sony Top of the Line Noise Cancelling headphones.
I will say this, Cortona with Window 8 or 10 Mobile was far better integrated than Google Assistant is at this time, Unfortunately Cortana sucks on Android.

Just curious, why wouldn't you take them if they were offered to you for free?

I think he is just Microsoft hater

but he does have a point, I used to queue/play my music with Cortana, now the only time I hear her voice is out of nowhere when she says "I can't understand what you're saying" some times it happens in the middle of the night, kind of creepy.

"As long as they sound like 300-350$ headphones" Given Microsoft asks for $1,300+ for a $1,000 laptop (i5/8GB/256GB), do you REALLY think they're pricing this to compete with quality headphones? I'll bet they're about as good as Beats.

MacBook Pro, i5, 8GB, 256GB, $1499. HP Spectre Laptop - 13t i5, 8GB, 256GB, $1299 (currently discounted though). Sure you can get I5, 8GB, 256GB for $1K or less but you need to look at comparable hardware, not just comparable basic spec bullets.

If they offer them to you for free, I'll be happy to take them off your hands and save you the embarrassment. You're welcome.

Cortana works with Alexa today and there are rumors of integration with Google Assistant as well so it's a non-issue. The question is if the headphones are packable (they look big) and how good they sound and cancel outside noise compared to Bose and Sony.

I wouldn't say it's a non-issue. It's a bit clunky to invoke Alexa through Cortana. If Alexa had a more native experience, that would be different. but having to issue two commands to ask one question doesn't make a lot of sense. As far as traveling with them, that's a good question. I'm not concerned as much with size, but do they include a really nice travel case? They better at that price point.

Only in US. There is the rest of the world, you know...

Cortana has support for Alexa

I'll be pre-ordering these to replace my Bluetooth Bose that were $399 new with similar specs. You guys should get out more. This price is right in line with other quality, bluetooth, noise canceling headphones.

But, we don't know if these are quality

Isn't that why there is a return policy?

Still some hot hardware cortana or not. Not may headphones pack USB/Bluetooth/3.5mm all in one. Not to mention the tech inside. I want to try these out but will wait on some reviews.

Who hurt you it is probably Google assistant wasn't it, And literally the Google home speakers Sucking comparison with to the Cortana invoke I have a google home mini or three and they can never hear me EVER!!! It's insane how bad they are I literally have to yell and pick and pick it up screaming and it still wont here me but I can yell to Cortana from upstairs whale it is play music at 80% volume and she can her me not to mention her voice sounds so much nicer then the competition. You probably don't deserve Cortana anyways.

We want NOTHING to do with Google or Alexa. We use Cortana exclusively in our home.

I can't leave without mentioning...
"More weirder"??

Pssst, Microsoft: The reason why Google Assistant, Alexa, and Siri are so popular is because Google, Amazon, and Apple are committed to CONSUMER PRODUCTS that lots of people own and use every day. You know, consumer products like the Windows Phone, err, Band, err, Zune, err … As long as you don't have a strong commitment to mobile consumer products, nobody will care about Cortana. Get Andromeda out there and make it awesome and maybe people will start paying attention to Cortana again. Until then, this overpriced pair of headphones is just weird.

Couldn't agree more. Leave the headphones to the pros. No one cares about Cortana

You said it best bro, and I'm really surprised the so called smart guys at Microsoft don't realize this. Panos of all people being puppeted by that guy at the top.

Remove Siri... It's Hot Garbage!

Siri is way better than Cortana and it's not even close.

Cortana is literally smarter then any Smart home assistant except for Google assistant on phone version.

The way I see it, Cortana as a personal assistant is dead. It will probably live on as a fancy friendly frontend for some AI and voice recognition features inside other MS products in the future. I don't really understand the idea behind these headphones, to be honest.

Feels like a product that was thought up in 2015 & no one ever got around to cancelling it.

These are cool. It's all about sound quality though. Microsoft isn't an audio company. They have to get that right.

I am sure someone else built it for them...

Nope, they were built in house.

If that's the case I wouldn't spend money on a MS 1st gen product. Not that I was buying them anyways. There are way better headphones from the real pros at the same price point.

You haven't even used them.

No need to.
They are priced the same as Bose and Sony XM3.
The above have a track record.
I know where I would spend my money.

Has nothing to do with where YOU WOULD spend YOUR money.
My response was to the claim that there were better headphones based on absolutely nothing since they have yet to be used by the person making the claim nor you.

Looks like it is a bit longer then "A moment of your Time"!

Dope, only wonder I have is if these support Dolby Atmos or Windows Sonic, because that would greatly enhance their capability, And since they are cortana powered, could I then use these somehow on Xbox, rather than getting an invoke.. if so... DOPE

Ironically, my Wireless Beats are wearing on the cuffs so I could be in the market unless I repair those. I'm hesitant if this is any leftover Nokia tech cause they did have headphones that paired with phones which I did like. I would say, if Microsoft was going to put out headphones, they should have had more than one option because I'm not sure many audiophiles will endorse them (unless they've got some celebs lined up) nor do I think consumers will know Microsoft has them. Especially if it is non-marketed like the Invoke.

The Nokia ones (Monster ODM) were (are, I have a pair) quite good. They aren't especially comfortable though, which Bose excels at. Brilliant sound I can only wear a couple of hours loses to pretty darn good sound I can wear on a 6 hr flight, or all day at work. Depends on the use case. If you are thinking office environment, I think comfort and being able to adjust noise cancelling are high on the requirements list.

Right now, I work from home. But I also make music. So it would have a variety of uses for me. I always wanted to get the Nokia ones, but they would always be sold out when I found them for a decent price. Plus, by then Microsoft bought the phones and the rest is history. But yeah, I did have the ear buds which were some of the best I ever had, better than Beats. So if this uses and has some of that tech improved, I'm in. Just I know they need to aim low or have some endorsements lined up.

The sound quality, ergonomics, quality of the material, and noise canceling will be what is important. Cortana is not the main point esp if you don't use it. I use a Zik 3 which similar in price at launch but it is not durable and the fabric falls apart in less than a yr. Will see what this is like in the store and try it before buying or even judging it. Design wise it looks modern.

But the well-loved, noise-canceling headphones from Bose--the ones basically the entire world recommends, are about one-third of the price of these. Why would you pay $350 for these, really? That's insane!

And why release at the same time as Sony with their impressive XM3?

Where are you getting Bose noise cancelling BT headphones for $120?

I second that question... They go on SALE for $250.

Bose QC II - Bluetooth, noise canceling with assistant started at $399.

Awesome! will they come in black too?

They need to make them work with your Xbox also and then they would be great!!!

THIS!! This is the ONLY thing I'm waiting to find out about, to put me in buy. It has a wired input to plug into the controller, so you can at least use it on Xbox, but the big factor is of it supports windows sonic and/or Dolby Atmos for 3D surround sound, if it does and I can use Cortana on Xbox, this will replace my original plan to buy an invoke. That makes a $350 purchase more reasonable

If someone wants to waste 350$ I suggest to just burn it.

Not going to lie, i bet these sound amazing and they look great.

I'll bet they sound like an audio brand's $150 headphones and look like they were designed to match a MacBook Air or iPhone XS Max.

I would bet the same.
Instead of a Surface phone they wasted time on this?
If I want headphones I go to Sony or Bose not Microsoft.

Yeah, I'm sure a company as big as Microsoft can't work on two projects at once. Never mind the fact that Andromeda's delay is a software issue, not hardware.

They aren't working on Andromeda or a Surface phone.
Jokes on you.

Brad Sams hands on. Looks like it at least come with a case. My Zik3 only had a pouch. Lol
https://youtu.be/IH41zu8BOT4

why would they sell junk at 350.0 they have to be good

I like the idea of variable noise cancelling. But it's all going to come down to sound quality.

All I know is they shall be mine.

I really hope they put a decent mic on it and let it incorporate with the Xbox controller well. If it has Atmos ability, they will sell like crazy (especially if it matches with the elite controller).

Whatever next? Samsung Bixby Headphones? Cortana is another white elephant in a long line of Microsoft white elephants.. Could be great but Microsoft screwed up just like they did with Windows phone. Apart from Windows, office, azure and Xbox and the surface range of eucs devices of course!

Yeah, except for those multi-billion dollar products Microsoft is really screwing up.

I've got a feeling the answer is 'NO', but any idea if MSFT figured out a way for this to work with xbox one? (edit - herp a derp there's like 3 other comments already asking the same thing)

Those look awesome, but why? I don't see why Microsoft thinks these need to be released. There are plenty of headphones available and there is nothing unique about these.

The only thing unique about them is Cortana LOL

Yeah, that certainly is unique! Maybe not in that good kind of way. =P

Yeah, the more I think about these, the less sense they make. Apple released new wireless headphones a couple years ago and they were amazing. Truly wireless, had a new pairing process and you could wear them in public without looking too much like a tool. I am not sure what exactly these are supposed to be. They are just another pair of over ear headphones from the '70s. There is nothing new, revolutionary, or aspirational about them. What a rediculous product for Microsoft to release. This does nothing for them.

Great! Love it - hope the sound quality is as good as the Invoke. Not sure why people complain. Typical of people that complain when MS does nothing and then complain when they do something. So what if it doesn't suit your timetable.

If it's not better than the Bosev or Sony XM3 then they wasted their time and our time.
And I'm pretty sure they are worse than the two I listed.

No people buy the cheaper and it's cheaper than bose Sound cancelling headphones right now.

The problem is that Microsoft is releasing things no one asked for. No one was asking for headphones. I wished they used their resources on something that people want.

Who asked for Surface?
Who asked for Windows?
Who asked for Xbox? This could go on and on.

"If I had asked people what they wanted, they would have said faster horses." - Henry Ford I think it's fine for MS to get a great idea and pursue it even if no one was asking for it. But this product confuses me. Why would MS make it? There are plenty of very good noise cancelling BT headphones. Maybe these are way better sound, but I doubt it. That leaves Cortana. But MS is not sufficiently committed to mobile consumer products to make Cortana relevant. Adding Cortana may be different, but not in a way that anyone is going to care about. One possibility is that MS is about to surprise us and unleash a wave of Cortana-based mobile consumer products and do so in a committed way. Maybe Andromeda is around the corner and does something great with Cortana. Maybe we're about to see a Cortana-based smart watch. Maybe these headphones are just the tip of the iceberg. If so, that's great -- I would be excited to jump into the ecosystem. But until MS shows that it can produce and stay committed to a mobile consumer ecosystem, I'm struggling to understand why anyone would choose these over a nice pair of Bose/Beats/Shure/Sennheiser.

These are not expensive. I expect the quality to be excellent, as usual for Surface products.

Yup.
No phones, but there are resources allocated to some junk headphones that no one will buy.

Junk? I think the history of Surface devices should automatically make quality a reasonable expectation. ...and yes, I'll be buying these. Haters.

If you're a blind M$ fanboi knock yourself out. I'll be getting the Sony XM3s for excellent headphones.

So if you don't care, why are you here? I remember when people were asking why they should be a Surface. Surface has brought $1 Billion worth of money to MS' doorstep, the phone didn't. So justifying this as a failure JUST because the phone wasn't a success is kinda.. idiotic. I could just as well say, well it's a "surface product" and surface was successful. Or if these were xbox headphones, the same

Finally, an interesting pair of headphones from an unlikely source: Microsoft. I'm intrigued. Cortana integration, unique controls? Yes. Microsoft, you always seem to peak my interest. These other companies could learn something from this new direction.

The question is, will they work with the Xbox One.

These will work great with my Andromeda device.

If it has Xbox, Skype, laptop mic, and all Microsoft integrations then this will be dope.

Has nobody noticed that the video clearly shows a type-c charging port? Think it would be a huge mistake to not have type-c but considering all the new Surface devices have type A a little strange. Hopefully these play audio over type-c.

Nobody noticed, but it doesn't seem to connect natively to the Xbox as the Turtle Beach Elite 800X headset. While there are plenty headsets which connect to Win PCs and phones via Bluetooth at the same time, none would *also* connect to the Xbox. Right now I'm listening to a video playing on Xbox while talking on Skype on PC. And Turtle Beach's are even cheaper.

I noticed. This is a huge wast to not incorporate Xbox wireless protocols.

Technically the Elite 800X doesn't ether. It uses a wireless base station to connect to the Xbox, it's not native wireless like the Stealth 600/700X. That said, it can at least plug in directly to a wireless controller. MS could in theory release a base station for this and be done with it. That said, I don't see why Cortana on this wouldn't work the same way the invoke can after the update

:)) $350? They look nice, but Cortana? :))) no thanks. Good luck Ms selling these.

I'm trying to figure out a use case. What would you be connecting these headphones to? If it's your phone and you use Cortana, or a PC/Tablet and use Cortana, then you'd need no more capability than what you have in typical Bluetooth ear sets. In other words, built-in microphone. Or, if you prefer, like you have in your car. We use Cortana in our cars every day. Cortana doesn't need to be built-in to the car's system...it's simply Bluetooth. Why did Microsoft feel Cortana needed to be part of the headphones? If you're using these headphones with some other device and you prefer that system's assistant, you're certainly not going to want Cortana. I don't get it.

The idea of noise suppression is remarkable! Cortana doesn't seem to have a competitive advantage. Blockchain give an opportunity to launch any software on any device including the software for voice assistants. Like, for example SOVA does. Though they still develop their platform, they sound promising
Windows Central Newsletter
Get the best of Windows Central in in your inbox, every day!
Thank you for signing up to Windows Central. You will receive a verification email shortly.
There was a problem. Please refresh the page and try again.