Microsoft aware of some Lumia 950 phones not getting 10586.29 update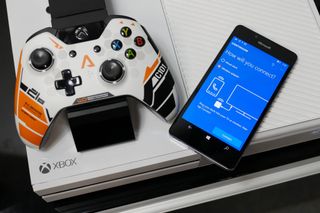 Although the recent Insider release and now the official release of Windows 10 Mobile build 10586.29 seems to be going well for users, there are some hiccups. One recurrent theme we have seen is a small batch of those with the Lumia 950 not getting either the Insider release from last Friday or the current non-Insider push starting today.
Microsoft is aware of the issue and investigating, which is the good news.
The bad news is there is not a clear-cut answer as to how to fix it (outside of a hard-reset). From the Microsoft Answers Community, Jason[MS], a forum moderator, responded with where they are and noting:
For now, Microsoft is not recommending users go through the trouble of hard-resetting as they believe they can solve this without such recourse.
Unfortunately, these issues can happen as Microsoft gets used to pushing out more frequent mobile updates to their new Lumias. If you would like to assist Microsoft in solving this problem, you can go to the Community thread linked below in our 'source' and see if you can lend a hand.
Windows Central will keep you posted on any further developments on this issue.
Source: Microsoft Community/Answers forum (opens in new tab)
Windows Central Newsletter
Get the best of Windows Central in in your inbox, every day!
Daniel Rubino is the Editor-in-chief of Windows Central, head reviewer, podcast co-host, and analyst. He has been covering Microsoft since 2007 when this site was called WMExperts (and later Windows Phone Central). His interests include Windows, laptops, next-gen computing, and for some reason, watches. Before all this tech stuff, he worked on a Ph.D. in linguistics, watched people sleep (for medical purposes!), and ran the projectors at movie theaters because it was fun.
I have a 950 XL and also get nothing D:

You can live without it. After the 'Upgrade,' my Maps app doesn't work anymore.

Works for me. Nothing new came in the update for me though.

hmm, how not working? main maps is good for me, but apparently directions is pretty sketchy at the moment. had to ask it to find directions several times before it found a route. kept saying no route found. hadn't encountered that before.

Same here. Except it doesn't work no matter how many tries.

I had similar problems with my 950 until I unchecked Traffic from options.

ah! that does seem to give better results (though it managed to eventually find routes with it enabled).

Thanks, friend. This works perfectly. I hope the issue is fixed soon.

Mehn, I love this community. I was getting the same error with my maps which I use ALOT.. Just going thru the comments here has given me a solution.

Indeed I tried severall settings as wel and this did it.

I met this problem today. For my workaround, you should just tap the bus or walking button on the top right corner. Once you get the suggestions, tap back to the driving. You will get the results.

Did you try uninstalling the Map app and reinstalling it?

It can't be uninstalled. But I got a good tip from jeffaz76 that worked.

My XL not getting it either

Don't know brah, my 920 still on cyan...

So the the 950 released to consumers with a beta software? Therefore you're expecting an update?

Even RTM builds are updated. This is not something new to software development.

Oh so this release is for RTM only then. Fanboys shouldn't expect anything. Since the consumers who own the 950 have the final release.

This seems to still be an issue. I just received a Lumia 950 from BH photo and there was no update available. I did the reset which wasn't a big deal because it's new and sure enough, the update showed up after the reset.

Man, these guys are really on the ball with all this.

That's what I thought. Very active in monitoring the phone updates and support channels. Quite impressive.

Indeed...the update has barely been out and they are already onto any lingering issues... :)

Yeah. Honestly, I was losing faith a fair bit since the XL release, but seeing this extraordinarily rapid response today has done wonders for my confidence. I'm feeling like a strong believer now. :D

Just recieved my 950 today. Guess I can wait a couple of days for the update. No problem. Loving the 950 so far! :D

Actually, if you just got it, that's the best time to do a hard reset and go of from there. ;)

I couldnt get it as well on my 950xl so i did a reset on the whole phone. Then when i got through the set up it was there for me through the insider program.

After I got the update on my 950xl can't update/install any app from the store - constantly getting 0x803F7000 error...

Silly question but I presume the Insider app must be installed to get this update as of yesterday? As of today no app needed? I ask as I don't have the app but got the update last night and thought that was od but in a good way.

Correct. It came via Insider yesterday but today was released as an official "legit" update for everyone.

Received my 950 yesterday (AUS).. Loving it.. No update yet.. but haven't had any issues yet..

I love the update actually. Phone feels more responsive, battery seems better. New mail app broke the "remember last folder in the list" when moving items to folders. But minor annoyance.

I received the update through the insider build last night but it was stuck at 0%. I tried resetting the phone pulling the battery and it was still stuck. I had no choice but to wipe the device because it was draining my battery like crazy. It also told me I was out of storage although I have more than half the 32gb available. After wiping the update went through just fine.

I turned everything to store on device, removed the card and it it seems to be downloading now

Same issues I'm having with my 950xl. Low memory reported (I have 9GB used), zero percent with no change and toasty in my hand as the battery drains. Not using insider as this is my daily phone.

What really make me upset is my band 2 no working with my 950xl..

Make sure you unregister the band from previous devices Microsoft health app. And took a few tries and it just started working. Make sure you factory reset the band as well

My band is sketchy as well :/

The Band is not fully compatible with WIndows 10 currently. 1) Start Add Band process on iPhone or Android device. On my Band 2 I selected Windows Phone instead of Android (Not sure this is needed but it seemed logical to me). 2) Finish successfully adding the Band to device and turn off Bluetooth. 3) Uuninstalled and reinstall MS Health App on Lumia 4) On Band, go to settings and Bluetooth and turn it off, and then turn it to 'pairing'. Itt asks if I'm pairing to iPhone, say no. Wait for pair between Lumia and Band . After successful pairing I went into MS Health App and enjoy your Band!

There was an update last night, now there's one today as well?!

Don't recall a single error or auto reboot on the 920 since launch. 8 and 8.1 were stout. Sad to see such issues with 10 on new flagships. Would carriers let these updates fly if causing store errors and other bugs?

The Lumia 920 had a very nasty bug on launch where it would randomly shut off and reboot, sometimes not even turning back on by itself. There was also the bug where the phone would brick and be stuck at the spinning gears when doing a factory reset (not just the 920). WP8 was not as polished as you think when it was released.

I had the spinning gears issue on my 920 it had to be sent off for warranty repair only couple months after getting it. Was very annoying. Delighted with my 950XL and on latest build.

The spinning gears usually could be looped out of using a soft reset or a particular button combo. Also forcing it into the boot loader than soft resetting sometimes used to work.

I fixed mine by uninstalling insider. Reboot. Installing insider, Reboot. Open insider Choose different Login, Choosing Fast Ring and check for updates. Download stayed at 0% for about 15 minutes but eventually downloaded. Using Dual Sim 950XL US unlocked from Microsoft Store

This sounds promising I am hoping that if this can be replicated others, either here or in the forums can confirm the method. I really dont want to factory reset if I don't have to. The sad part is that I only just registered the phone on the insider program last night.

Tried your fix with same model (dual-SIM 950XL US unlocked from Microsoft Store), but no joy.

No luck with my 950xl dual sim on ATTusing that fix.

Solved it! Thank you! I have tried hard reset etc but nothing worked. For me it looks as the uninstall/reinstall of Windows Insider was the key thing, but not sure... Please note that these operations take time - and can look like they've stopped sometimes, but be patient!

It seems like both Lumia 950 and 950XL are kind of beta devices (considering that the Windows version they're running is actually a beta version).

Yep. I think it is fairly obvious that is why they aren't being advertised.

After this update my device feels more solid than before. No longer beta-ish.

I heard an ad for the Lumia 950 on AT&T today in Minneapolis. P.A. on KFAN did the ad, he appeared to enjoy saying "Looo-MIA" quite a bit. I was surpised to hear an ad for the device.

From the St.Cloud area, might tune in just to hear this ad.

DING! Nailed it. And those that bought them, spent way too much to be a Beta Tester.

Maybe so, but I still love my 950xl. The improvement over my 920 is amazing. Plus, I've used continuum every day I've had the dock. It's awesome.

I tried continuum earlier with my Sony T.V.... Didn't work cos hdmi and can't work out why. Maybe I'm misunderstanding how it should be used (?)

@peppermint-lemon, you might need to pair it to the TV presuming it supports mircast. If you want hdmi use a type c to hdmi.

£330 for 950XL = money well spent for me.

The hardware is not beta. The software is not as polished completely but judging by the window 10 desktop rollout and the updates for surface, it will be polished really fast. This update is an example. Besides, windows 8 phone release (ie 920) was much buggier than the current windows 10 RTM release. Finally, the price of the phone is awesome compared to something like the iPhone and you get more hardware features (e.g, dual sim, replaceable battery, SD card, usb-c, continuum). And it gets better with student discount (which apply doesn't offer).

Why compare it with an iPhone? iPhones are simply overpriced. The beta software and universal apps story is the true disappointment here. Truly this phone is for hardcore Windows fans. It's underwhelming and lacks a premium feel. They had 2 years to work on this. Posted from my Note 5

Could be that when the surface phone drops the quality will be way better than this meaning people wil like it more. Instead of having an amazing built phone now the not wanting to get the surface phone because does not look or feel that much better

Mine's going through curious what the update brings

Bluetooth fixes were the biggest item for me. Band 1 connects consistently and the 950 finally works in a manner similar to my 920 in my vehicle (Ford Sync).

I saw the update but it would fail during the "prepare" step. Today I tried uninstalling the Insider app and trying again. This time it finally worked after trying 10 times yesterday. Not sure if waiting a day or the reinstall of Insider did the trick

Nothing for me on my 950XL I subscribed to the fast insider ring yesterday on the phone. I will wait for a fix as I am not in a hurry. I don't have issues with the current build on the phone and the new one does not bring new features (aside from early access to new version of outlook).

After their "betatest is over" campaign for WP7.5 it's about time for the "betatest has started again" campaign :D

Edit: meant as response to Weisman87 a few posts up. Nice recall! I had 3 920's. (Family member gifts) Had 1 to suffer the malady you describe. Forgot about that. It also had a nasty crackle in the audio. Seems like I remeber their being corrupt image file on board when shipped? Anyways, yes, we have short memories. My 950XL has none of the issues being reported. So feeling fortunate. Full disclosure: I did momentarily start to suffer the randoom reboot issues immediately after installing the FB Beta app. Removed it. Reboots ceased. No issues since.

Yeah that 920 bug was pretty bad at first. I remember waking up a few mornings with my phone being off for no reason, then just powering it back on with no problems. I also had quite a few HW problems with the 920. I've got the 950XL that isn't seeing updates right now. I'm trying to love the phone but the lack of VVM with dual SIM devices is making me consider a return.

I'm dissappointed that Dual SIM creates a VVM obstacle. Hoping that someday soon, with so many sudden USA Dual SIM customers, there will be a fix. Fortunately, I'm not a smartphone phone-call person. (I'm kind of proof that they should change what they call todays' cell phone. It is NOT a phone for me) I can understand if I recieved voicemail all day that the lack of VVM would be a pain. I suspect I would trade my XL for the AT&T branded single SIM device. But very reluctantly.

I think I had 1 reboot, saw some stuff about Facebook app and removed it ASAP(don't use it anyway) and all good since.

i wonder...are people who aren't getting the update, also the ones that still have the external images not loading in email problem? after a week of dealing with that email issue, i finally just did a hard reset to fix it, and currently also have no problem seeing the update.

My email issue fixed itself last night. I guess it must have been the mail app update because I haven't gotten the new build.

I did have that issue before the hard reset as well.

My mail was good, update stuck @ 0%, battery draining quickly even after soft reset. Hopefully, won't have to factory reset as that is a useless way to burn a few hours

Still no joy on my XL despite re-signing for Fast Ring. Also tried the remove and reinstall of Insider and again signing up for Fast Ring. I have done too many hard resets over the past few months. Think I will just wait for MS to sort it out. BTW my email content fixed itself with update from the store.

Well i am using L820 . I have also same problem.

I hard reset my Lumia 950 (Dual SIM) to receive the update. I was having a lot of issues and I wanted to hard reset my phone anyway to get rid of any weird settings that I may have enabled that might be causing the problem. I could not see the Insider build, nor could I see the official release either, until after the reset.

The update process in 8.1 and 8 was a breeze, but in windows 10 oh.. Don't get me started

Hey, that's the support thread that I started! Thankfully MS has been really responsive about researching the issue thus far.

I hate to admit it, but it seems that the hard reset IS necessary to truly fix this issue. If you were afflicted with this issue on your 950 or 950XL, like I was, you may also find that you cannot install a keyboard language (if you go to the Keyboards, you'll see some packs with sizes in MB listed) as well. This may not seem like a big deal, however, it shows that this is a deeper issue than just an OS update issue.

I have been checking all day for the update on my Lumia 950xl. Nothing. I'm tempted to do a hard reset, but keep hoping ...

I'm thinking the exact same thing. I'm close to hitting that button.

I'm one of the victims of this, sadly. Hope they can find the loophole soon and offer a fix. I do not want to hard reset my phone. Already set everything up and running well

They are sending it to everyone, insider or not.

On Insider phones besides Lumia 950/950 XL.... Still on 10586.11 here on my Lumia 640

nothing on the XL dual sim for me!! :(

I got it on my 950 XL, downloading 81%

Last night I decided to use the recovery software. Rebuilt my 950 XL (single Sim purchased from MSStore Aust), installed windows insider and the update came through. The update seemingly hangs at 0% but after about 10-12 min the process started. Now at least I can get the English Australian keyboard again and all the other updates (eg phone, camera etc) came through too. I had Windows Insider installed on my 950XL prior to MS announcing that the 950 series would be included, that could have caused a problem.

"I had Windows Insider installed on my 950XL prior to MS announcing that the 950 series would be included, that could have caused a problem."

Interesting thought/observation. I could see that possibly causing an issue as I suspect a good many of us also had the insider app installed. The other thing that I wonder about is if it has something to do with initially setting up the phone by using a backup image from a prior device.

Doubt that. I did not restore from my 1520 and I'm not getting the update on my 950XL yet

Off topic but the windows phone store in 8.1 is not updating apps. Just giving store error

How come the picture doesn't match the title

Have 950 - and not getting the update

My phone 1520 is flickering on this build...and starts typing on its own...and dont let me do anything...unless i lock the screen and unlock it again...not sure why its happening? Is anyone else facing this issue..i dint had this problem on last version..

Those of you not getting it: Do you also have a problem with no images being displayed in Mail?

THAT was fixed by doing a hard reset. Sorry...I kow that's not what anyone wants to hear.

Some time between yesterday and today they seem to have fixed the image display problem with Outlook. Don't remember if there was an app update. I am not getting the new OS update though. :'(

I have an unlocked dual SIM 950 with an AT&T SIM, do not have issues with images in email, but I am not getting the update yet.

I have an XL and I'm not getting it either.

We have three 950s and two of them (white cover) are getting the update. One of them (black cover) is not. All of them are from AT&T.
One of the phones had an error during the update. Restarted and tried again and it went through just fine. The other phone did not have an error. The last phone still hasn't gotten the update. We bought them all at the same time.

My AT&T 950 tells me it is having problems downloading the upgrade. Well, I'm not in a hurry. It will work when it will work.

Funny thing happened. After updating mail and calendar app as well as camera app, the upgrade went through without issues...

I'm getting error 0x80091007 while preparing to install the latest build on my Lumia 730. Can anyone help?

My 950 on AT&T had problems downloading, and then preparing for update. I just had the do a few soft resets while retrying. It finally finished.

I thought I had posted this earlier, but I don't see my comment. I do see another comment that is similar to mine though. I have a 950 XL dual sim from MS Store using an AT&T sim. I was wondering if other people that were not getting the update were also having problems downloading external images in the Mail app. I have fixed the image issue. Go to All Settings > Network & Wireless > Data Usage. If "use cellular data if there's no internet access over Wi-Fi" is set to Allow, change it to Don't Allow. So far, this has no effect on the update, though. I've tried various things like uninstalling the Windows Insider app, disabling reset protection, etc.

Also not getting the update on my 950XL. Deactivated insider but no difference and yep I have the email image issue and can't download speech packs. Trying to avoid hard reset though as did so many over course of insider pre release and just can't be bothered with another if they might find a way. It's not the end of the world but still a hassle, especially when you use two factor authentication, need to redo authenticator and every bloody app asks again when you got to use it :p

Cannot see it on my 950xl here in Germany either.

No update on 950 unlocked version from Germany. Hope they'll fix it. Don't want to rest the device, that I just set up.

Well this build coused me more problems thrn ever. Never had my 102 freezing till now. Now happened 4 times with different apps. Edge is one of them. Keept freezenig and restarting my phone when i was trying to watch the same video. Then a dictionary app, the same. Freezing and restarting my phone. I slowly get sick of windows 10. And to think i was a vig fan of it... I am just sick of so many problems. It just put a dent in my decision to go for 950. Now, i really am not sure at all.

Then you are totally wrong in the insider program if you cant deal with (heavy) Bugs. Your 1020 does not have a firmware for win10. Thats why, espacially on the 1020, you still see many bugs. 10586.29 runns fine on my 950 XL. Much much better than on my 930.

Lumia 950 in the UK from EE, no sign of the update here.

I have a Lumia 950 XL that still is not getting any update!!!!

Both of my 950XL's are not seeing the update. Since I bought one to replace my wifes beloved 925, I'm getting lots of grief for all issues with the 950, primarily Minecraft doesnt work on it.....Please MS, fix this one.

I think it has something to do with maps as mine was erroring on install and told me to clear memory. I cleared my map data for US maps as that was primary memory hog, 4.5 GB, tried reinstall and it went through no issues.

Still no update here on my 950xl. Tried the uninstall reinstall Windows Insider app to no affect.

No issues installing the new build on my 1520, but after installing I can't use the File Explorer anymore. Even a soft reset doesn't help. Still waiting on an official resolution (that doesn't involve a hard reset) for my 950XL though.

Just updated my AT&T Lumia 950...no issues. I took out the SD card before installing like what was required when updating my Surface 3 ....Yay!

Still missing it on my XL, but it's alright, I can wait.

Try going into settings and updates and see if you can push it that way. That is how I had to do it as it was erroring out and I had to clear my map data that I had previously downloaded first as it was causing issues with the download.

Update showing on my 950 but it sits on 0% then gives low storage error. I have 20g free on the phone and 40g free on the SC card.

Is prob an app, try deleting some of your storage that is app related

My Lumia 950XL is on the insider's plan and is a unlocked phone on AT&T. I have not received the 10586.29 update and when I try the message "Your device isup to date".

On early w10m-beta-days, hard reset was the most given advice. If it solves a lot of problems (after some backup done, oc), why not consider that first, while they discover the cause? Hard reset is not the end of world (specially for an unfinished OS)

Hi all, I need to read these post to keep just a little of confidence, because until now it gets onley worse. a.- Phone gets extremely hot. b.- Battery without using the phone runs down in 4 hours. c.- Trying to actualise since yesterday but even though it says it has updates it hangs there, have soft reset the phone, taken out the battery but nothing. d.- When I close the phone at night or whenever it turns on automatically again, so taking the battery out is the only solution. e.- Bought some USB type C cables for otg, data interchange between PC with Windows 10 also, but it seems either the 3 cables or Lumia 950 XL is not the real USB-C type standard. f.- Feel a bit left alone, because on my laptop Y use severall programs as said W10, but they are not available (maybe not yet) for the mobile Windows 10 version, and this s...s also, because it obliges me to not discard my S5 duos phone. Carry the 2 1 simcard in each. g.- When I bought the phone from FNAC portugal I was attrackted by the fact that the price was great and they mentioned the free dock which I would get going to the websides app store etc. but this seems not to be true. Three messages and a week later no answer from them. O.K. I stop "crying" and expect a wonder to happen that the update finally works if it downloads at all, and if not will do a total reset as last solution. If all this not solves the problems I will hang the phone on the wall as a good reminder to wait purchase untill all bugs are gone or just not buy. Will inform results.

Sorry, forgot to mention that the update downloading is 10586.29 and at 0% for the last 24 hours.

Any Update on this? If not, reset it is this evening and will test out the backup/restore feature.

Hi Dan -- I'm wondering why no articles on Window Central are talking about the bug MANY of us are getting on our 950s where a warning about having Low Storage available pops up -- even if we've used only 20% of our storage! Lots of talk about it here: http://forums.windowscentral.com/microsoft-lumia-950/400053-low-storage-... and here: http://answers.microsoft.com/en-us/mobiledevices/forum/mdlumia-mdupdate/... Would love to know what you can find out. Thank you. Mark

I'm pretty confident that the problem will be resolved on Monday, because I am doing a hard reset now. That's just the way it works for me.

And just did a hard reset and I still have no update. It is finding more of the songs on the sd than it did before. That's a good thing. I think it found all the albums on the card. I'm afraid to try another hard reset, in case it doesn't do it again.

950 xl still no update. I'm not hard resetting my device. Way too much effort getting it the way I want it.

Daniel, is there any update on this topic? I've still not received the .29 update on my 950xl in US. Thanks.

Hey guys!
SOMEONE please help!
I just update-d my lumia 950 and stopped, it shows a sad smiley face....
I tried with hard reset (volume down and power) but its just turns on, shows the mocrosoft logo and than it tries again the update, but after a few seconds it appears the sad face...... does anyone know what the hells going on with my phone? or what do i wrong at the hard reset?
thanks, peace!

Same thing happened to me. The sad face means the update failed. This seems like it will have to involve a hard reset, and I'm skeptical if even that fixes it. It depends how far the update process got before failing. If you find out anything, please post it. I'll do the same.

I had the same exprience. It runs the update, shows the sad face, then runs the update again in an endless loop until I unplugged it and the battery died. Frankly, I would have preferred to just not get the update!

I guess this is Microsoft's idea of a "fix"...

UPDATE: I tried to do a hard reset, but the phone doesn't accept it. When I shut the phone down completely by taking the battery out, then put the battery back and tried the Volume Down + Power button to get the exclamation point for the hard reset, the phone ignores it and just goes right back into the failing update loop. I've never had a problem this serious with any other smart phone. This will absolutely be my last Microsoft phone!
Windows Central Newsletter
Thank you for signing up to Windows Central. You will receive a verification email shortly.
There was a problem. Please refresh the page and try again.