How to manage notifications on the Microsoft Band 2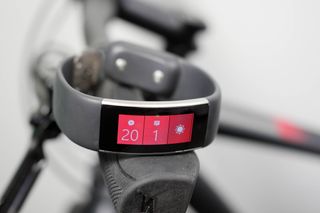 You can change the settings of some tiles on the Microsoft Band 2 including turning notifications on and off. You can't change the notification settings from the band itself, so you'll need to open the Microsoft Health app on your phone. It's really simple. We'll show you how to do it.
On your phone, open the Microsoft Health app and tap the hamburger button on the top left corner
Tap Manage Tiles
Tap the pencil next to the name of the tile you want to modify
You can turn on/off notifications for:
Calendar
Calls
Mail
Messaging
Facebook
Facebook Messenger
Twitter
Cortana
Notification Center
This is helpful if you want certain tiles on your Microsoft Band 2, but don't want notifications from them. For example, I have the Mail tile enabled, but disabled all notifications from it. The reason for this is that I sometimes like to check my mail without taking out my phone.
Don't forget that other tiles have more options. Most people just see the on/off switch in the Manage Tiles section and don't realize they can also tap the pencil icon next to the Tile's name. I was guilty of that. For example, the Messaging tile lets you create or change quick responses that you can send from your Band. Also, the Run tile lets you choose three kinds of data to show on your Band during a run. You can also set to get notifications only from VIP in the Mail tile. There's more, so go ahead and tap those pencils!
What Microsoft Band 2 notifications are you disabling? Let us know in the comments!
Buy the Microsoft Band 2 (opens in new tab)
Windows Central Newsletter
Get the best of Windows Central in in your inbox, every day!
Step 1 should be: Aquire a Band 2. ;)

Oups I thought the same thing. I need to read ahead lol

Yes, currently have all of the notifications disabled due to the lack of hardware...

Can you respond to whatsapp messages?

If what's app creates a band app I would think so.

No. The only way to see if a message comes in is to enable notification center tile. Whats app would have to create a tile for the band.

Gotcha. So you can only read the message in notification centre?

I cant get Cortana notifications for news etc to stop. I have them disabled in the app but they still keep showing up on the band. I figure that is wasting some battery life.

The band 2 and W10M is an amazing combination together. And that is while W10M is far from polished and ready for the averge Joe. I'm very impressed with where this is going. I suspect it will be a while before Cortana is refined at accomplishing what she is designed to do. (with both the Band 2 and the Windows 10 desktop using the W10Mobile device to do their magic) But just goofing around with Cortana right now is facinating. It's a brave new world coming. :)

I am on W10 with the Band 2 and don't receive a lot of notifications. Mail notifications are reliable, SMS notifications sometimes are good, and I don't receive any others even though I have them enabled.

Neither Cortana nor Notifications seem to work with the Band 2 and W10M, yet. I can confirm.

Just another data point. Cortana/Notifications seem to be working fine with WP 8.1. Neat stuff.

Yea, I know. My buddy who hasn't upgraded to Windows 10 on his phone yet keeps reminding me :) Although, his accelerometer isn't working consistantly /smug

http://www.twitch.tv/ageofempires (sorry about the offtopic)

VIP list for the mail app on the band doesn't work. I get all mail coming to the band anyway

Are u running Windows Phone or Windows 10 Mobile?

I don't think it is working correctly for me either. I have VIP set up with 10 contacts. I'm not getting any haptic alerts, but am getting all email showing up on my band 2. I have it paired with aLumia 1020 running 8.1. With VIP Notifcation, does that mean a haptic alert for VIP and all other email showing up on the Band without haptic alert? Or is it filtering the email that shows on the band to be only email from VIP?

I believe it only notifies/alerts you to the VIP emails, but all mail shows up on the band.

Unfortunately, it is actually both common and neccesary for me to recieve emails almost continuously. So I am not tolerant of monitoriing the normal "email notification" tools that most devices support. It's meaningless to me if looking down at it evrery 30 minutes it shows 38 messages have arrived. So instead, I have long used a different method. I configure "text alerts" from my Exchange account for when I recieve email from very specific senders. Like my boss, or other exectutives or my wife............ Thus, when I recieve an "important" email, I recieve a text with just the sender and subject line and maybe part of the first sentence. Since it is a text, I use the messaging app notification as my source of being notified. The Band 2 works perfect for that!

What about Unicode support for notifications?

Unicode doesn't seem to work for me on my Band 2.

I was able to have only 1 of my three email accounts notify me on the MB1. On MB2 it seems like it is all or none. Not sure how I was able to do this on MB1, but have been unable to do it on MB2. Anyone else experience this?
Other than this issue, I love the second version!

Windows 10 Mobile? If so, try this........... I have 3 accounts on the email app on the 1520. So I open the native tile that came with the build and go to each account and "pin to start" I then opened each new tile and disable notifications. I do this for each of the 3 new tiles. Then I soft reset and when I got back in, I open ONLY the tile for the account that I want notifications for. Enable notifications. Not sure what part of that routine were actually neccesary, or if it was just one thing. But notificiations are now only for one of the email accounts. Again, I still disable email notifications on my band 2. But my Glance screen on the 1520 still shows them. Good luck. No telling if you will get the same results since W10M behaves comepletely different from one Lumia to the next. :)

The little pencil icon next to the Tile name is bad UI; I missed it too the first few times I went into the Health app.
Discoverability etc. etc.

I wish the band would honor the muted thread settings for text messages on the phone.

WhatsApp snd Skype notifications please!

For email notifications on the Band, I'm uncertain whether to use the Notification Tile or the Mail Tile - they seem partially redundant, although the Notification Tile seems to capture ALL notifications that appear on the phone whereas the Mail Tile only makes email notifications from the phone appear on the Band. Correct? If so, assuming all email appears in the phone notification, then the Mail Tile can be removed from the Band, right? Is there any functionality I would be missing to simply remove the Mail Tile?
Windows Central Newsletter
Thank you for signing up to Windows Central. You will receive a verification email shortly.
There was a problem. Please refresh the page and try again.