Microsoft Band 2: Screen Protector Yea or Nay?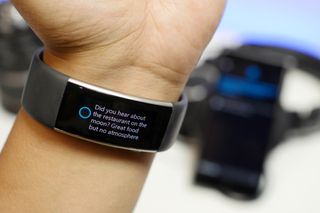 The Microsoft Band 2 has been on the market for several weeks now. Not only does the Band 2 sport the latest technology under the hood, it also sports the latest Gorilla Glass technology. However, while the scratch resistance has improved we have yet to reach the scratchproof level of protection.
While the original Band just screamed out for a screen protector, does the Gorilla Glass of the Band 2 allow you to throw caution to the wind and wear the Band 2 naked? Or are you the type that will protect your investment regardless of how well the Gorilla Glass is?
Take our poll and share your thoughts on adding a layer of protection to your Microsoft Band 2.
More information
If you need more information on the Microsoft Band 2 you can read our main topic page or jump into our forums!
Microsoft Band and Band 2 Tips
Windows Central Newsletter
Get the best of Windows Central in your inbox, every day!
George is the Reviews Editor at Windows Central, concentrating on Windows 10 PC and Mobile apps. He's been a supporter of the platform since the days of Windows CE and uses his current Windows 10 Mobile phone daily to keep up with life and enjoy a game during down time.
Judging from what I'm seeing, people are more concerned about protecting the clasp.

Yeah, the clasp started to scratch way before the screen. I purchased the Armorsuit body kit and it came with a skin for the clasp, very happy with it. Just wish I knew sooner it was available

I will check it out, as the Band 2 comes out in the UK tomorrow and I intend to pick one up. I've been thinking about using a vinyl wrap of sorts to cover the clasp.

Did you get that in the US? If so where? Can you provide a link?

Hey where did you purchase that at

I got it off amazon. They have a clear and carbon fiber skin. I'm in U.S.

Wen in India? MS please, fitbit, gear, Sony smartwatches are here even apple watch coming soon.

I did the same. Works well.

That was my concern, and why I wasn't interested in this. That clasp is AWFUL

The clasp scratching is a minor concern really, as it doesn't hinder the functionality, just the look. So long as the band itself remains sturdy and doesn't wear apart over a few months of use, then I can live with it. It's not like watches and other devices I've owned haven't gotten scratched over the years.

the screen on my band 2 is already scratched so I wish they had them when I got my band.

They had them in the MS store when we went on day 1.

I am in San Diego today so I will stop by the local MS store and check. the one in Orange County CA hasn't gotten any in yet. they know me by name and said I will be the first person to get a call when they get them in.

Sure I will. Were can I buy it?

My rubber part gets ruined quickly.

Mine is scuffed badly too - looks as though it was sanded to round off an edge in multiple places Glass is in perfect shape though...

The rubber band on mine has a few scratches also.

Yep. Everything but the screen is so fragile.

Nay, now read article, basically screen protector disliker :-). Heavy impact on comfort/life expectancy. Do see the comfort/life expectancy of a Sheen protector though...

Ok, corrected, missed an h in though, the rest is intentional and intentionally trying to express humor towards recent affairs big in main stream US media that has a link with this topic. It is one of my convictions that all humor is merely an attempt at humor. Please take it that way :-), maybe take a closer look to get it, explaining a joke is too nerdy.

I learned the hard way today. Minor scratches.

Was given a free one (Zagg InvisableShield) from the local Microsoft Store when I had to get my Band 1 replaced and it worked incredibly well without any loss of experience/look. Grabbed one for my Band 2 and it still looks new.

They should have lasered the Win logo on the clasp.. :(
Just received mine some hours ago...Just AwEsOmE

Surprised they didn't. Getting one for xmas

Good idea. Although mine would've been covered up anyways by the armorsuit full body protector.

Maybe a laser there would have been too expensive

I wasn't going to use one since the Band 2 has better glass and on the band 1 the protector didn't last because of those little "flags" but it was $8 on Amazon (for 2 screen protectors) so I figured why not.

I put a Skinomi TechSkin on my wife's Band 2, and she swears it IMPROVED the touch experience. Having installed TechSkin protectors on a few different devices, I'm really starting to come around to their wet application system. It's a snap to reposition for perfect alignment before it dries, unlike dry systems.

Take a scotch clear packing tape, rape over you screen. Done. Have been doing this to my band one without issues

This is screaming out for a meme... GHETTO SCREEN PROTECTOR

let the man do what he wants with his product ;)

RyanAMG deserves one, an AMG that is, damn explained a joke after all

I scratched my Band 2 on the first day while my screen protector was waiting to be shipped. Just a small scratch off near the side. The screen protector hides it now. I did wear my band 1 on the outside of my wrist and the Band 2 on the inside. The clasp really needs the protector as the silver part marks up really fast as well.

I wore mine for a couple of day's left / inside and found out that, YES, you do need a screen protector. It is well worth it.

Yea and watch me nay nay.

I bought the screen protector they were pushing at the Microsoft Store. I was an easy sell that day. :) A few days later I decided to apply the protector thinking that if it gave me any trouble, or if it wasn't PERFECT, I would just throw it away. I read the instructions and did it exactly how it was described. It is a really well done piece. Really nice. As close to invisible as you can get. I not only am leaving it on, but if it ever snaggs or needs replacing, I will replace it. And after "registering" it, it turns out they state it is replaceable at no charge.

If you are worried about protecting the clasp. The ArmorSuit MilitaryShield come with a carbon fiber piece that goes on the clasp. You can find them on Amazon for $12.95

Don't think anyone sells them in the UK :(

I'll agree with this. Got the same kit and it works great for protecting the Band 2. MUCH better than the Zagg protector I used on Band 1 (at least so far).

Using this kit myself. This is a necessity for those wearing face down with desk jobs.

I got the screen protector. However, I'm in construction and have fairly abusive hobbies.

I've never used screen protectors on any of my devices ever. In the last 3 months, tablet screen cracked, chipped my screen on my 1020 which turned into a full crack across the screen. Then the exact same thing happened to my band 2 this week!!! Making me rethink my no screen protector stance

Screen protectors will NOT prevent most cracked screens.
They are only good at preventing scratches.
You must use an outer shell to protect against cracked screens.

Even an outer shell won't protect you from a well placed drop.

+1 for no screen protector. I've done a number of things since day 1 I suspected would've resulted in a scratch on both screen and clasp (gotten it really dirty and rubbed up, and banged against desk daily when worn face-down), but it looks great. I think the rubber strap may look worn in time, but I'd be surprised if in 2 years there's any scratch of significance on screen or clasp. I wore Band 1 for a year and got many deep scratches on it in less time. (I also did not use a screen protector on it.)

Mine's being shipped in the UK as we speak. I'll see what will be from the 19th...

I went through so many screen protectors on Band 1 I just didn't want to bother with it on band 2. And so far so good! (knock on wood). Screen still looks great, do have scratches on the clasp though.

SO I haven't had a screen protector from day one.. but I did notice I was rubbing the screen on my desk when typing, so I was thinking about getting one. Then I saw a Band 1 screen protector on clearance for $2.98 at Target and couldn't really pass that up. I dont notice it, but glad I have it... even if its not 100% the right size.

I've been wearing mine for a while. I only get scratches on the clasp. I don't use the protectors. My band 1 glass was scratched quickly so I'll take this anyday

I'm waiting for my band to ship still...the wait is killing me. It doesn't launch in Canada until the 20th. Maybe that day i'll hit up bestbuy and get a screen protector. The struggle is real guys.

I am using a screen protector as well. I do prefer the feel of the screen without it, but I wear the screen on the underside of the wrist, and am just paranoid about it getting bumped a crazy tons when using the computer keyboard.

Won't use one with my future Band.

In opinion watches need strong materials much more than phones or whatever. I've been wearing watches since I was a baby and simply it happens sometimes that you forget to be wearing the watch, so maybe you scratch it on the wall. It's much more than any glass and even steel can stand.

I forwent the screen protector at the time of purchase despite having gone through several on Band 1. The gorilla glass was the deciding factor on that front. So far so good, there is a slight mar on the clasp but only noticeable at certain angles in certain light. Doing occasional warehouse work will put it to the test but so far so good.

It needs a screen protector, no question. I ordered a pack from Skinomi as soon as the first scratch appeared. The good news is the new smooth shiny surface takes the film much better than Band1.0. Forbthe first version the protectors came away from the irregular surface easily and needed frequent replacement.

Yes, by all means get a screen protector if you are wearing screen down. Mine was getting surface scratches within four days.

My band is coming from uk tomorrow...great! In Europe tomorrow is first day!

Haven't needed them on my Band 2. No scratches on the screen, some small ones on the clasp.

I've had my Band 2 for a couple weeks now and have no scratches on the screen or the outer clasp. The inner clasp has scratches where metal on metal meet, but it is not visible since in the size I wear, the outer clasp completely covers the inner clasp. Question: Has anyone tried to "remove" the scratches on the clasp with, say, steel wool or cream polish or some other method?

Starting to see minor flaws on my band 2. Skinomi wet application was a pain on the screen since it is curved. I ended up screwing it up. Got the clasp no prob and dry application for underbody worked fine. May try the armor suit one. Posted via the Windows Central App for Android