More photos reveal a slimmer, waterproof (and likely canceled) Microsoft Band 3
Thinner, waterproof, and an EKG. The Band 3 would have been impressive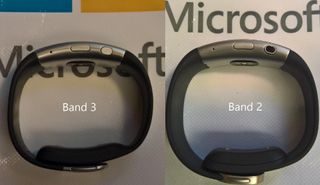 Earlier in the week, Windows Central obtained images of the supposedly canceled Microsoft Band 3 that a few new sensors and a slightly updated design that would have allowed it to be waterproof. Now, we have more images and information regarding the Band 3, giving us a closer look at a device that may never be.
Firstly, us calling it the Band 3 is mainly for simplistic reasons. I'm told that internally; Band 3 prototypes were actually called "Band 2 beta" devices. Now although Microsoft referred to them this way, we believe the final product would've been called the Band 3, so much so the prototype you see in this article actually called itself "Microsoft Band 3" when plugged into a PC.
There were several prototypes that had different codenames throughout the development of the "Band 3", one of which was the white Microsoft Band we saw several Microsoft employees wearing recently. According to our sources, those white Band 2 devices were actually Band 2 beta devices, with the white Band 2 sporting the new waterproofing abilities.
We understand that the prototype we're looking at here was a more recent one, featuring more sensors and a somewhat altered design. We're told that this was one of the last prototype models before Microsoft pulled the plug on the Band device line, which explains why it called itself "Band 3" when plugged into a PC, as it was close to the final product.
Speaking of the altered design, it's hard to notice at first but the Band 3 was going to be somewhat slimmer than the Band 2. Microsoft achieved this by giving it a slightly smaller battery, which overall made the device look and feel slimmer when wearing it around your wrist. When looking closely at our comparison shot, it's definitely noticeable.
It was also revealed that the Band 3 would support EKG, RFID tags and a new swimming Tile that would track swimming. We weren't able to get a good look at the EKG or swimming tiles in our original report, but now we've managed to obtain additional images of these new tiles.
For those who don't know, the EKG sensor would've been able to track your blood pressure, which enables all sorts of things such as being able to see stress levels, temperature, breaths per minute, heart rate and many more variables.
The swimming Tile would've have been able to track things like laps, pacing, heart rate and time. Both of these features would've been beneficial for health users and would've made a great addition to the Microsoft Band line of devices, had Microsoft not halted plans to continue development.
As of right now, Microsoft has halted development of these Band 3 prototypes, and I'm told there are no plans to continue investing in the Band product line. That means we won't be getting a Band 3 this year, or ever, as Microsoft has not made it clear internally if they want to continue working on the Band down the line, I'm assuming they won't.
Get the Windows Central Newsletter
All the latest news, reviews, and guides for Windows and Xbox diehards.