Microsoft Band gets a new firmware update with no change log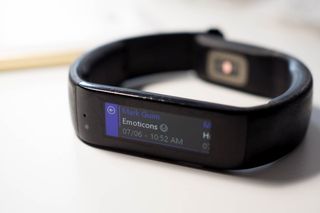 If you are a Microsoft Band owner, you'll want to plug in your Band to your desktop PC to check for a new firmware update. Version 3304 is now out, a small increase from the previous 3213 update from June.
The Microsoft Band website has no new information about the latest firmware, and we would not be surprised if it is tied to some bug fixes and optimizations with the new golfing or cycling abilities.
If you are not near a computer, no worries as the Band can update through the Microsoft Health app on your phone. This process can take a few hours before it hits the servers so do not be shocked if your app does not see the new software right away. If you are a near a PC, you can use the official Microsoft desktop sync app to update right now. The update process takes less than five minutes.
Notice anything new? Sound off in comments or head into our Band forums to learn more.
Seems faster. Still get "oops unknown error occurred with your band" :-(

I did now know of any bugs to comment

Anyone notice band does not talk to phone properly in win 10 mobile?

I think this a BT issue in W10M. Cortana doesn't work over BT also in my car anymore. It was one of the reasons I downgraded my daily driver back to 8.1.

I didn't know you could plug your band into a pc. I just get an error message when I try....

My syncing issues continue to get worse and worse. Hope this update addresses that.

Hopefully it's to enable Cortana features on Android...

I didn't even realize you could update through the PC. I've only ever done it through my phone, which is blows my mind. Now if only the Windows 10 mobile store could check for updates when I want it to.

manually check for updates, you can. Go to store, hamburger, my downloads. now in top right corner, tap check for updates.

Oh I know that. The problem is when you click it, it never finds updates. Been like this for me since upgrading to 10166.

Just wondering but did you know you have a 17 year old as your profile pic? Creepy... Posted via the Windows Central App for Android

After the update, my band fits tigher on my wrist but seems to weigh less. (Just kidding)

I just read the Changelog. If you install the Update, you will lose 5 pounds :P


Really?? It's full of bugs. Notifications just don't work reliably. If you have a second email account which is turned off in your phones notification centre you get notifications on the band anyway :( notifications should disappear when you remove then from the notification centre on your phone eg the notifications should sync. Sync is truly awful and has been so since the first firmware update. Sometimes it just flatly refuses to sync, I can usually get it to sync with a totally random combination of turning Bluetooth off and back on again on the phone or the band and / or restarting one or the other. I still love it but if sync and notifications are unreliable then there shouldn't really be a v2 yet..

Notifications I had the occasional issue with but my wife and I have never had any sync issues whatsoever. Coming from a jawbone where it failed to sync every second time, reliable syncing has been the best thing for me

Same here, no syncing problems either. It works very well. I think this depends on the phones BT. Now about the functionality. There is room for a lot of improvements.

Hope it fixed connectivity issues. My band doesn't stay connected anymore. My 5 AM alarm may not show up on the band until 8AM or later

Biggest fixes I'm hoping for are getting rid of dismissed notifications and syncing of 'muted threads.' When I wake up I usually glance at my phone first and go through any text messages or emails I've received after turning off the alarm. Then I turn off sleep mode on the band and I get all of those notifications including the alarms I've turned off. Also, when I mute threads I don't get notifications on my phone, but still get them on my band, which defeats the purpose.

Pretty much exactly what I said above. Glad its not just me..

Seems to have a better connection with windows 10 mobile technical preview

I think it would be easier if you just write it if there is a changelog :P

I just got a band update and Microsoft health update at the same time. Has only just enabled the golf mode for me. Thought that was already available, so not sure what the go is there

Well, I'm still waiting for buying the band in the netherlands....

Same here. I guess Band 2 will be out by then :/

I hope it comes very soon then :-)

Why not just buy it on Amazon ?

Well, i didnt tought, amazon uk would deliver it in the netherlands.

They announced band 2 os global launching where band 1was a test product which was and insanely good success

I got it via the uk. Nice trip with Ryanair, floep, band ;)

Why don't you buy through Amazon.co.uk? I'm in Portugal and I bought it via Amazon UK. Was delivered in 2 days.

I noticed that the Golf tile is now available with Windows 10 Mobile on my Lumia 1520. It wasn't there at all before on Windows 10 Mobile.

Are your notifications working?

Better support for W10 for phone preview..?

Solved my inability to sync the Band with my PC (8.1) which stopped working a few days ago (it had been working fine for 7 months). I kept getting a USB error whenever I tried to connect my Band to my PC (wouldn't charge the Band nor sync). A call to MS Band tech support confirmed that their engineers were working on a solution. After this update, it seems to work fine again.

I think it added me features. Check out the "what's new" on the app. On the 1520 it allows Morton tracker in case you don't have the band with you. Nice!

Nice one, this update has just screwed my band up again. Going back 3 updates my calorie count was out by 7/8 figures when band was synced to phone. The update after fixed it and now this update has broken it again... F**king great.

Update was forced and trash not on PC but Health app. Took away identity of contacts. Now without knowing the number I can't tell who is texting or calling on the Band. Another Microsoft fail!
Windows Central Newsletter
Thank you for signing up to Windows Central. You will receive a verification email shortly.
There was a problem. Please refresh the page and try again.