Microsoft to bring much needed improvements to 'quiet hours' in Windows 10 Redstone 4
Quiet hours looks to be getting an update with new features and options in the next Windows 10 Insider Preview build.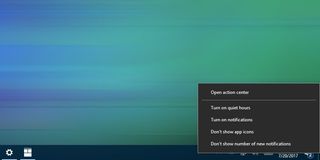 A newly leaked screenshot today has revealed upcoming changes to the built-in quiet hours function in Windows 10, which currently acts as an on or off switch for notification popups. The next Insider Preview build is likely to include these new features and options for quiet hours, some of which include priority notifications only mode, alarms only mode and more.
The new quiet hours is much more configurable than it is in the current stable version of Windows 10. Microsoft is finally adding the ability to schedule when quiet hours comes on and turns off, something that has been missing since the feature was first introduced.
There's also new options that automatically turn on quiet Hours when launching a game or duplicating your display to an external monitor. No longer will the user have to remember to manually turn on quiet hours in these scenarios.
There's some changes coming to Quiet Hours in the next Insider Preview build. Honestly, I've never used Quiet Hours on PC, have you?There's some changes coming to Quiet Hours in the next Insider Preview build. Honestly, I've never used Quiet Hours on PC, have you?— Zac Bowden (@zacbowden) 10 January 201810 January 2018
Sources tell me that further changes are in store for quiet hours, including a possible name change to something else. I recently asked Twitter if quiet hours was something people used, and to my surprise it turns out a lot of people do but only because they find Windows 10 to be too noisy in regards to notification pop ups. Perhaps Microsoft will address the "noisiness" of Windows in a future update.
For now however, it appears quiet hours is about to get a lot more configurable in Redstone 4, which is great news for those who use it.
Windows Central Newsletter
Get the best of Windows Central in your inbox, every day!
Zac Bowden is a Senior Editor at Windows Central. Bringing you exclusive coverage into the world of Windows on PCs, tablets, phones, and more. Also an avid collector of rare Microsoft prototype devices! Keep in touch on Twitter: @zacbowden.
Maybe they should add the "when I'm in a game" for avoiding windows update automatic reboots..

Indeed. I have active hours set from 6am to midnight. Problem solved. If I really want an update during those hours, I simply initiate it manually.

Indeed. Actually, let people list the apps that can prevent the automatic shutdow. I don't Windows to restart when I am rendering something overnight or working in a important document. Hell, automatic restarts should not even be a thing...

One of the 3D printing groups I'm in would have a lot less whining if they had a "When I'm 3D printing" option.

Not only games, if any programme is running e.g. video rendering, downloads etc windows update automatic reboots should not occur.

It's too bad these changes aren't coming to Windows 10 Mobile. 😫

They've moved on to Andromeda. Which is a supplement replace of a tablet and a mobile device.

Many of these are already on Windows Mobile.

If MS was focused on W10M they wouldn't be able to dedicate 100% to something better. Live for the future, man!

Right for SecretlyX, I agree, it's too bad. Just like the nightlight! Those things shouldn't be to difficult to build in W10M?!
On my Windows 7 phone I've often used quiet hours right with an appointment in agenda.

I think the good thing is that on Windows Core OS. We'll likely get the same features as they get on PC. So Timeline, Quiet Hours etc is coming to Mobile through Andromeda.

What about during an appointment or meeting? It used to be in Win Phone, but disappeared in Windows 10, and is highly missed

They already had an option to disable notification toasts when you're duplicating your screen. So that's not new, it's just been moved to Quiet Hours instead and will now actually toggle Quiet Hours rather than being its own feature.

About time these came over. I keep Quiet Hours on due to not being able to set the time.

Let's face it... Some (a lot) of these new RS4 features are primarily things people use on mobile devices.
...........
Windows 10 is becoming more suitable for a pocketable PC than ever.
When Andromeda launches it should have a much larger (and powerful) feature set than WinMo6.5, WP8.1, or W10M, ever had.... One Windows is all we need. Why would anyone want a striped down version of Windows on thier mobile device anyways?... W10 is the ultimate OS for the pocket. Theoretically, there's nothing it can't do.

I have quiet hours on fulltime. I also never look in the notifications and I always clear everything. It's totally useless to me on a pc.

Than, turn notifications completely off. Windows 10 is not only used on desktop PCs, you know 😁

Guess its one of those use case things: I rely on them, email notifications, Call and text notifications (I don't keep my phone out at work), data upload information, twitter (work), skype (my fiance), Teams (everyone else). I find that having it all just pop up keep me informed without me having to go too far; means I can stay in the flow of what I am doing and still know whats going on.

Good to see the feedback hub back log further adressed. The list is still big though. Windows can really use more feedback addressed and slow down future innovation ever so slightly.

Used to be really useful on mobile when going into meetings.

I think that quiet hours function is most useful on smartphones. But I cannot help to wonder how many smartphones with Windows 10 that will receive this upgrade will be in use by the time Redstone 4 becomes available.

Correct me if I am wrong: But wasnt this feature in the very early builds of Win10, I mean the pre-release builds? It didnt have the game functions but am sure you could set times.

Did they separate it from Cortana already? It should be the first thing they should be doing if not already done. Without that it is out of reach to people in many regions.

I do want to get notifications when playing games, but please push the popups to the top rather than at the bottom left where many buttons exist. UI at its worst.

I could see quiet hours being used when I don't want to be disturbed at work by Social media posts and notifications..... I could see alot of uses for this actually.