Focused Inbox and more coming to Gmail users in the Windows 10 Mail & Calendar app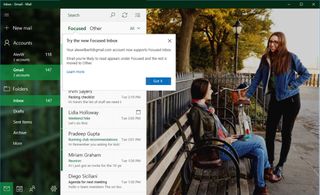 Microsoft is gearing up to give Gmail users a little love in the Windows 10 Mail & Calendar apps. The tech giant announced some new features, including Focused Inbox, are coming to Gmail users, with Windows Insiders getting the first crack.
The feature updates are already things that are available to those with Office 365 and Outlook.com email addresses, but they'll be a first for Gmail users. Along with Focused Inbox, Gmail users will get access to travel and package tracking, as well as a faster and improved search. From Microsoft:
Windows Insiders will get a first shot at testing these features, but Microsoft says not all Insiders will see the changes right away. The features will roll out gradually "over the next few weeks," and you'll be able to tell when you have access to them when you receive a prompt in the Mail & Calendar apps to update your Gmail account settings.
Windows Central Newsletter
Get the best of Windows Central in your inbox, every day!
Dan Thorp-Lancaster is the former Editor-in-Chief of Windows Central. He began working with Windows Central, Android Central, and iMore as a news writer in 2014 and is obsessed with tech of all sorts. You can follow Dan on Twitter @DthorpL and Instagram @heyitsdtl.
Where's focused inbox for mobile?

Still not on mobile tho..... Stuff like this is why people are leaving the platform

Its on my wife's 650 (non insider), but I'm still yet to see this option for my (insider fast) outlook, office 365, imap or Gmail accounts. (yes, I'm aware this article was regarding testing roll out for Gmail)

Win10 here. it's enabled on my Hotmail but not on my gmails. Exciting news tho!
Forgot the exact msg when I launched the "Mail" app but I think it's just a test.
* I'm not insider. If this feature come to Android... I'm switching to it, cause right now, Inbox only works with gmail.

I have focused inbox on my Surface3, microsoft account, windows insider, surface pro 3, production but not my 950xl which is usually on release prevew. I'm not even really sure I want it lol overall

how do you turn it off so you just see all your mail in the order you received it.

Click on the gears, reading, at the bottom there's the toggle.

Thanks I've been hoping to turn this off on my PC.

It's in settings in mail. Somewhat hidden. I immediately disable it since it seems to filter emails incorrectly.

1. It sounds like they will be bringing Google calendar sync to outlook. 2. My outlook for Android already has focused inbox on all my accounts (live.com and yahoo). My outlook mail on my w10 laptop only has focused inbox for live.com

Focused inbox on Android seems to apply for all accounts. Not sure why they're restricting it to certain domains/devices on Windows.

Lol. I dont even have focused inbox on my desktop for the outlook.com email address.

Why is this app (outlook and calendar) seperated? why are they not combined into one nice app like the outlook app on ios? It seems that they have made it slick and nice on ios and android but are way behind on their windows 10 mobile and pc versions.

I prefer it separate. I don't want a massive swiss army knife app but the ability to select a different app for each need.

It is not outlook and calendar on Windows/Mobile. It is Mail, Calendar and People. On a tablet, from each you can directly access the other two. There are buttons in the menu. If you only get one app on the screen, which is typical for tablet and mobile, seeing one function makes sense. The app on iOS and Android, is Outlook, and like Outlook it allows access to those three components a bit more directly, but not much, IMHO. You still see one segment, Mail, Contacts or Calendar at a time, and buttons for the others are available, like Outlook on the desktop. It is a bit odd that the Calendar, Mail and Contacts apps on the phone don't mirror the buttons available on the same app run on a tablet or desktop, but that would seem something that could be brought up as a request in the feedback app.

I think it's because Microsoft bought a company which already had a killer iPhone messaging and calendar app and they just tweaked and rebranded it as Outlook (for iPhone).

Yea, another account I need to go into settings and turn that crap off. Hate that, and conversation view. Give me all my mail in the order it comes in. Yes I realize this is my preference and others disagree. Grateful for the option to turn it off, and want to be vocal about disliking it, lest MS thinks it is right for everyone, since nobody complained. If I want a company to decide what is good for me, I'll buy Apple.

Maybe someday they'll design software specifically for you, and screw everyone who thinks different. Keep the faith!

Why the rant? Just don't use it if you don't want to use it. MS isn't forcing you and you can easily turn it off/on whenever you want.

MS has been forcing this on people unexpectedly and without warning, causing thousands of people to miss important emails. I had two consecutive emails from an important sender put it two separate inboxes before I even knew about this feature. It was not immediately apparent how to turn the feature off, and it didn't even stick the first time. After searching online, this is the first page I found where anyone actually defended this pathetically implemented feature. Users already had the ability to set up rules to filter their incoming messages into different folders. How could anyone think it's a good idea to start disrupting users' incoming email in this way and changing their default settings without asking for input BEFOREHAND? Idiots.

Still selling out to ***** ass g mail please stop with the android propaganda we're not buying it. But keep on to make it obvious that its plot to get people over from Windows please nothing but all Windows on Windows central

They've already got Google Calendar synch, of sorts. My computer has been alerting me of things on my Google Calendar for months. I don't know which app is doing the synching, though. Maybe I'm mistaken, but I get alerts, and I don't use any Microsoft calendar product outside of work. The alerts pop up on the lock screen of my laptop. Is this something else? Other than that, I look forward to focused inbox for Gmail. It'll make the Mail app much more useable.

Please give me a spam filter for the Windows Mail app!!! I can not believe that they still do not have it.