Microsoft is bringing some big new features to Outlook on Mac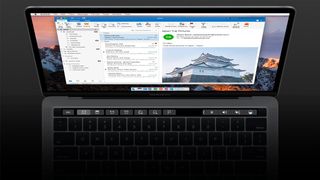 Microsoft is bolstering Outlook on Mac with the addition of some new, highly requested features (opens in new tab). As part of the updates, the mail client is getting access to two particularly interesting features that make it easier to manage and monitor the status of emails.
First up is a new Send Later feature, which allows you to choose a specific time and date to send an email. If you just want to prepare a message in advance, or you're putting your thoughts to digital paper in the wee hours of the morning, Send Later could come in handy.
Another handy feature coming to Outlook for Mac is the ability to request delivery and read receipts. A delivery receipt will simply confirm that an email has indeed been delivered to the recipient. Meanwhile, read receipts will let you know when your email has been read. The email recipient can, of course, decline to send a read receipt, Microsoft says.
Other odds and ends include templates for email messages that you find yourself repeatedly sending, the ability to drag and drop emails to your calendar to create events, and a simpler "Add Account" experience that automatically detects your type of account.
As for availability, Microsoft says that Office Insiders on the Fast ring can try out Send Later starting today, with the feature coming to everyone in July. The new account setup experience is available now for Outlook for Mac users on version 15.34. Everything else, including read receipts, is available to Office 365 subscribers on version 15.35.
Windows Central Newsletter
Get the best of Windows Central in your inbox, every day!
Dan Thorp-Lancaster is the former Editor-in-Chief of Windows Central. He began working with Windows Central, Android Central, and iMore as a news writer in 2014 and is obsessed with tech of all sorts. You can follow Dan on Twitter @DthorpL and Instagram @heyitsdtl.
Receipts have been available for a long time on Outlook for Windows. I'm not sure about the Send Later, though. There's always been an option to Save to Drafts.

On Outlook for Windows, the feature is called Delay Delivery and it's been there as long as I can remember. Since 2007 at least.

I set up a rule to delay sending on an email by one minute, in case I Control-Enter to send it, then realise I needed to edit it. (Did so more than once). But I haven't seen a way to schedule it to send at a specific time.

Microsoft releases Outlook and Outlook Mobile updates at least monthly, and sometimes more often.

You can't say MS isn't taking care of their own OS... Looks like CU2 is even bigger than CU1.

How come this article isn't posted on iMore?

I'm serious.This article is good information to know, but it should also be posted on the Mobile Nations sister sight, iMore, but it isn't. Is there some sensitivitiy to informing Apple users of positive Microsoft news that could positively impact them? I thought this sight was about inclusion. At least this is what Mike Tanasychuk stated in defense of his article "Best Microsoft Office Alternatives for iOS" posted in Windows Central but not iMore.

As it has been stated a million times even since when they first changed from Windows Phone Central to Windows Central, they are reporting about Microsoft related news as a whole as opposed to just the phone aspect. I can't speak to why it's not on iMore as I have previously seen other articles that involve Android or iPhone posted in both here and their respective sites, maybe it will be and just hasn't been posted there yet? Sorry don't mean to sound snippy towards you, it just seems in literally every article that has some relevance to Android or iPhone there is someone who has to whine about android/iPhone related articles that involve Microsoft. Now the article about Microsoft Office Alternatives for iOS is more of a stretch and I can agree more with people complaining about that, but when there is a clear relevance to Microsoft such as this one I don't agree with the complaints.

You misunderstood his point completely... He is just saying the article should ALSO be on iMore so more people are aware of this news. Not just here. He's not complaining that it's here.

I agree this is a good article and should be on this site. It is a pro-Microsoft product (Outlook), after all. I also think it should be on iMore since they are the Mac users who the article applies to. My heartburn with regard to this article is that it isn't and won't be posted on iMore whose readers would get the most benfit out of this article. I suspect it is because it is a Microsoft-friendly article, but I will keep the details of this suspicion under wraps for now.

Nothing to be suspicious about. It's easier for websites like windows central to catch this type of info before Mac users do, since this website is monitoring everything Microsoft does. I think it's as simple as the info didn't get to them first and Windows Central got to it earlier. I'm sure it'll be posted on iMore, specially when the feature becomes available.

Microsoft/windows related

"How come this article isn't posted on iMore?" Possible reasons: Writer lacks savvy. Writer is trying to piss us off to get clicks. It worked. But it won't next time. Ignore.

Valid question. Come on, Dan! Let the Apple fans know about this! :D

Because then no body would read it. The Apple fans would rather troll here rather than read that site.

Because for Imore this is no important news, outlook is just another app out of the few million. Its not like on windows mobile where there are so few well maintained apps that its worth writing an article on every app that is improved. But I agree with others here, this really should not be news on this website. I guess there is no much MS news to report on.

Because this is technically Windows related.... Wait a minute... Now that I think about it, it's not beneficial at all to have this here... If it was for iOS I could see how It's relevant... Wait, no.... They could argue that a Mac user who loves WP might find it here?🤔🤔🤔
Either way, it's definitely more relevant than Mike Tanasychuck's totally irrelevant article telling users alternatives to MS's products.

Always thought it was interesting that Apple doesn't like touchscreens on laptops because "the user would have to reach across the keyboard", so the obvious solution is to put the touchscreen on top of the keyboard so you have to lean forward to see what's on it?

Too bad outlook requires a 365 subscription (on macOS at least, not sure about Windows). I had one from work but it ended due to termination.

Not true. I don't use a Mac and would sooner eat a shoe, but a simple Google of it on Bing will show you that you can buy it without an Office 365 subscription in Office Home and Student for the Mac. https://www.windowscentral.com/e?link=https2F%2Fmicrosoft.msafflnk.n... If you have more than one PC (or Mac) though an Office 365 subscription is a much better deal though.

false. office is still available in the traditional non subscription format, and always has been. 365 is just another consumer option.