Microsoft brings its Authenticator app out of beta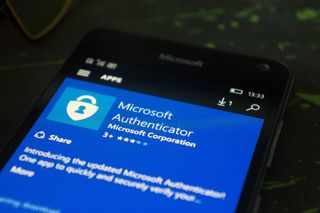 Microsoft has rolled out a new Authenticator app to the Windows Store, as spotted by Windows Blog Italia. Build for mobile devices, this new app is set to replace a number of other authenticator apps to make it more convenient to manage multiple accounts all within a single solution.
Update: By some reports, this update is only working for those on Redstone 2 Insider builds
This new app replaces the Microsoft Account, Azure Authenticator, and Multi-Factor authentication apps. Interestingly, it does appear to be a slightly different and less visually appealing offering than the Authenticator app for Insiders. Hit the link below for more details and be sure to hit us up in the comments as to how you're getting on.
Download Microsoft Authenticator from the Windows Store (opens in new tab)
Windows Central Newsletter
Get the best of Windows Central in in your inbox, every day!
Rich Edmonds was formerly a Senior Editor of PC hardware at Windows Central, covering everything related to PC components and NAS. He's been involved in technology for more than a decade and knows a thing or two about the magic inside a PC chassis. You can follow him on Twitter at @RichEdmonds.
Why MS.. Why not going UWP I stead of this ugly app with W8 UI?

Ewww you're right, it's so awful compared to the beta!

It is incredibly ugly looking. I can't understand the decision to go with a gradiant gray background...

That's the old design... The new one is white with accents of blue.

Yes for now the only update changed the name from AZURE AUTHENTICATOR to MICROSOFT AUTHENTICATOR.
.
I'm hoping they actually change the UI of what is similar to Apple iOS and Android versions.

So... I've never used it before and just downloaded it, and it has the ugly gray gradient. Where is the new version? Some kind of preview?

Weird. Mine updated yesterday and has the new UI and had a popup when you opened it about the new app. Maybe they pulled it for now.

You're still getting the old Azure app, which was renamed to MS authenticator a few weeks ago. Just wait for the update.

Are you saying that the interface will change to match the beta?

They DID make it UWP with nicer UI... you're still getting the old app.

I just hope they fixed the freakin bugs... I've been stuck without any toast notifications for like a month now...

It must be a mistake.... can't be serious....

The only thing that changed for now is the name. It used to be called AZURE AUTHENTICATOR and now it's MICROSOFT AUTHENTICATOR.
.
No UI changes which is sad :(

The UI has changed and it's a UWP for me.

you sucky sucky boom boom

See the update in the article girl.

Any chance you can upload a video/picture of the app running on your phone?

Whoa. This is huge. Extremely late, but huge. I couldn't use the main authenticator for my corporate account. No matter which way I tried, I couldn't use the QR tag, or manually enter secret keys to get it to work for Azure/Office365ProPlus/etc. Then I found the old Azure Authenticator app that wasn't labeled properly and looked old. Sadly, it was the only and correct app to use. So happy they merged it in. The Beta app we've been using is v6.0.7. The non-beta, formerly Azure is v1.1.29. I'll have to see what it will take for me to get my stuff to work all in one of the apps. Hope they add cloud support for this stuff.

Push notifications cannot be turned on. Without this, I cannot add an account. Needs to be fixed. WINDOWS 10 Mobile Lumia 640 latest update.

You could reinstall the app, and first time you start it it would ask you if you want to allow push notifications for this app. I hope this helps.

Didn't help. The article says that it may only work on phones running Redstone 2.

I'll download it on a phone running redstone 2 now and see how it looks

Reading QR codes is WAY faster than the beta app. The clipboad button next to each entry is also a welcome addition. Push notifications have been working for me with the beta on my 950XL with no issues, but it will be interesting to see what happens with both versions installed and configured for the same accounts.

Both show the same code at the same time, at least for my MS account.

Same for all of my accounts. What I have not tested though is a push notification for approval rather than retreiving the code with both apps installed.

I'm glad I'm not experiencing any of the issues you guys are dealing with, especially you Martha Stewart types with the "its ugly" stuff . That just floors me. I checked out the beta and have been using it for months. It works great and works with all my email, Amazon and other secure accounts just fine. I agree with Danny Talent. The other authenticator app was pure garbage but this one I can't say enough good things about. It just works.

This doesn't look like the beta app at all in the store. It looks awful'

It kind of looks like a tiny improvement to the WP8 app, but nothing more. It's not even the same app in terms of UI in comparison to Android and Apple apps

Because it's still rolling out... the WP8.1 app is still showing as the live one.

You have the wrong version then

so I'm confused. this one shows up in all apps as 'Authenticator' but is listed as 'Microsoft Authenticator' and I have one in all apps under 'Microsoft Authenticator' that when I open it has a much newer look to it

Something is wrong with this app like Ringtone Maker. This is the same old Azure Authenticator that was renamed a months ago. I'm still preffer Microsoft Authenticator Beta (http://www.windowscentral.com/microsoft-authenticator-app-now-available-...)

I was interested in this. Of course, it's a big thing and I thought I'd have to de-authorize the old authenticator and authenticate this new one. For what I've read, you can authorize the new one without cancelling the old one. Someone tried it?

With MS accounts and facebook it worked fine. With google accounts I had to turn off 2-step then turn it back on again to add the new app.

Anybody else confused how this works? I open it and try to add accounts, which gives me options of either scanning a barcode or entering a code and URL / account name and secret key. How do I just add some normal Microsoft and Office accounts?

Tap on Add Account > Personal Account. It will list all the MS accounts that your phone is signed into.

I'll stick with the beta for now.

I'm pretty sure that this is still rolling out, because lots of the comments that I'm reading are referring to the old version of the app (Version 4.0.5.0) which has a grey background and only supports Azure Authentication (URL/Account Name or Barcode). The version Windows Phone Italia references is 6.0.7.0 and I'd guess that this version is a completed version of the beta app.

Yes, this...i got a very old version from the link in the article. I do also have a separate updated app that is the version referred to in the italia article

I'm unsure if this app is the sequal to the bet app... I mean... really and truly, the look and feel is just not the same or even similar.

You may not have v6.0.7 yet. The new version looks and feels a lot like the beta app, with some adjustments - the elipses menu has been eliminated and those options moved under the hamburger menu, a clipboard button to the right of the generated code(s), and a new padlock icon for the tile to name a few.

Where are you from? Are you on WIndows Insider? It may be country-specific, for now.

Mid-west US. Insider all-the-way. Rollout may be ongoing. It was searchable in the US store, not a hidden link or anything.

Tap and hold also copies code to clipboard and shows notification about it

Rated 3 stars no less. LOL!

How can an appp that generates random numbers and letter be in beta? Microsoft strikes again.

These are not random numbers obviously.


Lol. Brain cells in beta, evolutionary diversification strikes again.....;-)

Hopefully it will work with EA accounts now.

The old one works perfectly with EA origin - set it up 3 days ago and worked perfectly

I'm confused. What is the difference between this and the Microsoft Authenticator Beta app that I'm STILL using on my phone? They have different icons, and look totally different. But my beta one works when I simply sign in to it. This requires me to enter course out scan something.

You can manually sign in on this one too

Can bring mobile out of beta too?? lol

why there is 2 authenticator for windows 10 now? there is one that is named as Authenticator (a tile with a key on it and blue background) and other one is named as Microsoft Authenticator (a tile with a lock on it and transparent background) [app on this article] i dont see any difference what it does than it has diff UI

Authenticator is the old WP 8.1 app, MS Authenticator is the new universal app.

I find that the old one is better and faster

Can someone please explain to me why it's asking for a code from my organisation? Don't think I needed to key in such code (except from Microsoft) when I set up the original Authenticator App on WP 8.

Because it's more secure now

Don't understand why the only option for an authentication code is delete. Why can't you copy? Seems like a very basic necessity.

Are you on RS2 branch? When I tap and hold - notification informs that code was copied to clipboard.

Just tap it once and it copies on the new one... on the old one u need to tap and hold

FFS, is it still only 5% of posters that read the news item AND the thread? More duplicates than a box of Lego!

The problem I have with this is that it still doesn't show the new 7 digit codes.

Microsoft Authenticator Beta is a nicer looking app and works well even with push notifications.
Windows Central Newsletter
Thank you for signing up to Windows Central. You will receive a verification email shortly.
There was a problem. Please refresh the page and try again.