The Microsoft Authenticator app is now available, but only for those on Windows 10 Mobile 'Redstone'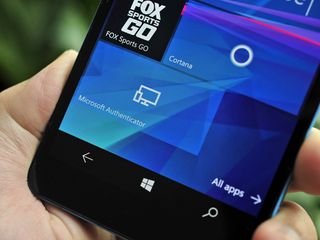 It looks like Microsoft is letting free its brand-new two-factor authentication (2FA) app for Windows 10 Mobile. Microsoft Authenticator has been listed in the Store for a while but only as a private beta for internal testing. Now, it looks like anybody can download and start using with the one caveat that you need to be on Windows 10 Mobile 'Redstone' and not Production or Release Preview Insider rings.
The app, which is still in development, will eventually let users unlock their Windows 10 PCs running the Anniversary Update via Bluetooth (aka presence) detection. That feature is not yet available as far as we can tell.
However, users can begin to use the two-factor authentication aspect where the app either generates a code or receives a push notification that users can Approve or Deny without having to launch anything. A similar service is already available on Android (but not iOS) for Microsoft Account authentication.
To use the app, you just install and connect it to your Microsoft Account. Once completed the app will generate temporary authentication codes to be used when logging into your account on the web or with apps that utilize Microsoft's login system. The app even utilizes Windows Hello for initial authentication, which is a nice touch for those with a Lumia 950 or Lumia 950 XL.
The Windows 10 Anniversary Update due later this summer has many new features built around push notifications, and it is likely that you need the OS due to some new background driver implementation.
Overall, the Authenticator app looks like it is off to a great start, but there are still some areas that need to be completed e.g. Settings.
Not familiar with how two-factor authentication works? Read our tutorial on how to enable 2FA and why you should be using it: How to set up two-step verification on your Outlook and Microsoft Accounts.
Download Microsoft Authenticator for Windows 10 Mobile (opens in new tab)
Grab the app now and let us know what you think. Remember, you need to be on Windows 10 Mobile RS1 builds aka Insider Fast Ring (and likely Slow Ring too).
Big thanks to Geoff C., for the tip!
Windows Central Newsletter
Get the best of Windows Central in in your inbox, every day!
Daniel Rubino is the Editor-in-chief of Windows Central, head reviewer, podcast co-host, and analyst. He has been covering Microsoft since 2007 when this site was called WMExperts (and later Windows Phone Central). His interests include Windows, laptops, next-gen computing, and for some reason, watches. Before all this tech stuff, he worked on a Ph.D. in linguistics, watched people sleep (for medical purposes!), and ran the projectors at movie theaters because it was fun.
With the push notification function people should definitely find 2FA much more convenient.

Will the unlocking with certain companion devices use this app eventually? I.E Microsoft products like the Band 2 using the CDF?

Oh so the current Authenticator app was from WP8? Posted via Surface Pro 4 or Microsoft Halo Phone

Definitely... if my Surface can actually maintain a bluetooth connection with my 950.

May be this was the feature teased by Dona Sarkar

It's definitely possible that the next Mobile and PC builds support a newer version of this app to enable something cool like unlocking the PC from your phone. I guess they could also link the Band 2 to this app easily enough to let you approve the notification too

Yes I believe it will also allow you to use your Band or other smart watch to unlock your laptop / desktop PC. (Smart Watch must be compatible with Windows 10) Posted via Surface Pro 4 or Microsoft Halo Phone

I doubt it since this app has been out for a couple of months, I guess Daniel didn't notice it until now

Looks like at the moment you can just add Personal Microsoft Accounts but not Google or Organisational Accounts for Office 365. Great to get an early peek at the app. Could this be part of the "some *really* interesting" where we may see an update roll out with the next two builds that lets us start unlocking our devices with PC and possibly other devices?

They do have an Azure one that supports Azure AD for Office 365 org accounts. It also generates a notification for acceptance. I just hope they eventually get this down to just a single app though.

Looks like that is the plan - When you go to add an organisational account it shows the option to add an account for unlocking your PC, or 2 Factor Auth, so it's coming I'd say

Can't get app... running latest Insider Build Lumia 650

I was able to get it, but still can't get the Messenger (beta), just the way the cookie crumbles when it comes to pre-release apps :)

I want messenger so badly! lol. Tried on my 1520, and 830, no luck.

I tried on my 950 and a test 435 which uses a different MS Account - Just going to keep waiting rather than changing region and all that stuff.

Yeah, I can wait it out. Hopefully they push it out soon!

It could get some updates before then so we should get a better experience. I actually really like the WP8.1 Messenger app apart from it not being able to View or Send GIFs

The 8.1 app looks really nice, just needs the new features though.

They are not going to update any app designed for WP8 or WP8.1. Either upgrade to Windows 10 Mobile or buy a new Windows phone :) Posted via Surface Pro 4 or Microsoft Halo Phone

Changing region is a matter of just a minute. And after that the app is yours. ~Sent from L830

Is the Messenger Beta app available by switching regions? Has anyone tried that method?

Worked for me, changed to US, still worked after changing back to where I live

I tried Germany. It worked. Reverted back and still I can reinstall it. ~Sent from L830

Alright, I'll give it try when I'm home.

It is available if you switch to France or Germany Posted via Surface Pro 4 or Microsoft Halo Phone

Now this is one of the things I'm stoked about! Love the Android authenticator app. Doesn't seem like this one is doing much yet, but I'm glad to see it's still in the works.

Yeah, the Android app is fantastic. Glad to see we're getting that too...looks like you need some background processes to enable that, which is why it's not even available on iOS.

Ever since a friend showed me it on their Android (They since moved to iOS and bought a 950 to play around with) I've wanted this. Mainly the approval via the push notification.

Since I have so many devices I end up using 2FA a lot and boy is it a time saver.

agreed Posted via Surface Pro 4 or Microsoft Halo Phone

Does this work over Wifi or Bluetooth Dan?

Both. Posted via Surface Pro 4 or Microsoft Halo Phone

Microsoft should use their bridge platform to port the Android app over. They say it's super easy so why wouldn't they just use it themselves for something like this.

Guessing their working on feeture parity

If you already have to use a pin to access your device, then you will not be asked to reenter it. The app seems neat. I'll keep both apps on my device until this goes gold.

Cool a app I can't download yet

How hard to use push notifications after hard reset?
Old Authenticator app which uses time aware tokens is real problem for Hard reset. You have to restore all 2FA for each service

Great to see the new features (bluetooth authentication is cool). But if you just need the code, use this: https://www.windowscentral.com/e?link=https2F%2Fclick.linksynergy.co... Works with Windows 10 Mobile, BUT when getting the activation code online you have to identify the device type, select 'Other' (NOT Windows Phone).

Good app. Crashes whenever I try and add an account. As usual windows 10 stuff

So in simple terms this is like keyless entry to your car? If you unlock your PC and you've got your phone in your pocket then you don't have to enter the pi, the PC sees that the phone is nearby thus the user is nearby and grants you access?

The companion device framework requires that the user show intent....So I imagine when this function comes you will need to accept a push notification. It'll probably work like this when your PC is locked. Press Space Bar on PC
Notification comes to the app (or Band 2?)
Accept or Decline the request to unlock That's what I got from a brief look over the CDF docks. You need to ensure the users Presence as well as their intent to unlock the device. This would stop somebody unlocking your PC whilst your within bluetooth range without your consent.

Knowing them it'll still be ctr + alt + del

I think that's the idea yes. I hope this will work with Wifi detection (not just Bluetooth), so it can unlock the Xbox One as well

This app was available the day the latest build was released. Old news.

If only this would work when logging in on my Xbox One.....

Do you use a PIN on your Xbox? Have you tried turning on Auto login or using Kinect? I would love it if they brought proper Windows Hello to Xbox One, since the sensor can be used on PC. Also, once "Hello" is in there, it could potentially work with companion devices like Band 2, Your Phone etc. if the CDF is available to Xbox's Windows 10 SKU

I have the authenticator from microsoft already installed and use it for Office 365 and AWS already. Shame not all "2FA"Methods support that same App

I already had this app since 3 builds ago.. Was installed automatically in my 950xl.

Still not better or useful or faster than a simple 4-digit PIN.

It's main aim is to be more secure though - On my phone I use Windows Hello, so I can comfortably set a long PIN and rarely have the hassle of typing it out. Have you seen the Band 2 demo where they showed it unlocking a PC using the Companion Device Framework?

i'm confused, I've been using this app for months (Windows 10 mobile redstone branch). Have I been using a Windows 8 version?

Probably. I'm using the Windows 8 version. Windows Central for Windows 10-Nokia Lumia 830

How different is this to LastPass Authenticator? You get notifications and the generated codes on that app as well.

About time that we got a proper authenticator app. Have been using the MS Authenticator on Android for a while, and find it a bit strange that this has not been made available sooner. Great to finally have it though.

what's wrong with the current verificator app?

Nothing. But this version allows push notification to your phone and you just tap on "confirm" button and it's done instead of launching the app, reading six digits and typing them in on your 2FA prompt. MS's Android version had this feature and it's a real hassle saver. Once you try it, you will know! :)

So this eliminates the need to have a code emailed to me?

I'm confused. I've used Authenticator from Microfost for years for 2-factor AWS access and more recently for the 2-factor authentication for my Microsoft account. I'm currently on the Release Preview ring. Prior use was on Windows Phone 8 and 8.1. Is this something different with the same name?

By the way, the icon is different. My Authenticator app has a blue (not transparent) icon with a key on it pointing down, and teeth on the right.

I'm having the same confusion. I don't get it. Also, if this one overrides the older Authenticator app (the blue with icon with a key on it), will there be conflict? Do I have to unlink or delete one in order to use the other?

"Is this something different with the same name?" Very different (sucessor/same_name). Read the article. Cheers.

Just reread the whole article to see if I'd missed it the first time. I don't see anything in there that says that. I certainly wouldn't rule out my own stupidity or blindness, but could you steer to me the section you're referencing?

The old app is just a code generator. This one will allow push notifications to confirm login (you'd press "approve" in a notification instead of needing a code), windows hello, and work as a "keyless entry" to your devices. It doesn't do all of this yet but that's the idea.

Can't install...The Store app gets stuck at "working..." stage and then crashes.

Installed on my slow-ring build fine, but, approving notifications doesn't work. (App shows the notification, but hangs when you click Approve.) Codes still work tho, I'm sure it'll start working soon...

I have this installed on my 640 running Release Preview Insider version .338. Works well.

What's the difference between this app and the Authenticator app that I have been using? If I install this one and sync this up with my account, do I have to delete or break the Authenticator link?

For Microsoft Accounts, this one supports push notificaitons (so instead of typing a code from the app into a browser, you just tap approve on the push notification on the phone). Faster and easier. For now, it doesn't support other services. I went from the old Authenticator app on WP to the Android version of this app (It's called Microsoft Account on android) and it did mean that the codes from the old app on WP didn't work anymore.

I've spent the entire day doing Store searches and all I get is the old version which I already have installed. Bummer lol

Maybe click the download link?

Push Notification request sounds like a brilliant feature!

The Microsoft Authenticator app is now available

I'm pretty sure it's been available for a couple of months now. I've been using this app for a while on my 950XL. It only supports Microsoft Accounts right now, so I still need to use the old Authenticator app for other services but the push notifications make it much easier and faster (I've been using the Microsoft Account app on my Android because of that feature, but with this app I'm back to using WP for 2FA)
Windows Central Newsletter
Thank you for signing up to Windows Central. You will receive a verification email shortly.
There was a problem. Please refresh the page and try again.