Microsoft Build 2017 day-two live blog
Day two keynote with Executive Vice President of the Windows and Devices Group Terry Myerson!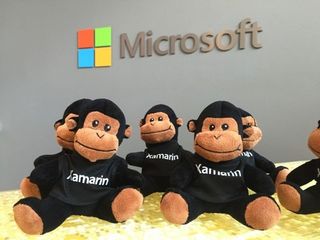 The Microsoft Build 2017 day two keynote begins at 8:30 am PT / 11:30 am ET. (Find your local time here).
This year, Microsoft put the Azure and AI stuff on day one, changing it up from previous years. Day two, however, is where the consumer fun will be had with updates on Windows 10, the Store, and maybe some Mixed Reality and HoloLens news too!
Tune in to hear the latest and greatest from the Build 2017 developer conference!
You can learn more about what we expect at Build from our detailed articled. The live stream can be found above or by going to Microsoft's main Build page (opens in new tab).
Live Blog
Community Chat
Daniel Rubino is the Editor-in-chief of Windows Central, head reviewer, podcast co-host, and analyst. He has been here covering Microsoft since 2007 when this site was called WMExperts (and later Windows Phone Central). His interests include Windows, Microsoft Surface, laptops, next-gen computing, and for some reason, watches. Before all this tech stuff, he worked on a Ph.D. in linguistics and ran the projectors at movie theaters, which has done absolutely nothing for his career.
Grats to Canada for acquiring internets!

where are you to s2n? assholeville!

You looking for playmates? Even other natives find you too assholy?

I am guessing that moron above thinks that all candian's live in igloos too.....

"candians"? From 'Candia'? (remember the winky smiley ;) )

Lets hope to see real good stuff today :)

still good stuff are showing :)

I have not been keeping eyes on build before....but I am watching today while I can!

This is going to be EPIC!

******* twats downvoting people here...TOOO FUNNY

how can you chat in the community chat?

just chat in the discord instead, the comunity chat sucks

Let the disappointment begin! LOL

I think if you take mobile off the table because it's done.....you might be pleasantly suprised.

Was bound to happen wasn't it hahaaaa !! - Mobile will be back :)

Said no one ever at microsoft!

I feel like you are telling us something... I'm going to guess that xamarin is a big deal in this Build

I'm hoping for big improvements to Xamarin forms, perhaps bringing the response UI from UWP over - UWP XAML is way better and quicker to build a UI with but I think they'll start to marry up the two more. Be amazing to build a single UI that scales across Windows 10 devices but also Samsung Dex, and iPhone and iPad

I ENJOY the background music they use ahaha

Hopefully I get to listen in for a while too, makes a change !!

It's about to be put down

Hey look...it's Sadya Sadella!

And Windows 10mobile is dead

So many iPhones. They should be using Windows devices like the HP Elite X3 & Alcatel Idol 4S.

WHy? they are dead technology and windows moible is done!

Would have been much better using the X3.
Perfect time to use it for the demos to at it least give it some publicity. Who knows if anybody in attendance is even aware it even exists.

or do they care?????? i am guessing not since they sold probably 600 units since release.

most of the presenters are using iPhone, so sad

Reliability trumps loyalty.

Why are they using the edge name for all that cloud stuff

As far as I remember, CEO used not to appear at Build but this year Nadella appear too many. He might think people like him.

Maybe he'll actualy smile.

Why are they using iPhone? Did I miss something?

Yes, the demise of Windows Phone and Sadya Sadella's grim outlook.

Where is Windows Phone???

When they were demoing Visual Studio and wanted to create a native app, only iOS and Android were available options. WTF

Do you mean on the Mac version? You can't build any Windows 10 apps on Macc, not for PC either. Maybe they'll eventually do what Windows does to link to a Mac to build iOS apps. W10M missing from that list is nothing specific against W10M though

Yay, VS runs on Mac, and can target iOS and Android. Gee M$, why do you hate yourself so much while I sit here loving my Lumia 650?

"M$"? Seriously? For a moment there I thought I was reading a post from 1998.

You can't build Windows apps in it though, they'll need to do what Xamarin did and let you use a remote Windows 10 PC for building and deploying the windows versions. That's going to take some time. This is nothing against Windows 10 or W10M there's just no way to build and run a windows UWP app on Mac (until they implement the remote build and debug which is no small job)

Side note: Azure Mobile app *is* coming to Windows 10 Mobile too...being worked on, more info soon

ROFLMAO. Half decade old joke right there...coming soon....

So many iPhones. WHAT THE ... IS WRONG WITH THESE PEOPLE. Use Windows 10 devices!

So many iPhones. WHAT THE ... IS WRONG WITH THESE PEOPLE. Use Windows 10 devices!

So many iPhones. WHAT THE ... IS WRONG WITH THESE PEOPLE. Use Windows 10 devices!

Why are they demoing stuff on Safari? Are they masochists or something?!?

Maybe what we will have from Microsoft is a Edge Phone that runs on Azure and any App via the web (Edge Apps).

more iPhones, and Androids are showing. ahahaha

Where is the Dominos Windows App?

Bring Adobe CC Suite of Apps to the Windows Store!

Bring Adobe CC Suite to the Windows Store!

Bring Adobe CC Suite to the Windows Store!

I apologize for all the duplicates, I don't know what is going on.

Likely because you're using a Windows device.

One of those phones laying on the table better be a Windows Phone.

No problem Ryan, I thought you were just excited..ha ha!

Wow I saw a Windows 10 Mobile notification image

WOW, M$ AI and calendar coolness. In New Zealand they cannot even get the time and date right. Yup, the PC clock gets updated from the UTC server and is an hour wrong, even with daylight savings ticked. And clicking the online live.com calendar is always 1 day wrong. e.g. click Monday and the event will be added to Tuesday. LOL.

Why Safari and Chrome? And not Edge? Well, try opera -- it is really nice and syncs very well across devices.

Will Steve Ballmer appear in day 2?

Those monkeys are an Easter egg...just saying ;)

Cortana is going to be really exciting. WAY more devices run Cortana than alexa, and writing bots is much easier than skills.

iPhone and Android mobiles are showing frequently. lol..

:)) all iphones, no windows phone shown. pathetic

This is the first time I've heard Nadella talk, he sounds kinda Canadian.

Hmm, skills preview seems to be US only. Typical. Will have to change my region some time later.

Terry's been hitting the gym and not the burger joint.

Yeah, they're really pushing Windows 10S. The fact that they convinced Apple to offer iTunes in the Windows Store, means Microsoft intends 10S to be offered to Joe Consumer on laptops at big box retail. It'll be an interesting experiment, to see if the locked down OS flies on PCs. Also, I don't think there's any doubt that down the road, 10S will be attempted to be repurposed for phones. Unfortunately for Lumia and x3 owners, it won't run on current silicone, so W10 Mobile is now semi-officially Windows Phone 7.5, a little bit longer of bug fix support, until it's dead-ended.

That's why my Lumia 950 XL is having 2 major firmware update within two weeks before Surface laptop Windows 10s is out. It must be something related.

Care to list all the new features that Mobile is getting?

Are English language and English grammar permitted on this site?

The dead horse just got hit by a truck.

Atleast if they could have enough of courtesy for their consumers and officially announce end of Windows Mobile.
Windows Central Newsletter
Thank you for signing up to Windows Central. You will receive a verification email shortly.
There was a problem. Please refresh the page and try again.