Microsoft buying Nokia makes perfect sense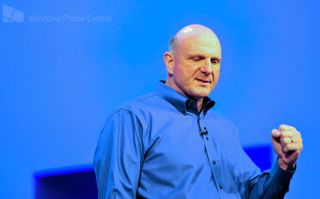 Despite the weakness in Microsoft's stock price today (it's down about 5%), I think their decision to buy Nokia's hardware and services business is absolutely the right move. And it really shouldn't be much of a surprise. When Stephen Elop made the gutsy decision to kill Symbian and bet entirely on Windows Phone, most people correctly had a strong sense that this would eventually happen.
But Wall Street isn't too excited at the notion of Microsoft spending over $7 billion in cash to double down on its smartphone bet. And that's understandable. It's a lot of money for a potential failed deal. I think it probably will end up being successful for Microsoft. They've already climbed up to the #3 position in the smartphone market, having overtaken BlackBerry. If they can achieve this while having to balance the growth objectives of two separate companies, then I think it should only get easier for them as a combined entity.
As a long-term BlackBerry user I always hoped the Canadian competitor would cement its #3 position in the market. But they haven't been able to do so. And I think Microsoft's push to get more apps on its platform has been one of the driving forces behind its success. BlackBerry didn't dump enough money (in a smart enough way) into developer recruitment. I remember when I'd visit the website for pretty much any popular app and I'd see little advertisement for both the iTunes App Store and Google Play. Now I'm seeing more situations when Microsoft is mentioned. Microsoft says that it is outselling BlackBerry in 34 markets around the world. They've got some decent momentum happening.
$5 billion of the deal is attributed to Nokia's hardware business. It's widely reported that Microsoft was bringing in less than $10 of revenue per handset sold, but will now bring in about $40 per unit. Let's assume net profit can be half of this, or $20 per phone. If Microsoft can maintain a solid #3 position in the market it isn't crazy to think of them selling 250 million units over several years. This could bring in $5 billion of additional income based on my quick math. In other words, I don't think Microsoft is overpaying here.
In reading the report from Kantar Worldpanel from yesterday I think it's interesting how Microsoft has been successful in gaining market share by convincing first time smartphone buyers to try Windows Phone. The high end of the market is dominated by Samsung and Apple. But almost half the planet is still buying dumb phones, and this is bound to change. Nokia was successful with the Lumia 520, and it seems that under Microsoft's ownership the Windows Phone OS will build critical mass as Lumia penetrates the lower end of the market. Not everyone wants to buy cheap Android phones. BlackBerry's legacy OS isn't compelling and the company has been too slow to bring BlackBerry 10 to emerging markets. Apple hasn't attacked the lower end of the market at all yet. That leaves a lot of opportunity for Microsoft. And I'm not saying Microsoft has to compete only at the low end. That's just where they get their critical mass. From there, they can fight for customers in the entire spectrum of price points.
As for Nokia? This sale is exactly what they needed. They were not big enough (any more) to guarantee themselves success, but they were too large to fail. They will now have a hugely strong balance sheet with which to invest in wireless infrastructure and location based services.
(Chris Umiastowski is a contributing financial writer to the Mobile Nation network. You can see the rest of his posts at AndroidCentral, iMore and CrackBerry.)
Get the Windows Central Newsletter
All the latest news, reviews, and guides for Windows and Xbox diehards.