Lumia 520 Review - The most affordable Nokia Windows Phone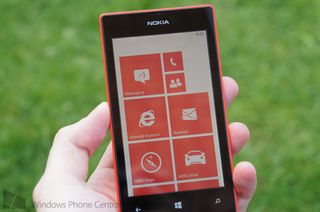 Windows Phone Central's review of the the Lumia 520, the cheapest Nokia Windows Phone yet
The Lumia 520 is a well-priced Windows Phone for an entry-level model. The option itself provides consumers an affordable Windows Phone that doesn't have a negative impact on the user experience. The beauty of the Lumia 520 is one would assume it runs Windows Phone 7.8 and uses a CTF display, but we're talking about Windows Phone 8 hardware here.
That said, this is still a budget smartphone and you should not make the purchase with the same expectations of a Lumia 720 or Lumia 920. There are features missing and corners cut to save on cost, but note this: it's a superb Windows Phone and we'd never grumble at the price.
Swipe to scroll horizontally
Cheap, looks good, feels comfortable to hold and sports a super-sensitive touch display.
Lacks numerous features, including back-lit capacitive buttons, flash, front-facing camera and more.
Nokia has not only tackled the high-end and in-between markets, but the company is also reaching out to the demographic that enjoys choosing the cheapest models on the store shelf. The entry-level device certainly raises bars in terms of quality and is light years ahead of similar competitor products.
The Body
Launching alongside the Lumia 720, Nokia has made sure the Lumia 520 is both attractive and solid for every-day use. Following suit of the Lumia 620 and Lumia 820, there's a shell that can be swapped for difference colours (note there's no extra functionality here – wireless charging nor NFC) and popped off to reveal the battery, as well as the microSIM and microSD slots. Weighing in at just 124g, it's significantly lighter than the Lumia 920 for comparison (185g).
The body is just thinner than the Lumia 920 (9.9mm versus 10.7mm). Nokia does manage to create an illusion that the rear of the Lumia 520 is thinner than reality with the curved back plate. It's comfortable to hold, which is always an added benefit. The issue the Lumia 520 has is that it feels slightly cheap. While there's comfort and ergonomics at play, the side buttons are a prime example of how Nokia has managed to keep the manufacturing cost down. They're not awful, but not ceramic either.
Let's not throw in the towel, simply because there are some cut backs. The Lumia 520 sports a 4-inch display and while it's not nearly 5-inches, which is what appears to be the norm these days with high-end models, it's still larger than the previous generation Lumia 800.
Returning to the back plate. There are a variety of colours available: yellow, cyan, red, white and black. This choice helps keep the Windows Phone looking fresh and we've not had any trouble popping the plate off for easy access to the insides. There's not a great deal of choice though, compared to the Lumia 620. You'll not see crazy lime green colours or hip orange, but again this is a budget device and we shouldn't expect the world - Nokia does manage to include the main Lumia colour scheme.
Overall, while there are certain elements that make the Lumia 520 feel cheap in areas, it's not going to affect the overall experience and the back plates feel comfortable to hold. We feel as though Nokia has balanced both sides of the scale rather well here. There's not a lot of compromise for the price, which is exactly what Windows Phone requires with its low-end selection of hardware.
The Display
As noted above, the Lumia 520 sports a 4-inch IPS display, which is at 800x480 resolution. There's no ClearBlack technology included, but Nokia has decided to add Super-sensitive touch, enabling owners to use their Windows Phone while wearing gloves, etc. It's impressive technology that was highlighted on the Lumia 920. That's what we like about the Lumia 520; it doesn't have all the bells and whistles but there are a few tricks up its sleeve.
There's also no PureMotion (60Hz screen refresh rate sported by the Lumia 920) and no Corning Gorilla Glass (so be that little bit more careful when handling the device – it can't quite withstand nuclear fallout), but for the price tag we're not fussed. We didn't experience any issues when using the Lumia 520, unless you're outside. It can prove to be a struggle if you're attempting to read text on-screen with the glare of the sun behind you.
What was interesting is because there's Super-sensitive touch, it was a breeze to use the touch screen and there was not a single moment when we felt required to really put pressure on the glass for our gestures to register. That's a real bonus for a low-end smartphone and was something the previous Lumia 710 suffered from (or so we found with our review unit).
So there's no quick refresh rate, no ClearBlack technology and no Gorilla Glass, but what Nokia has achieved here with the most affordable Windows Phone, we applaud the company. The included Super-sensitive touch is a really welcomed addition and improves the experience ten-fold.
The Hardware
The Lumia 520 packs a rather nice punch, as does each and every other Windows Phone in the current generation of hardware. The absolute minimum is a dual-core Snapdragon S4 CPU at 1GHz, which is what we've got here and it's certainly no slouch. There's a noticeable difference when put next to a high-end Windows Phone with a 1.5GHz dual-core chip, but the user experience is never at risk of being sub-par.
Games are rendered well, without stuttering (or "lag") and apps open promptly. Along with the 1GHz dual-core, the Lumia 520 also sports 512MB RAM, which -- unlike the 256MB issues – runs all apps on the Windows Phone Store. We've not had the situation where we couldn't get an app to run, but as games become more and more advanced on the platform, there could well be issues in the future - it's worth noting that even the high-end hardware will become obsolete at some point as technology improves.
Unfortunately, as this is a low-end device there's no NFC and no wireless charging. This bring us back to the interchangeable back plates. The optional coloured accessories are simply just shells and do not introduce any functionality. For battery we're looking at 1430mAh, which is larger than the Lumia 620. As Nokia's most affordable Windows Phone doesn't sport all the bells and whistles under the sun, the small battery shouldn't be a problem with daily use. We had no problem in our tests.
There is one area that appears to be limited - and that's internal storage. Nokia has only installed 8GB of storage for apps and games, as well as other settings and temporary files. Some power users may find this lack of space an issue. While a microSD slot is available for cards up to 64GB in capacity, the expansion can only cater for media files. Nokia did manage to pack in WiFi, Bluetooth 3.0, but no compass so don't get too excited as you'll not be able to use HERE City Lens.
The Audio
We can sum up the speaker on the Lumia 520 with a single word: loud. It's actually rather impressive just how loud it is. We can crank the volume up to about 26 (out of 30) before the sound begins to distort, but for a low-end device this is perfect. The sound quality from the speaker is slightly tinny and is located on the bottom right-hand side of the back.
Unfortunately there's no equaliser or other audio setting that's sported by other Lumia Windows Phones. The entry is present on the main Settings menu, but the "audio" configuration screen is blank when loaded. Testing the sound through headphones (pair of Razer Blacksharks) with numerous tracks streamed from Xbox Music showed us the Lumia 520 can handle playback like any other smartphone. No problems here, but there's a notable difference between this device and playback on high-end hardware.
Call quality is also good, which is always a bonus for a mobile phone. It's easy to hear the recipient on the other end of the line, but it's not the best experience we've had. Overall, if you've used a Windows Phone before and are yet to purchase a Windows Phone 8 device, you'll not be disappointed.
The Shooter
As the Lumia 520 is a low-end Windows Phone, there's only an f/2.4 28mm 5MP rear shooter. What's more, there's no flash and no front-facing camera for Skype and other video conference apps. Also, it's worth noting there's no Carl Zeiss lens. With all that down on paper, you'd assume the results would be pretty poor, correct? Well, you'd be half-wrong.
The 5MP is nothing special, especially when you compare images captured with the Lumia 520 against the Samsung ATIV S or Lumia 920, but there's enough sharpness and colour balance to really make a difference here. Camera technology has come a long way and even 5MP shooters can produce results that are good enough for Facebook and sharing with friends.
That is until the sun goes down. There's no flash. We attempted to take a shot in the dark just to see how it handled no light at all. You can give it a go if you own a Windows Phone that doesn't sport OIS for low-light photography. Turn the flash off and attempt to take some shots.
Here are some sample shots taken with the Lumia 520:
And here's a video sample:
Video is the same story. Owners can enjoy recording footage, but without OIS (optical image stabilisation) there's bound to be some jolting. Also, there are no HAAC microphones so don't attempt to use the Lumia 520 to record a concert. As with other Windows Phone 8 devices, the Lumia 520 sports similar camera settings (save the flash configuration):
Scenes: Auto, Close-up, Night, Night Portrait, Sports, Backlight
ISO: Auto, 100-800
Exposure Value: -2 through + 2
White Balance: Auto, Cloudy, Daylight, Fluorescent, Incandescent
Aspect Ratio: 16:9, 4:3
But what the Lumia 520 does have access to is Nokia's Cinemagraph, Panorama and Smart Shoot Lenses to add more functionality.
The Phone
You've read through what's inside the Lumia 520 and how its hardware rates as a low-end Windows Phone, but how is the smartphone to use each and every day as a mobile device? The story is exactly the same as any other Windows Phone: it's an excellent experience. It's not huge or heavy, is affordable and boasts some exciting features. What more could an owner ask for?
There are downsides, however. Since it is a budget smartphone, there are drawbacks to what's on offer. The lack of flash hurts low-light photography and really limits what's possible with the camera. Nokia cuts back on numerous features, including backlit capacitive keys, no front-facing camera, slower processor and less available RAM. The 8GB internal storage will hurt many too, especially with the large games.
Audio quality is pretty decent, as mentioned already in this review. If you actually use a smartphone to call friends and family, you'll have no issues with the Lumia 520. There are no advanced call settings, including call blocking and more, but as a standard experience it's good enough. The Lumia 520 sports some rather interesting features that even mid-range Windows Phones lack. These include:
Multiple lens apps, including Cinemagraph, Panorama and Smart Shoot
Full HERE Drive license (able to use in all supported markets and regions)
Super-sensitive display
For a really cheap smartphone, one can agree that it's not a bad deal at all. In fact, the Lumia 520 is that good, it's easy to see why it's slowly becoming one of the more popular Windows Phones. Also, because of the price, it's easier to purchase the phone from a retailer and be done with mobile operator availability, relying on them for the SIM and contract alone.
So where can you pick one up? Check with your local retailers and online stores if your mobile operator doesn't currently carry the Windows Phone.
Final thoughts: if you want an affordable Windows Phone that doesn't suffer from performance issues and sports some unique features, the Lumia 520 is a superb option that should be taken seriously. Nokia has done well to shake up the market and offer such an experience for literally next to nothing.
Get the Windows Central Newsletter
All the latest news, reviews, and guides for Windows and Xbox diehards.
Rich Edmonds was formerly a Senior Editor of PC hardware at Windows Central, covering everything related to PC components and NAS. He's been involved in technology for more than a decade and knows a thing or two about the magic inside a PC chassis. You can follow him on Twitter at @RichEdmonds.