Microsoft's Casual Games team on how it keeps old-school Solitaire feeling new
Exploring the future of casual-play games at Microsoft.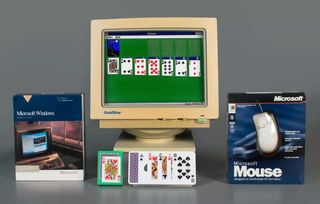 Recently, Microsoft Solitaire was inducted into the Video Game Hall of Fame, in tribute to the fact that it is one of the most broadly-played games in the world. Being bundled free with Windows for more than 20 years, Solitaire is installed on billions of devices and enjoys an active audience in the tens of millions.
Typically when we think of video games, we look at the big Hollywood-style blockbusters vacuuming up all the hype and ad space, but there is a ton of innovation happening on the casual games side, too. Nintendo recently received praise for its Switch-exclusive Tetris 99, which puts a battle royale competitive spin on the legendary casual puzzle game. Microsoft seems to be increasing its investment in this area, as well, putting out a casual spin on its Forza racing franchise with Forza Street, and a fun, tactical take on Gears of War, dubbed Gears POP!, is set to follow in the future.
The OS that does the most
(opens in new tab)
The best gaming OS out there

You can play Microsoft casual games on basically everything, but the best place to play is on a good old PC.
Modernizing Microsoft Solitaire
Microsoft Solitaire joins the Video Game Hall of Fame.
Regardless of what big casual games might hit the market, one above all others seems to remain a constant fixture, and that is Microsoft's Solitaire. Originally created in 1990 as a mouse tutorial for Windows 3.0, intern Wes Cherry and designer Susan Kare perhaps unwittingly created one of video gaming's most prolific free titles. Solitaire has become synonymous with Windows itself, alongside the likes of Word, and Paint.
Almost 30 years later, the torch has since been passed over to Microsoft's Casual Games team, led by Paul Jensen, who is tasked not only with keeping Microsoft's suite of casual games fresh, but also, innovating for the future.
Jensen has led the Casual Games team at Microsoft for nine years, tasked with modernizing Solitaire for the modern era. Jensen joked about how, historically, some of those casual games like Solitaire and Minesweeper were "ship and forget" titles, not receiving meaningful updates for over two decades.
Solitaire back then, versus Solitaire now.
Now, Solitaire boasts multiple gameplay modes, new popular Solitaire variants, daily challenges, and a "Star Club" which offers cosmetic rewards, such as unique card styles. Minesweeper, too, enjoys an "adventure mode," where you guide an Indiana Jones-like character through mine-laden archaeological digs. It's a unique take on the staple genre that exemplifies how Jensen and his team are approaching "evergreen" casual games in the future.
"In the short term, we want to bring our entire portfolio up to speed and modernize it," Jensen said. "Solitaire, Mahjong, Minesweeper, Sudoku, etc. We've been iterating on Solitaire, averaging updates every six to eight weeks for the past seven years. We already have the next two years mapped out in terms of updates we want to do. These games live and breathe."
When it comes to modernization, Jensen described how its user base typically shuns change at the outset but is quick to embrace it. Certainly, games like Minesweeper and Solitaire are tied up with literal decades worth of nostalgia. We have a popular guide on Windows Central on how to bring back the classic version of Solitaire on Windows 10, for example. Jensen says that despite the fact they're introducing larger changes relatively slowly, that hasn't hindered the team's future ambitions, which extends to everything from new games, to considering bringing existing games to new platforms.
Jensen's studio has been around for the past nine years, and "[we] definitely have plans to modernize our entire portfolio of casual games," he said. "We would like to have Solitaire in every single place where it makes sense. The gameplay experience on Xbox with a controller isn't great, which is the only thing that has stopped us bringing it across so far. We have also considered Nintendo Switch, but our focus right now is building our portfolio on PC and mobile, and web[sites] too.
There is an interesting divergence between what we typically see as "core" games, versus things like Candy Crush Saga and Angry Birds. A point of criticism often leveraged at Windows 10 is Microsoft's bundling of Candy Crush into the OS, which many of us choose to uninstall at the earliest possible convenience.
Casual but global games
These games enjoy tens of millions of users, across all demographics, across age ranges, gender, professions, and geographical location. Jensen spoke passionately about the drive to reach audiences across the whole world, irrespective of who and where they are. "One thing I really love about our games is that they reach everyone, in every corner of the world," he said. "A lot of our gamers don't even consider themselves 'gamers,' yet they'll spend many hundreds more hours in our games than a core gamer might spend in their games."
Microsoft has a bit of a renewed focus on mobile games as of late, owing to the arrival of the Xbox Live API on Android and iOS, as well as new mobile games like Forza Street, Gears POP! and the upcoming Minecraft AR mobile game codenamed "Genoa."
Microsoft might not be in the mobile OS arena anymore, but the immortal Microsoft casual games suite remains a significant driver of engagement to the Xbox Live ecosystem, especially on those edge devices from other OSes where Microsoft otherwise wouldn't have an active presence.
Immortalized by the Video Game Hall of fame, it looks like Solitaire and its casual brethren will remain a Windows staple for many more decades to come. And who knows? Maybe they'll use Solitaire to teach us how to use new sci-fi holographic brain interfaces in the future, just like it did with Windows 3.0 all those years ago ...
Microsoft Solitaire Collection (opens in new tab), Minesweeper (opens in new tab), and other casual games are available for free on Windows 10, via the Microsoft Store.
The OS that does the most
(opens in new tab)
The best gaming OS out there

You can play Microsoft casual games on basically everything, but the best place to play is on a good old PC.
Windows Central Newsletter
Get the best of Windows Central in in your inbox, every day!
Jez Corden a Managing Editor at Windows Central, focusing primarily on all things Xbox and gaming. Jez is known for breaking exclusive news and analysis as relates to the Microsoft ecosystem while being powered by caffeine. Follow on Twitter @JezCorden and listen to his Xbox Two podcast, all about, you guessed it, Xbox!
I play the Microsoft version on my Android phone and tablet now. I can't remember they last time played on my pc.

Minesweeper isn't updated since Windows 8! And these games are filled with ads. Why? It's kinda sad.

Microsoft's casual games team?!?

I wish Microsoft would do a modern version what was back then a Vista Ultimate "bonus", their Texas Hold 'Em game. The best ever Hold 'Em game I played simply because it didn't expect you to play online against other people but just against a few computer generated players. There are hacks to install in on Windows 7, 8, 8.1 and 10 but having a modern feel with a good touch interface would be great.
Windows Central Newsletter
Thank you for signing up to Windows Central. You will receive a verification email shortly.
There was a problem. Please refresh the page and try again.