How to get the classic Windows Solitaire game on Windows 10
Do you miss the classic Solitaire game bundled with Windows XP? In this guide, we'll show you how to bring it back to Windows 10 in a few steps.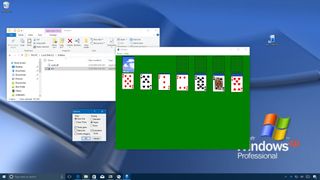 Solitaire has been part of Windows for a long time, and for many years, it has even remained one of the most popular games you can play on PC. The game was originally released with Windows 3.0, and since then, it's received a number of minor updates until Windows 7. Then on Windows 8.1, Microsoft replaced the classic with a modern version, which is known as the "Microsoft Solitaire Collection," and it remains until Windows 10.
Although the new version of the game is free and bundles several other classic card games (opens in new tab), you have to pay a subscription to unlock additional features and remove the advertisements.
Whether you miss the classic, or you don't like the idea of paying for a game that once was absolutely free, there's a way to bring back the good ol' Solitaire to Windows 10.
In this Windows 10 guide, we'll walk you through the steps to bring back the classic Solitaire game from Windows XP to your Windows 10 device.
How to bring the classic Solitaire game to Windows 10
The process to bring back Solitaire is straightforward, but there's one little obstacle: You must have access to a Windows XP installation to download the files to run the game on Windows 10.
Although you may be able to download the files from various sources, it's recommended to get the files from an old computer. If you don't have a Windows XP device, then an alternative option includes creating a virtual machine to extract the files. If you don't have an installation media, you can download the ISO using an MSDN subscription (opens in new tab).
Finding classic Solitaire files on Windows XP
If you're using an old computer or virtual machine running Windows XP, use these steps to download the files on to a USB drive:
Open Windows Explorer.
Click on My Computer in the left pane.
In the address bar, type the following path and press Enter:C:\WINDOWS\system32
Click the Search button.
Click the All files and folders option in the left pane.
Type the following search query and click the Search button:cards.dll, sol.exe
Select the cards.dll and sol.exe files.
Right-click the selection and select the Copy option.
Open the USB flash drive.
Right-click and select the Paste option to copy the files.
Once you've completed the steps, you need to bring the files to your Windows 10 device.
Installing classic Solitaire on Windows 10
To set up the Windows XP Solitaire game on Windows 10, connect the USB flash drive with the files and use these steps:
Open File Explorer.
Click on This PC in the left pane.
Under the "Devices and drives" section, double-click the Local Disk (C:) drive.
Click the New folder button in the ribbon menu to create a folder and name it Solitaire.
Open the USB flash drive with the game files.
Select the cards.dll and sol.exe files.
Right-click the selection and select the Copy option.
Inside the "Solitaire" folder, right-click and select the Paste option to copy the files.
After completing the steps, double-click the sol.exe file to start playing the classic Solitaire game on Windows 10. And, yes, your game settings will be preserved.
Creating a shortcut
If you want quick access to the game, you can create a shortcut to Solitaire on your desktop with these steps.
Right-click the sol.exe file.
Select the Send to submenu, and click the Desktop (create shortcut) option.
Once you've completed the steps, you can quickly start playing the classic Solitaire game from the desktop.
Microsoft has also released updated versions of the classic Solitaire game for Windows 7 and Windows Vista, but it won't install as easy. If you want the real classic, then the Solitaire bundled in Windows XP is the one you want.
More Windows 10 resources
For more helpful articles, coverage, and answers to common questions about Windows 10, visit the following resources:
Windows 10 help, tips, and tricks
Windows Central Newsletter
Get the best of Windows Central in your inbox, every day!
Mauro Huculak is technical writer for WindowsCentral.com. His primary focus is to write comprehensive how-tos to help users get the most out of Windows 10 and its many related technologies. He has an IT background with professional certifications from Microsoft, Cisco, and CompTIA, and he's a recognized member of the Microsoft MVP community.
Just install it like a normal game. I have it for one year now.
It also has all Windows classic games.
Download link:
http://winaero.com/download.php?view.1836

One Hundred and Fortyy Seven megabytes? You have to be kidding! What other stuff have they hidden in there I wonder.

It has all other classic games found in older versions of Windows like Windows 7 for example.
The installation is selective so you can choose what games to be installed on your system of the whole package.

Poki'd this article, now to find an XP machine... Thanks

I thought you would tell us its buried somewhere in the windows\win32 folder.
Going to XP is one thing but not really worth doing for a feature only used by lazy secretaries who play the game between filing their nails.

I know someone at work who didn't upgrade her home computer because of the old Solitare. Her husband and her have been competing for some crazy small percentage win loss ratio, or something. They are 60+ years old. So yeah, it can be important for some people.

Nice. Threw away my last XP installation cd recently unfortunately. I'll have to look around to see if someone already extracted the files somewhere. This is the internet after all.

I did something similar back in the day to get Chips Challenge and Windows Tetris from my windows 3.1 system over to Win9x. I wonder if you could copy the folders from the card games from C:\Program Files\Microsoft Games\ on a Windows 7 system and the cardgames.dll from C:\windows\system32\ onto a Windows 8 or Windows 10 system and get them to work.

Good article nd helpful comments.

I have an XP ISO, I'll install it on the hyper-visor and extract the files. Is there any way to make the old Windows Experience Index work on Windows 10?

Goto run and type shell:games, it should show you the index in there

That was removed in 1803.

If you've got a spare license of XP you're not using (and haven't nullified it by cashing it in to obtain an upgrade to a later version) , then fair enough this is fine. But advocating hacking out chunks of an OS from another live PC and copying them to a different PC as this article does is a seriously grey area at best, a breach of copyright at worst. Not sure Windows Central should be advocating this. Just my $0.02, each to his own :)

Two years ago story rehash lol. Maybe I should rehash my comment again 😁

Is there a similar guide for chips challenge?

If you have access to the WinXP media, there's an even easier way than doing a full install of WinXP. Grab SOL.EX_ and CARDS.DL_ from the i386 folder on the media. Then run the EXPAND command on them from a Command Prompt. "EXPAND SOL.EX_ SOL.EXE". Then do the same for CARDS.DL_. I just did this on my Windows 10 (16215) install and it works perfectly.

I like the Windows 10 version as well, nice animations and plays a lot like classic mode.

I'm with the crowd that misses the old days of just simply launching the Windows 7 version of Solitaire (before all this Store app mess, with the bundled extra games, achievements, Xbox Live account nagging, ads, graphics all over the place).

I wonder whether it may work on win phone

Still shocked they don't offer this on the MS Store. There's a lot of interest in Retro, nostalgic stuff. They should offer this and Pinball too. Oregon Trail? All of it.

Thanks but no thanks. I'm fine with the new one 😃

I have somewhere a package to install the Texas Hold'em from Vista Ultimate which I consider the best Hold'em game as it doesn't want you to join an online community but let's you play against 5 computer opponents.

Good grief. Don't forget to disable visual effects, and unplug from the internet so as not to get any of those pesky updates.

I did this a few years ago for my 68 yr old Dad and he prefers the new Windows Store version over the old one. Gotta say I was shocked.

Do old XP systems actually have USB flash drive slots? I remember mine having a 3.5" floppy disk drive but don't recall a USB drive slot.

Still POed at Microsoft because of them making Win 10 run very little older software. I must have 100 or more programs (many Microsoft programs) that will not run.

This dog was better than Cortana. xD

Hmm, I thought Windows 10 centennial would be a better route?

Where's the picture in thumbnail??