Microsoft CEO Nadella's new book promises insights on the company's digital transformation
Satya Nadella, Microsoft's chief executive, today released a new book that not only examines the man, but also Microsoft's path during the past few years, as well as the impact of technological change on the company and on human beings today.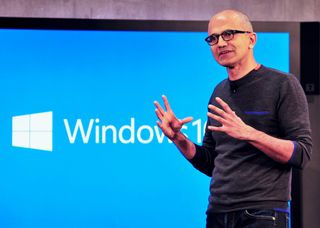 Diehard Windows and Microsoft fans may want to visit a local bookstore today or hit Amazon to pick up a copy of Nadella's new book, called "Hit Refresh: The Quest to Rediscover Microsoft's Soul and Imagine a Better Future for Everyone." At Windows Central, we didn't get any advanced review copies, so we're not recommending it at this point (though I plan to read it this week), but the story promises to deliver some juicy nuggets, including new details on Nadella's stance on the 2013 acquisition of Nokia, which he apparently resisted.
Here's a quick description of the book, from Nadella:
Our writer Jason Ward recently wrote a related (and timely) story on Nadella and empathy that could serve as a nice entry point to Nadella's book.
How fathering a son with disabilities helped Microsoft's CEO transform the company
And from Microsoft cofounder and former CEO, Bill Gates:
Nadella's book is available in digital format for $15.99 on the Kindle Store (opens in new tab) or via Audible audiobook for about $19 (opens in new tab).
Windows Central Newsletter
Get the best of Windows Central in in your inbox, every day!
Al Sacco is content director of Future PLC's Mobile Technology Vertical, which includes AndroidCentral.com, iMore.com and WindowsCentral.com. He is a veteran reporter, writer, reviewer and editor who has professionally covered and evaluated IT and mobile technology, and countless associated gadgets and accessories, for more than a decade. You can keep up with Al on Twitter and Instagram.
Got my copy this morning. Good old-fashioned paper and words. Looking forward to getting stuck in.

Hope he will be digitalised too, sent to recycle bin, and then emptied.
#lier #wpkiller #xboxkiller #iekiller

"lier"? seems to be standing in that photo

Iekiller ? Yeah, since it was bad.

So now Nadella wants us to pay him to tell us what the flip's going on with this 'retrenchment' rather than just finally coming out with an announcement (in actual English rather than something cryptic)? Good grief...

Awesome...I needed new paper to start fires in my fireplace with...This would be perfect!

You really want to start a fire with this risking your entire home smelling like burned sht? :))))

BTW people...it's LIAR...not LIER.

Yeah, thanks Captain Obvious

Usually people write books when they retire....Perhaps he is thinking retirement!?

No, thanks. I don't have a bird cage.

Shouldn't this also be in the Windows Store? Or is it and I'm just not seeing it for some reason?

https://www.windowscentral.com/e?link=https2F%2Fclick.linksynergy.co...

They changed the title of the book after it was printed. It's now called Microsoft Biography.

So the guy was focused on writing a book instead of actually running Microsoft's fading businesses, like mobile, search, Windows, etc. Interesting

Clearly planning for a life beyond Microsoft. Maybe the new J.K. Rowling, perhaps.

I've seen this time and again in the IT world. Most true-to-heart eggheads can become great Technical Engineers, but few become great People Managers, and even less become great Service Managers, empathizing with customers and communicating precisely what their strategy is. That's the heart of Microsoft's problem today - they have stellar ideas and have put forth awesome conceptual products (Band 2?) but they don't have the customer connection to follow-through and make their products Top Sellers. They need a Sales Guy at the top, like back in the Gates+Ballmer time period (not sole Ballmer).

This guy does not interest me one bit. Wouldn't read it if they paid me for it.

So should I buy an Xbox or is he going to kill it one month after the x launch?

Ai? not interested...
Ar? abandoned...
Phone? Dead...
Azure? unreliable...
what else?

Cortana with Google search
And Chrome as default browser in windows
Who needs a third browser if it isn't different?

Good, my toilet paper ran out so this will do just fine.

Chapter 1: Lying to your consumers Chapter 2: Investing everything in Cloud Chapter 3: Retrenchment Chapter 4: Virtue Signalling Chapter 5: Killing everything not named Azure Chapter 6: Making money admitting you lied Chapter 7: Being the most overpaid CEO in the world Chapter 8: Selling what's left of your company to Amazon Chapter 10: The Golden Parachute
Windows Central Newsletter
Thank you for signing up to Windows Central. You will receive a verification email shortly.
There was a problem. Please refresh the page and try again.