Microsoft completes acquisition of SwiftKey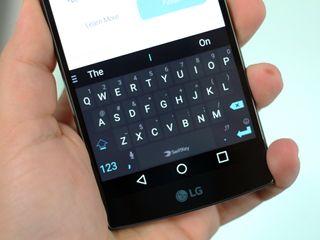 (Image credit: Windows Central)
Microsoft has now officially completed its previously-announced acquisition of SwiftKey, which makes popular virtual keyboards for iOS and Android devices. Terms of the deal were not disclosed.
The final closing of the deal was revealed via Twitter by Microsoft's Harry Shum, the company's Executive Vice President for Technology and Research:
Microsoft has already confirmed it plans to keep supporting the SwiftKey apps on iOS and Android, and it plans to integrate its features into the Word Flow keyboard for Windows 10 Mobile.
Source: Harry Shum (Twitter)
Good for android and apple

Actually it's a win-win, both for W10 and for other platforms Posted via Universal Windows App on Windows 10

Maybe now MS will give us an option to edit "personal dictionary" for keyboard. I would love to delete few accidentally added words

Yes! I've been waiting for that to happen for years. Also hopefully after this acquisition we got more languages support. Current WordFlow is still missing predictions on several languages even its listed, it's just not there yet. What's also great about this SwiftKey is that you can have multiple languages activated and it can still have predictive typing on those languages without a need of manual switching, it works surprisingly well. I would love that to have again and they really should.

Maybe we can get a keyboard that predicts things right at least half the time, now. Posted from Windows Central for Windows10
Posted with still the best phone running Windows10 (1520)

I've been trying out Android for a couple weeks now, I can tell you that the wordflow prediction engine and word recognition is far superior to SwiftKey. Without a doubt. Posted via the Windows Central App for Android

What are you talking about?

I'm saying that the Windows 10 mobile keyboard is far better than the SwiftKey keyboard on Android, by far. Not even close actually. Posted via the Windows Central App for Android

Ok,I agree. Only thing missing for me on W10 keyboard is predictive typing for Thai.

Yes. You are right I've used both and wordflow keyboard is far better than swift keyboard

for me it's the exact oposite, Wordflow in W10m is worse than in WP8, and both don't compare with Swiftkey, that I found even better than Swype. Wordflow in Portuguese is beyond nonsense, sugesting words rarely used instead of common ones, if not sugesting words that don't exist. It also misses common conjugations of verbs and takes too much time to learn your most used words, if ever does. Swiftkey is the most "auto-learning" keyboard I have ever used. as a side note, the default keyboard in my Android is also not so good in prediction and swiping, maybe a little worse than Wordflow even.

Mine does better than my 8.1 920....

Yes a better keyboard on the 950

I wonder how long it will be before we see the effects of swiftkey on windows mobile. Posted from Windows Central for Windows 10

I can just about guarantee this will not benefit w10 mobile

You not a fan of swiftkey? Or do you just believe that Microsoft will not bother to make full use of it's benefits? Posted from Windows Central for Windows 10

I don't believe Microsoft bought them to benefit their current customers (w10). This is to entrench them with future customers (android)

I would have thought it was a bit of both.

Well they bought Accompli quite a while back yet very little of that tech has been brought over to W10. Features of Sunrise calendar are MIA as well so their track record so far isnt encouraging.

'...and it plans to integrate its features into the Word Flow keyboard for Windows 10 Mobile.' I mean, anything can change but it says it right in the article.

I read the source when this was originally announced and it did not state that. Those were words of the author of the article. I'm inclined to think it's the same here. But... I hope I'm wrong

Yeah, I'm more curious as to how long it would take for that to come to fruition.

"After Windows 10 launch for PCs, we will focus on Mobile"
They said it, too...

If so then hoping for the best! For us

I don't think they meant an EXTRA amount of attention being given to mobile, rather SOME amount of attention, other than just a little. Posted from Windows Central for Windows10
Posted with still the best phone running Windows10 (1520)

the features will come to Windows in 25 years Posted via Universal Windows App on Windows 10

Careful, some mice here might attack you for that... Wouldn't want to hurt anyone's feeling.☹ Posted from Windows Central for Windows10
Posted with still the best phone running Windows10 (1520)

Well we haven't even got WordFlow on Windows 10 either, so.... I really do hope that few months after this acquisiton, around Redstone 2 we should have something from this. Even better if they can manage it in Redstone 1. That's just my very optimistic wish. In reality though, I really don't have any guarantee either. Maybe around next year maybe.

Does this mean current keyboard in Windows phones will change its interface/look?

No. This acquisition was made for the tech behind, not for the UI. Posted from Bikini Bottom via my ShellPhone 950 XL

Thanks for the clarification.

Not really, but the SwiftKey technology will be baked into WordFlow with this acquisition which is great. SwiftKey is great at for multi-language typing predictions and they simply got way more language support as far as I remember. We will still have same UI but of course there will be a few changes from SwiftKey, but it should be largely similar. Actually this will make SwiftKey have some WordFlow features such as the "Dot Joystick" we already have in W10M. While at it though, we need WordFlow/SwiftKey on Windows 10 too! It's really time to have it.

How about they add third party keyboard support?

When will we get the curved keyboard (can't remember the name) for windows phone? Tired of waiting for Microsoft products to come to my Microsoft device.

i cant see how curved one is more effective than the one we already have on W10M, i love using it on 1520, not very often though

Now lets go and integrate word flow and make it exclusive to windows phone, some things just have to be exclusive foe windows 10 mobile to be unique in its own way Posted from Windows Central for Windows 10

Except the stock android keyboard supports shape/gesture writing +640/Win10

The predictive portion is far superior on the WM keyboard.. As an owner of all three mobile OS, Swiftkey is the worse on iOS, this may be a way to sneak in some MS features..

It's actually amazing on iPhone! The only keyboard I can use after being with WP since day one. In my android tablet though it is awful, don't know why. But it is flawless on my iPhone.

Microsoft needs to add SwiftKey to Windows 10, desktop not mobile. I have a tablet that is in a drawer, since I can't type on it without using a Bluetooth keyboard. I'd use my Windows tablet, not just my Nexus 7 if I had the ability to use SwiftKey on the Windows tablet like I do on the Android tablet. Posted from my Moto X Pure Edition via the Windows Central App for Android

WordFlow + SwiftKey = awesome

No. WordFlow + SwiftKey = WordKey or SwiftFlow

I guess they should just stay it with SwiftKey brand, thus rebranding WordFlow into SwiftKey. It make sense since Microsoft is aiming for the best and fastest keyboard in the market, thus "Swift"key. WordFlow would be still a great name for preditiction technology. It's like SwiftKey powered by WordFlow, now with Hub Keyboard features.

Not see it for at least 13 months no doubt

The windows 10 keyboard is good, but some new features would be appreciated

I think this keyboard will come to windows 10 in the next century Posted from Windows Central for Windows 10

They're buying lots of apps Posted via L930 WM10

The users here probably don't realize that there are more non-english than english speaking users. I want to say that the Wordflow, the autocorret and many more other features from the english keyboard are just not working on other languages.

That keyboard looks so congested!! I hope Microsoft does some of its personal touches to it. Probably they acquired it so that they could use the features of that keyboard in their own!! Microsoft plans to make its product better by adding 'some' from 'great' to 'its'. Making windows mobile better.

The Android version is very customizable. It doesn't have to look like that. Posted from my Moto X Pure Edition via the Windows Central App for Android

Yeah, I would love some of that customization on my Lumia. I'd love to have a number row, for example. -- Lumia 640 (Windows 10)

Exactly. Or at least put the number superscripted on the letters for long presses. They added longpress to Wordflow, but it's a crapshoot trying to remember which one does what. Swiftkey shows you, much better. I would be happy if they just added Swiftkey, as is, as an optional keyboard.

What features are we talking about?

I wish microsoft keyboard can make use of ascent color instead of the traditional black on white Posted from Windows Central for Windows 10

Is anyone else's twitter app not working? Mine was suck on pending.., went to go reinstall it but it doesn't let me

Odd really si use swift key on my work iPhone. I find the stock windows swipe to be better. Perception from others matters perhaps. It did work better on wp8.1 oddly though.

As much as the w10 keyboard sucks I guess it wouldn't hurt to try SwiftKey. I think they bought them to properly port wordflow that works well on iOS and android though and we will be left with the laggy 10 wordflow with only the memory of it's former glory in wp8.1..

Works well my 1520. I never thought I would like the swipe feature, but it works well. No lag that I've noticed.

Maybe MS should consider third party touch keyboards support for Windows 10. Apple allows them on iOS, even though ppl generally consider Apple more closed compared to MS and Google.

Now I wonder what will happen to the brand. Will WordFlow become SwiftKey (sounds likely) or SwiftKey become WordFlow? Microsoft needs only one brand for it's keyboard and also they're already planned to make keyboard for iOS originally. This acquisition makes Microsoft technically now have keyboard solution to Android and iOS. I find Swiftkey a better keyboard brand especially Microsoft is aiming to have a fastest keyboard in the market, SwiftKey already sounds like fast already "Swift". They can still reatain WordFlpw as a brand marketing for their predictive tech and swiping. WordFlow really sounds like a feature rather than a keyboard to me Imo. Regardless what brand would be, this is great to have SwiftKey tech and it will be great to what currently we have. SwiftKey + Hub Keyboard + WordFlow = Awesome!

They should bring some features of that swiftkey puts in theirs keybords to the windows 10 keyboards!

Bring it swiftly to the windows 10 onscreen keyboard!

Have tried it on Android. Didn't like. Then got back to the basic nexus keyboard.
But the windows keyboard is the best!
Posted from Windows Central for Windows 10

Still waiting for this on my tablet.

Hopefully we can expect more accurate swiping going forward. As it is now I have to manually correct every second word when I swipe.

I think the predictions on swiftkey are far superior to wordflow. I like Wordflow but Swiftkey is almost eerie at times. After it gets to know you it's like it's in your head.

Soon :p Posted via Windows Central app on Win10 Dekh aur Nikal

Finally now I can change keyboard theme on my 1520

I hope this means we don't get a ****** keyboard like the iPhone one.

Im happy for Android & iOS users. Posted via the Windows Central App for Android

You should check out the same post over on Androidcentral.com, lol. Half their users are losing their chit over this acquisition, lol. "MS is evil and wants to mine my data! It's okay when Google does it!" lol

Well, i know they'll add more. Great!

I've been testing SwiftKey on Android. It's good. It can benefit our keyboard.

That's quite refreshing, normally these companies buy these software's and they close it down for the competition, or close it down all together to protect themselves from the competition, but Microsoft now has a tendency of opening up their apps for all top three mobile phone software's, it's a shame Microsoft don't work hard on their own windows 10 apps as much as they do on IOS or android, but that is neither here nor there, hopefully with time this will improve, they are bringing out new phones which are not Lumia's and breaking other countries and phone manufacturers who people might be more familiar with so I hope this can only improve their position and also improve their apps!!!

How about integrating it into the regular Windows 10 as well?

We are dying to see a predictive and autocorrecting keyboard on desktop Windows operatiıng system. After swiftkey experience on mobile, writng on the desktop or laptop keyboard is a torture, you have to type every letter accurately? isn't that crazy?
Windows Central Newsletter
Get the best of Windows Central in in your inbox, every day!
Thank you for signing up to Windows Central. You will receive a verification email shortly.
There was a problem. Please refresh the page and try again.