Microsoft acquires SwiftKey, plans to integrate its tech with Word Flow keyboard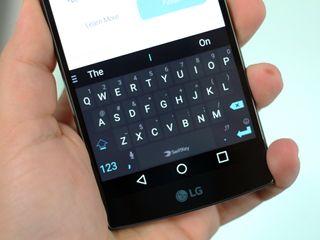 (Image credit: Windows Central)
SwiftKey has confirmed the acquisition, stating:
Microsoft said that it will continue to offer (opens in new tab) the SwiftKey apps for Android and iOS, and that SwiftKey's technology will eventually be integrated with the Word Flow keyboard:
Original story follows:
According to a new report, Microsoft is preparing to acquire SwiftKey, the makers of the popular predictive keyboard app of the same name, and whose technology has been licensed by many phone manufacturers to power the predictive engine on their default keyboards. From The Financial Times:
If true, Swiftkey would be just the latest of several productivity app acquisitions by Microsoft, joining the likes of Accompli, Wunderlist and Sunrise. According to the report, Microsoft's particular interest in SwiftKey is due to its artificial intelligence prowess, which powers the predictive technology that has helped SwiftKey become one of the most popular keyboards on the Android platform.
Source: Financial Times
Dan Thorp-Lancaster is the Editor in Chief for Windows Central. He began working with Windows Central as a news writer in 2014 and is obsessed with tech of all sorts. You can follow Dan on Twitter @DthorpL and Instagram @heyitsdtl. Got a hot tip? Send it to daniel.thorp-lancaster@futurenet.com.
Except it will be an Android and iOS exclusive.

Chances are it will come out in the Redstone update

They're still trying to acquire it, so I don't think it will make in Redstone anytime soon. They still haven't implemented WordFlow in Windows 10.

Word Flow has been on Windows 8 and 8.1 (especially for phones) so I don't see why Microsoft cannot implement it in the redstone update of W10. Plus once they acquire SwiftKey, hopefully those technologies will be dissolved into Word Flow keyboard

Wordflow never made it to Windows Tablets. It has always been exclusive to the phone for some reason that only makes sense to Microsoft.

There's even more nonsense in Wordflow - there is no swiping for other languages than English. Or maybe there is, I don't have them all, but for my native Slovak there is only prediction but no swiping. Somehow I fail to see why swiping can't be enabled for other languages given the vocabulary already exists. All this regional US only MS crap is really getting on everyone's nerves. US marketshare for WP is near error margin, in Europe they are around 10% yet every major selling point for WP is only available in US and if MS goodwills then maybe UK and some other random market (sometimes Spain, sometimes Germany and sometimes India). What the hell is going on in MS?

Indeed, word flow works only for a few languages. That they bought swift key is a great step as prediction is atrocious on Windows phone even for English.

This is why I was excited that Microsoft acquiring SwiftKey, if they play their cards right they can improve WordFlow keyboard immensely. I'm still crossing my fingers though based on what we currently experiencing with Microsoft implementing something to their own platform
.
At best we might start to see the sweet fruit of this acquisition after Redstone 2. A lot of things they have right now is still half-baked especially when we talk about their very own platform, not all sure but the fact a lot is still "Working in Progress" state despite the OS being made public.

Sergiu Baiatu, for me in the US, I find the English prediction to be amazing. I could start a sentence with any topic-specific word (so not articles or pronouns) and it would practically predict the rest of my sentence for me. That said, I find I don't use it much now with WordFlow. For whatever reason, swiping seems much more natural to me personally.

Vorbesti prostii, Flow merge super in Română, de Engleza nici nu mai spun. Posted via the Windows Central App for Android

Wordflow works great in Hungarian, my native language. And in German too, as I noticed.

Other languages, not all, have wordflow in W10m. Even some relatively small languages, such as catalan (it did not have wordflow in WP81).

It just takes time to find a native speaker /code writer to make it happen. Most things are US first because it's a US company. Preparing for other nations first would make US customers unhappy. Also don't look at Windows phone percentage used, look at the pure number being used. 1% in America is likely 25% of a smaller populace nation. That being said, I hope for you that MS gives you what you want soon!

Erm... Word Flow is not US exclusive... I think EU5 at most (Italy Here, WF active with italian dictionary... And if I switch to Spanish it's active as well)

WordFlow has swiping enabled even for Hinglish (Hindi in English letters mixed with English dictionary), which isn't even a real language. Seems some countries get extra favors.
Wonder why "Satya" would do that? /s

I use Slovak keyboard, too and in W10M it supports wordflow feature. I restored my phone back to 8.1 and now I have wordflow in WP8.1 for Slovak

I don't why this still not being implemented, like it doesn't make sense only the WP/W10M have WordFlow but not the regular Windows 10 (especially for tablets). Windows Phone users in the past and even non-WP users are quite positive about WordFlow that not putting it on regular Windows 10 is mind boggling. They could make Windows Tablet experience better with this.

In my language, windows for PC and tablet (any iteration of windows) doesnt even feature an autocorect... We do have a functinal word flow, on windows mobile though :P

The stylus is mightier then the middle finger

But it already.... *sigh*. I'm not going to even dignify this with a proper comment

"joining the likes of Accompli, Wunderlist and Sunrise" I can't find Accompli and Sunrise on my WP8.1 or W10M... And they were already in iOS and Android.

Well, in W10M you have Outlook Mail and Calendar which basically Accompli and Sunrise merged into one

Outlook Mail & Calender on iOS/Android is the Accompli/Sunrise apps that have been rebranded and changed a bit to show MS name. On WP, its still the old Outlook app built by MS. Based on what I read, It recently had issues on W10 like not able to get new emails, Reply deletes the email, Conversation view can not be enabled/disabled etc. MS focus is iOS/Android only. They are keeping WP on Life Support to showcase that UWP makes sense...

Really? No obvious differences between Outlook Mail & Calendar from 8.1 to 10 that show its influences?

@JEcadeQueiroz, there are so many obvious differences. I guess you just haven't used 8.x long enough to notice.

Accompli and sunrise are integrated I believe with mail and calendar in windows

Nope. Only in iOS and Android. The functionality isn't within the Windows/Windows Phone app.

They take technologies from each of their acquisitions. There are functionality that has been added to outlook since after the acquistion that weren't there before.

I don't know about the Accompli/Outlook app on IOS, but, I know you're not missing anything with the Android version, it's horrible, as far as stability and UI. The original Android Outlook app before the acquistion of Accompli was better. So, I wouldn't assume that the Accompli version is better the WP8.1 version, unless you would like a knock off version of Gmail that crashes, doesn't update or notify you of new mail, can't open certain attacments or downloads and you have to sometimes keep logging back in.

Hmm. Maybe I am lucky or something, but I've had none of those issues. Outlook for Android has been rock solid for me. And as far as personal taste goes, I have no problems with the current UI. Posted via my HTC One M7

A good friend of mine had similar problems with the Android version, but since switching to an iPhone he's using the Outlook app over the built in iOS mail app and really likes it.

I heard the IOS version is nice. I wish the same was true for Android. As Dan explained in Ask Dan, I guess there are different developers for the Outlook app, that develop for the different platforms.

Microsoft killed Sunrise Calendar. It no longer exists. Sent from my rooted Nexus 7 (2013) running Stock/AOSP (Android 6.0 Marshmallow) ElementalX N7-5.05 via the Windows Central App for Android

I've downloaded it on my iPhone only a few days ago, so it hasn't been killed - not on iOS, anyway.

https://en.wikipedia.org/wiki/Sunrise_Calendar Posted from my Moto X Pure Edition via the Windows Central App for Android

Sunrise is still available for Android, but doesn't work very well with Outlook.com calendars - it can't set reminders, it says it does, but actually doesn't. Outlook for Android isn't awful, but certainly needs help. Unfortunately, it's the only app for Android that can work with multiple calendars in a single account.

Yeah I wonder if Microsoft might up the ante with all this though nah lol

@cr_buck:
Exactly my thought. And given Microsoft's history under Nadella it's quite likely.

Would be awesome if MS gave option to edit "personal dictionary" from keyboard. I have few words I accidentally added, when I type right word my keyboard replaces it with wrong one.. Annoying

Yes! I have the same annoyances. Don't ever type "gags" on your phone, or it may forever replace the word "haha".

I know what you mean... I've gone through this quite a few times. I like the way iOS handles this.

Yeah, this is a feature that I'm still waiting for. WordFlow is nice (on WP8.1), but having personal dictionary will improve predictions for a user who take advantage of it. There are alot of little but very useful things that Microsoft overlooked to their current implementation. Many of the features are good in the surface but tiny little things that makes things better are sometimes lacking also.

Happy. The Financial Times says it's a done deal.

Ms keyboard has no text predictions for Thai and it's very annoying.

Why bother windows mobile is dead I am told. And yet every day were seeing new app updates(facepalm)

And new OEMs bringing their devices

Those OEMs are delusional... betting on a dying platform... Even MS is slowly abandoning WP

Are you sure you aren't the one being delusional. There has never been as much development on the Windows (on a phone) front as there has been the last three months...

Those devices are basically dead on arrival.

Windows Mobile dead - well I'm using it right now so that's nonsense. I have a feeling there are a few brain-dead commenters here though!

Only just getting that feeling now ;) This IS Windows Central after all

You could be using a Palm Pre. That isn't a sign of a thriving product. I am a WP user and fan, but the OS is gone. OEM(s) mean nothing, especially since WP marketshare is on a huge decline from an already lauhgable percentage. MS continues to release apps for platforms, and for some reason, offer a better experience on alternate platforms. It's sad really, but I have been using WP (windows mobile devices, in gereral) exclusively since 08' and really feel at this point I am waitingm for something that will not happen. iOS and Android have too many vested users.

Now Microsoft will have access to all your passwords, websites you visit as well as search keywords from those millions of devices Θ_Θ buwahaha

It doesn't matter. If you use Android, google knows exactly the same things about you. And if you use iOS, Apple is the lucky one. So one more company doesn't count :D And on Windows, MS is already in that position too, so if you don't want to share these things with two company, use Windows :P :D

That is bull****. MS acquired that technology to continue cashing on from iOS and Android users.. But no point from integrating the technology to WordFlow. Cause: Why should they? No money comes from WP!!!! Money talks!

No money comes from giving Windows away for free either... Directly... There are indirect reasons for it though.

"This acquisition is a great example of Microsoft's commitment to bringing its software and services to all platforms." Windows mobile is dead!

Android and iOS are gonna be awesome!!

Integrate its tech with Wordflow keyboard on iOS and Android that is. :') Cool stuff though!

Let's have that word flow keyboard more accurate :D

This! It's gotten worse after Windows 10, imo.

Far worse. I used to think it was psychic on 8.0.

It got worse on 8.1 too. I swear if it has to choose between two words it always picks the one that no one uses, would never come next and makes no sense. When it first came to 8.0 is was much better.

did it come to 8.0? didn't think it came before 8.1

My apologies, I mean the word prediction, not the word flow.

Is it that Win10Mo is still learning my typing or why is it that corrections are so horrible (i.e. nonexistent) and speech-to-text is absolutely atrocious?

It is gotten worse in Windows 10 Mobile, there is no WordFlow keyboard in Windows 10 either. Hope this acquisition will improve WordFlow keyboard in Windows immensely, let's just hope they will let it ruined it.

For me, windows phone keyboard already has the best predictions. I sometimes show it to my friends how awesome it is. But then, I haven't used Swiftkey for over an year.

I agree with you IF you're talking about WP8, it got worse in 8.1 and also 10.

I particularly like the way the word list switches around a millisecond before you hit the word you need so that you end up getting some other random word instead. I think it's nearly always making the obvious (and correct choice) second place briefly before moving it to first choice in the word list, but just leaving you enough time to see it in second place and try to hit it before doing the switcheroony.

Haha. This is the reason I hardly ever use the prediction any more. It is one of the most frustrating things. So many times I have reached for a word just to have it snached away a milisecond before my finger got there and I end up with the wrong word. I do like word flow though. It works very well and makes me feel like I'm writing faster and smoother.

It used to be amazing up to WinPho8. In Winmo10 it sucks. I mean 'all' and it choses'ask' every single time, even when I doesn't even make sense. And much slower too.

Lol, that's one way to put the keyboard on android

Good, cause Swype has fallen off a cliff. It used to be so good at predicting words. Like now, I had swyped "words" it predicted "errors". Oh the irony.

When Swype first came to Symbian it was a complete typing revelation for me, which I severely missed when I first moved to WP8... I think I actually did a dance when WordFlow was eventually introduced. :)

Then you must type some combination of those words semi -frequently. Words gives me: of that, with, can't, in, are

I'm using SwiftKey for my Android. It was pretty good but it has this annoying predictive behavior whenever I press period, it automatically typed "Best Regards," for me afterwards.

That is rather ironic but it works for me. Like I mentioned above however, it is no longer eerily psychic and rewired a correction or two for a sentence of this length. (it got "eerily" wrong initially and "length" came out as "lengthy".) Lol and "rewired" rather than "required"

Wow, I never saw this coming.

More acquisition by msft.

MS is freakin-investing on this app, can't imagine!! :(

Why the sad face? This will simply add the already extensive portfolio of great software that Ms has on every platform. They already have one of the best mail and calendar apps on ios and android. Now they will own the best typing experience. And this can only help enhance the experience that they are envisioning for Windows 10 and their next billion users

WordFlow is already better than SwiftKey

This will likely make Microsoft's the absolute best keyboard, taking the best of both programs to become the Daywalker of mobile input methods!

And then throw on iOS...or not (I hope)

WordFlow on iOS is inevitable. Rather than wishing for iOS not having it, let us wish that Microsoft will not ruin it and will make WordFlow better in Windows 10 Mobile, also hopefully to regular Windows 10.

Microsoft's Word Flow already is the bed keyboard, though.

... he says while typing "bed" instead of "best" :p

Nah, it's just that damn sexy!

This more about text prediction than the keyboard itself.

Windows 10 Mobile keyboard sorely needs a better and FASTER word prediction. Hopefully it'll come with the Redstone update -- the FIRST one!!

Maybe for English. The French version often makes me write words that don't even exist... And a lot of times when I'm trying to write a word with an accent like "école" it'll write the word without the accent. I still use it all the time because even with the mistakes it's still faster than typing, but most of the time there'll be a word of two I need to correct before I can hit send.

I installed SwiftKey on my Galaxy tablet earlier today after reading this article. It is brilliant. So much better than the default keyboard.
Disclaimer: I am a Microsoft nut but had to buy an Android tablet just for a game. Game of War. Been playing it straight for two years now. O.O

Lol, it was already very accurate then they turned it down.

And just like Sunrise, accompli, Skype, the best experience of this Microsoft property will be on.....

An app that doesn't exist on Windows 10 will obviously be infinitely worse compared to the Android version...

Windows? Like everything else they've done.

Why, to give it to iOS and Android leaving WM10 out to dry?????

Get over it...move on
This \/

Yep, just get over it and grab an iPhone or Android and watch all the Microsoft goodness come your way.

Read the post. You might understand. Microsoft apparently wants the technology behind SwiftKey. Not necessarily the app.

Again, they're only going to use the technology to enhance other platforms as stated. I stand by my statement!

Let me give you a chair...don't hurt your legs standing idle..jk

You do understand that Microsoft is a software company, right? As in, a company that makes software? Not just Windows software. Like, software in general.

I wish I was not a WP fan so that I can digest what you just said :p

I do. I also understand that some of that software, namely Windows 10 mobile needs some support and some differentiating features to leverage. Microsoft seems infatuated with the two popular girls who are never going to fully accept them.

The people working on the apps of Android/IOS and not the same as those working on WP (though they probably should be). What you have to understand, is, Microsoft can take two approaches: ​1) Develop only for Windows Mobile, not gain any data from competitors usage and with the hopes that people will jump onboard WP so they can have access to their services, ecosystem etc. but if that plan fails and people don't, Microsoft would pretty much be screwed. People will find alternatives to their software on iOS/Android, even if it's subpar. Risk losing customers who already use their services on desktop, to competitors who offer more or less the same product but will be available on their favorite device ...should that happen, MS would also be screwed in the software front, rather than just Windows Mobile. 2) Microsoft developing for all platforms, gains them data to improve their services, they wont lose any of their existing customers who are using competitor devices, infact they are more likely to gain more users. If Windows Mobile flops, they can continue their business like nearly nothing happened, whereas if Windows Mobile flops and only then do they start developing for competitor devices, they could be too late and pretty much screwed. While I do have faith that MS knows wha tthey are doing and it's only a matter of time before we see the results of their seeds, considering how all their apps etc are available on competitor devices, should Windows Mobile actually flop, MS could probably still complete their ecosystem through an Android device of their own and even if they decide not to make a device of their own, they would still have an ecosystem of some sort through Android/iOS. They're simply thinking ahead and I think it's a brilliant move.

If it ever came to it I don't think it would be worth them making their own Android handset, it would seem wiser to just cut the number of people working on Hardware and work with already popular Android manufacturers to pre-load the key Microsoft applications. The main reason they (via Nokia and more recently themselves) have had to keep making phones is really that nobody else has been - This seems to be picking up. I want MS to keep making phones in the Lumia line, but other companies making them need sales too. It would be ideal if companies like Samsung would be able to offer their Android handsets but flashed with Windows 10 Mobile - As long as it didn't confuse their existing customers.

Haha! What an analogy! There's no way to put it better going by what Microsoft has been doing for the past few months.

No Richard I don't think he does understand that, nor will he ever.

Want that "Flash Keyboard" available on Droid. The changing colors are just awesome.

Microsoft is clearly after the technology. Especially since they already have a keyboard, which they are bringing to all platforms. Swiftkey has a lot of technology that any keyboard app could potentially benefit from. That being said, wait more than 5 nanoseconds pass before assuming you know what will happen. Yea, they have apsp on other platforms. And yes, it would be nice to see them focus more on their mobile platform. But just remember how that turned out for Blackberry.

Buy AOL, then replace all desktop and mobile browsers with Netscape Navigator browsers. That's better than your idea.

Great keyboard. My go to on Android and it's better than Windows 10 mobile Wordflow keyboard. Not 8.1 version though. That is still king. Posted via the Windows Central App for Android

I'm still looking forward for WP8.1 WordFlow + Swiftkey tech to happen in Windows 10 in general. WordFlow in W10M is not as great anymore despite of some new features, not to mention how buggy it is in W10M.

I have no problem with this AS LONG as they don't f*cking ruin it. But if they intend to blend Word Flow with SwiftKey, then great.

I just noticed that you changed your profile pic

Oooh. We've got a stalker here.

Since 1st of January. You've been asleep, Jas! ahahah
Though ok, it's just a small ominous change ;)

Are you a Jasoosss. In Hindi it means spy! ;P

Is Microsoft just reverse-engineering Android? Seems like in a later of time you will be able to replace every element of Android with an MS equivalent... Assistant? Replace with Cortana. Keyboard? Replace with WordFlow/SwiftKey. Accompli, Sunrise, Wunderlist, OneDrive, Groove... Edit: Typed "Siri" when thinking of "Google Now" then left Siri in instead of Cortana when finishing my thought. My bad.

Wow great thinking, i mean it. But MS'a digital assistant is Cortana*

Wow...no idea why I typed Siri at all...

Replace with Siri? Do you work for the NFL and call Surface tablets by the apple name?
Just wondering.

Quite the opposite, bit-by-bit, Windows Mobile is being replaced by (poor copies of the) Android/IOS services they're buying. This way they are making an Android clone which will make it easier to switch mobile platform. I guess the strategy is to attract users who care so much for integration with Windows desktop, continuum etc, that they can live with the app gap for now. An interesting strategy, but a pity for those who liked how Windows Phone was different.

For a little keyboard app? 250 million?? Wtf is this world coming to? Posted via the Windows Central App for Android

It's about the data they have... You won't get it...

Already "installed on hundreds of millions of smartphones"... I guess that makes up a fair portion of the value, even before all the AI stuff.

In fairness, Samsung and Swiftkey partnered to have Swiftkey as the preinstalled keyboard on a few models of the Galaxy S line. Idk if they still have that partnership or not though...

MS is slowly hijacking Alphabet's Android using MS services... It's gonna be a one hell of a ride coming years.. Thrilled

Sure, because Android users will drop their Google apps any day now.

Yeah, I'm broke, I could use some cash wish I sold this to them.

Then you should have developed it.

They paid 2 and a half billion dollars for Minecraft and mojang in general. So it is no surprise. And if you look at it this way, the 250000000 dollars for Swift Key is an accurate price.

Was hoping for an acquisition a little more interesting, like cyanogen.

They might as well purchase Cyogen since everything they make these days revolves around Android or iOS!

No it doesn't... Stop your whining/trolling.

they should acquire skype next, this time for real though

Microsoft does own Skype already!

This clearly went WAYYYY over your head! Lol Posted via the Windows Central App for Android