Microsoft confirms 'S Mode' coming to Windows 10 next year
Microsoft corporate vice president Joe Belfiore has confirmed that Windows 10 S will be replaced by an "S Mode" for all versions of Windows 10 in 2019.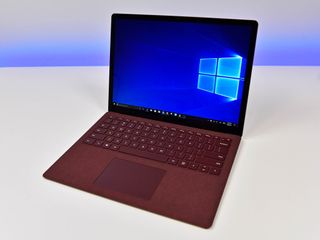 (Image credit: Windows Central)
Microsoft has confirmed plans to transition Windows 10 S to a dedicated "S Mode" in Windows 10. Early last month, a leak indicated that Microsoft was gearing up to make the change, but Microsoft corporate vice president Joe Belfiore today confirmed that Windows 10 S will shift from being a distinct version to a "mode" on existing versions in 2019 (via The Verge).
We use Win10S as an option for schools or businesses that want the 'low-hassle'/ guaranteed performance version. Next year 10S will be a "mode" of existing versions, not a distinct version. SO … I think it's totally fine/good that it's not mentioned.We use Win10S as an option for schools or businesses that want the 'low-hassle'/ guaranteed performance version. Next year 10S will be a "mode" of existing versions, not a distinct version. SO … I think it's totally fine/good that it's not mentioned.— Joe Belfiore (@joebelfiore) March 7, 2018March 7, 2018
The change means that Windows 10 S will go from being a distinct edition to being an option that users can turn on with existing editions of Windows 10. Switching to S Mode will lock the device down, only allowing it to install apps from the Windows Store, just as Windows 10 S works today.
Since the move appears to be some time off, official details on how the new S Mode will work aren't available. However, it should have the effect of putting Windows 10 S (or S Mode, rather) into the hands of more people. According to an earlier report from Thurrott, devices that come with S Mode switched on will be able to turn it off, either for free or with a fee depending on which edition they're using. For example, Windows 10 Home users would be able to switch S Mode off for free, while Windows 10 Pro users may have to pay $49 to switch the mode off.
With the switch planned to come in 2019, the precise details of S Mode's implementation and potential pricing are likely still in flux. But it's certainly an interesting move, particularly as Microsoft continues to push forward with its strategy of a "low-hassle" version of Windows for schools and businesses.
Why Microsoft made Windows 10 S an OS 'mode' instead of a version
Dan Thorp-Lancaster is the Editor in Chief for Windows Central. He began working with Windows Central as a news writer in 2014 and is obsessed with tech of all sorts. You can follow Dan on Twitter @DthorpL and Instagram @heyitsdtl. Got a hot tip? Send it to daniel.thorp-lancaster@futurenet.com.
But this can already be done through Settings

As been said many times, S itself goes beyond that settings switch.

What does S Mode do then? Because I have no ideea.

"for all versions of Windows 10"

That spin! "It is actually a good thing that our products are ignored." Why haven't they fired this guy yet? He is a time sink. Failure after failure.

Where is that quote from? and who by?

Did you read the article?

And it's "totally fine/good" for belfiore. This guy can't even acknowledge own incompetency. Lol

no, it is not. it calls Polaris. windows 10s was a Stopgap measure for Business and School.

I always wondered the same. He always brings failure.

So Windows 10 S was a massive failure that no one wanted then.

I don't see what the fuss is about in these comments. I thought Windows 10 S was just a way to lock down a windows install for security reasons. Of course it's not for everyone (me included) but I can definately see setting this mode on my wife's laptop, for example. She doesn't need anything but store apps and I won't have to waste as much time cleaning / optimizing her computer every few months. It's all good.

I will definitely leave it 'ON' until I see a logical reason to turn it off. It needs to be justified to go back to the 'high-hassle' version. :-)

Quiet a statement, I like it.

If Windows is "high-hassle", why use it at all?

I know, you can never win with some people

Both times so far Microsoft has tried to introduce a crippled version of windows it sees little adoption, you would think they would have learned by now people want a more secure Windows NOT a limited one. Rather than think of ways to fool people by pretending these crippled versions are the same as full Windows they should focus on truly making Windows secure.

Please start referring to it as Smode. Thanks.

Why did they even bother with it at all? There's so much more they can be doing with Windows and instead they worked on something nobody asked for.

Seems it never occurs to us nerds that legacy Windows is what keeps windows from being innovative and moving into new consumer device categories. Imagine a Windows install footprint that is a few gigs instead of 25. It can't happen with legacy, but all the whiny whiners here poop on it thus ensuring no progress.

Yes but Windows S is non of that.

Then stop calling it Windows. Start innovating with that new brand. Let Windows be Windows. They aren't getting anything done this way.

Couldn't agree more. If something doesn't let you move forward then leave it there and start new before it's too late and you can't even play catch-up.

I am surprised they haven't realized this is what they have to do! Been saying this Windows phone 7.

Because Microsoft has too much resources sitting idle after a hectic period of few years finally delivering consistent UI, modern file explorer, perfect skype app, moving all settings from control panel to settings and removing control panel altogether, Cortana that has become so relevant and finally overtaking Google assistant and Alexa(sorry siri), and infinite minor improvements and bug fixes.

Missed opportunity... Make Win10 Home S free, and ask to pay to upgrade to Win10 Home full !

Windows 3.1 Enhanced Mode and Windows 95 Safe Mode are back.

Next year! After one whole year! Not many people working on Windows it seems. And Microsoft is called the largest software company on the planet!

"Chromebooks own U.S. (Q4: 59.6% share; 2017: 58.3% share) but Windows owns the world at large (Q4: 47.5% share, 2017: 43.5% share)." Share of what? What stats are these?

Market share in education probably.

this move is perfect. Microsoft Windows 10 Home and Pro should let S mode a button that can be turned on/off, but leave S mandatory tablets with less than 10 inches of size, to be honest I never use apps from the store, but I'm a developer, my wife uses Edge, Office, which could be used in S mode so let advanced users an option to install apps outside the store

Next year? RS6/7? And I still don't understand what's the difference between S Mode and the switch in Settings that locks stuff to the Store.
Windows Central Newsletter
Get the best of Windows Central in in your inbox, every day!
Thank you for signing up to Windows Central. You will receive a verification email shortly.
There was a problem. Please refresh the page and try again.