Microsoft cuts the price of the Xbox One in the UK to £329.99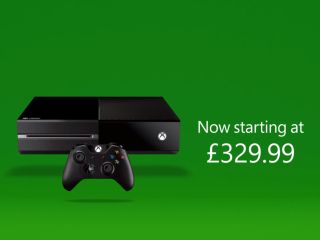 Microsoft has quietly revealed a £20 price cut on the Xbox One in the UK, reducing its cost in that country down from £349.99 to £329.99, just a few weeks before the holiday shopping season begins.
The price cut was revealed at the end of the UK version of the Sunset Overdrive live action trailer that went live on Monday. The new price is also now available on the UK versions of Amazon (opens in new tab) and the Microsoft Store (opens in new tab).
This is just the latest official price cut for the Xbox One in the UK. It launched in November 2013, with the Kinect add-on, for £429.99. In early 2014, the price went down to £399.99 and then got cut again to £349.99 when Microsoft decided to remove the Kinect add-on from the bundle. If you live in the UK, does this small price cut make the Xbox One more attractive?
Source: Xbox UK on YouTube via VG247.com
Get the Windows Central Newsletter
All the latest news, reviews, and guides for Windows and Xbox diehards.
I am all Microsoft at home. I also have a PS3 and a PS Vita. Cannot decide to go Xbox One or Playstation 4. I can stream PS4 games to my Vita which is nice but I already have a PS3. With Xbox One it will tie in with my PC, tablet and phone. All Microsoft. Decisions decisions. Hmmmm!

Go for Xbox One, dude. I'm in India and my friend ordered one from eBay last month(US import). I had a hands on yesterday and it feels pretty good. Games sync seamlessly on all the devices. I don't have the cash right now otherwise I would have got it by now. All of the exclusive games make you feel proud of it. Don't think much, go for it. XBOX ONE.

He means that Microsoft has better integration across all of it's devices and servces, particularly when the next version of Windows and Windows Phone ships, which will also better integrate with the Xbox OS. Anyway, get an Xbox One: it has way more features than the PS4. Get it with Kinect too.

You already know that in your heart. When you spend or rather commit good money (games etc) it is better to buy something you don't have to remind yourself that it was a wise decision. If you are waiting for someone to tell you what to chose, you are just deluding yourself.

I thought that is a rather simple decision. I strongly believe ONE experience that operates everything around you. Cortana is coming to XB1 too. You would be able to use the same language to operate all your devices at home.

Get it down in France as well!

Il faudrait pour la sortie de Halo au moins !!

I noticed that on the MS site yesterday and told my boy, he will probably order this weekend. The silly thing is it's only a few days after the last TV advert saying "Now at £349" so unless they tell people they won't know, although it's one extra sale for MS at least. Bob

The UK is always overpaying for things anyway so this is a welcome move.

Streaming to phones is coming. Be patient

Tablet is more important than phone imo. If and when it comes getting 1520 will be a must.

I think it's a WP central not an Xbox central

Your indefinite articles aren't necessary.

It's actually more of a Microsoft Central.

Amazon have a bundle of the white xbox one with sunset overdrive for £329.99. Amazing prove if u think of it as the game is £50 itself. £280 for a console

Wish I waited for the white one :'(

I can't stand white as it will stand out in my cabinet and probably distract. For Modern or minimalistic homes, it makes sense.

While I agree with all that you said...the white is just so damn sexy lol!

I want that white controller so bad

This couldn't come soon enough :) the kinectless sku should have been that price to match the ps4. Always wondered why it wasn't, this should at least push some sales for Christmas. Hopefully it will be a white Christmas thus making the white xbox 1 even more appropriate as a gift :P. Though on the flipside London would probably come to a grinding halt as usual lol.

Eh? Ps4 in the UK is £349 this makes the xbox one cheaper. Ps4 has now started to include a game at £349 whereas it used to just be the console.

I saw it on the UK MS Xbox site. Bob

Did the Xbox One + Kinect bundle also get a price drop in the UK?

It's been this price for a few weeks now, at least in Tesco it was.

I hate being an early adopter...£100 difference and I don't use it that much! I'm going to change my ways. And hopefully save some cash!

This is for the version without Kinect. Kinect alone cost 100£. Price didn't really drop. Plus most of us got a game for free for the Day one edition. I still paid less one year ago than today's price and at least enjoyed it for a year. Posted via Windows Phone Central App