Microsoft details music & video hub changes in Mango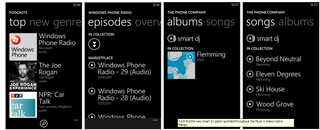 The Windows Phone Blog has a nice writeup on the new features we will see in the Mango Music + Video Hub. We've known about some of the features for awhile now (see our "Big Mango consumer list" for what we know so far), but it's great to have official confirmation and more details. There are also quite a few smaller updates that don't merit their own bullet point, but will help smooth out the experience.
The on-device podcast support is a welcome feature, and many users have been asking for it since day one. The iPhone supports it out of the box, and there are a few apps in the Marketplace (e.g. Bring Cast and Podcasts!) that offer some podcast functionality, but so far, only Windows Phone has announced on-device podcast subscriptions, baked into the OS. The standard download-for-later, and stream-it-now options are supported, and users will be able to download or stream over WiFi or GSM/CDMA. New podcasts will only download automatically while your phone is charging, though, and for now, it looks like this is a US only feature.
One of the Zune's greatest features is the Smart DJ (see earlier leak). Smart DJ mixes have always been playable on your Windows Phone, but you've had to create them on your computer, and transfer them over. Mango will give us the ability to generate them on the device, by just long-tapping the "seed" artist, song, or album, and selecting "smart dj." The Music +Video hub will then store your mixes in the History pivot.
To round out the experience, the team has modified the UI/UX a bit. They have moved around a few items, like the repeat and shuffle buttons, to make them easier to find, added bigger playback control buttons, added lock-screen music controls, better images, lockscreen album art, a streaming icon, and on-device playlist creation.
Jump on past the break for the full changelog from Microsoft themselves...it's quite the read.
More discoverable playback options: Research showed we provided a great option—"shuffle all music"— that almost nobody knew we had! So we've moved the button and updated the icon to make it stand out. Ditto for the old Rate, Shuffle, and Repeat playback options, which were hidden behind album art. In Mango, they're front and center.
Improved History and New: These areas are designed to make it easier to find and play content. But usability studies taught us the horizontal layout and 8-item limit slowed people down. So in Mango, we've gone vertical— and added room for 25 items.
Better mini-playback control: We noticed people were having trouble tapping the small buttons of our handy mini-playback control. Now when you tap the volume button on your phone you'll see bigger, easier-to-tap music controls as well as the artist name and what's playing. Tap on that info to launch the full music player and turn on options like shuffle or repeat.
New lock-screen options: We thought it would be handy if you could easily control your music player while your phone is locked, so in Mango you'll find playback controls there.
New artist wallpapers: We also figured music lovers would like to see those great artist images in the Music + Videos Hub show up as wallpaper on the lock screen. In Mango, that's now a settings option. (We keep this one off by default, since it does have a small impact on your battery life).
Better playback controls: The playback controls are bigger and are now aligned with the mini-playback control—so your thumbs always know where to go.
Better artist images: We found that the background artist images were sometimes too bright, which made some controls hard to see. Our design team worked hard to find the right opacity for the images. The end result you'll see in Mango has a great layered look and never interferes with the controls.
More playback info: We've added the artist name to the music player queue so that when you're jamming to your new Smart DJ mix, you know exactly what's up next.
More playback options: Tap the Repeat button a couple of times and you'll see the addition of a Repeat Once mode for those songs you just can't get enough of.
New playlist option: Yep, that's right—you can finally create playlists on your device. Add a mix of whatever you want to your queue or start a Smart DJ mix and save it as a playlist.
Better data management: In Mango, Zune Pass subscribers now see an icon on the phone when they're listening to streamed music—so you always know when you're consuming data.
More video options: Last but not least, for videos, we've added a full-screen toggle and video scrubbing (where supported) so you have quick access to the parts of your videos you love most—features we heard you ask for!
Source: Windows Phone Blog
Windows Central Newsletter
Get the best of Windows Central in in your inbox, every day!
If the mini playback is even bigger than before, I really hope they let you swipe it away like a toast. It's a minor annoyance to have it stay on the screen when I just want to adjust the volume and it blocks some screen real estate.One thing both the Zune HD and WP7 needs is the ability to remove a song from a playlist, or at least from the Now Playing list. That would be my most requested feature.

Exactly!When I want to check on my 3G or battery status.Hopefully this is something they have already included and thought about.

I hope they allow song ratings from the lock screen. I use the shuffle everything function all the time and if I hate a song, I dont wont to have to enter my password or remeber the song when I get home.

This. I hope they will but I don't remember seeing it in recent screenshots of the revamped miniplayer and the blog doesn't mention it in the bullet point on the miniplay

My only gripe about windows phone is when you have a long tile in ANY app its cut off with no possibility to scroll the title. Its hard to tell what episode of a podcast you are listening to if it has a long name. OR if you're like me and don't use it for music and listen to old time radio and have super long subtitles.

Yup, they should do like the Zune and auto scroll the title.

i wish you can remove the mini player by swipping to the right just like when you receive text message cause whenever i turn the volume down, the mini player on top stays for a while and it annoys me when i'm reading a blog.

"Easy enough: I can subscribe to the series right on the phone and it will automatically download new episodes while charging overnight...To save your battery life, new podcasts are downloaded only if your phone is connected to a power supply." ~ Nope, not what I wanted. They don't seem to understand the use case for OTA podcast downloads.~ "To make things as simple as possible, we don't allow both the computer and phone to manage subscriptions." ~ To quote Paul Thurott, "simple isn't necessarily easy". Seems like being forced into this "simple" choice might actually make things harder.~ Excited about on-device playlists and smart dj. Although a longshot, I was hoping that they would offer a listen-only option for video (audio still plays even if user navigates away from video or turns off screen) and a high-speed playback option for podcasts. i feel bad for the non-US WP7 users.

Now, please bring zune to other country.

my big question can you browse the zune video library purchase or rent a movie from the phone? i would love to do this or even start to stream a movie or tv show i have previously purchased. i can stream netflis why cant i stream a zune video?eric

I need/want video playback on windows phone, from SkyDrive.Right now when you see that a new video has been posted through one of your contacts profile, and you select the file the browser says playback of this file is not supported. This happens for WMV, MP4, or avi...this needs to be addressed

guys does zune pass allow caching to the phone?

You can download stuff from Zune Pass, if that's what you mean. DRM means you can only listen to it whilst your subscription is active.

Still can't select my own ringtone, huh? Saaaad. So sad

It's already been reported that you can. It's supposed to be through some file manager that's not tied to the Zune player.
Windows Central Newsletter
Thank you for signing up to Windows Central. You will receive a verification email shortly.
There was a problem. Please refresh the page and try again.