Microsoft details their new Health platform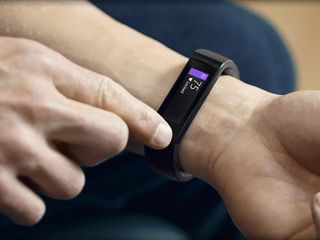 Microsoft has just announced their new fitness wearable the Band and a new platform to go along with it. Microsoft Health is a new health and fitness platform from Microsoft that will use the power of the cloud to help you live a healthier life. A new blog post from Microsoft details some of the cool features available on Health.
Here are some of the new Microsoft Health platform features we're excited about:
Works with UP by Jawbone, MapMyFitness, MyFitnessPal and RunKeeper
Guided Workouts curated by Gold's Gym, Shape, Men's Fitness and Muscle & Fitness
Regular cadence of Microsoft Health announcements including additional device and service partnerships, SDK availability and additional cross-platform applications and services
Soon, Microsoft Health will also allow you, at your choosing, to connect your Microsoft Health data to HealthVault to share with your medical provider
Microsoft Health will unite data from different health and fitness devices and services in a single, secure location. Once stored in Microsoft Health, you can combine the data you generate from different devices and services – steps, calories, heart rate and more – to receive powerful insights from our Intelligence Engine
We're also digging this little excerpt from the announce post:
"Over time, you will have the choice to combine your fitness data with calendar and email information from Office as well as location-based information and more. As you make more data available, the Intelligence Engine will get smarter and provide more powerful insights, such as:
Fitness performance relative to work schedule
Whether eating breakfast helps you run faster
If the number of meetings during the day impacts sleep quality."
Hit up the source link below to learn more about Microsoft Health and let us know what you think!
Source: Microsoft (opens in new tab)
Windows Central Newsletter
Get the best of Windows Central in your inbox, every day!
I'm there. I'll have to go see this up close and personal.

My good old Garmin is broken (straps, batt life) and a new one costs anywhere from $100-$250... At the price quoted, this could be what I'll replace it with! Woooohoooo! I'm sold already that it has GPS, but additional features like Cortana integration and notifications? Sweet!

I'm just wondering if it's continuous tracking or the tracking features can be switched off when I'm not doing any workout. I'd be looking forward to a review on the battery life. The term "normal use" is rather relative.

That's why I ordered mine, the side buttons the FR305 stopped responding and GPS fix takes forever. Plus I'm a bit p!ssed off with Garmin for their crappy support of WP.

I think until Verizon gets off their rear end and releases Cyan, it is useless for alot of us.

Very true, sadly. This is a worthless accessory for me right now, but looks awesome. I bet MS didn't expect Verizon to affect their Band sales

does cyan include 8.1 Update 1 or just 8.1? becuase the band requires that update. Looks like iPhone/Android users will have more luck getting this product to work on Verizon

I think connecting to the band requires 8.1, getting notifications requires the update.

If I read correctly, all you need is Windows Phone 8.1. If that's the case (even though it isn't the best solution), you could join the developer preview program and get the 8.1 update that way. You could then at least have the latest Windows Phone version, even though you wouldn't have all the Nokia Microsoft Lumia features.

Why not join the developers preview and you'll have cyan?

Because DP is not the same as Cyan. I have DP (like....probably the majority of Lumia users around here) and the BT 4.0 is disabled.

Why are they releasing this so late at night?

He meant- due to leaks.... Lol

Late at night? It's mid afternoon here :P

It's always late at night somewhere. You can't please everybody.

I really love it. Ill get one.

Make sure your phone have Windows 8.1 otherwise.... it won't work.

As you said, most .... only most :)

https://www.windowscentral.com/e?link=https2F%2Fclick.linksynergy.co...

like it, but don't like the $199 price.... will save final judgement until seeing it in person

To learn more text "Band" to 29502

Telemetry for the human body. Sweet.

I just hope I don't need Cyan on my Icon to use it or else theres no chance i'll be able to get it...

Just use the dev preview program and move on. It's clear Verizon is not in a rush. I wouldn't wait for them.

Cyan is 8.1 with firmware updates. The dev preview should work with this.

Without cyan btle 4.0 "low energy" is disabled even with the latest DP update

No, because of bluetooth. Which you need Cyan for. Which makes using the Band with a Lumia Icon a non-starter.

Sigh...that's what i was afraid of. Nothing worse than having a feature totally available on your phone, just to have it locked until you get an update..

You will be able to use it, Verizon and Microsoft is working on Cyan for your Icon right now as we speak.

Will Microsoft allow third party WP applications to communicate with the band? Which protocol?

That's hard to say. Maybe through a channeled/restricted API. This thing gathers private health info, they probably don't want to expose that.

What if Cortana could help? Like she'd tell us if you have a notification on 6tag, and then you could tell her to do what you want. Like comment.. Wouldn't that be easier? Also It's have an edge on WP devices..

So they plan to have a platform that is US only? Brilliant plan!

Sad, I was looking for more of a smartwatch,

Watches are outdated though

It shows time and it's smart. So ...

Although 48 hours max life is good, it leaves you with an interesting conundrum - when do you charge it? If you use it as a day activity tracker than night is the obvious option but what if you want to use the sleep activity as well? Personally all of these devices should borrow from the normal watch category and use some sort of kinetic charging system or design something that charges using the salt in your sweat... hell anything that would give a longer timeframe between charges... Also, good on MS for keeping up with their multi-platform efforts.

If only it has quick charge that takes care of charging during morning bath + breakfast tme.

I thought it does. I read something of 80% charge in 30 minutes?

I like your idea. They could even include a mode that tracks how much you move and how much it has charged the battery.

WOW. I'm not sure people are paying enough attention to what was REALLY announced. This platform Microsoft has created for ALL devices is a game changer. Their not just focusing on their own device, their opening up their cloud capabilities to anyone with a FitBit, JawBone, etc etc. I'm sure that impact will be lost on many because we are going to focus on the devices design (unassuming, but intentionally done), whether its a competitor to Apple Watch (it is not in my opinion), Samsung's fitness tracker and every other one on the market. Microsoft basically created the Band for proof of concept (hence its limited availability). The real STAR of thus show is the platform they've opened up to all fitness related companies/devices to use across ALL devices and OS (Android/Mac/iOS/Windows). That's SERIOUS business and a clear indication that Microsoft is taking their "cloud first, mobile first" mantra VERY seriously. I've never been excited about fitness trackers (I exercise alot, but have been blessed with the ability for pushups, pull UPS and sit-ups to yield great results), however this has me excited for its potential with other companies, platforms and cloud data.

BINGO. you nailed it. Again, Microsoft is SERIOUS about the cloud. This Health Platform is a first in the wearables industry and Microsoft was smart enough to know that people will eventually use more than one or even two fitness trackers at the same time. Wether its an Android smartwatch or an Apple watch or a fitness tracker, the Health Platform is going to see the data as ONE. This smartband from Microsoft is the gateway device for this cloud based platform. They want other OEMs to use this approach and they are even licensing the 10 sensor modules found inside the band to whoever wants it :)

I hope the Health platform will integrate wit Fitbit and Weight Watchers.

It is ultimately up to Weight Watchers to user the Microsoft Health platform. Just like runkeeper, mapmyfitness, myfitnesspal, etc. Check out https://www.windowscentral.com/e?link=https2F%2Fclick.linksynergy.co... It has alot more features than i thought lol it's quite the 'smart' band

Hopefully it integrates with fitbit soon, I don't want to lose my data or fitness network just for switching bands.

I think I've read all the articles now. Sorry if I missed it so don't bite my head off if I did. I know it tracks sleep but did it say anything about using it as an alarm? I've been interested in a fitness band that wakes you up because my wife absolutely hates my alarm

Since it gives calendar reminders surely it must also work as an alarm Id think.

My jawbone has that functionality of waking me up with an alarm, so I'm hoping that is something this band has, as it's actually pretty useful. I get up really early for work and don't like waking my wife with my alarm so a band alarm is a real win!

So this software works with up but not fitbit

I am using Runtastic. Hope the new app will integrate with Runtastic too.

Can Bt 4.0 le connect to two devices simultaneously? Bt headset and the band?

I have ordered this to be shipped to me. But the announcement earlier this week with the new FitBit app and devices is as noted the real icing on the cake. This will connect to multiple services and will also eventually sink to the HealthVault, wheich they recently unsynced with the various apps in favor of the new cloud. This is very exciting and they are beating Apple to market - a first recently.

Looks really good in the video, waiting for hands on video

Watch the video. Cortana available. Calendar available. Workouts. And yes, it is even a watch.

"Works with UP by Jawbone" - Is that them stating I would be able to sync my Jawbone with the Microsoft Health app, or that my Microsoft Band would work with the UP app? I know they said they are working with Jawbone to sync their band in the app. But the above statement makes it sound like it does something now?

So let me get this straight. UP by Jawbone, MapMyFitness, MyFitnessPal and RunKeeper will all sync with Microsoft Health & Healthvault, but now MSN Health & Fitness (and therefore Lumia phones with SensorCore) doesn't?

MSN health and fitness is an app for content and medical advice

It also a GPS tracker, step tracker and Diet tracker. Does seem a bit weird that it isn't listed as being compatable. Also odd no mention of Xbox Fitness.

Everyone is forgetting the obvious... Will this also sync up with the fitness apps on the XB1 to allow additional functionality? Maybe a smartglass mini when you only need a couple of butons (play/pause or left/right/select for certain views...) BTW, I have already ordered mine.... The cheapskate in me took the free two day shipping over the 17$ overnight...

Well, the greatest thing from Health platform, by Microsoft or Apple for me is to be a middleman between apps. Now the apps can just access a central repository (Microsoft Health, Apple Health Kit, etc) instead of having to support other platform one by one. For example, if I use Jawbone and want to intergrate with a diet tracker from a minor band, I have to keep asking Jawbone to open the service. Then if I switched/added other service that's not yet supported, I have to ask them again. And that's the best case where they listen instead of ignoring the request.
With a central repository, everyone just throw their data in and it can be used by other apps easily. All new apps supporting the platform will also be automatically supported. Great for Windows Phone platform that's not the top priority for devs. They just need to sort out how to deal with multiple source of the same data. tldr: it has potential to reduce the problem we have from lazy devs who don't bother intergrating apps with each others.

Can you see the time on it, like a watch?

Can you read the website? Or watch the videos?

I'm starting to hate Microsoft again for making this US only. I have to wait for Cortana, the Surface power cover and location scout never made it to Germany until Cortana replaced it.
Go support other markets instead of wasting time on Apple and Samsung users. They won't buy it anyway cause they stick with their own company.

this is good to know microsoft join the race .but my prediction was far beyond that..this is just a band with cool features which you cant install apps like android wear or i watch...i like to see somethings like lg g r watch (realastic watch look like) with new wp os and app support,full cortana integration with speaker or even built in camera,full water resistante not just ip54!!! we need ip 67...!!! we need hey cortana and snapdragon 800 processor on it with,you cant type text message,you cant see maps on it,no music control!!!!...please microsoft we want flagship device.we want it.please stop supporting hangroid and doing your own business with new platform..windows central do somthing we are loosing the game to google or apple idiot!!!!tell the microsoft please.after 4 years idiot google doesnt have a functional official app like google+ youtube or..... on wp and we are supporting its idiotic platforms on phone tablets chromebooks smartwatches!!!!!!! WHY??????

Wonder why they didnt call it msn health or msn health and fitness. are they going to rename the app again? and is it the same as the health vault that exists since 2010

The main thing I dislike about this is it being another app. We already have Health Vault, and MSN Health and Fitness. Having 3 apps for very similar things seems excessive.

I thought Runkeeper dropped support for WP