Microsoft details workaround for Windows 10 Insider build 14986 download issues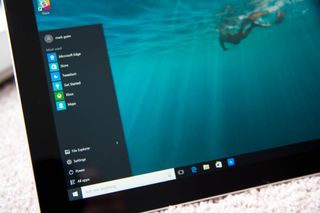 If you've been having trouble downloading and installing Windows 10 preview build 14986 since its release earlier this week, Microsoft has now provided a workaround (via Neowin). Thankfully, the Microsoft-backed fix is a rather simple solution that was initially found and detailed by Windows Insiders.
All that's required to get the download working is to run a simple troubleshooter (opens in new tab). From Microsoft (opens in new tab):
So, if you were running into error 80240031, try running the tool and let us know if it works for you. Do note that if you previously tried any solutions that involved editing registry keys, Microsoft recommends resetting them back to their original values because the temporary fix will impact your ability to receive future updates.
Update: It looks like this solution still isn't resolving the issue for some. We'll provide an update if Microsoft outlines another fix or workaround for those still having issues.
Download the Windows Update Troubleshooter for WIndows 10 (opens in new tab)
Windows Central Newsletter
Get the best of Windows Central in your inbox, every day!
Dan Thorp-Lancaster is the former Editor-in-Chief of Windows Central. He began working with Windows Central, Android Central, and iMore as a news writer in 2014 and is obsessed with tech of all sorts. You can follow Dan on Twitter @DthorpL and Instagram @heyitsdtl.
That fix has already been floating around. And as was the case before, Microsoft was late to the party.

Microsoft can't very well come out with an official solution without thoroughly vetting it first. So of course others who have no such concerns will get the word out faster.

My problem is different - though I am going to give this a try to see if it fixes my issue. I was a long time fast ring insider but took a break from it back in September. I then tried to move back to fast ring and even though it says I am in fast ring in settings, I have never received any fast ring preview builds. I just get the normal Defender and production updates... I'll update this post if the above fix works for me.

Update: Nope, didn't work for me. Stil no insider builds available to download. Any ideas???

It's busted. Microsoft, as a whole, is busted right now. It's annoying. On mySP3, I have 11 files that have been "Downloading..." in the store for 2 days, nothing will fix it no matter what I try .. store fix, reboot, MS articles... nothing. And the newest fast ring update has been available for days but I don't see it. Nor do I see an error. Just NOTHING AVAILABLE. I was in the actual MS store today, and one of the managers saw the following with his own eyes: (1) Trying to go onto the Microsoft Store website via Edge on my 950XL resulted in a terrible scaling problem and no way to scale or scroll in it. Again, THE MICROSOFT STORE WEBSITE ON A MICROSOFT PHONE RUNNING A MICROSOFT OS WITH A MICROSOFT BROWSER COULD NOT RENDER THE FRIGGIN PAGE CORRECTLY.
(2) Since I needed to call a MICROSOFT PHONE NUMBER ANYWAY, EVEN THOUGH I WAS IN THE FLIPPIN MICROSOFT STORE (because they have no way to help with non-physical stuff (??!??!!?)) the same manager watched me get disconnected 3 times and argue with someone in India on a phone line that sounded like a noisy warzone... who couldn't help anyway.
The manager, after watching this for 15 minutes, shrugged and wandered off. I'm probably done with any fast ring stuff for the next month or two. This will be the 3rd reformat in as many months of my SP3 because it's just not worth messing with anymore, it NEVER WORKS. I'm done.

Yes. And you should also take note of how the corporate structure works from my experience and apply it to why everything is in a state of flux at Microsoft and has been for over 2 years.

Dude really? You need to get off the insider program.

Im going to try that at night! Hope it works!

In my case the computer does the download and when it restarts it doesn't install this build. It remains the same. Then I check for updates and it starts the download all over again...

This did not fix the issue for me with my Dell Venue 8 Pro or HP Elite X2. It did identify and fix other Windows Update errors but I still cannot install the latest build.

still didn't work for me :(

This supposed fix does not work! In addition, It's the same tool that's been around for some time and is no better, or even older than the Windows Update troubleshooting tool that is available with Build 14971. I've tried both and other suggested fixes, but I still get error 0X80240031 on my Surface 3. Looks like I'll have to wait for the next fast build.

Didn't work for me. Started the download again, gets to 100%, then tells me it can't be downloaded. Then presents me with a button saying Fix which doesn't do anything. This is the first time I've had any problems.

I've got this problem too. Press fix issues and nothing happens.

I'm having a problem taking control as an administrator. I went back to production earlier and now want to go back in but can't, even though I'm an administrator. Anybody else have this problem?

Worked like a charm this AM.

Haha 😆 done same now preparing to install..i downloaded this build 3times this is 3rd time hope 🤞 it gets installed.

I ran the tool probably a half-dozen times, did the ipconfig /flushdns trick, disabled F-Prot and Malwarebytes and it finally installed. Everything seems to be okay, but Malwarebytes was completely uninstalled. Curious.

All the above. Make sure you have no SD card installed, even if its in a connected printer.

Finally! Was driving me crazy.

I can't download or install either, and strange thing is that there is no error code reporting on installing panel, just nothing happens.

Try this: take yourself off fast ring to the slow ring. Check for updates(it will be none). Go back to fast ring and check for updates. I did this three times and now it started working

Thanks drjekel_mrhyde! This worked for me after trying just about everything else. My Surface 3 is now downloading the 14986 build and no more 0X80240031 error. Sometimes the simplest suggestion turns out to be the best fix.

Bad and slow downloads can be fixed by going into updates->advanced->chose how updates are delivered and turn off updates from more than one place.

For me - Insider Fast on SP3 - I was stuck at 22% installing... FIX was simply removing the MicroSD card before trying again.

I am trying to install build 14986 on my Lenovo Yoga 500 but it is stuck on 32% installation for than 5 hours. It is my first installation in the fast ring does it take this long to install? There is a message not to switch off the PC before installation is complete, am wondering how to solve this then??

Nothing fixed yet after using troubleshooting apps. Still no update showing..

My current build is 14965.1001