Microsoft's Lumia 950 XL keeps a man connected on his 11,100-mile run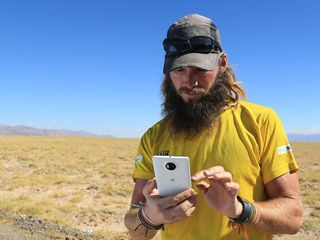 Microsoft has been supporting Jamie Ramsay's running journey from Vancouver, Canada to Buenos Aires, Argentina for some time now, offering him devices like the latest Lumia smartphones and the Microsoft Band. As he gets closer to the finish line of his 18,000 km (about 11,100 miles) journey, Microsoft decided to give him a Lumia 950 XL smartphone and a Display Dock to help him communicate on his solo run.
Ramsay is running to support a number of different charities, including CALM, WaterAid UK and Macmillan. Microsoft stated:
Ramsay is nearing the end of his run, but will also be taking a side trip to the UK to meet the Queen at Buckingham Palace on Sunday, Jan. 10.
Source: Microsoft
Windows Central Newsletter
Get the best of Windows Central in your inbox, every day!
Forrest Gump is that you?

Hahahaha. Might be still running

He might say to Microsoft that he is tired n going home now :)

He'll "invest in some kind of windows company."

Looks more like one of the Robertsons from Duck Dynasty.

Great Man and Great Work MS..

"Productive like a Boss!!!"

I assume they installed the latest firmware update before giving him the XL.

Maybe they should quit giving them away when they can't even stock them for sale... I've had $1400 set aside to buy two for WEEKS... Check every morning and still have yet to see them in stock

There is always someone lol... :P. Joking aside, maybe you should find something else to do, like go for a run :P :).

I did find something else to do: Make whiney posts that are only very vaguely related to the article topic on comments sections of WC. Duh

Well, at least you're honest.

Did you order a white one? Cause this man in the picture has a white one. Coincidence?

I think not! Posted via the Windows Central App for Nexus 5x

And thusly I was remind of an Allen Ross song.

All this maybe great but ultimately the consumer base is what matters.

Seriously? That is your takeaway?

I'd let Microsoft "support" me for free, if only there was an XL I could buy... :/

He'll end up dead of he is relying on that.

Such an optimist you are.

A moron if you think your comment supports your claim of being a realist... :)

Wow. Name calling. You're a scholar.

So you're going to call him names too then? That's smart.

It was a compliment. Cool your jets.

He does not have jets, he is a human.

LMAO! s t o p, I can't let on that I'm not working but it is TOO funny... X]~)

@missionsparta I thought almost the same thing. Not dying, but trusting that phone...

True. MS makes Nokia branded feature phones with battery life of weeks and super durability. Would be much better choice.

So explain why the phone will cause him to die? The gps on these phones have never failed me. You can also download maps for offline usage. If you're commenting about reception, that has more to do with the service being used and how many towers are around. Battery life might be an issue, but I'm sure he has a battery pack and I doubt he's running 10 hours straight. Plug it in the wall for 30mins with quickcharge while he's grabbing a bite to eat. Or do you think not having snapchat will cause him harm?

GPS does you know good when you are being chased by a pack of wild hyenas, and Windows 10 crashes on you, leaving you turning right back into the pack.

I take it he had several extra batteries with him for a journey that long too? 8-)

Nah. Can't buy them yet...

BULSHIT... With all that bugs not even a single talk can be made properly

Your comment is BS. I do "a single talk" many times per day.

I think it is you, can't even a single talk made properly here, Yoda lol =p

Would be interesting to hear what his experience of the 950XL was at the end of his run. Wonder if he'll share some of his Selfies with the Queen...

How about some direct statements from the man. Some recorded videos. Not very productive like a boss with canned feedback from the gifter and not the giftee.

The tech is not the star in this endeavor but you can see what he's done for yourself at jaimieisrunning.com.

How is he carrying around a screen, keyboard and mouse if he's running? :-\

Did you watch the video? He has something that he is running with.

On the mobile app, can't view videos. So he's running with a screen, a keyboard and mouse strapped to his back?!

+ aggregator & fuel for power

I think the point is that he can connect the "PC in his pocket" to those at stops where they're available.

Swipe to the side and click Open in Browser lol ;p

He must have had one huge battery to keep it going the distance. From my house to work I've already lost 10% that's a 1 mile walk lol

Jamie runs, so he gets more miles per charge.

For about 4-6 hours, that is.

yet he can add snaps to his story on snapchat :D

Who's holding all this equipment when he's actually "running".

The cart he's pushing is, I guess.

Sequel is already in the making: A man climbs solo to Meru Peak and blogs the trip using Surface Hub.

Haha I can almost picture the man carrying the Surface Hub up the hill, just like Sisyphus carried the giant boulder up a mountain.

Right at the end a tiny half visible subtitle about Microsoft products. Brilliant.

Which video did you watch?

Even a cool article about a cool story about a cool dude doing a cool adventure, isn't immune to getting infected and overrun with Microsoft-is-a-loser disease. I think its a great story, by the way.

Man the hate is strong here. Makes me sad. Did not know this was a thing until this article. Thanks. Now seeing how I can support his endeavor.

You should read the comments on some of the other articles. The ones here are Hate Lite™.

That's how you know it is worthy, if the negativity is relentless he must be doing something right. The world cannot support such things... =[

Lucky guy, I can't buy a 950 XL in Argentina...

That guy is on Instagram. Pretty incredible what he's doing...

The best place to hide a lie is between 2 truths.

So that's how you win that game... =p

How would he keep his phone charged? That's hell of a tension to keep your devices charged while being on a journey. Posted via the Windows Central App for Android

Perhaps when he stops for a break. Doesn't the thing feature quick charging?

what app is he using to track his run!!!!!????

They should have given him a Band Too... =p

The comments here are . . . . . . :D