Microsoft To-Do brings Live Tiles, background sync to Windows 10 Insiders (Update)
Microsoft To-Do is getting a whole lot more useful on Windows 10.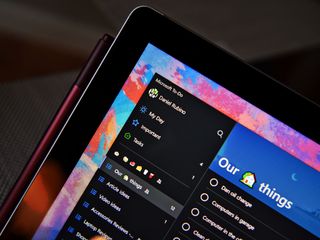 (Image credit: Windows Central)
Updated September 17, 2018 Microsoft has now made the update official, announcing the Live Tiles are now rolling out to To-Do for Windows Insiders. The original story follows.
Microsoft hasn't shied away from packing To-Do with a slew of new features over the past several months, but it's set to support one of the more iconic aspects of Windows 10 soon: Live Tiles. In an update hitting preview testers and Insiders today, To-Do is adding in full Live Tile support, along with background sync to make sure your list and tasks stay up to date at all times.
As you'd expect, all Live Tile sizes are supported here, allowing you to pin them in multiple configurations on your Start menu. The tiles will cycle through important information on the tasks you have set out for the day, including a look at the tasks set out in the "My Day" section of the app and a short message telling you how many tasks you've completed for the day. You can see some examples in the image below:
This is just the start for Live Tiles; in the future, Microsoft tells us that it plans to support pinning specific lists to the Start menu as well.
The addition of background sync simply means that To-Do should stay updated with your progress in the background, rather than requiring a refresh when you open the app up on Windows 10. If you tick off some tasks on your phone while you're out and about, for example, those tasks should be updated more quickly when you return to your PC.
All of these updates should be rolling out with To-Do version 1.40.12541.0 for Insider and preview testers starting today on Windows 10. This also follows a whirlwind couple of days for To-Do, in which the web app got a visual overhaul, and the mobile apps were updated with faster syncing and several UI tweaks. Most recently for the Windows 10 app, Microsoft added inking support, so you can start listing tasks in your own handwriting.
See at Microsoft (opens in new tab)
Windows Central Newsletter
Get the best of Windows Central in in your inbox, every day!
Dan Thorp-Lancaster is the former Editor-in-Chief of Windows Central. He began working with Windows Central, Android Central, and iMore as a news writer in 2014 and is obsessed with tech of all sorts. You can follow Dan on Twitter @DthorpL and Instagram @heyitsdtl.
Finally!
I hope this is the mark of a renewed focus on live tiles.

They sure took their sweet time to implement this. Now, let's wait another 2 years for Cortana integration.

Horizontal (cross-platform) vs. vertical (just Windows) feature priority development. Had phone been around prioritizing Live Tiles makes sense. Without it, it's not that big of a deal anymore. Telemetry shows most desktop users not leveraging Live Tiles regularly.

I believe this -- when sitting at a computer, you're probably working in a program on the desktop not Start Menu with its Live TIles, vs. pulling phone out of pocket/bag and looking at the home screen where the Live Tiles are the default first view. However, this is precisely why I don't understand why Microsoft doesn't let us put Live Tiles on the desktop the same as icons for Recycle Bin and anything else appears on the desktop. Then, we could monitor changes on the tiles while working in our applications (as long as the app is not running full screen). I guess there are not a lot of people crying out for this, but it has been my single biggest desire for an addition to the Windows on PC UI since 8.0.

Not sure about the desktop, but I know why there are no live tiles in the task bar: I discussed the question with an MS engineer working in the area. He explained to me that usability tests have shown that even minor animations in the task bar distract users. That makes a lot of sense to me - nothing draws attention more that movement. I can see a similar justification applying to the desktop as well.

@dcmal, I understand not putting them in the taskbar. In fact, I agree with that. The Taskbar has mini-versions of the icons, too small for functional Live Tiles (at least for the majority of users who don't make the Taskbar bigger). However, allowing them to be used on the desktop, with the same "Stop Live Tile Updates" option per Live Tile makes good sense. On the desktop, there is room for the full Live Tile, and just like you can have other windows running on a large or multi-monitor system, many of which may include their own live updates (think about any weather or news app), being able to reduce that clutter by just keeping the Live Tiles visible on the desktop instead of the full app window open leads to a better, simpler PC life. :-)

Maybe we could reserve an area on the right of the screen for these icons that impart information dynamically. We could call them Gadgets. (lets see how many get this)

@GraniteStateColin, I raised these points on a forum post awhile ago... I too would love to use live tiles in place of icons. I'm sick and tired of looking at static icons for almost two decades.

@TechFreak1, I completely agree.

While it completely makes sense to expect improving telemetries with no Live Tile functionalities whatsoever.

Daniel, the only reason the telemetry data shows low usage... hardly anyone will be clicking the start button / pressing the windows key to look at live tiles. Furthermore it's a catch 22 situation as on a touch screen display the start screen is not set as default and I don't think there is a OOBE Wizard showing how you can make the start menu full screen on touch screen devices (correct me if I'm wrong). Live tiles are supposed to provide glanceable information without any sort of interaction. That has always been the simplistic premise behind them so therefore pressing the windows key or clicking on the start button to view glanceable information becomes counter intuitive.
If my 40" TV was touch screen then I would be definitely using a full screen start menu but since it's not I use the start menu sporadically. To save time I just use Windows Key + S and search the name of the app then press enter, for example If I want to launch calculator - Windows Key + S -> type in calc -> enter.
All this feeds in to lower telemetry numbers for Live tiles, basing design approaches on telemetry data is a flawed approach as it doesnot take in various psychological aspects and when a design does - we all call that intuitive design.
Right now the touch elements of Windows 10 is not remotely intuitive, which again feeds in lower usage of live tiles.
What they should add is a mini carousel feature that allows you to pin live tiles where ever you want on the top, left, right, bottom of the screen (just like how you can move the task bar). As well as allowing users to pin sections of the start screen with the carousel feature, this provides options and flexibility so if you need to real estate you can have them hidden and press the windows key + shift to shift them out from the edges (show).

"...how you can make the start menu full screen on touch screen devices (correct me if I'm wrong). " It's called tablet mode. I do agree though. On my desktop, keyboard, mouse, 34" curved display, I don't see the Start Menu enough to make Live Tiles relevant. On my Surface and Surface Go, they stay in Tablet mode and the Live Tiles are great. My Surface Pro varies. It tends to stay in desktop, and so doesn't get the advantage of Live Tiles in Start. Not just full screen Start would change that as it also only comes up when invoked.

I use live tiles on the desktop, I like them and find them useful

I'm glad to see development for Live Tiles. I think they are one of Microsofts greatest "unique" feature and value proposition. Sadly, Microsoft doesn't seem to know this, because there has been very little advancement since first seen in Windows Phone. I thought for sure that Live Tiles would have more features by now. I thought they would be more lively, updating with fresh new information almost as it happens. Certainly, progress is made in steps. Maybe instead of just flipping between two sides of the tile, we could hope for three sides and eventually more. Like television and videos, the Lively Live Tiles should have their presentation of media programmed by each app developer. Just like how Microsoft had to show computer manufacturers the new "Surface Pro" category, they will have to lead, to show app Developers what is possible with Live Tiles. I see this work on Live Tiles for ToDo as a step in the right direction.
Best Wishes

While we use OneNote or Calendar for tracking lists and agenda, I think this is great news for To-Do users. I wish Microsoft would do a LOT more with live tiles.

Great to see live tiles coming along. But I have to say I thought background syncing was already working. Updates from my phone to my desktop, and vice versa, appeared almost simultaneous. But hey, I guess the faster the better. Also, those updates didn't refresh my Android widget, so I hope this fixes that.

Yeah, the Android widget needs a dark theme

Cortana integration is next, please.

We need To-Do to sync with Outlook Tasks (desktop software) with on premises Exchange Server.

We need tag support. they took away Wunderlist and gave us a far inferior replacement. (It's been YEARS Microsoft!)

I posted this in the forums but thought I would add my comments here. I wish MS would standardize all of the 'list' technologies they support, especially as they relate to phones and Cortana. From what I understand: MS Launcher for Android - If I use Launcher Cortana to add a reminder it goes into a category on the Launcher page called Todo. It does not sync to MS Todo. It does not get included in Outlook.com tasks. On the standard Cortana for Android app, it is labelled as 'Reminders' even though it is labelled in the ToDo category in MS Launcher for Android. You can try all sorts of different combinations but it seems to me that: MS Launcher Cortana ToDos should be also be labelled ToDos in the Cortana standalone app. Then they should sync with MS ToDo, and by design Outlook tasks.
Windows Central Newsletter
Thank you for signing up to Windows Central. You will receive a verification email shortly.
There was a problem. Please refresh the page and try again.