Microsoft Edge and Office gain image search feature via Bing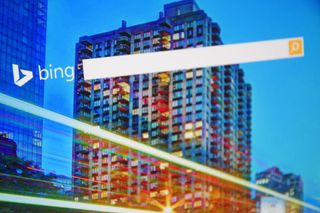 Finding images via the Microsoft Edge browser in Windows 10, along with the company's Office apps, just got easier. Microsoft has announced some new image search features that will be incorporated in those products via its Bing engine.
In the Office apps like Word, users can access the new image search features by clicking the "Insert" tab and then select "Online Pictures":
In Microsoft Edge, image search has been added to the browser's "Ask Cortana" feature when right-clicking on a photo:
Visitors of the http://www.bing.com/images/discover?FORM=ILPMFT URL can also go to the "Image Match" button next to the search bar to get more info on an image that's located on the Internet or one that's uploaded from your local PC.
Now that was seriously cool after all the news we had today!

They should really improve the Bing Lookup tool. Right now you can't go to another browser, scroll or do anything with Edge while it's still searching for some info/image. In chrome the Search option simply opens a new tab and shows the results there and it's much better that way.

I hope it tells the user which photos are public domain or otherwise free to use.

Bing os really crap against Google... Maybe in USA works Bing good, but in non English searching is Bing terrible...

Bing is working good here in India these days. Bing gets updated everytime here with the news and current affairs. And today they have also updated with the schedule ICC T20 World cup which is getting started tomorrow. IN U.S Bing is still the best. In India its getting better dat by day. Don't know about other countries.

Absolutely agreed. Ive switched to bing Completely. Although im hugely disappointed how the search button has been gutted down to almost nothing on the phone. Posted from Windows Central for Windows 10

Bing is quite horrible in Europe. I really want to use it, but I can't. If you're searching for some general stuff in English, then maybe it's fine, but as soon as you want something local, it becomes completely useless.

Exactly as you wrote... Local EU languages are very bad supported

Works fine for me here in Germany

It doesn't always get me great results for text searches, but it's fantastic and image and video searches, which kind of ties into this entire article.

I really need an option to do the search in another Tab, this sidepanel is cool but not enough in a lot of scenarios. I find myself doing Ctrl+C Ctrl+V in another Tab most the time.

Didn't we already have these options? I remember using "add online image" in word 2013. Few days ago i selected ask Cortana on an image and ut showed me Bing results. Posted from the windows central app for windows 10 on my Lumia 640XL

Its a great addition to Bing for sure. There is still a problem with Bing searches that often leads me to use google though. If I search for something I often end up with every search on the page(s) being from unique sites and often not properly in context for the search terms. It also doesnt do the 'more from this site' thing that google does.

Wow. Images.. why not lastpass support. .. just #Disappointed Posted via the Windows Central App for Android

I just want to block ads :( Give us that feature and I will use Edge.

Use your HOSTS file to block ads. But note - more and more websites are restricting access to their sites for people that use AdBlock etc...

Can't edit a hosts file on a phone (but WC readers think closed, locked-down platforms are GREAT!) so that isn't really an alternative to proper extension support. I've also never had a problem with any sites using AdBlock.

Try going to forbes.com with AdBlock on. Just one example...

And read Gordon Kelly's hogwash? No thanks.

I have downloaded the host files from but I keep u block origin enabled on Firefox. Microsoft should make themselves and ad blocker for play store.

Get u block origin.ad block is becoming annoying these days.

They need to bring ask Cortana to mobile +640/Win10

Those cookies look really good. :P

Finally ... took them long enough

The Edge implementation seems new (and awesome), but isn't the Word-Bing tie what was implemented when Microsoft dropped Clip Art support?
Windows Central Newsletter
Get the best of Windows Central in in your inbox, every day!
Thank you for signing up to Windows Central. You will receive a verification email shortly.
There was a problem. Please refresh the page and try again.