Microsoft Edge: Hands-on with features you can use today and a glimpse into the future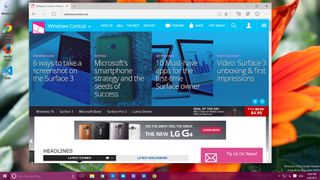 Microsoft Edge is the name of the new web browser for Windows 10, which was formerly known as "Project Spartan". The company announced the new name during the last Build conference in San Francisco and while we already know the name, the software giant has yet to reflect formally the new name on the operating system.
Since Microsoft has bundled the Internet Explorer replacement in Windows 10 build 10049, a number of things have changed and improved, and slowly and surely Edge is taking shape. As such, in this hands-on article, I want to focus on the many things you can do and features you can use on "Project Spartan" -- Oops! Sorry, I mean Microsoft Edge (It seems that it will take time until I get used to the new name), and we're going to discuss some changes Microsoft is planning to include in future updates.
Look and feel
Out of the box, the Edge browser has the same minimalist design like Chrome and Firefox, but with Microsoft's modern touch, using the title bar as place to house your tabs. Underneath Tabs, you'll find the navigation controls, address bar, which feels more like title bar for the site, more than it does an input text box. Following the same design from its competitors, on the right side you'll find various options and access to the fly out settings menu.
Tabs
One thing in particular you'll notice on Edge is the lack of ability for users to drag a new tab out of the browser and convert it into a new window. To view two tabs side by side, you will need to right-click the tab and use the Move to new window option from the menu. Alternatively, you can right-click a link on a web page and use the Open on new window option. Furthermore, at this time, you can't pin web pages to the taskbar in the same way you can with Internet Explorer.
And for those wondering, the new thumbnail preview (image below) for tabs is not yet included in the web browser.
If you click the three dotted menu button, which is inconsistent with the hamburger button Microsoft is pushing on Windows 10 apps, you can access to various options. These options include a way to start a new window, adjust the page zoom, share a page using other apps, search, F12 Developers Tools, the option to open a web page using Internet Explorer for compatibility purposes, and you can, of course, go to the Settings menu.
Now, let's talk about the settings, although the options are limited at this time, the Microsoft Edge browser includes a few basic and interesting options.
Typical to any web browser, the Settings menu includes an option to enable the favorite bar below the address bar, set your homepage, disable pop-up blocker, cookies options, "Send Do Not Track requests" (default is Off). And there are other more advanced and interesting options, such as the ability to enable Adobe Flash Player (default is Off). Another option to predict the next page and speed up browsing with flip ahead, options to style Reading View, and use caret browsing.
In addition, because the Internet Explorer replacement still under heavy development there are a few features that you can't currently change, like the search engine (default is Bing), search suggestions, and Cortana.
Reading View
Reading View is another feature, which was first introduced in Internet Explorer and now is part of Microsoft Edge. The idea is simple. User just click the book icon located on the right of the address bar and you'll get a PDF like version of the article you want to read without any original formatting, sidebar, or advertisements. Microsoft believes this is a way to de-clutter the web pages for you to focus on the content.
Like in every other web browser, you also have the star button to add websites to your favorites, but Microsoft Edge adds the option to save the page on your "Reading List".
Reading List
Reading List is yet another addition to Edge, which allows users to save web pages for later viewing. You can look at it as an advanced version of your favorites list. Interesting enough, in Windows 8.1, we also have a Reading List app. The same app still ships with Windows 10, but it appears that the Reading List feature on Edge is not connected to the Reading List app.
Favorites, Reading List, History, and Downloads
When you click the folder icon with the star, you will get access to your favorites, Reading List, history, and the new download manager.
On Reading List you'll see an enhanced listing in chronological order with all your saved links.
Downloads will list all the files you have downloaded using Edge. Similar to the Action Center, you can clear all or delete downloads one by one, and you'll also get a link to open the folder containing all the downloads. Favorites and History work, in the same way, like on any other web browser.
Make a Web Note
Next is Inking, digital annotation, or how Microsoft labeled the option: "Make a Web Note". Clicking the pen and paper icon, next to the favorite folder icon, you can start annotating the web page with a pen, or you can even use your finger as a pen.
While in "Make a Web Note" mode, you'll notice a new set of tools in the purple ribbon. These tools allow you to choose between different pen colors and sizes, marker, eraser, an option to use the keyboard to leave comments, and a cropping tool.
It's worth pointing out that the eraser only clears the last action, and you have to delete comments one by one. Also, this feature still doesn't offer multiple undo and redo functionality.
When you're done annotating, you can click the Save button on the top-right corner of the screen to upload the web note to OneNote. Or you can click the share button to share the note with other people using apps installed in your system.
Cortana
One of the unique features of Microsoft Edge is the Cortana integration, as the software maker is building its digital assistant right into its newest web browser. Unlike the Cortana integration in the desktop, you cannot just simply invoke the assistant clicking a button. Instead, Cortana will automatically appear when she knows, she can be of assistance.
For example, Cortana comes built in the address bar. If you need to check out your local weather, simply type "weather" in the address and Cortana will provide the answer instantly without you even having to hit Enter. The same is true, if you need to look for market stock information, and you can even use the address bar as a calculator – try something like: 4*(2+6) and you will see the magic happen.
In addition, Cortana will light up on the address bar when you visit specific kind of websites, such as restaurants and other businesses.
If you want to see this functionality in action, you can visit the website cuoco-seatle.com. Immediately after landing the in the web page, you'll notice Cortana jumping up and down, in the top-right corner, letting you know she has some useful information. When you click on it, a fly out menu will come up giving you a rich, detailed list of important information, such as location, phone number, directions, hours, menu, and much more. Clicking on any of the links will take you to a new tab where you can view more details. (All just to make your life a little bit easier.)
Cortana can also help you in other ways. For example, you can be navigating a website and you encounter a word or location you don't know anything about. In these cases, you can simply select the text, right-click, and select Ask Cortana. Then a fly-out menu will appear from the right with the answer you're looking for.
It's amazing what Cortana can do already, and we can't imagine how smarter she will become after Windows 10 launches.
About:Flags
In the latest version of Windows 10, Microsoft is enabling "about:flags" page in Edge, which like in Google Chrome is the place where you can enable and disable various experimental features. This section will continually be changing, but at this moment you can change compatibility settings and try out various experimental features, such as styling, scrolling, touch, input, and JavaScript features.
You can even enable the new asm.js, which is a strict subset of JavaScript that allows programmers to build better web applications – you can find more information about asm.js here.
Miscellaneous
Other improvements in Microsoft Edge include the ability to save an open PDF file by right-clicking the file and selecting Save PDF. In addition, when you open a new tab, you'll notice a drop-down element with the top five sites you frequently visit, which is something you don't see in Chrome or Firefox.
Cosmetically, Microsoft Edge still looks a little boring with the main gray color. However, it's worth pointing out that Cortana and various elements of the browser will inherit the color scheme from the operating system.
The future of Edge
These changes are just the beginning. Recently Microsoft said that a number of features will be arriving at the Edge browser after Windows 10 launches later this summer. According to the company, extensions are coming, but not until after Windows 10 hits RTM. Among the first extensions, we can expect to see Skype, Reddit, and Pinterest coming to the new web browser.
The software maker is also working to make Cortana more useful in the web browser, but not further details has been offered.
In addition, Microsoft is also planning to remove various legacy Internet Explorer technologies, such as ActiveX, VBScript, and others. The features being removed will make the web browser a lot lighter, 220,000 line of code lighter to be exact. The company says that the modifications will help to the software to have better interoperability, security, and reliability, improve in performance, and reduction of complexity.
Furthermore, the software maker is working on making Edge a more touch-friendly browser using Continuum -- now that we won't have a metro version of the software like Internet Explorer in Windows 8.1.
During the Microsoft Build conference, the company showed off a new tab page. This page not only features the recent links you frequently visit in form of tiles, but also the new page features various personalized widgets to keep users informed of the latest news, weather and sports information, recommended apps, recent links, and a lot more.
Wrapping things up
Although, the web browser still on its infancy, we can already see where Microsoft is headed with Edge, and this is just the start. While the company will continue to ship Internet Explorer mainly for compatibility, Edge (Project Spartan) will come bundled with Windows 10 as the default web browser. Also, because it's a universal app, the software will work across devices including PCs, tablets, Xbox, phones, and devices such as HoloLens and the Surface Hub. This new model of building features into Windows 10 will allow Microsoft to keep updating the software independently from the operating system.
I've been using Edge for a while now. Even though the browser still far from complete, because of the current bugs that make the software unresponsive at times and the lack of features, I like the direction Microsoft is taking. Also, I'm looking forward to starting to use extensions though. These extensions are one of the only reason that I use Chrome for part of my internet browsing, just because I need the extra tools to get my work done faster.
For those running the latest preview of Windows 10, you can test drive Edge here. The Microsoft Edge Dev (Beta) has a collection of demos, such as Fly Arcade game, CSS3 filters, Assasin's Creed Pirates simulation, and various other demos to showcase the web browser.
How do you feel about Microsoft Edge? If you are using Chrome or Firefox, what will take for you to switch to Edge? Let us know your thought in the comments below.
Mauro Huculak is technical writer for WindowsCentral.com. His primary focus is to write comprehensive how-tos to help users get the most out of Windows 10 and its many related technologies. He has an IT background with professional certifications from Microsoft, Cisco, and CompTIA, and he's a recognized member of the Microsoft MVP community.
Looks beautiful! Cant Wait to get my hands on it :) or my mouse cursor..

Yeah beautiful! Can't wait to get my tongue on it :) or my fingers..

Tongue or fingers lol...
No doubt its going to be beauty especially on the tablets...my favourite is the web note

Yeah, looks cool. I want to know how far one can turn off Cortana though. Don't need that data mining.

I'm guessing if Cortant isn't turned on system-wide, it won't be there.

Still no no touch nav or gesture support. So you can keep your tongue in your mouth - and your fingers.

Is the favorites bar also available?

Yes, the favorites bar is available. Though, it defaults to full web page title. You can't (currently) make icons only like I perfer...

Can't you just erase the web page title?

I also prefer icons only... Hope they'll add it.

I won't use until it has Chrome type Speed Dial 2 and is the main reason I don't use IE.

IE is much faster than Chrome on my laptop.I use IE for default web browser for years,so I hope Edge will be even better.

Can you pin a tab like in Firefox? Its my favourite feature that IE had always lacked

Currently, you can't, but I wouldn't discard that a future update will bring this feature. Thanks,

Yeah, I really hope that this becomes a feature, I use it very much!

There is no phone news.... Microsoft targeting only PC.. Not mobiles

There is plenty, you just need to look. Such as the WinHec Shenzen docs.

Are u kidding?? Windows or Windows phone defines MS?? They should make Windows 10 perfect coz it's their primary business!! After all which one, Windows or Windows phone gave them profits?

There is no "Windows Phone" as a separate thing. There is Windows 10 mobile, desktop, IOT, and Xbox. It is all these things *together* that make Windows 10 special. They'll make all of them good. And for the record, Windows is no longer Microsoft's primary business; it is number 3 now (by revenue), actually. It is still hugely strategic, but only by moving beyond the desktop can it be competitive.

PC is a priority for Microsoft right now as they are targeting a summer release as opposed to the fall release of the phone version. We will keep seeing phone news even before summer but I imagine there will be much more frequent and more regular progress on the phone front as soon as PC reaches RTM.

Bcoz ppl are more excited about PCs then Windows phone except WP users.

I own both windows PC and windows phone I am excited for both...

The ratio of Windows PC's to Windows Phones is humoungous. Therefore, the PC version of Windows 10 is what they will want to finish and roll out first. And I see a fair bit of W10 phone news. This is something that is not understood enough; Microsoft had no obligation at all to bring out a Technical Preview of Windows 10 for phones. If they hadn't have released the preview, almost nothing would have been seen or heard about W10 for Phone pretty much until near the release date when it would be polished enough to announce. Microsoft will update it when they feel they need to update it, it isn't a consumer product like the final version will be.

MS will focus where there are more market share. PC > Phone. Android/ iOS > WP

Maybe its your first day here but this is now Windows Central. Meaning all things under the Microsoft umbrella including phones.

Development for PC is development for phone. The OS itself is universal kind of

I hope they let you import your favourites and passwords from chrome.

Chromesetup.exe :3 yeah, that's the thing that will be downloaded through Edge firstly almost by everyone.

IE is my default browser on every windows device I have. And I just have Opera as an alternative. I'm never ever going to install that Chrome on my Devices.

+ chrome is so slow on my 8.1

I hate chrome for its resource-hungry behaviour. It's probably the browser with the most RAM usage.
I love Firefox for a variety of reasons and have to see if Edge can be my new personal favourite.

Old joke about IE! But not gonna happen with Edge!

nah chrome ruins my laptop, ill stick with IE, nothing chrome has that i NEED.

So many grammatical errors...

You noticed that too ,eh?

As long as they get their point across, who cares? We are not in English class, and there are people from all over the world posting comments here. At least, they can write in English, and know more than 1 language. I careless if they have any grammar issue. i know what they are trying to say. Also, many people are getting use to write in short phases, like when i "txt"(text) "ppl"(people) & thk(thank)thm(them) 4(for)...........well you get the point.I think in few years, many ppl will be writing this way. its already happening. Just take look at the Twitter.

"I careless if they have any grammar issue" lol, obviously!

It looks like I won't use Firefox again! Keep working hard Microsoft!!

Actually, according to Paul Thurrott, thumbnail previews for tabs are unfortunately no longer planned. I quote: "Some promised features are not happening. Some of the features Microsoft showed off early on—most notably tab previews—will not ship in the final product. That's what happens during a beta, folks."

I wanted to see it in action. Though I think it will be a resource hog.

Boo. Maybe in future updates?

Why show off something when there's a chance you'll drop it?? Better yet, why show off something when it's in BETA and market unconfirmed features? Doesn't make any sense. MSFT keeps making these amateur small mistakes and it's just mindboggling at this point, really.

I want to know how will Microsoft market there browser. Not letting ppl download chrome on PC.

? How will they not let people download chrome?

Google's key to get people to use chrome is their advertising banners on google.com for those who were once aware. Which works like charm.
But something tells me Edge will become popular soon, with Windows 10.

That and pretty much every piece of freeware tries to auto-install and set Chrome as the default browser.

Yes, I hate this practice from Google. Some people install it without noticing then Google can have it on top of usage statistics

On phone they programme a notification for whenever you visit Google. It tells you about the search button. They can program a notification for users saying that Edge is much faster. I'm thinking something along the lines of "Did finding your favourite browser seem faster to you?" A tad sarcastic, but it does make user curious.

Try UC Browser other than Chrome..We should not use atleast some Google products so that the Google might understand the anger of Windows fans bro!!@Mauro Huculak

Uc browser takes three quarters of the screen, can't reduce to half?!

its completely useless to me until they add those android extension support.. will give it a shot then

This was a nice intro to Edge and will make me familiar with it before use.

No home button yet. I'm waiting for that too. Thanks,

I was told by an MS staff, many thing will be coming to the Edge. I had an extensive conversation with him about many features, i would love to see on Edge. He assured me, they are coming.

You forgot to say that you cannot see any type of video in full screen because you il see alsow the start bar and the tabs of the browser. Microsoft style

Still this thing is named as spartan

One thing I'd like to see; the ability to save Web Notes on the website - every time you return to that site, Edge remembers and the ink comes back up again. Can imagine that will come in handy when online shopping. Don't know if the memory required to do that would slow it down, though.

Hope they integrate and synchronize the Reading List in Edge with the Reading List app so that both has always same content. Please, someone from the Insider suggest this...

I think it's obviously will be integrated in the future release. Unless MS screws us up again like promising a new phone build at the end of April.

What will it take me to switch to Edge?
Cortana!! That's about enough! :p

"Oops! Looks like we lost connection," says Cortana.

"Sorry I'm afraid I'm not available in your region" in the UK. -_-

and without Cortana there is no alternative context menu search, very annoying have to copy and paste everything

Good browser so far but it's still very slow to load for me and it lacks a home button.

I also like that internet explorer bookmarks sync to edge but it doesn't seem to sync the other way around.

If uber buys here maps then Microsoft should think of buying uber later.

Google and Apple making self driving cars so why not self driving taxi... Lol I'm just kidding

So many things "coming soon", much like a certain mobile OS..... Seems like Windows 12 will be the rime they will actually release a finished product again, like a certain mobile OS. Not going down that road again, I'll pass.

What are you talking about? MS has said from the beginning that W10 will be released late summer. So making up stuff

Microsoft still has a long history of playing catch up. Look at Windows Phone compared to iOS and Android. For example Cortana. Siri and Google Now have been out for some time now. Look at Edge. How many years has Chrome and Firefox been out, and it's only now that a Microsoft browser is getting similar extensions.

There isn't going to be a Windows 12, at least not in a long time if ever. Windows 10 is going to be improved continually so it'll never be finished.

cortana never worked for me in Microsoft Edge (build 10074)

One thing I really liked about IE was the tabs being aligned with the address bar. Allowed more screen real estate for the site you were viewing.

Is there reopen closed tab feature in edge?I am using edge but I am not finding it...

I don't believe that's a feature yet.

I misunderstood the meaning of feature. :)

If you're referring to reopening a tab you just closed, try ctrl+shift+t. Works on all browsers I know.

Here's to hoping Cortana becomes integrated in phone version of Edge!

Thanks for the in depth coverage Mauro!:-)

I've engaged in discussion elsewhere on it, but until the favourites bar can store (fav)icons only without associated text, the browser is unusable for me - it is my primary means of navigating sites I frequent.

I love the UI, but the phone version is so bad. It takes up so much space

"which is inconsistent with the hamburger button Microsoft is pushing on Windows 10 apps" The one thing I've noticed from being on Android these last few months is that when a button like that is offered it is usually three dots when it's in the upper right corner and a hamburger button when it's in the upper left. Case in point the Windows Central and Android Central apps. Also Chrome and the stock browser use three dots. Which makes sense since a lot of mobile sites use hamburger buttons so you might not want to double up on them.

Don't you see? Windows is becoming Android. Microsoft has given up on their OS in favor of being a poor cousin to Android. They are idiots.

Because investing years and tons of money on OS convergence between all device types and universal apps and clinging to their mobile OS despite only making losses with it so far is what giving up on a OS looks like, folks!

No, the author of the article is incorrect in equating the hamburger menu button and the additional action elipsis. The hamburger button opens a panel that allows users to navigate to other sections of an app. It is on the left side of the window, typically as the top. The elipsis button expands a command bar to show more commands, usually to act on the content on screen. It is always on the right, whether the command bar is at the top or the bottom. This is consistent with how Windows Phone has been since 7.0 and how Windows has been since 8.0.

So far I've read that the favorites won't sync across devices, and now I read that the same is true of the Reading List. These are two of the features that I use almost daily. I sure hope that these are ready by RTM. Thanks for the in depth coverage.

The lack of sync is a pity as it's what I was looking for. Then again, there is no harm in keeping using Firefox as I do now and giving Edge a try when more features are released or simply giving it a try while knowing that I have to wait a bit for those. I imagine by the time the phone version of Windows 10 is released the sync features of Edge may be ready as well. Until Windows 10 for phones is released there is no benefit in the syncing for me anyway.

i'm using it every day it is great!

Thanks for the article Mauro. I found that on ad-enhanced websites, like Windows Central, Edge is not as smooth to use I expect. It is so bad I couldn't use Edge. It spends more time trying to render ads within I-bars then delivering the content I come here to read. But I found that after added to Easy List tracking protection to the Spartan folder, the ads that show up were dramatically reduced made the Edge browser faster across the board on all websites.

The downloads list made me nerdgasm all over the place. It's so clean!

Good but ad blocker is necessary

All in the future of course..... By the time ms is done with edge and universal apps, I will have moved on to Apple. By the time windows phone 10 is complete, people will have stopped using phones all together....with ms, it's all about the future....I just want to know what this company has been doing in the last 10 years..

A OS is never finished. And Windows 10 Mobile is going to be released this fall. Sounds a bit early for people stopping using phones. If you can't see what the company has been doing in the last 10 years then simply you have either not been paying attention or you don't want to see.

I have no use for any of those features. The one feature I DO have use for--and is clearly NOT included by the idiots at Microsoft--is the ability to pin sites to Start. Ever since Windows 8 brought the ability to pin sites to the Start I gave up using Favorites. They are useless to me now...or, they WERE until Microsoft stupidly DROPPED the ability in the disgusting Windows 10.

This is not fair..Microsoft gave you their year long hard work and what you've done with it !! Downloaded chrome and firefox..

Just a correction: Actually, Edge is built using the former Metro thing, I mean Universal apps use the WinRT API, not Win32... So we won't have a classical 'desktop' version of Edge in Windows 10.

The desktop version isn't a metro app. It's not even touch-friendly yet. But it indeed a universal app.

I'm looking forward to them fixing the issue where audio is muted when Spartan is minimized.

I think it's icon is too similar to IE's, and I don't think that's good, that said, I just hope it becomes successful once it's available

Microsoft Edge sounds OK, even if I would have prefered Spartan but I agree, the icon is too smilar to those of IE and I'm afraid that some people won't give a try to the new browser;

Just remove that ugly bottom bar in spartan for windows 10 for phones... at least meke it auto-hideable

Haven't tried Edge yet, but been following closely. Overall, it sounds like they are heading in the right direction: the primary goal of a browser should be to run efficiently, quickly, and without crashing or compatibility issues that interrupt the browsing experience. For a while now, IE has been letting these things slide, and it suffers from RAM creep, especially under Windows 7. Edge seems likely to right these wrongs, and perhaps even lead the other browsers in speed when all is said and done. One thing I will really miss is tab grouping. I use this every time I use IE, so likely hundreds of times per day. It makes browsing multiple sites so much more organized, I cannot fathom why they would drop from Edge, this feature that was superior to both Chrome and Firefox. I also don't believe that inking or "web notes" are quite the revelation Microsoft thinks they are. Sure, they will be useful for web developers and site builders and clients, but for the rest of the world (99% of us), I don't think we are looking at the internet and thinking, "Gee, I wish I could draw on that and save it." It certainly doesn't deserve to be a top-level feature button next to things like favorites and reading list. Even features like history and downloads are a level down in the menu, but web notes is at the top.

Maybe there will ne an extension for tab management to allow tab grouping and opening a tab group on new window.

Yeah, I was thinking the same thing. Kind of a plugin to add back tab groups.

Shows us the WindowsPhone Browser. PC Browser's good enough

I currently do not like the favorites bar, i cant seem to organise it. If I try to move things around in the order I want they vanish. Also the menu for my folder on the favorites bar just seems too big, spaces are far too big.

I really hope they open source the engine. With the rise of webapps, a proper Chromium competitor would be a great thing to have. And as of now, even Microsoft has to use Chromium - it's what powers Visual Studio Code.

I couldn't care less about extension malware. But it needs a way to block out all the awful ads. Right now, the 8.1 Metro browser is still superior to me because there's no ads and I can swipe to go forward and back. Spartan (Edge sucks) needs these features badly.

I really like the performance of IE 11 on my Pro 2, so much that I've now made IE 11 my default browser. However, I still use Firefox or Chrome on my Surface Pro 2 as I just can't rely on IE alone without extensions like the following: - Lazarus (I can't count how many times I've lost a whole bunch of text in IE due to it lacking a version of this extension) - AdBlock Plus (there's already an extension for this in the US Internet Explorer gallery, I think the gallery should be a single global store, or be merged into the Windows Store). - Mouse Gestures (this drastically speeds up the browsing experience) - Speed Dials new tab page (instead of you guessing which pages I visit most, I should be able to create speed dials of those in the new tab page) - Grease Monkey (this adds a whole new script dimension to the browsing experience) If all of the above have a true alternative in Edge, I'll only be using Chrome for the sake of syncing my Browsing between my Surface Pro 2 and my OnePlus One. If Mcirsofot unveils Edge for Android, goodbye Chrome.

Man this is Beautiful, so far this is the most beautiful and Clean browser I've seen. I like Firefox a lot. But I'm loving this design so much O.O

This looks great. Though I can't get to use a browser without Adblock support. Main reason that I haven't made Maxthon nitro my default browser despite it being significantly faster than the competition

You've already used Edge to download FireFox and Chrome :P

One thing I like have is to be able to pin tabs so it loads my fav sites whenever I open my browser. Or save a list in a place where I can launch it on demand.

Not to be terrible or anything, but do you guys have a copy editor? There are quite a few typos in your articles lately.

I like Edge a fair bit, it's coming along nicely, but for the love of god I wish they would remove some of the features from the default install, and instead make them add-on's if the user so wishes. I have absolutely no use what so ever of a "reading view", reading list, making "web notes" or developer tools. And to be quite honest, 90% of the web users have no need for any of these tools either. So why have them in the browser slowing things down for everyone. These should be features that can be downloaded and added if people need them. Otherwise keep it clean and let people have a faster expierience.

Browser does look pretty nice, but there's a little too much chrome at he top and sometimes it's bothering to look at. An option to minimize it or make it smaller would be nice

Wait... are they eventually going to allow us to drag the tabs out of the top bar and pin them to the side???

Web Notes: I have often found myself copying and pasting portions of web pages to keep for future reference: Stuff I rate as useful and want to be able to quickly access without having to search for it again and try and remember that elusive search term, etc. Also a slight concern that the page may vanish at some point so again useful to have a local copy... Hence really handy to be able to quickly save page content as you trawl the web... So I have been trying out web notes and they seemed to work well; Then I wanted to check accessing and reading them and discovered they are saved as an image! So that's great, waste of time for me, I need something that I can search to retrieve. I don't want to have to trawl through my web notes history to find that page again, simpler just to google it I guess.

your site is useless Intel popup blocks everything I cannot even paste an image of the problem

I've spent hours trying to locat a "save", "save as", or "save page as" button to save something from a website, such as a receipe, crochet pattern, interesting article, etc. Is there such a button or option??

If there is no save option, I will not be using edge.

To clarify, I mean save to documents, pictures, or downloads library, not to one note or a cloud.
Windows Central Newsletter
Get the best of Windows Central in in your inbox, every day!
Thank you for signing up to Windows Central. You will receive a verification email shortly.
There was a problem. Please refresh the page and try again.