How to customize the Personalization settings in Windows 10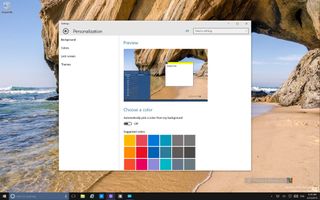 With Windows 10 comes making it personal. Getting the look of the operating system you'll be spending so much time looking at just right, pleasing to your eyes.
Besides just wallpaper and a theme color, Microsoft is including new settings to let users enable or disable transparency across the Start menu, taskbar, and Action Center. You'll also notice a new animation effect on elements inside of each of the setting's sections. Here's how to make Windows 10 your own.
How to access Personalization
Finding your way to Personalization is straightforward, just launch the Settings apps, and click Personalization. If you find yourself accessing these settings quite often, you can click the Pin icon in the top-right corner to pin a tile to the Start menu for quicker access.
Personalizing the Windows 10 desktop
The Personalization settings page contains four new sections: Background, Colors, Lock screen, and Themes.
Background
The Background section is self-explanatory. This area is the place where you can set a new desktop wallpaper, a solid color, or a slide show.
Colors
The Colors section is where all the interesting changes are happening. In Colors, you can adjust a variety of settings. Here you will find the Automatically pick a color from my background option. When this is enabled, the feature will analyze the background image extracting the primary color and setting it on the Start menu, taskbar, and Action Center.
The technical preview phase introduced a new dark theme in the Start menu, taskbar, and Action Center. This theme will be the default theme when the Show color on taskbar and Start menu is disabled. Sliding the switch to the On position will enable scheme color to flow from a custom color selection or the primary color coming from your current background.
Finally, Microsoft is adding the Make Start menu transparent option, which not only will enable or disable the transparency for the Start menu, but also controls the transparency for the taskbar and Action Center.
Furthermore, if you need to change the high contrast color settings, Microsoft has added a convenient link right into Colors as well.
Lock screen
In the Lock screen, under the Background settings, you can configure to show a picture or a slide show. You can also choose the "Windows spotlight" option, which apparently is a new feature that pulls random background from the internet.
From the Lock screen section, you can choose which apps show notifications, but this is nothing new.
Themes
Microsoft is also moving the Theme's settings to the Settings app.
Wrapping things up
While there many changes new options to personalize Windows 10, there is still a lot of room for improvement. Currently, there is no way for users to customize the level of the transparency like on Xbox One, for example.
Windows Central Newsletter
Get the best of Windows Central in in your inbox, every day!
Mauro Huculak is technical writer for WindowsCentral.com. His primary focus is to write comprehensive how-tos to help users get the most out of Windows 10 and its many related technologies. He has an IT background with professional certifications from Microsoft, Cisco, and CompTIA, and he's a recognized member of the Microsoft MVP community.
They need to sort out white fonts for notification centre

I know it says in article about controlling transparency for taskbar, but does this also include disabling transparency on start menu, taskbar and notification?

Yes, as also mentioned in article. "Finally, Microsoft is adding the Make Start menu transparent option, which not only will enable or disable the transparency for the Start menu, but also controls the transparency for the taskbar and Action Center."

verry nice but is there a DNLA Service like in wondpws 8.1, I'm wating for this to install windows 10 cuz I use that to listen my tv show on my xbox one...

I use DNLA from windows 10 to Watch on my samsung tv and listen to music throught my sony home stereo system. It works throught all of my media.

If your hardware supports miracast and your in the Xbox preview program that's another option too Posted via the Windows Central App for Android

Lock screen functionality is so lame in windows so jealous of IOS in this regard :(

If only the phones would look this good... maybe if they looked like this then that would be awesome https://windowsphone.uservoice.com/forums/101801-feature-suggestions/suggestions/7438894-beautiful-stand-out-os-design-concept

great design, already vote for it!

Help me, pls :D i can't setting lock screen http://imgur.com/MyihtMs

This is your company machine?

This is my personal computer

Wow, Windows 10 is lookin' good. Can't wait for the slow ring to get 10061.

"Windows Spotlight" it's amazing!

Would be nice if the update actually installed for me....... Can't get rid of the dreaded 0x80246017 error, any suggestions??

You need to disable your firewall and defender then change to slow ring to reset, then change to fast ring and It will work. I had the exact same problem and It was the firewall and defender.

They need to add color to the window title.

The automatic color still doesn't work for me. Wish the transparency was a slider (I think that is already in the feedback app). Looks good though and everything runs so much smoother than in the last couple builds. I always had problems with my computer crashing if I locked the screen in the last build (SP3), seems to be fixed now.

I wish I could install. On the Fast Ring, And nothing showing up.

http://answers.microsoft.com/en-us/insider/forum/insider_wintp-insider_update/windows-update-does-not-find-build-10041/7223f419-a468-45ce-9ba5-fdcee1317c92?page=1&tm=1426777875899 Try the above. Worked for me (manual reg edit).

I really can't believe that we are talking about finally retiring the Control Panel 3 years after Win 8 was released. This should have happened way before Win 10...

It took them this long to figure this one out. I am still waiting for a Filr Explorer refresh.

Customizing personalization settings: WINCEPTION (BWAAAAAH)

Same thoughts here.. Hurry! Push me through a cliff so i can wake up!

I am typing this on my Surface Pro 3 running build 10061 and this build is really great. I look forward to future stability improvements, but overal, this build is making me feel better about 10. These customization options are great.

from what i'm seeing here the toggle switches doesn't really follow windows new design language... looks too big. I love the way everything is thing and awsome

I am on the SLOW updates and it came through tonight as well. Nevermind, I must have switched it to FAST without noticing... whoops!

Nice if u had dinner a video

Wish they'd give an aero-like theme... Posted from my OnePlus One.

Try changing the titlebar background color in 10061. It is light gray and it stays that way.

Anyone know how to change the number of tile columns on Start? I see pictures all the time of three columns, but mine is stuck with four.

didnt really see an option of changing the color of any open program it stays grey the whole time doesnt feel like your able to personalize it like windows 8.1 unless im not seeing the option of it

Why do all the Personalization screens show a "Sample Text" subscreen, but nowhere does it tell how to ad this sample text? If this is a real feature, can someone tell me how to add it to my slideshow photos? I could always take every photo into PowerPoint and manully make updates of every slideshow photo for a new slideshow, but Windows 10 seens to be advertising something new an slicker.

I spent most of the day upgrading to Windows 10 and am very unhappy. I can't choose the background color I want for my desktop! I don't like any of the colors in the palette - and icons don't show up well on them. I like a nice, dark, rich color with a centered photo, so I can place my icons on either side of the photo. This is such a disappointment I'm going back to Windows 8 - unless someone here knows how to find the color selector that was in previous versions. Any ideas!
Windows Central Newsletter
Thank you for signing up to Windows Central. You will receive a verification email shortly.
There was a problem. Please refresh the page and try again.