Microsoft Edge leaves beta on Android
Microsoft Edge for Android has left beta testing.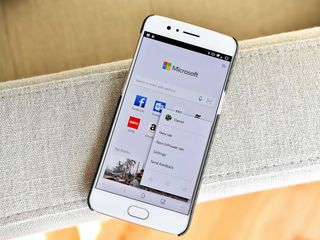 (Image credit: Windows Central)
Not long ago, Microsoft launched its Edge browser in preview on Android. Since its debut, the app has been marked as "Unreleased" on Google Play, labeling it as a potentially unstable app while in testing. Now, as first spotted by Android Police, the app listing has dropped that tag, indicating an exit from beta.
Curiously, the app is still listed as "Microsoft Edge Preview," which could either mean the listing simply hasn't been completely updated yet, or Microsoft still has some kinks to work out. Either way, the standard warning about app instability is no longer present on the Microsoft Edge Google Play page. The text under "what's new" simply states "Thanks for trying out Microsoft Edge and for all the feedback." If you were already a beta tester, it appears you'll still be enrolled to receive beta updates that roll out for testing.
This update comes just a day after Edge was updated on Android with a dark theme and support for password syncing, marking the arrival of two pretty major features.
Microsoft has launched Edge on Android and iOS as a move meant to provide Edge desktop users with a way to easily sync their passwords between machines and easily pick up where they left off with a "Continue on PC" feature. Rather than using the EdgeHTML rendering engine, however, both apps rely on engines common to each platform. For Android, that means Edge uses the same Blink rendering engine as Google Chrome, while Edge on iOS uses the required WebKit engine.
In any case, you can pick up the latest version of Microsoft Edge for Android on Google Play now. There's no word on when the iOS version, which is in much more limited testing through Apple's TestFlight program, will see a full release.
See at Google Play (opens in new tab)
Windows Central Newsletter
Get the best of Windows Central in in your inbox, every day!
Dan Thorp-Lancaster is the former Editor-in-Chief of Windows Central. He began working with Windows Central, Android Central, and iMore as a news writer in 2014 and is obsessed with tech of all sorts. You can follow Dan on Twitter @DthorpL and Instagram @heyitsdtl.
Wonder if there's still going to be a beta program for the Android version of Edge. Really like it and has become my default browser.

Chrome with a different skin. Not impressed.

Chrome dont have the reading list function, etc Edge still have some awsome function atlest for reading experince. But totaly agree edge still have less function that other broswer for now, but they also have some uniq functions some no other broswer have. And that is allways good thing that no broswer is uniq to another one all broswer should have some nice uniq function some make diffrens thing easy.

I'm with you on that it had become my default browser to but it is also my default on pc to.

Still beta for me... I'm from Finland 🇫🇮

Way too fast lol. It's still beta. It has literally nothing to bring up against competition. They need to have at very least extension support. Add block is a must feature for mobile devices...

The "something" they have over the competition is if you're using desktop Edge, everything is synced. But otherwise, yeah, it's just another browser.

Same with chrome, opera, safari and firefox, they all sync with the desktop version.

Which is why I said IF you use desktop Edge. I didn't say this would make you use desktop Edge. I'm saying if you already use it, this gives you an Android browser that syncs with it. That's an advantage for those people.

Edge sync and "continue on PC". Saves me so much time, no more copiing a link to onenote to open it later on PC.

That I understand. Iam using edge on PC as well. But it's still not ready for me to ditch other browser. I simply need adblocker in my browser. I would also like to see address bar at the bottom line it was on Windows 10M. Once they do it, I will switch.

How about they fix it on PC first? After all this time it's been out, pages still loud ridiculously slow compared to every other browser, and to top it off you can't even start scrolling until the page is fully loaded.

EdgePC: (Chakra+EdgeHTML)+UWP
EdgeAndroid: Blink+(UWP+Xamarin) Two very different beasts.

Yeah I was using this on android and PC. Then with fall update it became so slow on PC I had to move both phone and PC to Firefox (that, by the way became crazy good with latest update)

@Paolo Ferrazza, Edge is still my default and primary browser, but yeah, Firefox 57 is really amazing. It's a HUGE update and improvement over the previous versions.

I think this is a layer 8 problem, or something with your Hardware.

I like it. A minor complaint is that the bar at the bottom conflicts with my home/back buttons.

what type of andoid phone is that looks like an iPhone 6s?

*Searchs for Microsoft edge on Google finds nothing he loves Firefox even more

I cannot get my favorites to sync between PC and phone. When. I downloaded Edge for Android and first logged in, it populated my favorites, no problem. But, as I've added new sites, deleted others, or moved some to different folders, they don't sync between devices. Sites I've deleted from favorites on my phone are still on Edge on my PC and vice versa.

I like Edge on Android, works pretty good for me. They just need to work on Edge on PC, it is horribly slow. Used Chrome for a while, currently using Firefox. If Microsoft made their own versions of Android phones with Microsoft software, and without bloatware, I probably would buy it, depending on the price.

Edge on Android needs adblock... I use it, but some websites are horrible to use without, namingly - windows central, the verge, etc. Samsung browser shortcut also gives me the correct image when pinning shortcut to web link on my home screen, where Edge just gives me a generic looking icon.

It has left Preview not Beta. It's still shown as a Beta app. Just clarifying as the headline is misleading.

Android have more famous web browsers than Win mobile. When will i get Mozilla/Chrome/Safari on win10m?

regardless how they designate it, Edge is at best a beta product on any platform. Still way too buggy, and missing baseline features like VPN support
Windows Central Newsletter
Thank you for signing up to Windows Central. You will receive a verification email shortly.
There was a problem. Please refresh the page and try again.