Microsoft turns on Movies and TV section in beta Windows 10 Store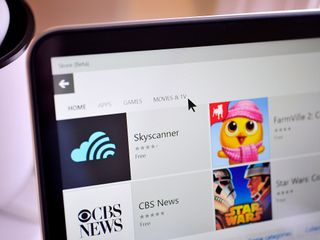 In Windows 10, Microsoft will not only be unifying the application platform which developers use to create apps, but also the store in which they are all available in. Beginning today, Microsoft will be giving Windows Insiders on the latest Technical Preview of Windows 10 some new additions to the Store Beta. Movies & TV will be the first addition to the store experience.
Previously, the Movies & TV section showed up in early March, but there has been no content available. Microsoft is now turning this feature on, and the roll-out is expected to take place over the next 24 hours.
Microsoft gave more details on their blog:
Microsoft will be adding Music to the Store Beta in the coming weeks, and they promised to have lots more to say at Build 2015.
For what it is worth, we are experiencing crashes when trying to load the Store Beta after the update, so let us know in the comments below your experience.
Source: Microsoft
Jared started off writing about mobile phones back when BlackBerry ruled the market, and Windows Mobile was kinda cool. Now, with a family, mortgage and other responsibilities he has no choice but to look for the best deals, and he's here to share them with you.
Is the new windows phone store available for windows phone 10

(clap) (clap) Thank you Microsoft for this :)

I want to see the new store but in WP. They seriously need to update that! It's all black and plain, MS add color to things, the android and IOS have a better looking store. I think MS deserves a better, the desktop one is pretty nice.

WP store is way better looking and quicker than the play store

Remeber that this store is universal, so you will see something like this on windows phone.

Store *apps will be universal

no he meant the actual Store is universal as well. One Store, one app that will dynamically adapt to screen real estate.

That's the theory, however developers need to add support for the platform they choose. So a Windows Store app doesn't necessarily mean it will automatically work on x1, pc/tablet and phones. However given almost all the code would be near identical, its a no-brainer to support all three as the devs would grow their user base dramatically with very little effort.

Oh no i meant the actual Store app from MS will be adaptable lol i know that other Devs will have to work for that if they choose. Which kind of scares me cause I've watched alot of the dev videos from MS and its not as easy as it sounds to us. While the UI may be easy to scale, the inputs on those devices will be tough, example making such a function = taskA on xbox on a phone it may have to = taskB instead and so on (depends on the type of app) Alot of if, else, else if statements is those windows 10 apps lol

Yes and no, if you build a new app, without needed horsepower or a very specific layout, the app will be coded once, no different UI's etc, and will work. Now if you want to take advantage of certain strengths just like any app, you will need to code for it. But something like a new reader app, wouldnt need jack in terms of hp.

And get rid of those games and apps with Fake reviews to boost stars, Check the Comments of 'Fight for honor' and 'Mission impossible 2' in the store for example. A fighting game with Candy crush compliments. Store gets worse cause of this nonsense.

Yeah, I actually liked the look of the old WP store better.

Great. Jus get rid of that 'Xbox' branding now

I actually think they will. Lets wait until build

Crashes or hangs for me as well. However the issue is always resolved when I restart the computer.

This would be GREAT... If the Beta Store would load.

I have a question. If I install technical preview on my phone , will I get updates in future till the stable version? I have no pc to flash my phone. How different is technical preview from developer preview ( 8.1 for now)? Because I have already installed developer preview of 8.1.

Dev preview was far more stable than the technical preview. If you have only one phone and no PC to rollback the phone don't try it.

Bugs in DEV PREVIEW will be far lesser than the TECHNICAL PREVIEW..

Best way to look at it, Technical Preview - Pre-Alpha. Developer Preview - Beta-nearing-completion. So your going to have a mountain load of bugs and issues with a tp build. So no, not recommended on your only phone :P. Get yourself a cheap 630 or something.

As much as i can deal with bugs, i would say NO. Get yourself a 635 and a Winbook 7in (comes with full usb and full windows) you will spend just over 100bucks for BOTH (50-70 for each). My struggles with win10 tp for phones, 1020 (my daily driver). Installed from 8.1 DP, and the data just stopped working even with wifi, all radios simply stopped, apps didnt open. Reset phone. After reset the OS installed like 3 apps, not even the start screen was installed i was treated with literaly just the app menu a few apps not even settings nor a action bar. Had to hard reset it, got stuck on 'installing apps' meaning couldnt use phone for 4hrs (was at a dinner so time didnt matter but it was still on trying). Had to use pc to revert back to 8.1 cyan, then do a clean break from my backups (contacts and text came back though), and then install win10 tech preview. Even now these are my troubles, random reboots, photos app last night stopped loading up, had to delete all pics via pc - now working again. Apps take long to load at times, hang or crash, some apps i use are half functioning at times. Battery life is hit or miss, some settings will crash almost always when i try to set them. I havent gone a day where the phone hasnt restarted at least 3 times during some function, like opening an mms, sending an email. All in all, if you dont mind these things, do it, if you dont like dealing with it, dont do it.

Microsoft is expanding from nowhere to the epitome of advancement. Isn't it?
I believe iOS would barely survibe after 6-7 years.

Nothing new here.. Windows 95 did thay with mac way back.. Until then mac was only thing blah blah blah.. So maybe its that all over again.

This would be great, if it's available everywhere.

Now please MS add some splashes of color all around the OS please...at the least you can add accent color usage in the apps...lack of color will make it look too bland and uninteresting...

It's a beta store, it'll be drab until later when they add polish. This is more about core functionality.

It would be great if they merged MixRadio with Xbox Music. MixRadio has a larger world market than the Xbox Music. But RIP MixRadio. Atleast Xbox Music should be launched worldwide now..

MixRadio is owned by a different company now.

That's why I said RIP MIXRADIO.. :/

By "latest", does it mean in the Slow Ring or the Fast ring? In other words, can someone with 10041 tell me if this works?

Whenever I try to open the store, it crashes. Also my touchpad scrolling hardly works, it isn't usable.

Hope the app store will have all missing apps before the final release of the windows10....
Hope on#BUILDS

Would be great if microsoft support my country. Apple and Google services like music, video can be use in Turkey as in Turkish language with Turkish movies and musica but not Microsoft's Xbox Music or Xbox Video. That's a disappointment.

It's time to revamp the look and feel of windows phone store... The app store ui sucks... Really need an enhancement for store (WP)... Pls make it more appealing... Search result is worse in store, I feel easy to find the app for windows phone in google [appname windows phone] in google...

Yes, agreed. I am so sick of their servers. Feels like they been using the nano servers, way before, which were in the news yesterday. :D

True that. I never use WP Store to search for any app. I google them in Internet Explorer, and it automatically opens the app in the store..

The current store's UI is great and stylish. Probably one of the best things to come from the 8.1 update. You really want the store to look like the bland garbage that's in W10?

Good now can we please get a books and magazines section and desktop downloads too. If they really want to turn I up a notch how about add a hardware tab for windows devices

I definitely agree. I'd like to keep everything in house. I thought for sure they were going to purchase Nook Media at one point. But putting products they sell at https://www.windowscentral.com/e?link=https2F%2Fclick.linksynergy.co... in a hardware tab would increase sales for them.

I wonder if we will ever see media center in here.

Microsoft better remove all the junk apps from the store to give it a clean and nice look, they are deceiving themselves by those unreal numbers

I get why Microsoft is doing this. To get the general population to be interested in the store for apps, they have to get people to look in there for something. TV, music, & movies are a great way to do it. Because once in there, they'll see some apps and possibly download them. This will attract more developers & more apps. This is great. But all I can think is: Is my music steaming that I'm paying for going away? Does this mean to stream some kinda media, I'll have to hop in and outta an app? I guess I'll have to see how this works on my surface pro running windows 10. Which doesn't do the kinda app switching that windows phone currently does (think of being in the Facebook app, tapping the little messenger icon in the app & Facebook messenger launches). They had better so this right because if I have to manually switch back and forth, I'm not going to be happy. If they do this on WinMo 10 TP, Let me know. I'm on a Lumia Icon =(

Can't wait to see the new store on phones!

To fix the crashing issue, open CMD and paste it:

del /q \Packages\Microsoft.WindowsStore_8wekyb3d8bbwe\LocalState\*.json

Source: Brandon LeBlanc on Twitter (@brandonleblanc)

Thank you, that trick worked. I tried a few others I found on the forums and they didn't, so thanks for posting here.

...but what if all those files are just gone? @_@

These files are recreated when you open the app.

So they're basically re-ZUNE-ing their offerings?
This was so obvious! Why did they go for the stupid split-up of contents into different stores in the first place?!

Did you know: Somewhere in the files/programs you see the REAL name for the Store(Beta) is actually Zune2 lol =P Seriously, look for it... Like under default programs by file or protocol @_@

@MediaCastleX:
Don't have the TP installed.
But thanks for the headsup. I have no idea what was wrong with Zune (the software). It was actually one of the nicer examples of "flat design" gone right.

The hamburger menu is gone in this new store update! Has anyone noticed it?

Corporate firewalls block xbox.com, so I'm very glad to see they're adding music, video, and TV to the store. It will be possible to browse and purchase content from work again.

* ahem * Shouldn't you be working? @_@

You know, only work related content of course.

Yeah, anything Windows 10 in my tech preview is gone, all I have is the old store and apps with Project Spartan. No Preview apps, no Feedback, NO CORTANA. I can't even roll back or recover this thing... Just can't figure it out. =[

Need a sky go app STILL!!!!

I wish Microsoft would offer a streaming service like Netflix or Amazon Prime.

Wao !!! A very good update. P/s : bigkool 2015 download game mobile

Nice. Maybe this weekend I will dig in to windows 10... Right now vm just works.

Nice. Too bad that most of them will be region restricted and many windows users won't have access to them but this problem is found on every platform so.. Let's hope that content owners will open mind their business models.

I have 2 computers running Windows 10, the first ran afowl of Movies & TV crashes almost instantly, it also seemed to want to update after the crash for some strange reason. I changed the properties of all movie files to MPC-HC player ( a free 64 bit player ) and have had no other problems with that computer. I have now started having the same poblem on the other computer - I have changed the video player on this as well - again problem sorted. I love the Movies & TV app as it can "cast to TV" it can do this without playing the video files on the computer. Until Microsoft sort this out, sorry but I'm not using it apart from to 'cast'.
Windows Central Newsletter
Thank you for signing up to Windows Central. You will receive a verification email shortly.
There was a problem. Please refresh the page and try again.