Microsoft now enabling native Wi-Fi calling, HD Voice on the Lumia 640 and Lumia 640 XL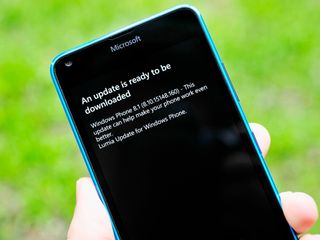 Microsoft this morning began pushing out a new OS and firmware update for some Lumia 640 and Lumia 640 XL devices. Even more interesting, this update brings some new features including one for the yet-unreleased Lumia 640 on T-Mobile.
Unlocked and regional variants of the both devices should begin to see an update waiting for them on Microsoft's servers. The OS gets bumped to version 15148, which is a rather large jump from the current 15127 found on many Lumia 640 and Lumia 640 XLs. The firmware is updated to version 15184.36xxx.
Here are the changes for the updates on both phones.
Lumia 640 and Lumia 640 XL OS 15148 Changelog
Voice over LTE support enabled for selected operators.
Native Wi-Fi calling support enabled for EE UK and T-Mobile USA (Lumia 640 Only).
Additional improvements to stability, audio quality, Wi-Fi and cellular connectivity, national roaming, and more.
The mention of T-Mobile for the Lumia 640 is certainly attention-grabbing. Marketing for that device has been spotted in Walmart, but there has been no solid lead on when it launches.
The addition of Voice over LTE (VoLTE) is certainly a big deal for many as well. The new standard helps deliver higher quality audio, and it is commonly referred to as 'HD Voice' by many carriers. Needless to say, it is exciting to see that feature enabled on both of these new Lumias.
To check for the update, head into Settings > Phone Update > Check for Update. Reports from India and other regions have confirmed the rollout has begun, although here in the US our Cricket Lumia 640 has not received the update, so your mileage may vary.
Source: Microsoft; Thanks, Melwin, and Yahia, for the tips
Daniel Rubino is the Editor-in-chief of Windows Central, head reviewer, podcast co-host, and analyst. He has been here covering Microsoft since 2007 when this site was called WMExperts (and later Windows Phone Central). His interests include Windows, Microsoft Surface, laptops, next-gen computing, and for some reason, watches. Before all this tech stuff, he worked on a Ph.D. in linguistics and ran the projectors at movie theaters, which has done absolutely nothing for his career.
One can hope that this was the delay for T-Mobile's 640, right? But these updates are very good ones!

Well I got this update 3 weeks back and even reported it to windows central back then.. guess they never bothered it back then.. :/ CV: India, Lumia 640 Dual SIM

The source link also seems to confirm that T-Mobile will not be getting the XL.

Does this mean unlocked 640s can use wifi calling if using a T-Mobile SIM, or does that part only apply to a T-Mobile branded 640?

I think this needs additional modem provisioning that is likely only on TMO-branded devices.

You can use it on unbranded devices! Just like on iOS, how if you have any unlocked 5S, if you put your T-Mobile SIM card in and turn on WiFi calling, it will work.

When I saw the thumbnail I first thought it was a new Windows 10 Build.. Anyway cool features indeed !

Will this ever come to other Lumia devices?

I believe that pretty much all of them already support the technology on the device-side but the carrier support seems to be lacking. At least according to Wikipedia. Here's the list they have: Nokia Lumia 510 Nokia Lumia 520 Nokia Lumia 520.2 Nokia Lumia 521 Nokia Lumia 610 Nokia Lumia 610 NFC Nokia Lumia 620 Nokia Lumia 625 Nokia Lumia 635 Nokia Lumia 710 Nokia Lumia 720 Nokia Lumia 735 Nokia Lumia 800 Nokia Lumia 810 Nokia Lumia 820 Nokia Lumia 822 Nokia Lumia 900 Nokia Lumia 920 Nokia Lumia 920T Nokia Lumia 925 Nokia Lumia 925 Superman Edition Nokia Lumia 925T Nokia Lumia 928 Nokia Lumia 929 LTE-A (Cat 4) Nokia Lumia 930 Nokia Lumia 1020 Nokia Lumia 1320 Nokia Lumia 1520

Ha I wish the 929 had lte-a as my service provider supports those frequencies(though since update to 8.1.1 it wont hold a strong lte signal on aws)

Microsoft needs to enable this feature, and turn it into what Google Voice used to be, and completely cut the carriers out of that decision. The carriers aren't doing Microsoft any favors, so cowtowing to them makes little sense.

Apple tried that in the beginning and various organizations threaten to sue if they didn't turn of their uma implementation due to a huge data leak

Hello, one question: this update applies only for USA or is worldwide update? I just check for updates in my 640xl Movistar mexico carrier but nothing new. Maybe on next days Thanks!

In India, we received this update long time ago ! Probably because most of the phones sold here are unlocked and we can use any telecom provider ! Regards

So wifi calling is supported on my Lumia 730?

Can't believe Verizon may beat out at&t with the release of the 735 compared to the 640XL which has been "Coming Soon" forever now. Might as well wait and release it with W10M

Germany without branding does not have the update yet.

Can't wait to see these in wider availability; I'm hoping to convince my inlaws to drop their Android devices

Only for 640 & 640xl? Wat about others?

Downloading now on Lumia 640XL Uk... Hope this pumps up the ringtone volume and music playing through speaker. Seems low on mine..

It's same I downloaded this update six days ago the volume is very low I don't know what's wrong with it.

Even I face this issue. The volume from speaker is way too low. On the other hand the audio quality is excellent, almost top of the line, when you use a good speaker. I don't think this update will resolve the problem. I find one thing quite odd in 640 XL. the speaker given at the back is reasonably big. But the opening given in the back case is very small. I was wondering if I could get a couple of parallell slots cut in the back case, will it improve sound output from the speakers. Have not been brave enough to try it out though.

Was wondering what's the update

So if I get the 640XL unlocked, will it get the WiFi calling update that's for T-mobile?

My brother enjoys 3G on his Android, while I'm on 2G. I need to go 200 metres away from him to get 3G. Why is it so? Improvements to cellular connectivity, does it mean it's fixed?

Since this feature was not released for the 930 or the 830, no hope then for the 1520 or 925 or even the 1020

Yup,this was the build I wanted info on. Thanks Daniel. And sorry I asked about this in the previous article. I know it was not the right place to ask. But what does this update even mean to indian users?

Wow! This is pretty awesome. Kinda shocking too. Reminds me of iOS 8 allowing for Wi-Fi calling for T-Mobile just by popping in a T-Mo SIM card (so long as it's an unlocked phone, of course).

My 640 LTE has updated a moment ago here in Thailand.

This update only for these two models??can I expect this update for my 730..

Would be nice if ms could convince rogers to let them use uma as we've haven't had a nokia device with capability since the 6086

Unlocked 640 XL, GB, UK... I got it. Downloading

It would be nice if the tmo 640 got released

I think that from now on when Microsoft introduced a new phone they should give a date for release date cause I an being seem coming soon ad on att for the Lumia 640 is ridiculous and in the other hand Apple announced and a week later people can buy....i am being waiting for Lumia 640 from att and it totally sucks. Even the Samsung 6 edge was release fast. I am very disappointed cause some people ask me I want a new windows phone and they know Lumia 640 is coming bit without a date. :S

Problem is ms cant fulfill the initial batch order att wants. Wouldn't want a another Samsung focus crisis during the next os update

Just updated on my 640 DS in Athens, Greece.

Curious if native Wifi Calling is better than what was on TMobile before. C'mon Lumia 640.

I tried WIFI calling with a tmobile rep in our warehouse and it was hands down better than a cellular connection for any device that I have used. But keep in mind the experiance will only be as good as your wifi access point and we have very strong coverage.

Not to mention as long as ms doesn't cut corners with Wi-Fi ie sharing cellular antenna

The new IMS based system is a great upgrade from the UMA devices of the past. It works more reliably for me and there's also WiFi calling to VoLTE handoff meaning if you leave your house and have LTE, you don't have to drop the call.

Will unlocked phones get this update too?

Yes, mine is unlocked and it was updated

Anytime now TMOBILE. GODAMN.

Lumia 640 - Dual SIM - Europe Romania - just installing the update now :)

Glance screen not working after update, anyone?
* fixed after phone restart

640 XL in GB. Downloaded and installed fine but I can't see the WiFi calling feature. Anyone any ideas?

for WiFi calling in the UK you need to have an EE branded 640. Unlocked ones will not have the WiFi calling menu enabled.

Mine only updated when I unregistered preview for developers. UK 640XL

Hi how did you un-register for the Preview for Developers? I coudn't find that in the phone settings. Thanks, John

If MS were trying to shoot themselves in the foot in building momentum for mobile how would it look different? Months go by. No release dates. Now these phones and the 735 won't sell in the US and people will continue to say it is because the OS is not robust enough, which is not true. It is because MS cannot get their mobile act together!

They dont give a shit about US becouse you only buy iphones.

It has a now has wifi callling and HD voice. Now it just needs a T-moblie store.

Why is it only the 640/640xl on Tmobile getting this update?

This is good, I'm hoping this will fix my 640's network signal drops and touch screen sensitivity issues.

Hi, Can anyone help me pls. I cant sent Image as my glance screen background on Lumia 640. It just shows time and notifications. No other options.

I can confirm this but it's not a bug, it's by design because of hardware limitations. I suppose the screen doesn't have enough memory for those options.

I just got the update a couple of hours ago in Bangladesh.

I am still waiting for 640 XL LTE Dual sim from microsoft store to get a release, to replace my screen cracked NL1020 as a temporary replacement. Come on micorosft, release it quick...

I am in India and using the 640 XL. I got this update only yesterday. I was wondering what it was all about. Since 640 and 640 XL in India are non-LTE models, does this update mean that can support VoLTE in India, when telecom operators provide it? and what about WiFi calling? Will we get it? If not, I am not too sure if it is of any benefit to us. The firmware update resulting and better call quality and stable wi-fi connections need to be checked. Though I never had any problem with either of those yet.

I am unable to download the updates. I am using airtel 3g data pack also I have installed English(U.K) along with English(India) , Should I use only one language to work with this update or I have to use wifi connection.?

I am from India, Yesterday I got a update notification on my Lumia 640XL but I am unable to download it with my 3g internet data pack. I have two languages installed English(India) and English(U.K) for Cortana. Is that the reason I am unable to download the updates or my internet pack.?

Not sure why I need higher voice quality. Not exactly frustrated with current voice codecs, ya know? "Better" does not necessarily translate into "Must have." What I never see mentioned is that the low frequencies used for VoLTE penetrate buildings very well and cover far larger distances in the boonies. Now, that makes it a "Must have."

Lumia i got one, and sometimes is slow. with the browser. Anyway i still need my lumia better than ss

The way I understand it is the 640 and 640 XL are getting the WiFi calling software, but T-Mobile WiFi calling will only work with the T-Mobile 640 or an unbranded 640. Someone correct me if I'm wrong.

Plz friends give me answer, after update your SD card's all files show you

My Lumia 640 xl is not all files show me after update

good answer Nha cai uy tin
Windows Central Newsletter
Thank you for signing up to Windows Central. You will receive a verification email shortly.
There was a problem. Please refresh the page and try again.