Microsoft to open its first UK retail store in London [Updated]
According to a new report, Microsoft is looking to open its first UK-based store in the near future.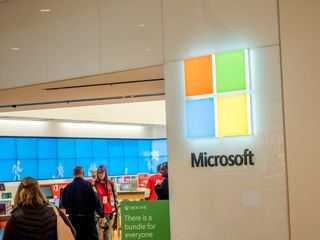 Microsoft has expanded its consumer retail stores in recent years and while a common sight in the U.S. the firm is yet to establish a notable presence outside of its home turf. However, according to a new report from RetailWeek (via Engadget), the software giant is looking across the pond for its next location.
Microsoft is reportedly looking to open its first store in the UK at Oxford Circus, London. Talks are supposedly underway to secure a 10-year lease for a building in the heart of the renowned shopping locale, currently occupied by United Colours of Benetton. However, with a deal yet to be reached, the store's arrival isn't guaranteed.
Rumors of a physical Microsoft Store in the UK have circulated in the past, building on the existing portfolio of locations established across the U.S, Canada, Australia and Puerto Rico. As one of Microsoft's core markets, establishing a storefront in England would be a logical development, with rivals like Apple already settled in the area.
If this does come to fruition, the new UK Microsoft Store would be based in 255-259 Regent Street, just outside of the Oxford Circus Tube station. As a prime venue for shoppers in London, the location could prove to be a smart move, by securing a strong retail presence in the city.
Updated September 21, 2017: In a new blog post (opens in new tab), Microsoft has now confirmed its plans to open a Regent Street store in London. "We couldn't be happier to be opening a flagship store in the heart of central London at Oxford Circus, where two of the world's most iconic shopping streets meet," states Microsoft's UK head Cindy Rose. "We know our customers and fans, whether they are from London, the broader U.K. or just visiting, will love our bold plans for the space."
Windows Central Newsletter
Get the best of Windows Central in in your inbox, every day!
Matt Brown was formerly a Windows Central's Senior Editor, Xbox & PC, at Future. Following over seven years of professional consumer technology and gaming coverage, he's focused on the world of Microsoft's gaming efforts. You can follow him on Twitter @mattjbrown.
Agreed. There are 3 in Toronto

it used to be exciting company when they had their own hardware for phones now its just another boring services company for ios and android, i guess its their destiny to be like that. time to think about iphone.8

Because Apple's so exciting right?

yes!and Google too, and Samsung too, and everyone else is exctiting. MS = mediocrity

Do Apple or Google offer...
uwp.pc (for win10.pc, win10s, win10.arm), uwp.xbox, uwpiot, uwp.ar/mr SKUs? What about Xboxes' ecosystem? bc/fc/xpa/GamePass/free-unlimited-cross-platform-cloud-sync? MsStore's region-hot-swap? What about Visual Studio? #1 git contributor? various open source project? etc, etc...

They offer consistency, and that is much more than what you listed.
Micro$oft cannot be trusted anymore.

hnnn... I know WinPhone is a failure and I didn't buy it cause I know there's no room for a third mobile OS (that's why win10.arm which runs win10.pc app is a smart move). iOS is insufficient. I prefer Nexus cause I hate 3rd parties' / custom rom's tampered API. But, are you saying Ms's gonna throw away GamePass 3 years later right when xb1x2's release?
Alone with throwing away uwp.xbox, xb360/xbOg BC investment, XPA, free-unlimited-cross-platform-cloud-sync, forward compatibility + the ecosystem?
How about uwp.pc that runs on standard win10, win10s and win10.arm? How about MSStore? uwp.iot? uwp.ar/mr?
How about abandon Office and Visual Studio?

I don't give a damn f***ing s**t about GamePass, uwp.xbox, XPA, free-unlimited-cross-platform-cloud-sync, uwp.iot, or.any.other.thing-that-you-list. Fact is that as a user and a private small business owner I want to be backed up by a technology provider whose deeds are consistent with his words. Microsoft deceived me on several occasions. The only reason I'm still on Windows is the fact that the software I use doesn't exist on other platforms, it's all about Win32, .NET-based apps. I'm not a developer, so Visual Studio is the last thing I'm interested in, and I only use Office to post-process some of the documents I work on, plus I have a few PPT presentations on CAT tools for my students. I could well be on Libre Office, but I still use MS Office to minimise compatibility issues. You see, not even MS Office is 100% compatible with MS Office! UWP is a flop and the Store is an absolute mess: the small GUI items are not optimised for touch devices with 8"+ screens, and controlling UWP apps with the mouse is clumsy at best. I wonder whether the guys at Microsoft have ever heard about ergonomics. The inevitable result: just have a look at the Store, and apart from a few exceptions, all you find there are useless web wrappers and copycat apps. Ever tried to find a decent mail client in the Store? Good luck with that one! Win10 is a flop too: it's a half-baked, US- and English-centric product that is half-functional in most other languages. If Microsoft hadn't forced people to upgrade, most users, be it private users or businesses, would still have been on Win7. BTW, I never had problems while on Win7, but have seen already a number of BSOD on my as well as on my colleagues' machines running Win10. You mentioned an ecosystem: please tell me, what ecosystem are you talking about? I wanted an ecosystem (a horrible word, BTW) and have ended up with what? With a number of Win10 PCs, Lumia 950XL that was almost unusable due to several issues and whose apps were half-functional compared to their Android and iOS incarnations. WinCE in my car stereo was discontinued nearly 10 years ago, and with no replacement. All I want is a reliable platform from a reliable provider whose word I can trust. That's not Microsoft as we know it today. It's a company with no clear vision or strategy as regards private users and small businesses, though I do recognise how big businesses and large corporations can benefit Microsoft solutions. But that's simply not what I'm interested in. Neither do I care about Xbox or the developer stuff.

If smartphones are you're whole world? Well yes, then every smartphone company is more interesting then Microsoft. If you use more tech, besides a smartphone? Then Microsoft remains one of the most interesting companies to watch this decade!

Service company for ios and Android?
What about uwp.pc (for win10.pc, win10s, win10.arm), uwp.xbox, uwpiot, uwp.ar/mr SKUs? What about Xboxes' ecosystem? bc/fc/xpa/GamePass/free-unlimited-cross-platform-cloud-sync? MsStore's region-hot-swap? What about Visual Studio? #1 git contributor? various open source project? etc, etc...

Shame about the location, crap for parking a motorbike (I am a biker) and impossible for cars, and although in the busiest spots in London thronged by tourists, I would have though Holborn would have been far better location for all those city workers.

It's right next to the Underground

But London costs an absolute fortune to get to. Whilst this is not before time, it is so much easier to go to an Apple store. Why not place it outside London but within reach of it? Or open a store for the rest of us plebs as well as one for the bankers in London? I suppose the rest of us just have to suffer the tender care of B2X. If only MS had not closed all the Nokia care points. They bought a ready made network of physical locations across the country, then almost immediately closed them all down, then they open one store in the most expensive to access and most highly priced location they could find surrounded by multi million pound properties. London essentially has a separate economy to the rest of the country. Thanks MS, message received and understood. One day I might save up for a special trip to go see it. Will it be on the tour map?

I think that Bicester Village would have been a great place for a Microsoft Store. It is always busy around the holidays and people travel there from London all of the time.

London is where the money is. I don't like going there, but there was never going to be anywhere else that got a store first.

Oh come on... New York, LA, Chicago, Sydney, Toronto, Bicester Village - all the greats!

Dear visitors, all the empty tables on the right hand side are intended for our new Surface Phones (sorry ultramobile device with phone capabilities) that will arrive......soon....... The dust on the tables is intentional....

I assumed there'd be a trench round it?

Not only is there an Apple store right next door. Apple's UK HQ is literally a stone's throw away in Hanover Street!

Perhaps the proximity to Apple is intentional

Yes, it gives the Apple customers a quiet place to hangout while they wait for the crowds to thin in the Apple store.

@Jonathan Smyth Nice joke. But then I should have opened many years ago.

Store opens ready to sell Galaxy Note 8

ha ha...Beat me to it ricardo!

Everyone complaining, yeah yeah I get it no phone blah blah. But the rest of Microsoft's hardware is excellent, I was very impressed with the stores in LA and Las Vegas even purchased a few things. At least you are finally getting a store. Plenty country's are not.

Besides Xbox, the rest of the MS's hw is pure garbage

As a main programmer in a major game studio...
MS is software company therefore, uwp.pc (for win10.pc, win10s, win10.arm), uwp.xbox, uwp.iot, uwp.ar/mr SKU, bc/fc/xpa/GamePass/free-unlimited-cross-platform-cloud-sync, store-region-hot-swap, Visual Studio, being #1 git contributor, various open source project, etc, etc are all pretty interesting and exciting tho.

Londoners tend not to shop on Oxford Street/Regent Street (at least halfway sensible ones). The entire district is a sad and distant echo of its former self. 3.5 miles down the road, the Westfield Expansion (Opening Soon) likely has a suitable unit and would be filled with actual shoppers as opposed to tourists.

Same could probably be said of the 5th Avenue flagship in New York. Flagship stores aren't necessarily about pulling in "local shoppers." How many people do you think actually ever shop in an Apple Store yet they're always full.

I'll def go visit if they open before my trip to London.

So they're opening a store on Regent Street. That's rather unsurprising. I do wonder if being that close to an Apple store is a good idea. That store is always packed. I see MS has the corner shop. Interesting. The Oxford Circus area is not the best area in the world for locals, it's a crowded mess most of the time. I'm guessing it will be open before Xmas or do they plan to miss the rush? Unless it's open in early November I won't be visiting it as I'm moving from the UK.

Get ready to buy Samsung phones in it :)))) PATHETIC!

Then the Apple Store in Regeant Street is the place for you instead.

Thats about 30 second walk from the Main Apple Store, maybe less! - Hope they have a mobile device to put in there otherwise its just Xbox and Surface...

Mobile devices are everywhere so a MS Store is the last we need. Windows Mixed Reality and other brands with Windows devices are really the thing a MS Store would do justice.

Finally, hopefully this opens before the Christmas rush.

Good job big bold Microsoft colors are hardware like surfaces, Xbox, hololens, etc will book their brand across europe
Windows Central Newsletter
Thank you for signing up to Windows Central. You will receive a verification email shortly.
There was a problem. Please refresh the page and try again.