Windows 10 19H2 falls behind schedule as Microsoft fails to hit spring target for testing
Microsoft's second Windows 10 feature update for 2019 is nowhere to be seen as Microsoft falls behind schedule for testing.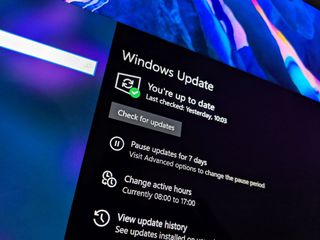 (Image credit: Windows Central)
It's officially the start of summer, and Microsoft still hasn't begun previewing the next Windows 10 update, codenamed 19H2, that's expected to roll out later this year. This is because Microsoft has fallen behind schedule with its plans for this release. Earlier this year, Microsoft announced that it would begin testing 19H2 in the spring. Spring is now over, and Microsoft still isn't ready to start previewing or talking about its plans for 19H2.
Frustratingly, as is ever the case with Microsoft, the company has communicated this delay poorly. It has given no reason as to why testing has been delayed, only that there is a delay. While I can't comment on why this delay has happened, I think now is a good time to talk about what Windows 10 19H2 is all about, and why it doesn't matter that 19H2 isn't in testing with Insiders yet. Simply put, 19H2 is not a major feature update like 19H1, or previous Windows 10 feature updates have been.
I'm unsure if Microsoft will ever admit this, but Windows 10 is not getting two major feature updates this year. Windows 10 19H1 is the only major feature update rolling out in 2019, with Windows 10 19H2 being a much smaller cumulative-type update that will essentially sit on top of 19H1. Microsoft has done this kind of thing before with Windows 8.1, releasing smaller "roll-up" updates with minor new features, OS changes, and overall system performance and stability improvements that apply to the current Windows OS release.
Why even have a 19H2 release?
So, if 19H2 is just a normal roll-up update with maybe a couple of minor features, why even mark it as a feature update with a codename like 19H2? It's to keep support cycles in check and to keep with the overall twice a year update cadence that Microsoft has so stubbornly kept to. The "H2" update for Windows 10 every year is the one that most businesses are interested in updating to because it has an extended support cycle of up to 30 months. The "H1" release of the year is only supported for 18 months.
Businesses like to remain on a version of Windows 10 for as long as possible, so the H2 updates of the year are essential for enterprises, and indeed Microsoft, who are continually encouraging said businesses to update. So, Microsoft will likely playoff 19H2 as just like your other Windows 10 feature updates, but on a technical level, it's nothing like them at all. It's more like an old school service pack update for 19H1.
This is good news. Many have called for Microsoft to move to a tick-tock type update cadence, with one update being major, and one being minor, every year. Now this year we're only getting one major feature update, with the second one being a service pack that fixes issues and touches up things where necessary. I'd call that a minor update.
So that's why it's not a big deal that 19H2 isn't in testing with Insiders yet, because there's not going to be an awful lot to test. It's unclear if this new way of doing two updates a year is something that Microsoft will carry into 2020 and beyond. As far as I know, this year's H2 release is only like this because platform work schedules didn't line up. Assuming all goes to plan, next years H2 release should be back to normal.
Our definition of "spring" doesn't necessarily match to exactly when spring ends and summer begins. It'll happen when we're ready. We're not operating against a deadline. Call it a "delay" if you want. 🤷‍♂️Our definition of "spring" doesn't necessarily match to exactly when spring ends and summer begins. It'll happen when we're ready. We're not operating against a deadline. Call it a "delay" if you want. 🤷‍♂️— Brandon LeBlanc (@brandonleblanc) June 21, 2019June 21, 2019
Hopefully, Microsoft will find the time to begin talking about 19H2 on an official level in the next few weeks. In the meantime, what are your thoughts on 19H2 being a smaller service pack type update? Let us know in the comments.
Windows Central Newsletter
Get the best of Windows Central in in your inbox, every day!
Zac Bowden is a Senior Editor at Windows Central. Bringing you exclusive coverage into the world of Windows on PCs, tablets, phones, and more. Also an avid collector of rare Microsoft prototype devices! Keep in touch on Twitter: @zacbowden.
If there are no new features and with 19H1 really just starting to roll out, what's there to test anyway??

I think 19H2 will be a minor update

Plenty, namely compatibility and performance is what matters the most.

i think they need to see what bugs are in 19H1 and those fixes will be 19H2

But they can do that with Cumulative updates...

So if "This is good news" that Microsoft is releasing a largely featureless fall update with a focus on bug fixes and performance, will it be "bad news" if Microsoft returns to two feature updates next year, as you say is likely to happen?

19H1 is hardly a major feature update just like the one before it. If 19H2 is supposed to just be a minor update and Microsoft is having issues with it, then there must be something else behind the delay. Windows 10 is just a mess. The UI is inconsistent across the board and it doesn't look like it's getting fixed next year either. Tablet mode is atrocious. W10 keeps improving but the development is just sooo slow.

Microsoft still has not fixed the inconsistent UI over the years since Windows 10 first came out and still have finished removing Control Panel

I can wait for them to finish killing the Control Panel. The Settings panes are only dumbed down versions of the Control Panel equivalents. I wish they would kill Settings and revive and update Control Panel. I was shocked. to notice that one of the newFall 2018 update features added a new control panel control instead of a Settings pane.

I was wondering what happened to 19H2 as they keep rolling out builds for 20H1.
I think 19H2 will be a minor update such as fixing bugs in 19H1

Windows 10 Version 1903, service pack 1. In fact, MS could probably push this as a large cumulative update rather than a full build

This only means 20H1 will get more features, more UI tweaking, more polish and generally be more stable. 1607 was one of the better updates because it got 8 months of work.

I would really like if Microsoft took more time to test newer versions of Windows due to bad publicity lately on lack of thorough testing. As a developer, I am really excited for 19H2 due to WSL2. So, let these guys take their time to make things right.

Microsoft, a worldwide company, has been taken to task by many who point out that their spring/fall releases are only relative to the northern hemisphere. Our neighbors to the south, are just today starting winter, with spring being months away, and end of spring half a year. Maybe Brandon's post implies they are finally acknowledging the rest of the world and splitting the difference between northern and southern hemisphere spring in their definition. In any case they are currently the highest valued company on earth. Spring is when MS says it's spring.

I think this is why they should just use different naming convention instead of using seasons for update names. Maybe use cities, animals or places as update names, which has a benefit to be easier to distinguish between versions.

They already stopped using season names with 1803.

I have no problem with 19H1 falling behind schedule. At least for now, MS is listening to user complaints about Update Quality and they are taking the time to try to get it right. I do wish they would change the eventual release name to more closely resemble the actual release date, ie 1906 or 1907.

Not only this, but they have fallen behind on WCOS too, noted by the delay of Surface Hub 2, Hololense 2, and foldables. They also fell behind the competition with things like Cortana, and mobile. I don't know if they need to hire more help to get these projects completed, but the competition is not going to stop and wait for them.

Why the hell did they even start previewing 20H1 when 19H2 is behind schedule like this

Some of the bugfixes in 20H1 will likely make their way into 19H2

Maybe they will test it better than the other updates and will get less problems, certainly not stupid ones like the USB one on the May 2019 update.
Maybe also, MS are running out of idea for features and will concentrate on bugs and not add more rubbish to windows 10 for me to get rid

Perhaps they are busy developing WCOS for release, and are planning a release matching up with an announcement usually dropped in October. Optimistic, but reasonable I suppose.

I like my OS updates like I like my video game releases. When they're ready...

Will 19H2 make to fast ring insiders or directly to slow ring insiders. Fast ring guys are already on 20H1. It would be downgrade if they are asked to install 19H2.
Probably it's just a small update.

hi Zac. there's this article from Thurrott.com called "19H2gate" (premium users can only access the full content)
https://www.thurrott.com/windows/windows-10/208881/19h2gate and reaction from Neowin about 19H2 still being MIA:
https://www.neowin.net/news/windows-10-19h2-is-still-mia-and-it-looks-ba...
Windows Central Newsletter
Thank you for signing up to Windows Central. You will receive a verification email shortly.
There was a problem. Please refresh the page and try again.