Microsoft files 'airplane mode' design patent to protect its Surface Pro design
By Sean Endicott published
A recent patent application could help Microsoft have a say in who makes future Surface clones.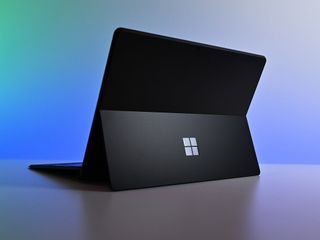 (Image credit: Daniel Rubino/Windows Central)
What you need to know
Microsoft recently filed a design patent application for the "airplane mode" form factor and "magnetic hinge connection" seen in its Surface devices.
If approved, the patent could prevent other manufacturers from emulating the form factor of the Surface Pro.
Microsoft could then make agreements with manufacturers regarding making devices with similar form factors.
Microsoft recently filed a design patent to help protect the design of its Surface Pro and Surface Go devices. The patent application is for the "airplane mode" form factor of devices that can have a kickstand extend and rest on a keyboard that's been flipped back, and, more specifically, the "magnetic hinge connection" that lets that posture happen.
The airplane mode name likely comes from the fact that this setup could rest well on an airplane's tray table. It's not related to airplane mode on phones or disconnecting from internet connectivity.
If that design sounds familiar, it's because we've seen it on every Surface Pro from the original to the Surface Pro 7. It's also appeared in other Surface devices like the Surface Go 2. The purpose of this patent likely isn't to protect an upcoming technology but to prevent other companies from creating Surface Pro clones without Microsoft being on board.
Image 1 of 2
Image 2 of 2
The best Windows tablets are Surface devices, and many great devices like the Lenovo ThinkPad X12 Detachable take design cues from the Surface family. Having a patent on the form factor would allow Microsoft to have a say in which companies make Surface clones.
Microsoft isn't opposed to other companies making devices that use a form factor similar to the Surface Pro, but it's likely that the company would want to partner with those making them. If Apple creates an iPad Pro with a kickstand and Type Cover-style keyboard, that could be seen as bad news by Microsoft. The iPad Pro with a Magic Keyboard is different enough that Microsoft doesn't seem concerned.
If Microsoft is granted this patent, it could strike deals with companies that allow other manufacturers to create devices that look similar to the Surface Pro. Other companies have used similar strategies in the past, such as Apple patenting different design elements of the iPhone.
Sean Endicott is the news writer for Windows Central. If it runs Windows, is made by Microsoft, or has anything to do with either, he's on it. Sean's been with Windows Central since 2017 and is also our resident app expert. If you have a news tip or an app to review, hit him up at sean.endicott@futurenet.com.
How could this be patentable? It's been around for years, and multiple manufacturers have created devices like it already. Should not that violate the part where it's a novel idea at the time of filing?
Also, just in general, would be nice to deny a patent. More models from more manufacturers is always appreciated.

Microsoft specifically wanted other OEMs to take cues from Surface devices and create market for such devices, which would explain why they didn't apply for this patent earlier. I suspect that this application is intended to prevent cheap and nasty clones that could give the whole design philosophy a bad name and it might also be, as the article suggests, to stop Apple treading directly on what Microsoft sees as the Windows market. I'd be very surprised if this was to stop any trusted PC OEMs from building quality devices and I doubt that Microsoft would even charge a license fee to such companies. They might charge a fee to companies creating alternatives to the Type Cover specifically for Surface but I doubt they would do so. This is in direct contrast to Apple, who seemed to change the iPhone/iPad connector a while back and also use Lightning instead of USB C specifically so that they could gouge accessory manufacturers.

I have a 2-in-1 surface-like from another OEM and the keyboard lie flat.
I can think of no reason why I would want my keyboard elevated off the desk.

It practically increase the keyboard travel which for many typists is important (to a certain degree that is, otherwise it can feel like typing on a flat surface).

I use a Surface Pro, extensively, on a daily basis. I CAN NOT imagine using a flat keyboard. Not a keyboard similar to the Surface Pro keyboard. I like it being angled, and wouldnt consider a 2-in-1 that didnt angle. Just looks and feels wrong.

and if you were using a surface book or any other laptop?
You are in the minority. Otherwise they would make laptops with an angle keyboard.
Its a bit like some people put a brick under a monitor to raise its level height. If that made ergonomic sense, monitors would have an extended stand

If it's patented it doesn't mean OEMs won't be able to use it, just that they'll have to ask MS and maybe pay a fee which is what most OEMs do already with the boat load of patents MS own. Nothing new, not sure how it's billed but I'm pretty sure they do packaged deals with a flat rate for all patents listed.... otherwise it must be a nightmare for the accounting service lol

I have the Acer Switch 3 that is a copy of the 'surface' form factor. It has an aluminum 'C' shaped bar for the kickstand that's very sturdy. I think it's better than a surface kickstand, and even won a design award. The keyboard and touch pen were included and uses magnets to elevate the keyboard just like a surface. It was 1/2 the price of a surface and I use it every day. This patent idea will only stop innovation and stifle competition and keep prices high. Sounds just like what MS is all about, so I'm not surprised.
Windows Central Newsletter
Get the best of Windows Central in in your inbox, every day!
Thank you for signing up to Windows Central. You will receive a verification email shortly.
There was a problem. Please refresh the page and try again.