Microsoft adds inking and new filters to Windows 10 Photos app for PC (Fast Ring)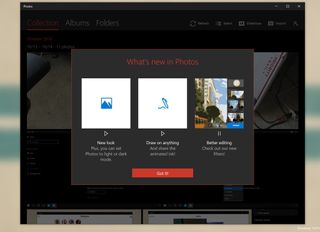 Microsoft continues to build out is pen and inking support for all its native apps. The latest to get the treatment is Microsoft Photos for Windows Insiders on the Fast Ring.
Build 1017 is now live for PC and Mobile although it appears only the PC gets the new options.
In the changelog dialog that pops up after the update there are new features highlighted:
New Look (Light or Dark Mode)
Draw on anything – And share the animated ink
Better editing – Check out our new filters
The light mode feature is from a few builds back, so that is not too new. However, the Draw on Anything and new Filters are different.
With the draw feature, those with a Surface or any pen-supported PC can draw on the photos for notes or just fun. Users can also save the image with the animated ink. There are options for marker, pen, pencil and various colors.
Under Editing there are also many new filters available to add spruce up your photos. Options include Sauna, Neo, Icarus, Zeke and more. Filter intensity can be adjusted with a slider as well.
As to why filters are not yet in Mobile, it is not clear. The editing options on the PC version have always been richer than Mobile, but hopefully, Microsoft will plan to bring those together in a future release. If do spot anything new in the Mobile version let us know in comments.
For those on Slow Ring or Release Preview, you will likely get today's update in the coming weeks before eventually hitting Production.
Download Microsoft Photos from the Windows Store (opens in new tab)
Windows Central Newsletter
Get the best of Windows Central in in your inbox, every day!
Daniel Rubino is the Editor-in-chief of Windows Central, head reviewer, podcast co-host, and analyst. He has been covering Microsoft since 2007 when this site was called WMExperts (and later Windows Phone Central). His interests include Windows, laptops, next-gen computing, and for some reason, watches. Before all this tech stuff, he worked on a Ph.D. in linguistics, watched people sleep (for medical purposes!), and ran the projectors at movie theaters because it was fun.
This....love this.... Waiting so much for this feature, no need to open snipping tool and and ms paint again

Yaaawn. Wake me up when this comes to mobile

This is cool. I hope we see it on mobile soon.

Yes. iDroid has these feature built right into the app. Why not WinMo??... Whatever happened to the old WP philosophy that you don't need a separate app for everything?

Looking forward to getting this in Release Preview.

Me too, hopefully a real polished ones. I still don't understand why the inking support is still missing on mobile, which is a bad sing since it means we won't have a pen-enabled W10M devices coming soon.

We can hope it'll come as part of RS2, they may have prototype hardware for testing it internally down the line? I mainly want inking in W10M so we can try and get some 8"-10" tablets running the Mobile OS. Once we have windowed apps in Continuum (and hopefully this brings snapped apps when not in Continuum) it will make W10M a really good Tablet OS, with the option to dock or wirelessly use Continuum for at-the-desk productivity. I could really see that kind of device working for people who have basic computing needs, they get the familiar Windows experience when docked.

Yeah, since W10M is also for tablets having a pen support not just make sense but a must, especially when Microsoft is trying to promote their product as a productivity tool. A W10M tablets are good for more "appliance-like" device that doesn't require Win32 apps (as it doesn't support it anyways) which can be an advantage as you are less likely to get malwares for it, thanks for more controlled system. Not to mention better battery-life, thinner, lighter and cheaper device than most full Windows 10 tablets (though some chinese made ones exist and some are actually good). Especially that we can even use Continuum to connect the tablet to be a PC-like when we get the desktop-like functionalities. Oh indeed, we need snap too on W10M at least for phablets like seriously, heck we need even the mini-floating window that is useful for video call and playing video. Yeah back to Pen support, Microsoft seriously have to make it no less. Pen support is a must from tablets down to phablets. Hopefully they are already working for their mythical "Surface Phone". On Smartphone world, we seriously have shortage of devices that have pen, only Galaxy Note series seems really saturating it.

If it's universal app, why are we missing lots of features on mobile? Seems like Universal (for some native OS apps) means only capable in scaling to different screen resolutions.

It's also about hardware support too..for example we obviously can't use inking on mobile (yet). As for something like filters I'm sure it'll come out on mobile in due time. Just because something isn't there now doesn't mean it won't ever be.

Yeah, though its a mystery why it still doesn't support inking which is a bad sign that we won't have any pen-enabled W10M anytime soon which is sad. Microsoft who have tons of experience about pen experience still don't offer it to their mobile platform for no reason. Pen on W10M really make sense especially when this MS is promoting productivity experience. I mean how long have we've been waiting for Pen support and UX experience for their mobile platform, since WP8 or even 7? This is a company that used to make OS for PDA that later became smartphones with stylus (though yes not as good as digitizer pen).

Not sure why this got down voted. Its only slightly negativly formed, but a valid point. I agree, I love win10 in all forms and I would love to see a new phone with pen support. If the HP X3 would have had it, than I would get it because than the screen size makes sense to me. Now I stick with my solid 950.

Do you think on the X3 you could use it for note taking? I've used 8" Windows tablets for note taking w/ digitizer and it's a good size, but 6" could potentially be a bit too small. I'm sure before the 950/XL came out there were rumblings that they wanted the XL to have a digitizer/pen but I guess they backed out of that at some point. I really want inking in W10M as I think with Continuum (when it gets snapping / windowed apps) it will make a really versatile tablet OS

Well 5.7" - 6"+ though bit small for any long written notes, but still great for taking quick notes and scribbling for some apps like Maps for example drawing route or even for Skype annotating the video for remote support. Thing is, having W10M supporting pen brings so many possibilities from small things to bigger ones. In regards to Continuum, they can make that pen support even more versatile if there will be a device where you can insert your phone inside a tablet then do serious note-taking (thinking about Asus Transformer V here). We have very small pocket notebook/pad for ages and they've been usable for certain task. Its a matter of a user how he/she will utilize the tools available. Note-taking on a phablet isn't really that bad at all, just go on with the expectation that its not for long writing use-case, that's why he have bigger notebooks or in tech, a tablet.

Well some just can't take any form of criticism, nothing new here just move along.
Anyways, yeah I'm really clamoring for pen-enabled (not dumb stylus) device for since like Windows Phone 7. Like I said, its odd that coming from a company that make use the pen functionality alot on their tablet PC ever since. If pen were supported since W10M, who knows maybe X3 or 950 XL could've had it.
This is my concern as there is no hint of support which leaves us in a dark whether there will be any W10M devices that will have pen anytime soon. The only option for smartphone is really on Android, heck mostly just Galaxy Note which even OneNote app been supporting pen for that device.

@aXross: If they released a feature and literally no one could test it (as there is zero hardware available commercially)... what do you think the reaction would be?

Eh. I mean, is there any phone out there supports that technology? The inking technology used by this stuff is *not* only software-dependent. It's tied to the hardware as well. There's no point in pushing something out to Mobile Insiders if literally no one can test it. This isn't the same as just using one of those rubber nubbed pens.

I see your point and it make sense. Though this kind of a chicken-and-egg problem since we don't have any news (yet) about the pen support to W10M in any form so far, which is I'm worried it. There is no hardware supporting it because the software isn't supporting it either vice-versa. Continuum was at least being promised and demoed the concept how it will work even though there wasn't any devices supports it at that time. Pen support for W10M could've at least announced similar that way, but since there wasn't any so its either nothing that is remotely in works or just way too secretive about it, so basically who knows. Its just shame that no Windows phone and tablet (wait how many W10M tablets are there?) devices exist that supports digitizer pens even hidden.

I see your point and it make sense. Though this kind of a chicken-and-egg problem since we don't have any news (yet) about the pen support to W10M in any form so far, which is I'm worried it. There is no hardware supporting it because the software isn't supporting it either vice-versa.

That's probably why they've been holding on announcing a Surface Phone, or, really, any Surface device featuring W10M: the software is just not yet up to par with Surface standards. I don't think it's a coincidence that all the rumored Surface Phone launch windows we've been hearing thus far - early 2017, then fall 2017 and now maybe even early 2018 - are around the same times we're expecting new Redstone builds to be released to production, they clearly intend to launch flagship W10M Surface devices only when they consider the OS has become featured enough to have market value, and hopefully with a smaller app gap.

There are far less mobile users to compile bug reports and user data to fix bugs and implement features so that they work without major bugs and crashes.

That is not why those features are not there. Thats not making sense. All (most) OS builds also go to mobile to get feedback and testing results. So features can have the same threatment. Its because they have not figured out a usefull interaction pattern for those features on a mobile device or that the hardware is not powerfull enough, or it does not make sense on a mobile. Thats the only reason to block. Besides new features make sense to build and test on one platform first and than the next etc. Ok, that last part is close to what you said, if that is what you meant... :)

"hopefully, Microsoft will plan to bring those together in a future release."
​I was hoping for this since they released the Photos apps for Windows 8.1. Now I dont have hope anymore...

I could go and post this beneath every announcement Apple or Google makes. You have to wait there also between announcements, beta versions and final releases.

With the new updated IG App and now this the UWP is on its way.

I think ink should be stored as metadata in the image along with applied​ filters so you can always revert back to the source image. Similar to how living images is an image that is more than an image.

Just save a copy. No big deal.

Indeed! That would be a better way so we can always modify the ink from the photos, so we can have it on every Windows devices.

There is no "universal" standard for that stuff so you draw on the picture save it.. share it, and nobody can see it, is that useful? Putting it hard onto the image allows you to share it on facebook and co and not requiring others to use a dedicated App etc. Obviously i haven't tested how it works here, but ideally it would just ink stroke saving inside the App for the purpose of toggle/editing, while saving the actual image composited for sharing.

Although I feel it should (and assume it will) save the editted version as a copy, it would be nice if the drawing animation part is stored like a living image. And than add support for living images in Onedrive and photo app for images that are cloud only... now than its close to perfection :)

awesome, keep it up microsoft (y) but i don't know why they canceled gif support

Great, finally we can draw! But this new editing UI looks very strange, they shouldn't re-invent the interface for every single app, nothing was wrong with the app bar or ... buttons.

The old one wasn't any better though, click far left... have options appear far right, it's was pretty awful actually.

I really want inking in the Calendar and Mail. Would be cool.

Can EXIF data be edited in this build?
Any news on third party plugin support?

I wonder if the Mobile omission with the filters was due to performance? Changing contrast or vibrance is one thing, but doing some serious channel mixing and filter stacking in ON1, can put even my i7 Mac through it's paces, so if these filters do some advanced algorithms, it is possible they were simply too CPU heavy to put on Mobile.

Any workaround to install PC version .appx on mobile? Always wanted to have windows ink for photos app on mobile. For non-touch screen pc, it's of no use.

since its a uwp its the same .appx The app just downscales its features to match the device.

i guess you could try increasing the resolution on your phone if it has a large enough display. i remember folks doing that to get the desktop version of the mail app awhile back. not sure if they fixed that 'feature' though and it may not be completely resolution dependent in determining interface anymore though.

The Photos app gotten insanely good. It would be so good to have a pen enabled W10M device soon! You know what device I am talking about.

It is? Last time I checked (yesterday) it couldn't even do such basic stuff as pinch to zoom properly. Neither on mobile nor on desktop. It's honestly laughably bad. Every time I take up my Lumia 950 and try to show my SO pictures on it and it doesn't work as it should, she just says "your phone is a piece of ****". That's the current state of Windows 10 Mobile in the eyes of people used to Apple iPhone and similar.

But still no option to show your pictures - by name - ... Sigh....

Why MS this and that, and why didn't MS this and that?
Get out of the insider fast ring, and just wait what they give us in production. Your life gets much easier and stress free. You might even get a good night sleep after a long sleepless period while worried about the builds, features, supports, versions, (your own worries goes here...)

The photos mobile app is very weak compared to android or iOS, you can not put filters, remove red eyes, etc. all these features are available in the PC version of the app but the phone does not! I'm not even get started on that finshing touches bs...

Finally Microsoft is at least looking improving narrator. But mostly these are bug fixes. Microsoft have to do more efforts to improve accessibility on Windows platform. Them should add more languages to speech. It will definitely help Narrator as well as Cortana to target a bigger population.

Very cool! I'm glad they added more filters and hopefully more editing tools. When this comes to mobile I'll be really glad since I was having a hard time finding an app that could let me draw on photos.

This is awesome! The features of the basic features of the paint app should be integrated in photos, including resizing, shape drawings, etc.
Windows Central Newsletter
Thank you for signing up to Windows Central. You will receive a verification email shortly.
There was a problem. Please refresh the page and try again.